Essential Arts: Turkeys! — plus plays on Broadway, Fluxus in concert and Koolhaas in L.A.
Time to carbo-load! I'm Carolina A. Miranda, staff writer at the Los Angeles Times, with a special, holiday edition of the Essential Arts newsletter featuring turkeys, Broadway, Fluxus and Peruvian food.
ESSENTIAL IMAGE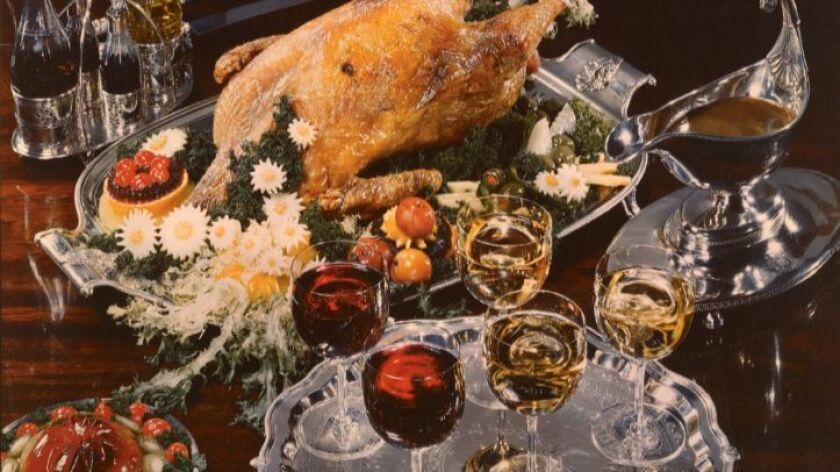 Los Angeles photographer Richard C. Miller is perhaps best remembered for taking some of the earliest photographs of Marilyn Monroe. But the prolific photographer also frequently captured food. (Check out this 1946 image of an omelette with ketchup, it is whoa.) A number of his pictures are in the collection of the Getty Museum — including the above image of a turkey. Love whatever is happening in that mold at the bottom. Getty Museum
ON BROADWAY
Times theater critic Charles McNulty has been in New York City, where he is taking in the latest Broadway offerings, including "The Waverly Gallery" (on aging and art), "Bernhardt/Hamlet" (about the great Sarah Bernhardt) and "The Lifespan of a Fact" (two generations of men parrying over facts). They are, he writes, "three respectable plays that pose no danger of becoming modern classics" but that are "given a boost by the marquee names drawing the crowds," including Elaine May, Janet McTeer and Daniel Radcliffe, respectively. Los Angeles Times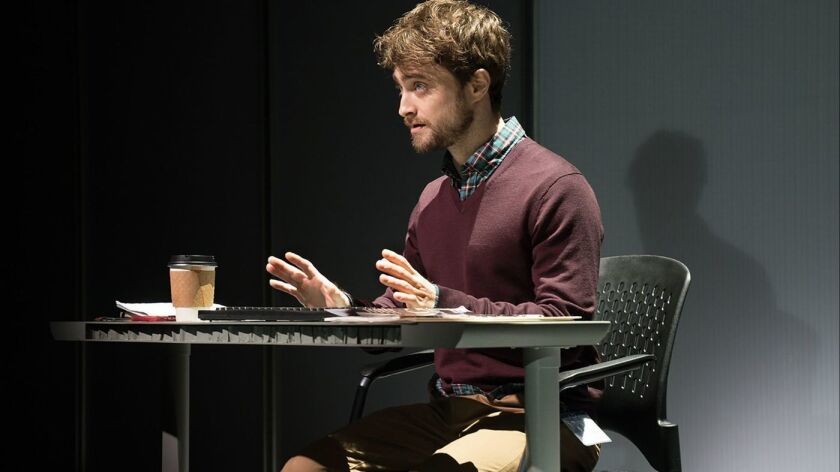 FLUXUS RUCKUS
The Los Angeles Philharmonic has teamed with the Getty Research Institute for one of the more radical portions of the L.A. Phil's centennial year: a series of performances devoted to the 1960s art movement Fluxus. Times classical music critic Mark Swed reports on the watermelon dropping, head banging and violin smashing. The "Fluxconcert," he writes, was "revelatory" within the context of L.A.: "Fluxus is about paying attention to what you don't normally, and suddenly everything is Fluxus." Los Angeles Times
KOOLHAAS IN THE HOUSE
Pritzker Prize-winning architect Rem Koolhaas lived in Los Angeles for six months in the 1970s and wrote a screenplay that served as "a Nixon-era critique of labor, culture and humanism." (Seriously, where can I read this?) This month the founder of the Office of Metropolitan Architecture was back — for a groundbreaking of the firm's new pavilion for the Wilshire Boulevard Temple and to present his new book, "Elements of Architecture." Contributor Mimi Zeiger sat down with Koolhaas for a chat about technology, urban design and the challenges of balancing openness and security in a religious building in the wake of the Pittsburgh shootings. Los Angeles Times
FOOD + ART
Because I can't seem to eat enough this November, I recently hung out with artist Eamon Ore-Giron at one of his favorite L.A. dives: Intiraymi, a Peruvian restaurant in an under-the-radar strip mall downtown. In my first (and hopefully not my last) story for The Times' Food section, the artist, who recently had a major installation at the Hammer Museum, tells me how this little joint reminds him of his family and of Lima — "the light, when it's super foggy, and you've been living under fluorescent lighting in a concrete room." Los Angeles Times
SOUND A LA KUBRICK
Actor Malcolm McDowell, who played the violent droog Alex in Stanley Kubrick's "A Clockwork Orange," hosts a concert series at Walt Disney Concert Hall this weekend that pays tribute to the late filmmaker. "He was brilliant at picking great classical pieces," McDowell tells contributor Tim Greiving. The concerts will pair film clips with live performances by the L.A. Philharmonic and the L.A. Master Chorale. Get ready also rock Zarathustra! Los Angeles Times
ON STAGE
The Los Angeles Opera is reprising Humperdinck's "Hansel and Gretel." In this tale, writes contributor Catherine Womack, "whimsical puppets cushion darker elements of the Grimm brothers' fairy tale." Los Angeles Times
Plus, the Los Angeles Chamber Orchestra will be making regularly forays to the Younes and Soraya Nazarian Center for the Performing Arts in Northridge. Rick Schultz caught the first gig in the series: a blazingly energetic show by violin soloist Jennifer Koh. Los Angeles Times
In the meantime, contributor Philip Brandes checks out Amy Dellagiarno's new black comedy "The Value of Moscow" presented by Sacred Fools — about three estranged siblings facing family drama. The setup might seem formulaic, writes Brandes, but the play soon detours into "unexpected surreal territory." Los Angeles Times
A CHRONICLE OF MASCULINITY
Times contributing reviewer Leah Ollman is intrigued by the photographs of Amy Elkins on view at the Frank M. Doyle Arts Pavilion at Orange Coast College. This includes six projects that touch on masculinity, fear and memory — specifically the memories of those imprisoned on U.S. death rows. It is, writes Ollman, a show that is "acutely intelligent and emotionally penetrating." Los Angeles Times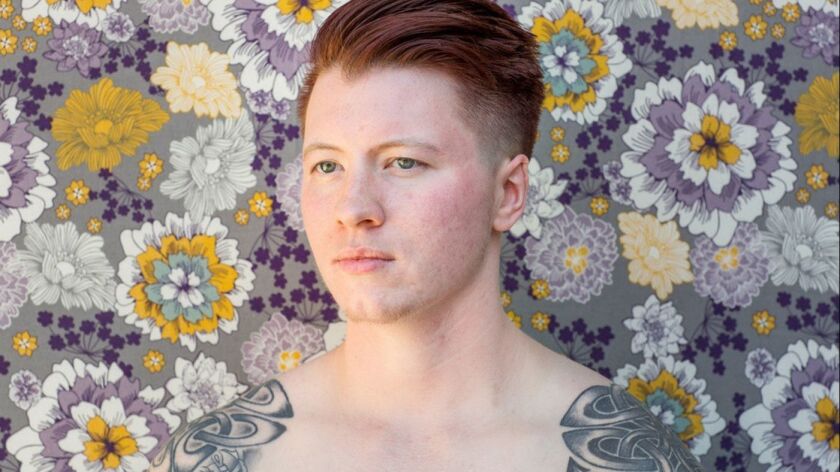 THAT INCREDIBLE OWL PHOTO
During the Woolsey Fire in Southern California, Times photographer Wally Skalij captured an indelible image of an owl sitting forlornly on a beach in Malibu. He talks with Ari Shapiro about how that viral image came to be. NPR
MORE ON THE FIRES
Alissa Walker has a terrific piece on how Pepperdine University's campus, designed by William Pereira, has made itself fire-resistant. Curbed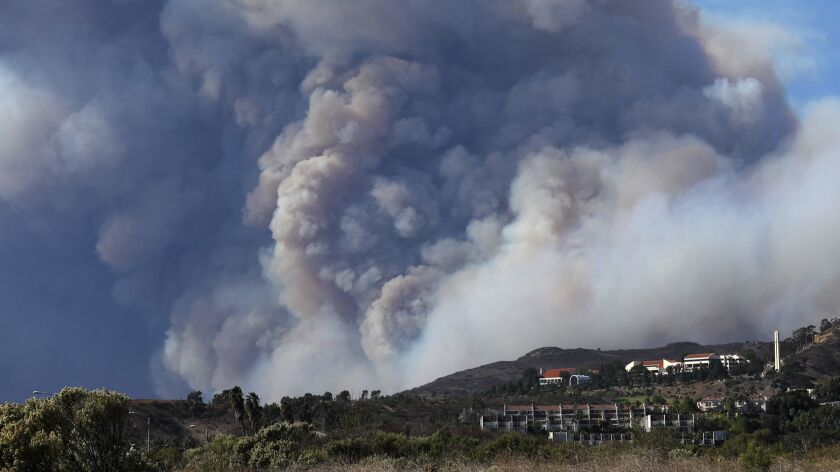 Plus, a look at the cultural structures affected by the Woolsey Fire — which included the Paramount Ranch, a popular Old West filmmaking site that also served as home to a short-lived art fair. Curbed, Los Angeles Magazine, Hyperallergic
IN OTHER NEWS…
— Post-hurricane, MECA International Art Fair is headed back to Puerto Rico. The Art Newspaper
— The British Museum holds a key moai statue from Easter Island. Easter Island wants it back. The Guardian
— How artificial intelligence could deepen our distrust of images. New Yorker
— A fascinating piece by Amber Butchart looks at why textiles have historically not been considered fine art. (Hint: It's got a lot to do with gender.) Frieze
— The artists of L.A.'s skid row. Hyperallergic
— Travis Diehl has a terrific profile of L.A. artist Rafa Esparza, an artist with a "knack for incorporating violent, colonial histories into work that gathers, rather than destroys." Frieze
— Charles Rappleye, co-founder of Artillery magazine, has passed away. Artillery
— The case for Debussy. New York Review of Books
— Theater now comes with warnings. New York Times
— "I don't believe in absolute blind reverence to the material." Turning Sidney Lumet's "Network" into a play. New York Times
— L.A. will have a museum dedicated to Mexican food — though I would argue that L.A. is a museum dedicated to Mexican food. Los Angeles Times
— East L.A.'s Pan American Bank building, with its distinctive arched roof line and prominent murals, has been added to the National Register of Historic Places. Curbed
— An urban planner considers the effects of Amazon's headquarters competition on the Washington, D.C., area. Vox
LAST BUT NOT LEAST…
Illustrated Japanese fireworks catalogs from the 19th century. Spoon & Tamago
Sign up for our weekly Essential Arts & Culture newsletter »
carolina.miranda@latimes.com | Twitter: @cmonstah
---
Inside the business of entertainment
The Wide Shot brings you news, analysis and insights on everything from streaming wars to production — and what it all means for the future.
You may occasionally receive promotional content from the Los Angeles Times.