At OCMA: a history of attempting to build -- but at what cost?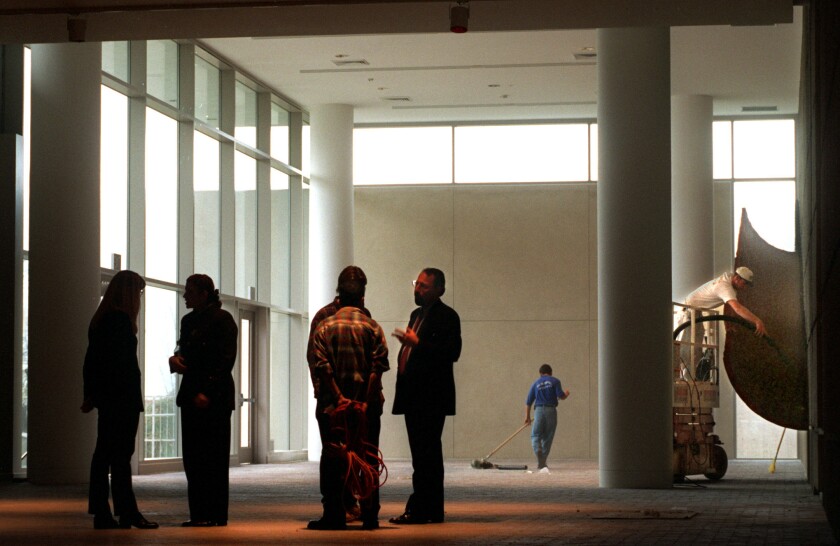 For three decades, the Orange County Museum of Art, which began life as the Newport Harbor Art Museum, has been trying to build a bigger space so that it might have space to show its collection on a permanent basis and not have to close down for installation between shows. This ambition to grow is what was behind the recent layoffs of five staffers, including chief curator Dan Cameron.
As the museum's board president Craig Wells discussed with me on Tuesday, OCMA must break ground on a new building at the Segerstrom Center for the Arts in Costa Mesa by June 2017 or lose title to the donated land. The downsizing was done with the intention of slimming the museum's budgets in preparation for the construction at Segerstrom of a new, bigger OCMA designed by Morphosis' Thom Mayne.
Interestingly, the museum has a pretty long history of trying to construct a larger space, one that goes way back to the mid-1980s.
Over that time, building projects were scuttled for reasons that include turnovers in leadership, expansion plans voted down by local residents, and disagreements over architects.
The museum constructed much of its current building in 1977. But the lack of space for a permanent collection quickly became a problem. In 1985, museum officials conducted a study that detailed a number of potential sites for expansion, including additions to the museum's current site in Newport Beach, or the possibility of building on a pair of plots in Irvine. A site near what was then the Orange County Performing Arts Center in Costa Mesa (now Segerstrom) was also considered but went nowhere.
In 1986, OCMA settled on a plan to expand the current site as part of a larger development of the area around the neighboring Fashion Island mall. But this plan was voted down by local residents — sending the museum back to the drawing board.
In the late 1980s, the museum emerged with another plan: The Irvine Company agreed to donate a 10-acre plot of land at Pacific Coast Highway and MacArthur Boulevard for the construction of an entirely new $30 million building. The architect would be none other than Renzo Piano, who was then riding high on his work on the machine-like Pompidou Center in Paris, completed in the late 1970s.
For OCMA, Piano designed what he described as "a place of discovery, a microcosm protected by an organic shelter that invites visitors to wander and explore." The one-story, 87,129-square-foot museum featured a series of longitudinal volumes carved into the hillside with a barrel-vaulted roof.
But by 1990, that plan ended in acrimony when internecine board politics led to one member hiring another architect behind Piano's back (the very corporate/post-modern firm of Kohn Pedersen Fox). The board then unceremoniously fired Piano, articulating concerns about the design's cost and the flexibility and size of the gallery spaces.
The following year, in an interview with The Times, Piano rebutted this view of the events, stating that the reasons for his dismissal were "ridiculous," "absolutely fake" and "false."
"I want to be adamant about this," he told Times reporter Cathy Curtis, "if somebody said that the scheme was over-budget or [allowed for insufficient gallery space], I'm ready to go to war, because it's not true."
(Reading all the vintage clips on this is like reading the treatment for some 1980s episode of "Dynasty: Orange County Architecture Edition." In other words: totally worth it.)
Within a couple of years, the economy was sputtering, and the grand building plans were set aside. In 1997, the museum completed a modest expansion of its Newport Beach space, taking over a library building that lay next door — but still with no gallery space to show its permanent collection.
Which brings us to the current plan: to move OCMA to Costa Mesa and the proposed $50-million Thom Mayne-designed building.
The impetus for the plan began more than a decade ago, when the idea took hold that an undeveloped plot of land at the Segerstrom Center campus could be used for a museum. Then, in 2008, the decision was made to donate 1.64 acres of the Segerstrom complex to OCMA. To give the board time for fundraising, the museum was given a far-off-seeming June 2013 groundbreaking deadline (later extended to 2017). Mayne's Morphosis was announced as the architect of record.
But the skidding economy got in the way — and the plan, like Han Solo, has been frozen in Carbonite. Now, however, it's back. And Wells says it's time to make the move.
For one, there's the museum's difficult-to-find location on the outskirts of the Fashion Island mall, where it is sunk between a parking structure and rows of condominiums. "We're lost in the growth of Fashion Island," he explains. "Going to the Segerstrom Center would add to visibility: street visibility, pedestrian visibility and general visitor visibility."
And there's the problem of showing the museum's permanent collection of more than 3,000 works of art from the 20th and 21st centuries. (The current museum is 38,000 square feet; the new building would offer nearly double that space: 60,000 square feet.)
Permanent collection galleries would also make the museum more appealing to donors of art — few collectors want to hand over works to an institution that is unable to put them on regular display.
But as I noted in the story published in Thursday's paper, the museum is going to have to get an awful lot of ducks in a row to make a new building happen. It will have to get its finances in order (the museum has been running deficits), sell its Newport Beach Building, launch a capital campaign, likely find temporary digs in which to hole up during construction and then orchestrate a move. In other words, OCMA's new director, Todd DeShields Smith, has his work cut out for him.
The plan also raises all kinds of questions about the future of the curatorial program at this venerable little institution — the sort of place that once had a show by Chris Burden shut down by the local Fire Department because his installation created the risk of toppling the museum's walls. (The piece, "Samson," consisted of two timbers and a 100-ton jack connected to a turnstile. Any time a visitor passed through, the timbers would exert pressure on the museum's walls.)
In 1988, Times critic William Wilson wrote of the museum: "Its temporary exhibitions have floundered into excessively superficial modishness, but they have never ceased to surprise with the thoughtfully offbeat or unexpected coups like fine exhibitions of Edward Hopper and Edvard Munch."
Its shows have been regularly covered by international critics and industry bible Artforum. But whether that will continue to be the case remains to be seen.
A press release issued by OCMA last week stated that as part of the transition plan, the museum "will be increasing its exhibition offerings to offer a more balanced mix of Modern and contemporary art, spanning the 20th and 21st centuries."
That means doing more crowd-pleasing 20th century shows and a little less 21st.
"Our mission has always included showing both modern and contemporary art," stated a museum spokesperson via email. "However, historically, it has included much more contemporary than modern. We are now looking to present more exhibitions of modern art to achieve a greater balance between the two periods."
Wells says the tweaking is necessary to draw in more visitors as well as more donors.
Any shows that may have been in the works when Cameron and his fellow colleagues were laid off are under review.
"As with any change in curatorial staffing," stated Smith via e-mail, "the museum must carefully review all currently planned exhibitions, reach out to all pertinent parties, and go over existing contracts. This takes time, but we are actively working on it and hope to release our upcoming exhibition schedule soon."
In the meantime, this summer OCMA will import an exhibition of contemporary Chinese art titled "My Generation" from the Tampa Museum of Art — a show that has received limited critical attention outside of Florida.
Wells says the board remains committed to producing important exhibitions. But at this point, the focus is on the move.
OCMA is small. Its operating budgets in the last few years have been in the $3.5 million to $5.8 million range. In recent years, some small museums, such as the American Folk Art Museum, have gotten in over their heads with high-profile construction projects.
Wells insists that the OCMA board remains prudent.
"We have asked Mayne to build something flexible and sustainable and to be a dream place to exhibit art, rather than some monument," he says. "There's this term called 'edifice complex,' where people build something they can't maintain. I think we're very conscious of that."
For Orange County's sake — and the legacy of one of its most venerable institutions — let's hope that is the case.
Find me on Twitter @cmonstah.
---
Get our daily Entertainment newsletter
Get the day's top stories on Hollywood, film, television, music, arts, culture and more.
You may occasionally receive promotional content from the Los Angeles Times.