Review: Cirque du Soleil's 'Amaluna' puts women at the center of a super-theatrical show
You could call it Cirque du Soleil: The Theater Geek Edition.
Known as a theatrical circus for its no-animals, acrobatics-forward, story-framing format, the French-Canadian company has been sending shows to Los Angeles since 1987. In "Amaluna," playing under a blue-and-yellow-striped big top at the San Pedro waterfront, Cirque borrows still more from theater, wrapping circus acts into a wordless story that mixes Shakespeare's "The Tempest" and Mozart's "The Magic Flute" with the ancient Greek myth of Orpheus and Euridice and other folk tales.
The show's writer-director, Diane Paulus, won a Tony for directing the circus-y early 2010s revival of "Pippin"; her credits also include "Hair" and "Waitress." The set design is by her frequent collaborator Scott Pask, and the choreographer is boundary-pushing dance-maker Karole Armitage, also a previous Paulus collaborator.
Theater references make you yawn? No worries. You can cheer instead for "Amaluna's" female-majority performers — including gymnasts who march through like the Amazons of "Wonder Woman" — as well as an all-female, guitar-rock band.
For a showstopper, there's a genuinely fresh, little-seen act: a demonstration of balance in which a massive mobile, held together by gravity alone, is assembled before your eyes.
Although "Amaluna" was launched in April 2012, this is its first stop in Los Angeles.
The story is set on an island whose name is an amalgam of "ama," or "mother," and "luna," or "moon." As in "The Tempest," the place is presided over by a sorcerer, only here she's named Prospera. With her daughter, Miranda, coming of age, Prospera arranges a celebration. She also provides a worthy suitor by conjuring a storm that shipwrecks a boatload of men, from whose midst emerges Romeo (a bit of Shakespearean cross-referencing there).
Enlivening Miranda's festivities at Thursday's opening were a pair of unicyclists, Satomi and Yuka Sakaino of Japan, in what seemed a hybrid of partnered dance and motocross event. An acrobatic goddess, Sabrina Aganier of Canada, shaped her body into graceful curves overhead in a full-moon-like ring.
Miranda, otherwise known as Anna Ivaseva of Russia, displayed the character's youthful agility and emerging sensuality in a hand-balancing act performed on the rim of a giant see-through water bowl, into which she occasionally plunged before shaping her body into more upside-down curlicues or undulating splits.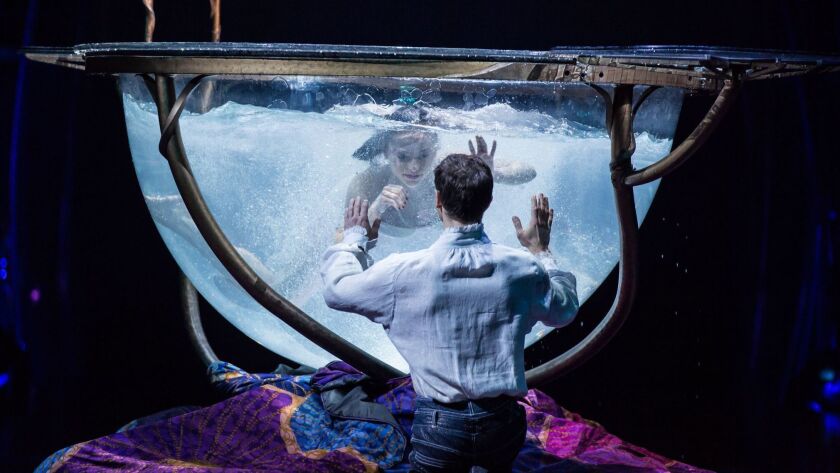 L.A. THEATER: Our weekly column on what's opening »
When Miranda's childhood playmate, a lizard-man known as Cali, jealously abducted her and they disappeared into the sky, Romeo, Evgeny Kurkin of Russia, went after her the only way he knew how: by climbing what's known as a Chinese pole, levering his body perpendicular to it to form artful shapes in demonstrations of sheer strength. The trickster Cali, Vladimir Pestov of Russia, proved to be a seriously adroit juggler.
Scenically, there's a peacock theme (a peacock being sacred to the Greek goddess-queen Hera) in the feather-like fronds of Pask's set and the most stunning of Mérédith Caron's costumes. Songwriters Guy Dubuc and Marc Lessard use everything from thundering amphitheater rock to ethereal incantations to set a mood for each of the dozen acts.
In any context, the show's big balancing act would astound. Lara Jacobs of Switzerland stood among what looked like the scattered breast bones of a giant bird — slightly curved; tapered on one end, thicker and knobbier on the other. With a preternaturally dexterous foot, she grasped each piece and lifted it to where her hands assembled what became an immense, Alexander Calder-like mobile. She did this while often balanced on just one foot or slowly turning so that the audience saw her creation from all perspectives. She held it in her hands, balanced it on her head and, finally, set it atop another spindly rib.
The audience seemed to hold its breath, sensing that the slightest disturbance of air might unsettle her work. Once she'd finished, the place went wild.
====
'Amaluna'
Where: 250 S. Harbor Blvd., San Pedro
When: 8 p.m. Tuesdays-Fridays, 4:30 and 8 p.m. Saturdays, 1:30 and 5 p.m. Sundays (some exceptions); ends May 26
Tickets: $31.50-$280 (subject to change)
Info: (877) 924-7783, cirquedusoleil.com/Amaluna
Running time: 2 hours, 15 minutes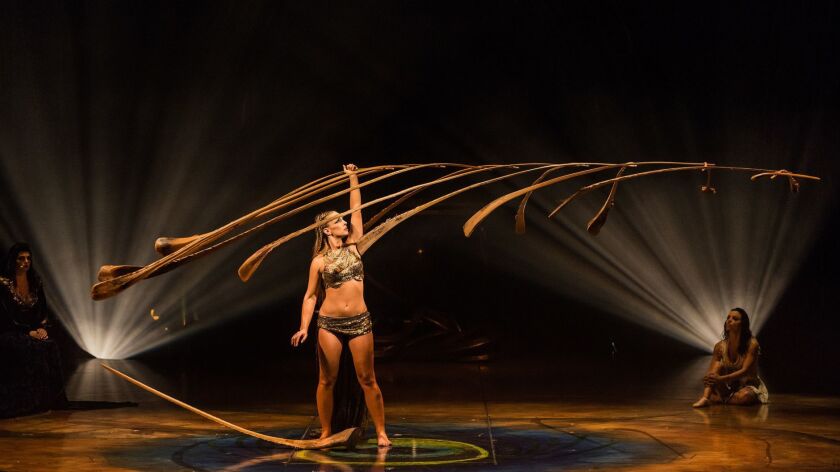 Support our coverage of local artists and the local arts scene by becoming a digital subscriber.
See all of our latest arts news and reviews at latimes.com/arts.
---
From the Oscars to the Emmys.
Get the Envelope newsletter for exclusive awards season coverage, behind-the-scenes stories from the Envelope podcast and columnist Glenn Whipp's must-read analysis.
You may occasionally receive promotional content from the Los Angeles Times.