Review: 4 girls and 1 hidden camera add up to a captivatingly creepy comedy at East West Players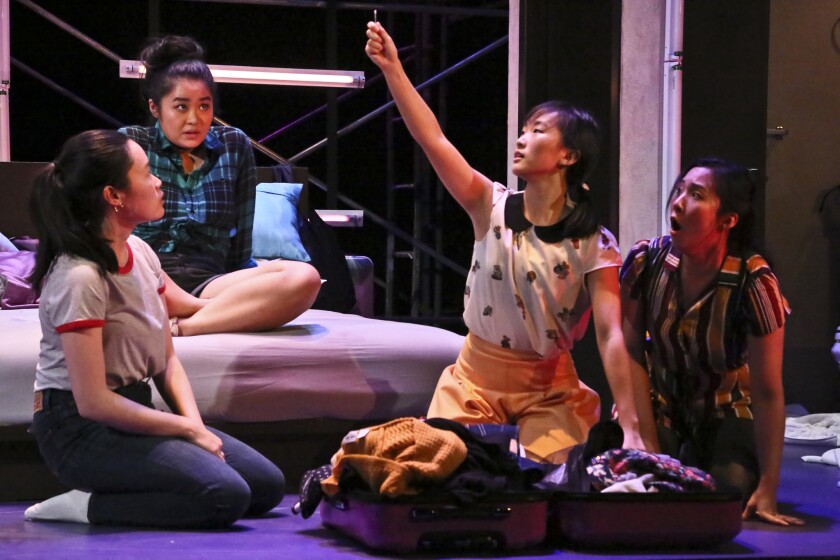 Theater Critic
Every good comedy has a human engine, and in Anna Moench's funny, creepy and unflinchingly observed "Man of God," that engine is Mimi, played with powder-keg force by Sandy Nguyen.
Mimi is one of four Korean American high school girls from Southern California traveling with their pastor on a religious mission to Bangkok, Thailand. The most openly rebellious of the group, she not only breaks commandments but defiantly pours out a stream of curses when she's called out for taking the Lord's name in vain, leaving her companions ducking for cover.
The play, receiving its world premiere in an East West Players production at the David Henry Hwang Theatre at the Union Center of the Arts, begins with an alarming discovery inside the generic hotel room the girls share. A secret camera has been found in their bathroom, the kind of device that could have been livestreaming the girls as they toweled themselves off, sat on the toilet or vomited into the bowl.
Everyone is shriekingly upset, but Mimi seems close to nuclear meltdown. She wants to know whether this is some kind of "sex freak Thai thing," and demands that they comb the room for more cameras.
Should they have their pastor contact authorities? Jen (Michele Selene Ang of "13 Reasons Why"), the overachiever who'd rather talk about law or medical school than cosmetics, doubts that plan would do any good. Samantha (SunHee Seo), whose naivety knows no bounds, can't understand why the police wouldn't jump to their rescue.
"This is the place weird German sex fiends come to diddle little boys dressed as little girls," Mimi explains in her usual bulldozing way.
Kyung-Hwa (Katherine Ko), who strenuously maintains a perfect front but is unable to hide her insecurities or eating disorder from her friends, decides to phone the pastor. Consternation intensifies when the call goes to voicemail. Where could their guardian be? "Probably out evangelizing," Samantha guilelessly offers.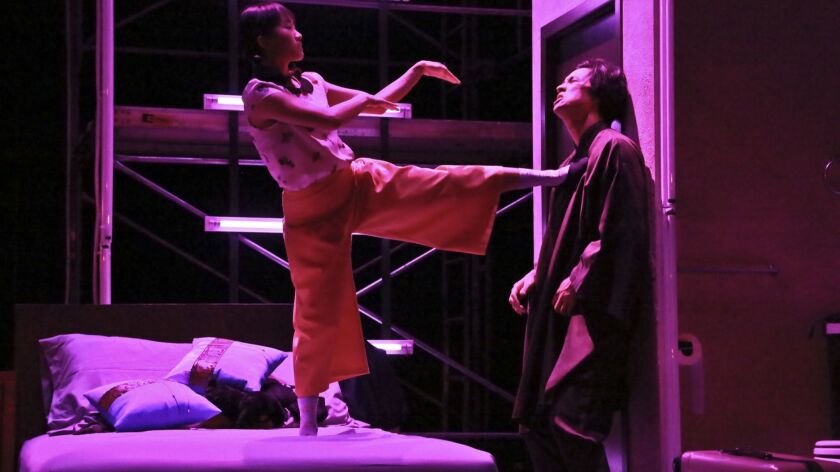 REVIEW: At Actors' Gang, a timely return of the political madness of Dario Fo »
All hell breaks loose when the girls discover that the camera is the property of their New Seoul Christian Church. Could the Man of God chaperoning them be a sex maniac?
Moench's play darts from comedy to thriller without ever losing its sense of humor. Suspense builds, but the plot is secondary to what the interplay among the teens reveals about the ubiquity of sexual violence and female exploitation in the world.
"Man of God" examines the way these harsh gender realities are internalized by the characters, who are still only "minors," as Samantha anxiously reminds everyone. The play is at its best in understanding adolescent minds through banter that freely mixes the serious with the frivolous, much like "The Wolves," Sarah DeLappe's critically acclaimed play about a girls' soccer team that's having its West Coast premiere next month courtesy of Echo Theater Company.
The production, directed by Jesca Prudencio, balances the unruly (and often hilarious) jousting with introspective glimpses of fragile and still gestating inner lives. The staging is less assured when it transitions into fantasy scenes in which each character's revenge fantasy plays out.
The fight direction by Andy Lowe that animates Samantha's samurai knife display is lively fun. But such surreal moments aren't seamlessly woven into the fabric of the writing or the staging. (The set design and the lighting magnify the awkwardness with dislocating effects that leave us nowhere.)
Roy Vongtama's Pastor, who flashes in and out of these sequences, makes a dashing impression when he finally comes knocking at the girls' door. This is no dried-up cleric but a heartthrob manipulator. His menace is slippery, perhaps too much so. Neither his character nor his role in the play is fully fleshed out.
THE L.A. STAGE: Our weekly column on the small-theater scene »
Although tensely gripping, "Man of God" seems unfinished. After depicting the wildest imaginings of her female characters, Moench opts for subtlety in the final moments. The psychology is incisive, but the brisk play is underwritten. It's not a question of length but of sustained focus on what matters most. A delicate recalibration is all that's needed for what is already a potent work.
The female cast members find the hidden depths that Moench bestows on the characters. Seo's Samantha turns out to have surprising grit and ferocity; Ang shades Jen's strength with profound somberness; Ko's Kyung-Hwa may just be the most complex of the group (for reasons too troubling to give away); and Nguyen's fierce Mimi, who has a knack for bringing situations to an immediate boil, might not be the terror she seems.
Don't underestimate these adolescent girls making their way in a predatory world. "Man of God" reveals what they're up against while honoring the resiliency their survival depends on.
♦ ♦ ♦ ♦ ♦ ♦ ♦ ♦ ♦ ♦ ♦
'Man of God'
Where: David Henry Hwang Theater at the Union Center of the Arts, 120 Judge John Aiso St., Los Angeles
When: 8 p.m. Thursdays-Fridays, 2 and 8 p.m. Saturdays, 2 p.m. Sundays; ends Feb. 24
Tickets: $25-$50 (subject to change)
Information: (213) 625-7000 or eastwestplayers.org
Running time: 1 hour, 20 minutes (no intermission)
Follow me @charlesmcnulty
---
Your essential guide to the arts in L.A.
Get Carolina A. Miranda's weekly newsletter for what's happening, plus openings, critics' picks and more.
You may occasionally receive promotional content from the Los Angeles Times.