Lawmakers slam Frontier for bad phone and Internet service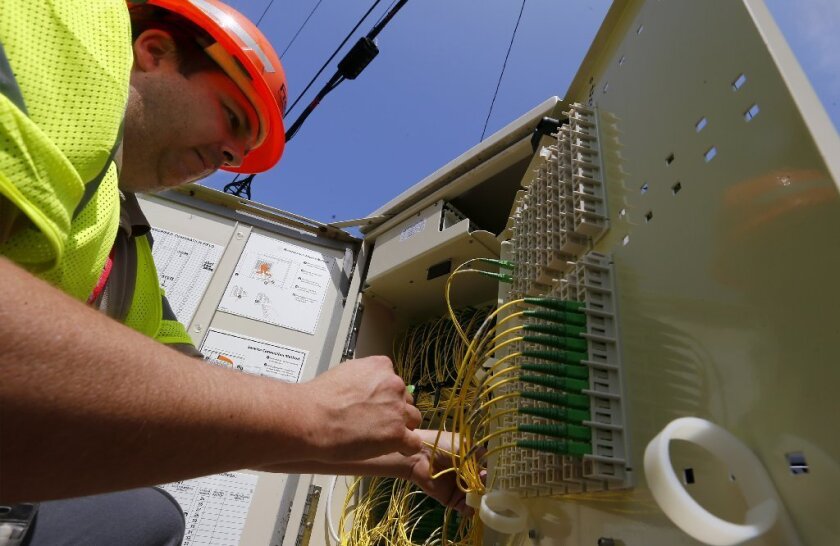 Frontier Communications said Wednesday that within the next 10 days it should resolve the backlog of phone and Internet service problems that cropped up during the company's tumultuous take-over of Verizon FiOS systems.
More than 200 customers in California still are without phone service, Frontier's West region president, Melinda White, told members of the Assembly Committee on Utilities and Commerce in Sacramento.
Lawmakers pounded White over her company's problem-plagued rollout in Southern California, which they said was unacceptable.
"I've gotten more calls about this than a refinery fire in Torrance," Assembly member David Hadley (R-Torrance) said.
Lawmakers also expressed displeasure with the Public Utilities Commission, which regulates phone service. Assembly members demanded to know why regulators failed to recognize that Frontier's ambitious plan to immediately switch over Verizon's customers in three states -- California, Texas and Florida -- to new computer systems would produce so many problems.
Thousands of customers have dealt with phone and Internet service outages. Restaurants have been unable to process credit cards, one police department was forced to transfer 911 calls to another office, and Redondo Beach school officials had to reschedule standardized tests because the district's Internet service was down temporarily last week.
In some cases, subscribers were unable to reach the company to report problems, in large part, because Frontier's temporary call center in the Philippines was overwhelmed by calls.
"This certainly was not the way we meant to introduce ourselves to California," White told members of the committee, who were joined by lawmakers from Long Beach and Lake Elsinore. She encouraged customers to report problems via this email address: LetMelindaKnow@ftr.com
Assembly member Mike Gatto (D-Los Angeles), who scheduled the hearing, and others expressed doubt about White's statements that only a relatively small percentage of its customer base has experienced issues since the company took control of the Verizon phone, Internet and TV systems April 1.
Some have estimated that 10,000 to 15,000 Frontier customers have been affected by transition-related problems. White did not disclose the number of complaints, called "trouble tickets."
The PUC received more than 860 complaints in April and the first week of May, according to PUC Executive Director Tim Sullivan.
The lawmakers said they also have been overwhelmed with calls and emails from constituents pleading for help.
"These issues have set a record for constituent calls," said Assembly member Jay Obernolte (R-Hesperia).
There were three major breakdowns after Frontier switched Verizon customers to its computer systems -- a process that involved simultaneously moving more than 200 million files of data for the California network alone, White said.
The first problem was that Verizon's computer records contained incomplete or corrupt data so network terminal boxes at customer homes and businesses did not recognize messages that Frontier was trying to send to those devices. Instead, the boxes malfunctioned, leading to service interruptions.
"We are sincerely sorry," White said. "Even one customer out of service is one too many."
Frontier also discovered that serial numbers identifying some older network terminal boxes, including hundreds in Long Beach, were different than what was contained in Verizon's databases. That led to more computer errors -- and more outages.
"To be quite frank, 85% of these complaints seem to implicate digital services," the PUC's Sullivan told committee members. He also acknowledged that PUC staff members should have been more thorough in their pre-merger review.
Committee members on Wednesday second-guessed Frontier's decision to spend the first few days of the transition training Verizon's technicians on the intricacies of Frontier's system, rather than having them in the field or answering phones. But White said they needed to learn how Frontier's systems worked so they could fix them.
The other major breakdown was the call center in the Philippines. White said that Frontier relied on the call center because it was the one that Verizon had used, and Frontier executives figured those representatives were familiar with California customers.
Frontier had more than 5,300 customer service representatives lined up to handle the transition. But call volumes were far heavier than anticipated because of the outages, and phone representatives seemed bewildered trying to field queries about Frontier's systems.
"Unfortunately, that did not work out -- to our dismay," White said.
Exacerbating the problem, the foreign call center workers often told customers that a technician would show up at their house to make a repair -- but that word was never relayed to Frontier's dispatchers in the U.S.
So the U.S.-based team was unaware that customers were waiting for a technician.
By the end of July, Frontier plans to end its ties with the foreign call center and maintain an entirely American workforce.
Frontier also plans to make refunds to customers, and those credits should show up in their June bills, White said.
She noted that the company continues to grapple with an issue that has plagued some consumers who use the pay-TV video-on-demand movie selection option; they have been unable to fully access their library of movies that they ordered when Verizon was in charge.
Frontier has been trying to restore movies to individual customers' video-on-demand queues -- but that process is expected to take another month, White said.
Separately, the PUC plans a June 1 hearing in Long Beach to further delve into the problems Frontier encountered after taking over the Verizon FiOS system.
MORE:
What went wrong in the switch to Frontier? Software glitches, an offshore call center and one pesky squirrel
Charter completes purchase of Time Warner Cable, Bright House
Viacom board scraps pay for Sumner Redstone
---
From the Emmys to the Oscars.
Get our revamped Envelope newsletter for exclusive awards season coverage, behind-the-scenes insights and columnist Glenn Whipp's commentary.
You may occasionally receive promotional content from the Los Angeles Times.