Sony Pictures details budget and film slate cuts at Thursday meeting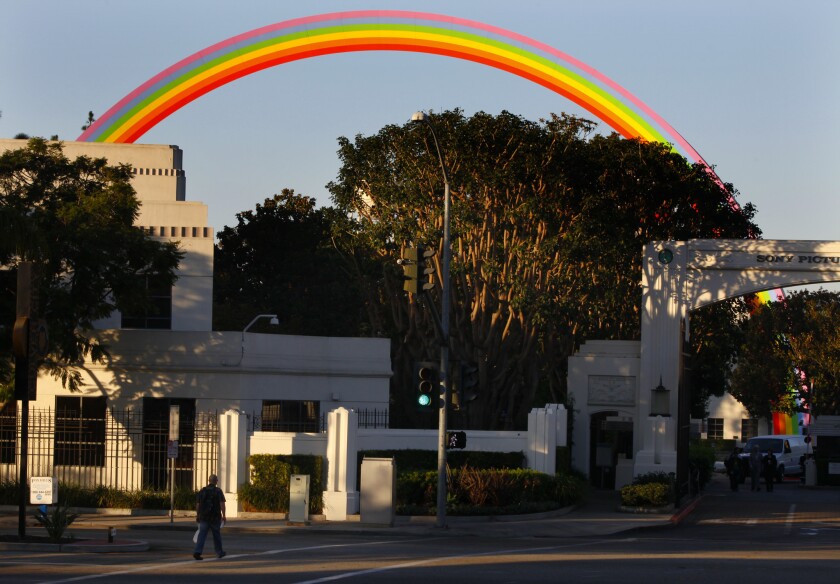 Sony Pictures Entertainment, reeling from several box-office disappointments and facing scrutiny from an activist shareholder, said at a Thursday meeting for investors that it would undergo a "significant shift" away from movies and toward the "higher margin" television business.
Sony Corp. President and Chief Executive Kazuo Hirai and Sony Entertainment Inc. Chief Executive Michael Lynton said the beleaguered film and TV studio would produce fewer films and would trim costs on the movies it does make by getting tougher with filmmakers and actors inclined to spend big sums on their projects. The studio will also cut its overhead dramatically.
"Some of our movies just didn't perform as we had estimated," Hirai told investors at the studio's Culver City lot. "And we recognized that we must do better."
Sony Pictures co-Chairman Amy Pascal said that whereas the studio has typically released 23 movies per year in the past, it would put out roughly 18 per year moving forward. Though the studio released nine films this last summer, she said, it will put out only four next summer.
ON LOCATION: Where the cameras roll
Several other executives from Sony Entertainment — the Sony subsidiary that includes the studio, Sony/ATV Music Publishing and Sony Music Entertainment — spoke at the half-day event for investors. The company emphasized growth in its television and music businesses, giving the floor to executives including Sony Pictures Television President Steve Mosko and Sony Music Entertainment Chief Executive Doug Morris.
Mosko highlighted the $1.5 billion in revenue generated by the company's television networks division in the last fiscal year, noting that 75% of that figure was from overseas, where the studio sees opportunity for more growth. Sony operates networks in 159 countries.
Brian Wieser, a senior analyst with Pivotal Research Group, said Sony's new emphasis on television makes sense, given the volatile state of the movie business and the growth potential in television.
"Why wouldn't they put their resources in that direction?" he said. "The theatrical business is not one that is particularly liked by investors. There is still a lot of growth to be had and a higher degree of profitability in television in general."
PHOTOS: Billion-dollar movie club
Though Sony Pictures counts the successful television unit among its divisions, the studio has had a tough year at the box office, with disappointments including "After Earth" and "White House Down."
On Oct. 31, the studio posted an operating loss of $181 million for the fiscal second quarter. Shares of Sony were up 12 cents to $18.65 on Thursday.
Lynton, also chairman and CEO of Sony Pictures, addressed cost-cutting at the meeting, saying the company had identified $250 million in "overheard and procurement savings" that are now being implemented.
The Times reported Monday that Sony had hired consultancy Bain & Co. to examine the studio's expenditures. Bain, known for its ties to former presidential nominee Mitt Romney, is expected to identify an additional $100 million or more in budget cuts.
PHOTOS: Celebrities by The Times
The cuts are likely to result in layoffs. Lynton said the studio had laid off 800 people in the last four years.
Lynton said that the company projects that the studio will generate $8.4 billion in revenue for the fiscal year ending in March 2015.
For much of 2013 the studio has been hammered by criticism from activist shareholder Daniel Loeb, who in May proposed that Sony make an initial public stock offering of up to 20% of its entertainment arm. Sony rejected Loeb's proposal in August.
In July, Loeb, whose hedge fund Third Point owns about 7% of Sony, criticized Sony Entertainment for being "poorly managed" and singled out "After Earth" and "White House Down" as "2013's versions of
"After Earth," budgeted at $135 million, grossed a disappointing $244 million worldwide; "White House Down," which cost $150 million to produce, has taken in $205 million globally.
A spokeswoman for the New York-based hedge fund said it did not immediately have a response to the Thursday proceedings in Culver City.
The studio has already taken steps to respond to Loeb and the disappointing run at the box office. In September, Sony Pictures fired Marc Weinstock, then its head of domestic and international marketing.
PHOTOS: Behind-the-scenes Classic Hollywood
Lynton said Thursday that he and Pascal are reviewing the "line-by-line economics of films," and giving "equal scrutiny to detailed marketing budgets."
Sony's new financial discipline also includes getting tough with the talent. Lynton, for example, said the studio would tell an actor that he couldn't make a film in the city of his choice if another jurisdiction offered better tax incentives.
"In 2013 we had some movies in the summer that didn't meet our expectations — that resulted in the second quarter that we have shared with you," Pascal said. "That has led us to take a hard look at what we are doing."
Things were more upbeat during the portion of the presentation focused on television.
Zack Van Amburg, Sony Pictures Television's president of programming and production, said that "Better Call Saul," a show inspired by one of the characters on AMC's "Breaking Bad," will make money for the studio as soon as it begins delivering episodes because of intense interest in the project.
ALSO:
Sony's film division contributes to company's weak second quarter
Sony Pictures eyes $100 million or more in cuts, hires Bain & Co.
Sony Pictures talks TV successes 'Breaking Bad,' 'Better Call Saul'
---
From the Oscars to the Emmys.
Get the Envelope newsletter for exclusive awards season coverage, behind-the-scenes stories from the Envelope podcast and columnist Glenn Whipp's must-read analysis.
You may occasionally receive promotional content from the Los Angeles Times.