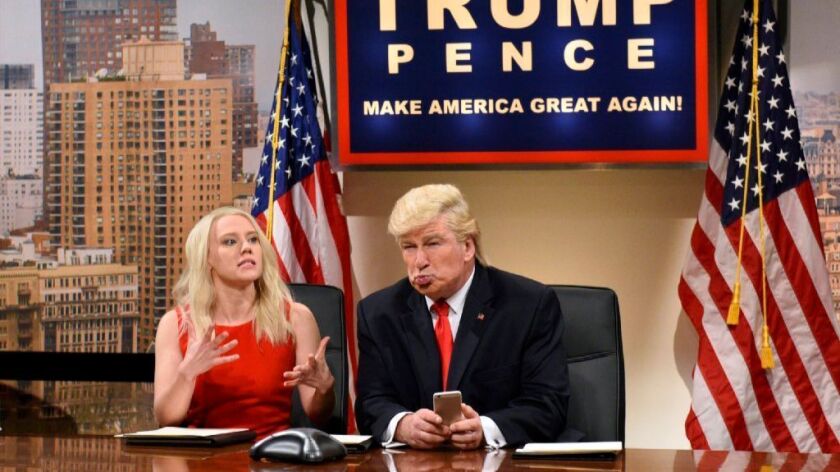 The last time "Saturday Night Live" won a series Emmy, Al Franken was a producer, not a politician, and Sinead O'Connor destroyed a photo of the pope (and her career) with one bold rip.
Is NBC's venerable sketch series on the verge of its first series win in nearly a quarter century? Let's take a look in this Emmy preview of the variety and TV movie categories.
VARIETY SKETCH SERIES
"Saturday Night Live"
"Portlandia"
"Documentary Now!"
"Tracey Ullman's Show"
"Maya & Marty"
"Drunk History"
Analysis: With "Key & Peele" departed and "Inside Amy Schumer" on hiatus, this category has lost a lot of talent in the last year. IFC's "Portlandia" and "Documentary Now!" figure to return, as could Comedy Central's "Drunk History," though the last might lose out to programs spotlighting Ullman and Maya Rudolph and Martin Short, well-liked veterans one and all. Billy Eichner's "Billy on the Street" has never been nominated, but if he wins votes from just a few of his famous friends (Jon Hamm! Aziz Ansari! Andy Samberg!) that could change in a thinning field. Plus, unlike the sadly short-lived summer series "Maya & Marty," Eichner's show is still going strong.
"Saturday Night Live" sports two front-runners in the comedy acting categories — Alec Baldwin for his recurring roasting of President Donald Trump and Kate McKinnon for just about everything she does on the show. Remarkably, in an era of eroding ratings, "SNL" attracted its biggest audience in 23 years, with the show's audience up 30% over last season. You can argue that its success owes more to Trump's election than the quality of the work, but there's little doubt that all those viewers are going to make "SNL" hard to ignore.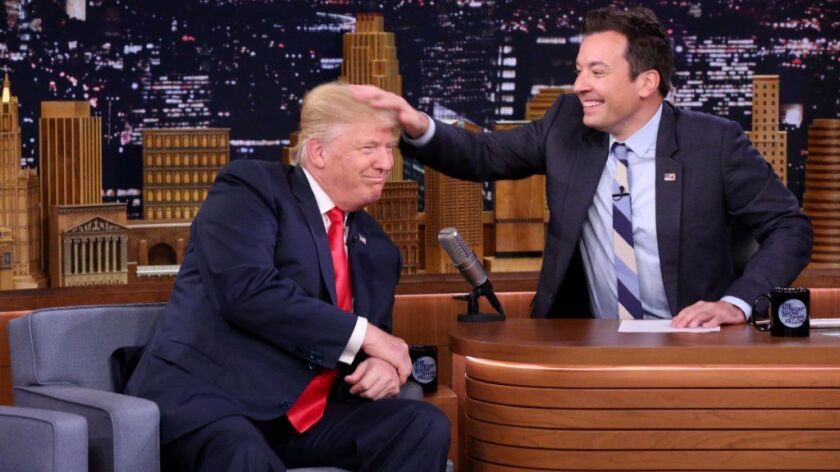 VARIETY TALK SERIES
"Last Week Tonight With John Oliver"
"Jimmy Kimmel Live!"
"The Late Show With Stephen Colbert"
"Full Frontal With Samantha Bee"
"The Late Show With James Corden"
"The Daily Show With Trevor Noah"
Analysis: "The Daily Show" and its alums have won this Emmy the last 14 years, with Oliver taking the trophy last time around. As such, it wouldn't be surprising to see Trevor Noah break through here for his second season hosting the Comedy Central late-night program. Noah became a leading voice of protest following Trump's election, and his humor has been sharp, angry and engaging.
But this is a very crowded category, so much so that voters left out Bee last year, an embarrassing oversight that should be remedied. Colbert didn't make the cut either, but, like Noah, he has found his footing in his second season and has topped the late-night ratings for most of the year. Emmy recognition seems likely to follow.
Nods for Colbert, Bee and Noah could come at the expense of "The Tonight Show Starring Jimmy Fallon," the program Colbert passed in viewership. Fallon's fawning interviews and fun and games haven't aged particularly well and, contrasted with his competition, his good-time approach feels irrelevant.
But then, at least Fallon has the good sense not to drop the N-word on his program. Bill Maher's recent use of the racial slur on "Real Time" was inexcusable, par for the course for the tasteless talk-show host. Forget losing an Emmy nomination. This should cost him his job.
See the most-read stories this hour »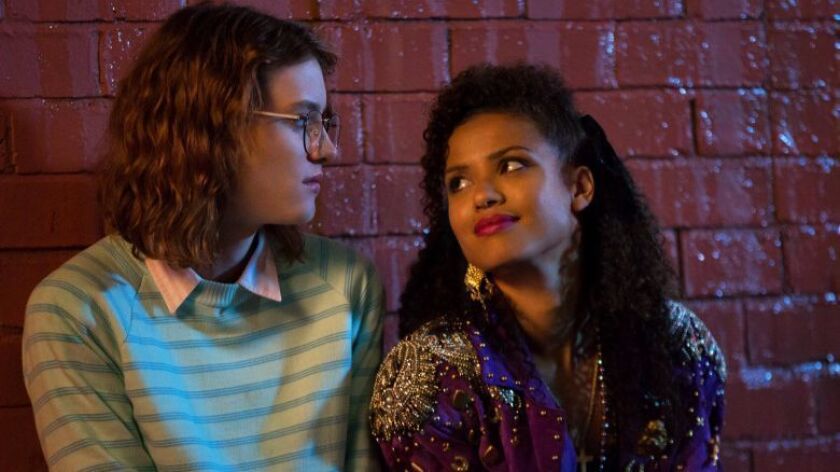 TELEVISION MOVIE
"Churchill's Secret"
"Sherlock: The Lying Detective"
"The Immortal Life of Henrietta Lacks"
"The Wizard of Lies"
"Black Mirror"
Analysis: HBO has so dominated this category that it was a shock when the network lost last year to the popular "Sherlock." Its most heavily promoted entry this year, the dull, dutiful Bernie Madoff rehash "The Wizard of Lies," will likely be nominated by virtue of its star power, though the network's real star turn comes from Oprah Winfrey in the emotionally powerful "Henrietta Lacks."
"Sherlock" is a lock to return for a gripping and trippy episode that highlighted how drug addiction could complicate crime-solving — even for Holmes. A second PBS entry, the Michael Gambon-led "Churchill's Secret," should easily make it in as well.
The final nominee could be Lifetime's so-so courtroom drama "Custody," owing to the lead turn by the beloved Viola Davis. There's a better choice though — "Black Mirror," Netflix's sci-fi anthology, and its submission, "San Junipero," a poignant coming-of-age love story that earned stellar reviews and a top honor from GLAAD. Gugu Mbatha-Raw and Mackenzie Davis are sensational as the leads, though they probably can't get within sniffing distance of an acting nomination in a category headlined this year by the likes of Nicole Kidman, Reese Witherspoon and Jessica Lange. This would be a great place to honor their work.
Twitter: @glennwhipp
ALSO:
Look for 'Atlanta' to shake up the Emmy comedy categories
Look for some new faces in the drama acting categories at the Emmy nominations
'The Americans' and its stars forge on — who knew Russian spies could be so relevant?
---