Gary Oldman on absorbing the energy of awards season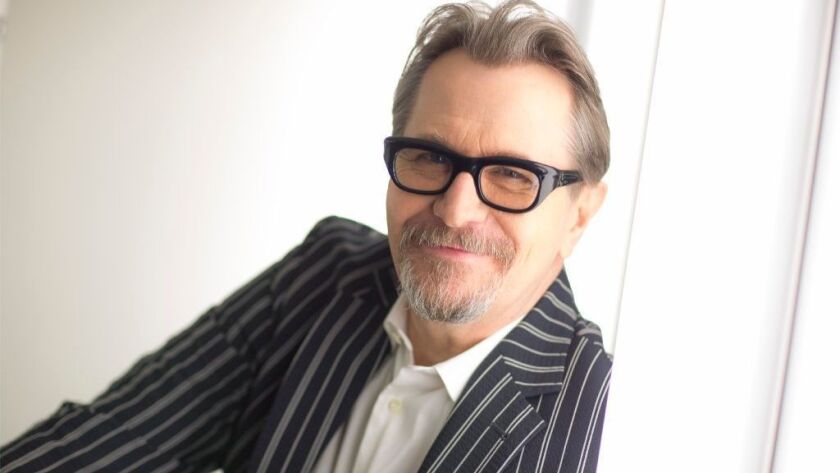 We're coming to the end of what is essentially a six-month conveyor belt for awards season contenders. It can be glamorous. But it's also a grind.
"This has all taken some getting used to," Gary Oldman, the favorite for the lead actor Oscar, told me recently. "I'm quite a private person. I've never been any good with crowds. It's all very nice. No complaints. But there's an energy of people coming at you that you absorb. It's quite frenetic. The night of the Golden Globes, I must have taken 300 selfies and it felt like I had met 1,000 people. And they're all lovely and gracious and well-meaning."
He turned quiet, staring into the distance. "Well, it's shocking really, when you think about it, that that many people wanted to meet me in the first place. One should never take for granted the sound of applause."
Welcome to the Gold Standard, the newsletter from the Los Angeles Times that helps guide you through the ins and outs of the awards season leading up to the Oscars.
I'm Glenn Whipp, The Times' awards columnist and your newsletter host.
Love, loss and a new outlook
I spent some time with Oldman on a couple of occasions these past few months, talking about his transformation into Winston Churchill for the best picture nominee "Darkest Hour" and also about some darker episodes from his past and his affection for the two sons he raised as a single father.
That profile made the cover of this week's issue of the Envelope. With the film being the leading contender for this year's hair and makeup Oscar, you might also want to watch Oldman explain just how they pulled off the trick of making him resemble Churchill.
'Coco,' 'Faces Places' and 'A Fantastic Woman' look primed for Oscar glory
So, as I mentioned, we're in the home stretch and my predictions for all 24 Oscar categories will be revealed soon. They'll probably be my final calls, but I do occasionally revise picks (typically to my eventual chagrin) as I talk to academy members after voting begins. (Online balloting starts Tuesday.)
I did take a closer look at the races for animated feature, documentary feature and foreign language film in this week's column. Pixar Animation's "Coco" is the easy choice; the other two races have a bit of intrigue that could provide some upsets.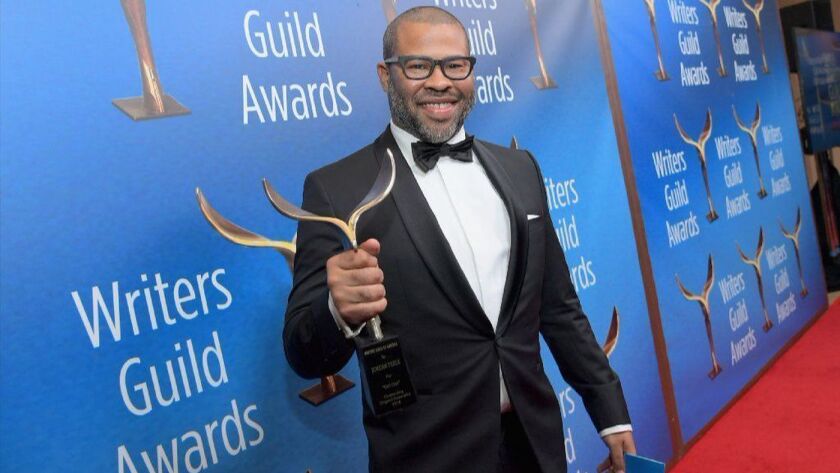 Peele, Ivory take top Writers Guild honors
We've known for a while that, at age 89, James Ivory looks primed to win his first Oscar for his lovely adaptation of "Call Me by Your Name." He'll be the oldest person to win an Oscar … that is, unless French filmmaker Agnès Varda takes the documentary prize for "Faces Places" (as I predict she will in that aforementioned column). Varda is Ivory's elder by all of eight days.
The original screenplay category is much more competitive, but Jordan Peele's win for "Get Out" at the Writer's Guild Awards on Sunday makes him the odds-on favorite. It's possible Greta Gerwig ("Lady Bird") or Martin McDonagh ("Three Billboards Outside Ebbing, Missouri") might still prevail, but I think there's a strong sentiment that Peele's social thriller deserves at least one Oscar.
For more coverage of the entertainment world, please check out the new Times' podcast, "The Reel." New episodes drop weekly.
Feedback?
I'd love to hear from you. Email me at glenn.whipp@latimes.com.
Can't get enough about awards season? Follow me @glennwhipp on Twitter.
Twitter: @glennwhipp
---
From the Oscars to the Emmys.
Get the Envelope newsletter for exclusive awards season coverage, behind-the-scenes stories from the Envelope podcast and columnist Glenn Whipp's must-read analysis.
You may occasionally receive promotional content from the Los Angeles Times.