Time to get ready for the new year and the Golden Globes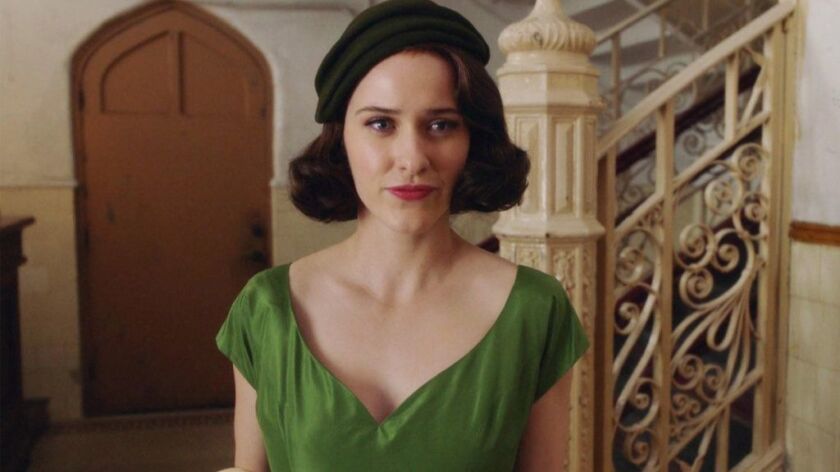 The Golden Globes are a week from Sunday. I don't know about you, but I'll be using the long New Year's weekend to finish watching "The Marvelous Mrs. Maisel," "SMILF" and a couple of other backlogged shows to make sure I'm caught up before the ceremony.
Welcome to the Gold Standard, the newsletter from the Los Angeles Times that helps guide you through the ins and outs of the awards season leading up to the Oscars.
I'm Glenn Whipp, The Times' awards columnist, your newsletter host and the guy who thinks New Year's Eve is overrated.
Golden Globes preview
Who will win the Globe for motion picture drama this year? I can honestly say that I have no idea, which I realize isn't particularly helpful. But it is indicative of the unpredictable state of this year's awards season. You could make a case for any one of the five nominees — "Call Me by Your Name," "Dunkirk," "The Post," "The Shape of Water" and "Three Billboards Outside Ebbing, Missouri" — and you'd probably convince me that you're correct.
I went with "The Shape of Water," as it picked up a leading seven nominations, so more than a few of the Hollywood Foreign Press Assn.'s 89 voting members must like it. I make other predictions too — presented with slightly more conviction.
In this week's issue of the Los Angeles Times' Envelope, we interview Globes television nominees Rachel Brosnahan (marvelous as Mrs. Maisel), "SMILF's" Frankie Shaw, and the great Kyle MacLachlan ("Twin Peaks: The Return," which, somehow, Santa forgot to leave under the tree). We'll have plenty more coverage leading up to next week's show, so stay tuned.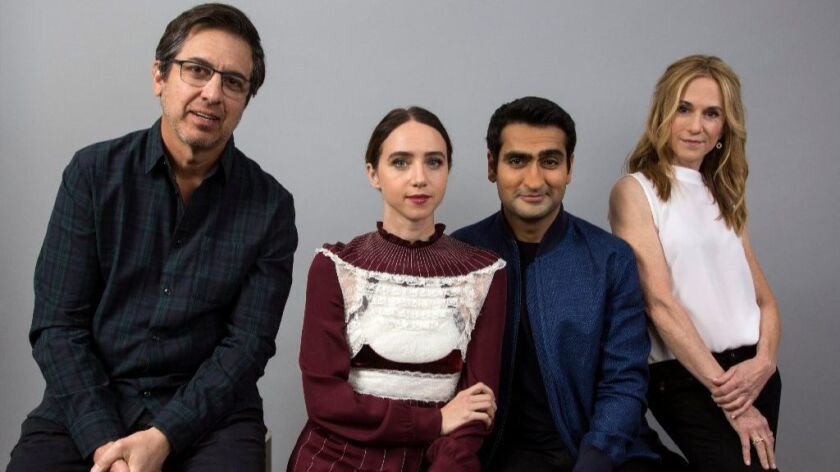 What's in store for 'The Big Sick' at the Oscars?
The Hollywood Foreign Press Assn. completely ignored the year's best comedy, "The Big Sick," despite the fact that they have separate categories entirely devoted to movie comedies (and musicals). But then, I'm glad someone enjoyed "The Greatest Showman." (Maybe they're angling for Hugh Jackman to host the show next year?)
We spoke to the "The Big Sick's" fine quartet of actors — Ray Romano, Zoe Kazan, Kumail Nanjiami and Holly Hunter — a group (along with Adeel Akhtar, Anupam Kher and Zenobia Shroff) that the Screen Actors Guild Awards nominated for its movie ensemble honor.
"The Big Sick" looks to be on the bubble right now in the best picture Oscar race, its fate dependent on the size of this year's nominations class. (Will it be eight or nine?) Nanjiani and his wife, Emily V. Gordon, are strong contenders for their original screenplay, a category that is ridiculously crowded. Hunter stands as the movie's safest Oscar bet for her superb supporting turn as the film's caring mother.
Gary Oldman talks Churchill; Times' writers share favorite movie characters
Gary Oldman looks nothing like Winston Churchill, which is why he turned down the opportunity to play the British prime minister years ago. But when director Joe Wright came calling with "Darkest Hour," Oldman had a change of heart — provided he could convince legendary makeup artist Kazuhiro Tsuji to transform him into Churchill.
Now Tsuji and Oldman are prohibitive Oscar favorites. Oldman explained how it all came together at a recent Envelope Screening Series presentation of "Darkest Hour."
And as the year comes to an end, Times film critics Kenneth Turan, Justin Chang, Mark Olsen, Jen Yamato and yours truly picked our favorite movie characters from 2017. I guarantee you it's the only place you'll find Stefan Zweig and Dina from "Girls Trip" mentioned on the same list.
Happy new year!
Feedback?
I'd love to hear from you. Email me at glenn.whipp@latimes.com.
Can't get enough about awards season? Follow me at @glennwhipp on Twitter.
Twitter: @glennwhipp
---
From the Emmys to the Oscars.
Get our revamped Envelope newsletter for exclusive awards season coverage, behind-the-scenes insights and columnist Glenn Whipp's commentary.
You may occasionally receive promotional content from the Los Angeles Times.