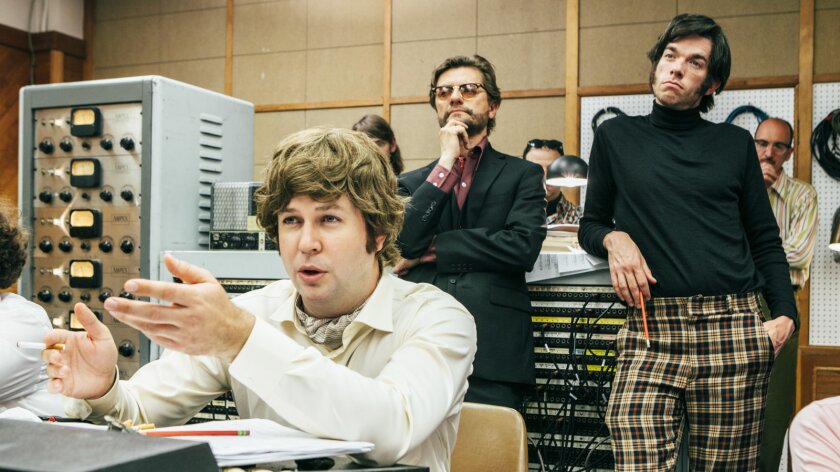 A couple of old favorites — in the case of "Deadwood," a real blast from the past — are returning to the Emmys this year. Let's see how they measure up in the races for variety sketch series, variety talk series and TV movie.
VARIETY SKETCH SERIES
"Saturday Night Live"
"Documentary Now!"
"Tracey Ullman's Show"
"At Home With Amy Sedaris"
"Drunk History"
"I Think You Should Leave With Tim Robinson"
Next up: "Baroness Von Sketch Show," "The Joel McHale Show With Joel McHale," "Tosh.0," "Whose Line Is It Anyway?"
Analysis: "Saturday Night Live" hadn't won a series Emmy for nearly a quarter-century until the Television Academy split the variety category between sketch and talk shows three years ago. Now its annual victory party seems inevitable, given that it's the only high-profile sketch series competing. (That's particularly true with the retirement of "Portlandia," itself very much a niche show.)
But as has been the case for the last few seasons, "SNL" delivered only sporadically. John Mulaney hosted its funniest episode this season (with Bill Hader appearing in a couple of perfect sketches). Mulaney also figures prominently in "Original Cast Album: Co-op," the best episode of the superb third season of "Documentary Now!" A parody of "Original Cast Album: Company," the 1970 D.A. Pennebaker film about the making of the cast album of Stephen Sondheim's "Company," "Co-op" has Mulaney playing a pretentious composer putting his cast through the wringer during an all-night recording session. Paula Pell's performance as an exasperated singer (modeled on Elaine Stritch) might be the most glorious thing you see on television this year.
Yes, "Documentary Now!" caters to a very specific audience. The fact that IFC lets this team do it at all is probably reward enough. But its consistent brilliance deserves more recognition.
VARIETY TALK SERIES
"Last Week Tonight With John Oliver"
"The Late Show With Stephen Colbert"
"The Daily Show With Trevor Noah"
"Full Frontal With Samantha Bee"
"Jimmy Kimmel Live!"
"The Late Late Show With James Corden"
Next up: "Late Night With Seth Meyers," "Conan," "Real Time With Bill Maher," "The Tonight Show Starring Jimmy Fallon," "Busy Tonight," "Desus & Mero," "The Jim Jefferies Show"
Analysis: Noah usurped Maher last year, and I'd guess that he'll be back, along with the other five 2018 nominees. It's possible that Meyers might finally land a nomination, but many voters appreciate Corden for providing some relief to the other shows' barrage of politics. Also: Corden's "Carpool Karaoke" episode with Paul McCartney, broadcast last June, was a delight that will last a lifetime.
Noah has taken a curious approach to returning to the Emmy fold. Comedy Central has plastered Los Angeles and New York with billboards featuring an image of the late-night host and the tagline: "Don't Green Book this one, guys." What exactly does that mean? Don't vote for an inferior show? Don't vote for an inferior show made by white guys just because it looks progressive? (If that's a dig at Maher, then I'll sign off.) Or: You may have voted for "Green Book" (WHAT WERE YOU THINKING???) but don't be a bonehead a second time. Vote for the Daily Show.
Noah's campaign has people talking. But many Television Academy members are the same voters who rewarded "Green Book" at the Oscars. "Don't Green Book this one, guys"? Be careful what you wish for, Trevor.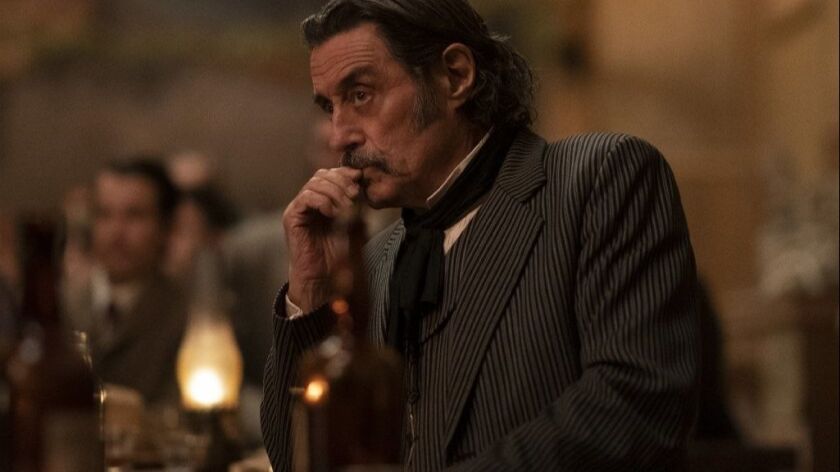 TELEVISION MOVIE
"Deadwood: The Movie"
"Black Mirror: Bandersnatch"
"King Lear"
"Brexit"
"Native Son"
Next up: "My Dinner With Hervé," "Sense8: Together Until the End." "O.G.," "Icebox"
Analysis: "Black Mirror" episodes have won this category the last two years, leading the Television Academy to lay down a new rule, requiring TV movies to be at least 75 minutes in length to qualify. That would have precluded the 2017 winner, the "San Junipero" episode, though last year's champ, "USS Callister," would have made it in with a minute to spare. The running time of the interactive "Bandersnatch" depends on viewers' choices — I'm still sorting it out and I've had quite enough of your judgment, thank you — but the default path clocks in at 90 minutes, so it qualifies and has a shot at keeping "Black Mirror's" Emmy streak going.
Standing in its path is "Deadwood: The Movie." David Milch's western series won eight Emmys from 28 nominations during its three-year run on HBO from 2004-2006, including a directing prize for Walter Hill. Big prizes eluded it, though, which probably increases the odds that voters will be inclined to vote for it this time around. That HBO has historically owned this category will help, as will the fact that Milch delivered a satisfying ending to a show that has stood the test of time.
Twitter: @glennwhipp
---