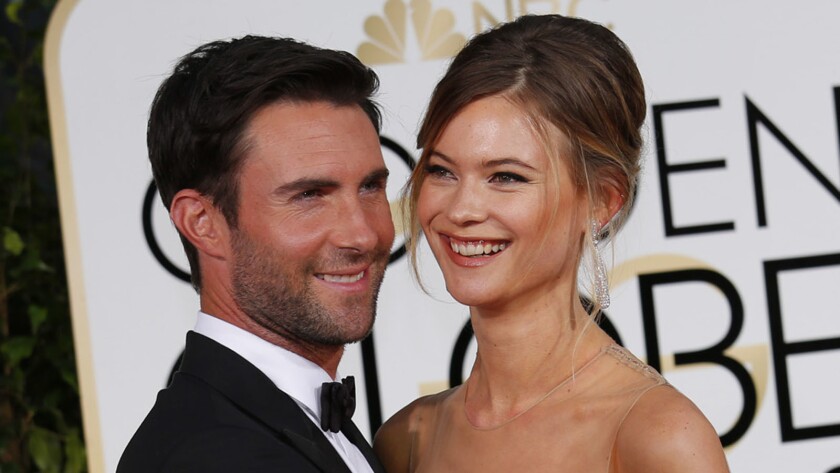 Adam Levine and Behati Prinsloo are parents to a baby girl, Dusty Rose Levine, his rep confirmed Thursday.
The coach of "The Voice" and the Victoria's Secret Angel made their baby-on-board news public in March, and knew in advance that the little one was a "she." More details on the baby — size, weight, exact birth date and time — were not made available immediately.
There was actually a little paternity-leave aspect to this celebrity arrival: Maroon 5, which Levine fronts, rescheduled seven shows ahead of Dusty's arrival.
"Even when you think you've planned everything perfectly sometimes life just kinda happens," Levine said on the band's website at the beginning of September.
That same day, looking fairly exhausted, he said in a video directed to fans, "Sadly, it's just kind of par for the course and I'm having a baby soon and we kinda wanted to do whatever we could to make it as smooth as possible.
"Unfortunately, it's life and it's beautiful, but it can be complicated and I apologize for any inconvenience."
The inconvenience appears to be short-lived, however. The band announced last week that the show planned for this past Monday in Hartford, Conn., would be the last one getting baby-bumped.
Prinsloo, 27, and Levine, 37, got married in Mexico in July 2014 with Jonah Hill officiating. Prior to walking down the aisle, they'd dated for a year and been engaged for a year.
Follow Christie D'Zurilla on Twitter @theCDZ.
ALSO
Adam Levine, Behati Prinsloo marry in Mexico; Jonah Hill officiates
Maroon 5's Adam Levine looks to part with his updated crib in Beverly Crest
Adam Levine broke 3-year-old Mila's heart — and she's not giving him a second chance
---