Kasem's family still at odds as judge says host must be fed, hydrated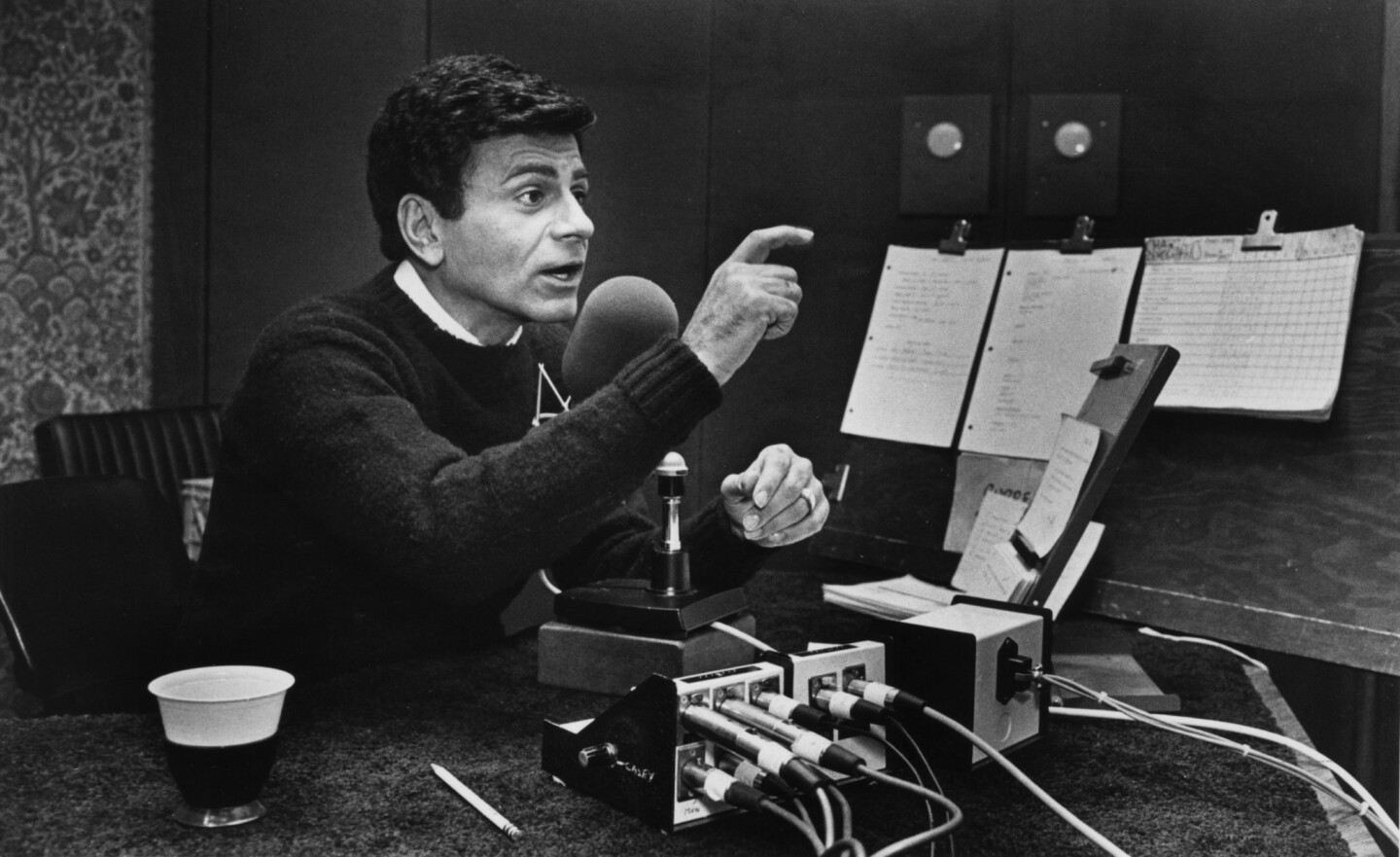 Casey Kasem broadcasts on radio station KIQQ in 1981.
(Gary Friedman / Los Angeles Times)
Casey and Jean Kasem attend the 1990 Emmys.
(Mindy Schauer / Los Angeles Times)
Casey Kasem (1932-2014) -- Los Angeles-based disc jockey pioneered the nationally syndicated countdown-style show in 1970 with "American Top 40."
(Eric Jamison / Associated Press)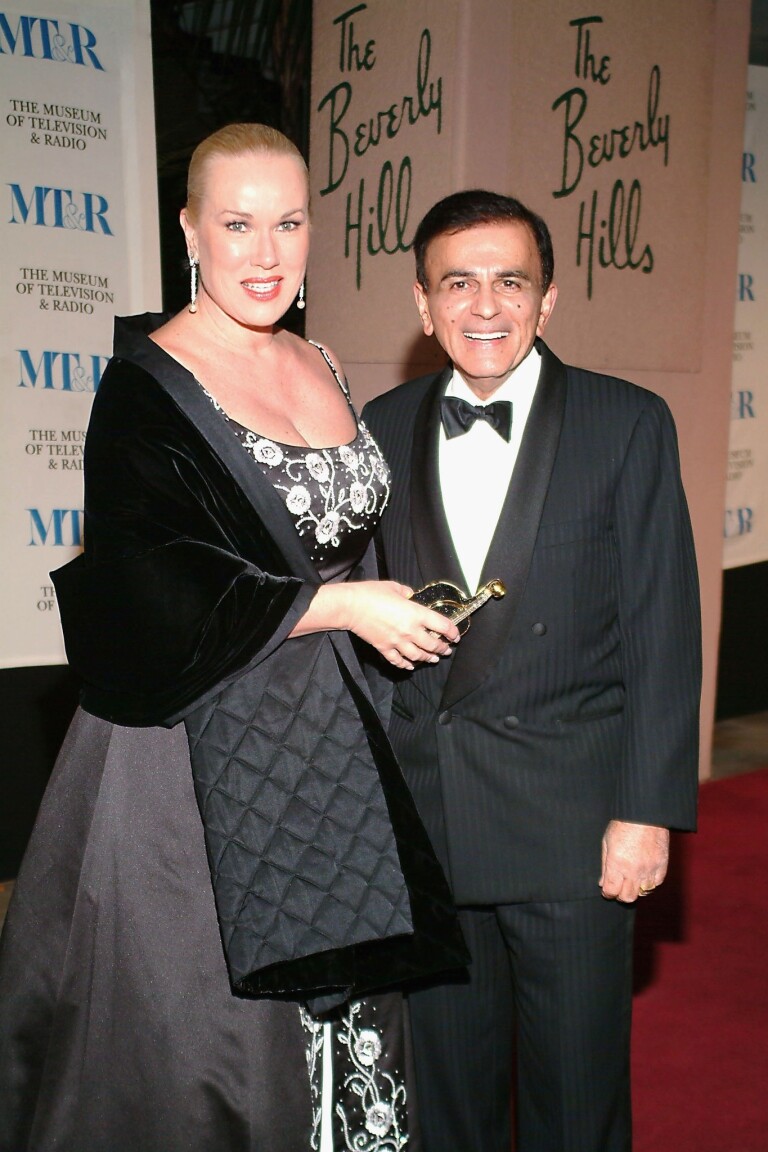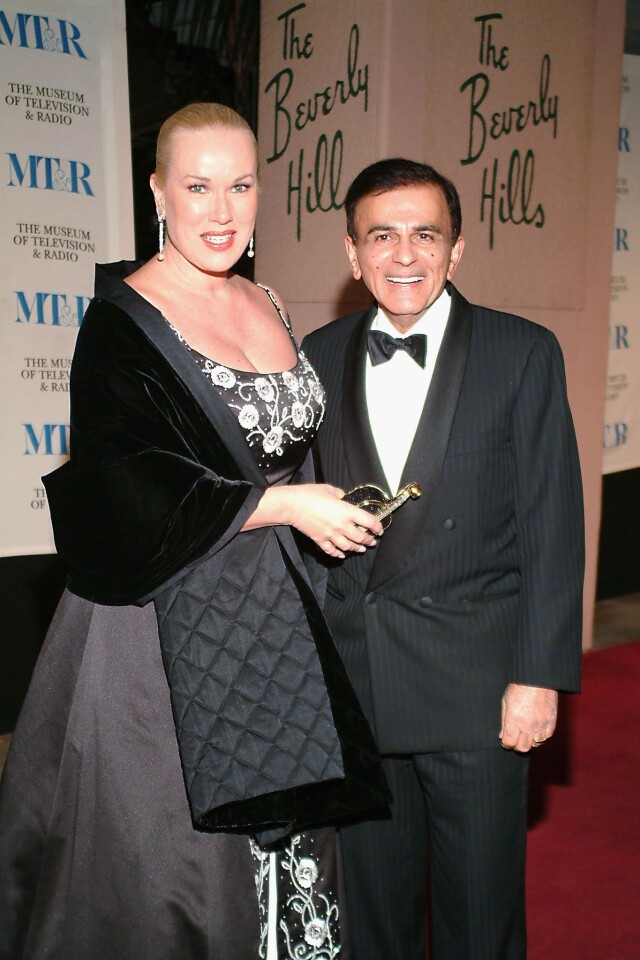 Casey Kasem and his wife, Jean, arrive at the Museum of Television and Radio's gala tribute to Barbara Walters at the Beverly Hills Hotel in 2004.
(Michael Tullberg / Getty Images)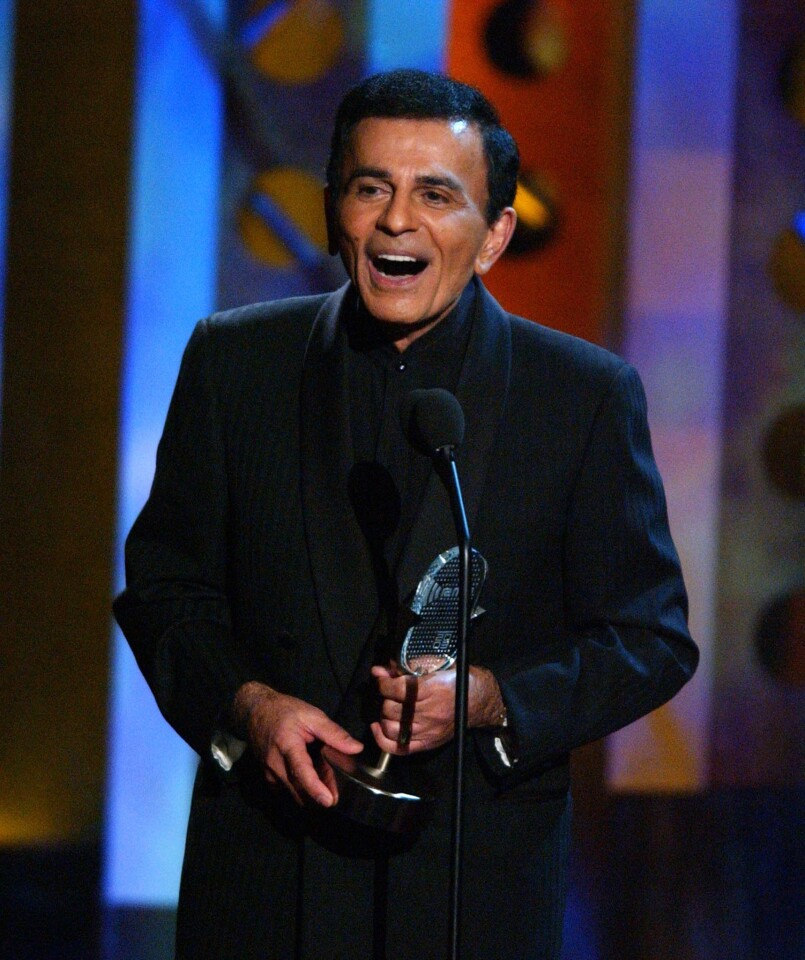 Casey Kasem accepts the Radio Icon Award at the 2003 Radio Music Awards.
(Michael Caulfield / WireImage / Getty Images)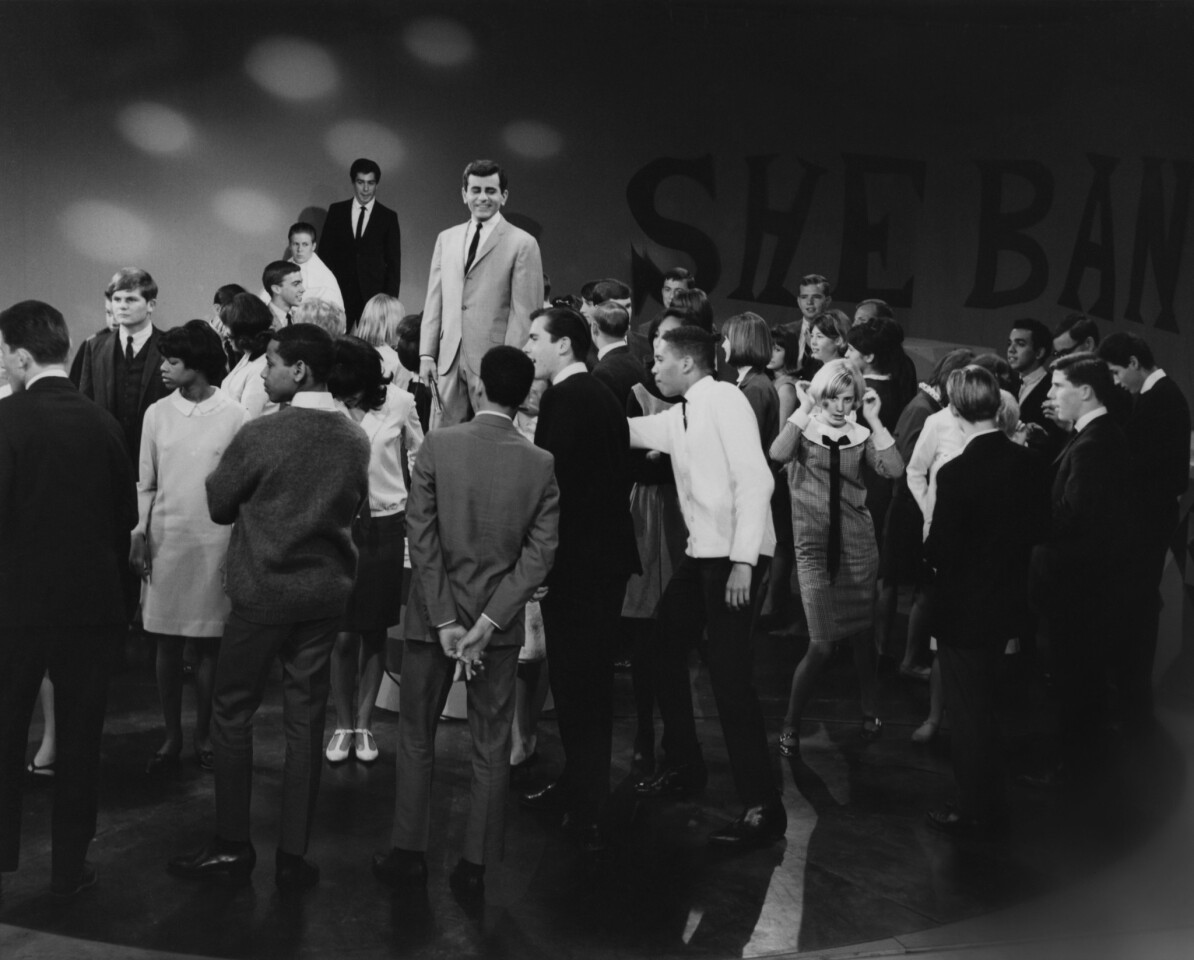 Casey Kasem hosts the KTLA music show "Shebang!" circa 1965.
(Michael Ochs Archives / Getty Images)
Casey Kasem in the DJ booth at WJBK radio station in 1957 in Detroit.
(Michael Ochs Archives / Getty Images)
A judge ruled Monday that radio icon Casey Kasem, who remains in hospice care, be fed and hydrated and that a court-appointed attorney evaluate the health of the ailing host, siding with Kasem's wife rather than her stepdaughter, who was named temporary conservator.
Superior Court Judge Daniel S. Murphy said that Kasem, who suffers from Lewy body dementia, should continue to be medicated at the discretion of his doctors, according to court documents obtained by The Times, despite his daughter, Kerri Kasem, moving to implement end-of-life measures.
Kerri Kasem and her father's doctors in Washington had stopped hydration, nutrition and some medications after they determined that the processes became too painful for the 82-year-old, her attorney Troy Martin said in court.
Martin told The Times that restoring hydration and nutrition would cause the former "Scooby Doo" voice star "a great amount of pain."

The judge set another hearing for Friday to receive an update on Kasem's health after the court-appointed attorney goes to Washington to get a status update on Kasem's condition and speak with the former "American Top 40" host and his doctors.
But a rep for his daughter, who was granted the temporary conservatorship on May 13, worried that the decision may be for naught and believed that Jean Kasem, Kasem's wife of 34 years who has been feuding with her stepchildren over her husband's care, was "distracting" the family from spending what may be their last moments with their father.
"The point is, by Friday, will he even make it?" Kerri Kasem spokesman Danny Deraney told The Times. "He's receiving hospice care now. He can't eat anything, his body rejects it. He's in stable condition and there's nothing more that they can do."
Jean Kasem, who had previously been held in contempt of court for not cooperating with the family, supported the judge's decision.
"Only God knows when to take someone," Jean Kasem said, according to the Associated Press.
Jean Kasem, who made headlines last week for hurling raw meat at her stepdaughter, was in the Los Angeles court on Monday and reportedly broke down in the corridor, falling to her knees as she repeatedly said, "Please don't let them kill my husband," NBC News reported.
Jean Kasem's attorney Steve Haney said that his client "was very upset" and she asked people in the hallway to pray with her to "please save my husband's life."
"She doesn't have to be in court, but the problem is that Kerry has convinced the people up there [in Washington] that Jean can only see her husband alone — separate from his kids — for five minutes a day," Haney said. "So she had a choice of watching him die and seeing him five minutes a day or coming back to Los Angeles and doing something about it. She opted for coming to Los Angeles to stop the process leading to his death."
Haney accused Kerri Kasem of "ignoring the court order" and "is basically watching him die."
He said that Casey Kasem is able to communicate with his wife nonverbally.
"He never was in a coma. He's not a vegetable. When Jean talks to him he understands her and she can ask him questions and will communicate through blinking," Haney said."He's coherent, but he just can't verbalize things. Jean feels that he wants to live as long as he could."
At the heart of the family's acrimony is a $2-million trust that will be equally distributed among Kasem's three children from his first marriage and his daughter Liberty, whom he had with Jean Kasem, Deraney told The Times. Jean Kasem has accused Kerri and her siblings of trying to end their father's life to get the money, he said.
However, Jean Kasem's camp alleges that Kerri Kasem in a "dire" economic state, is upside down on her house and owes her father hundreds of thousands of dollars, Haney said. Jean Kasem believes that her stepdaughter is trying to expedite his death to get his $2-million life insurance policy, he said.
"Casey wanted to be left alone in peace and privacy to die, and Kerri was trying to create a situation in which she could be in a position of power and authority over her father."
The radio host was moved from a Santa Monica facility last month by his wife and was staying with her at a family friend's house before Kerri Kasem had him moved to a hospital on June 1.
Late last week, doctors said he was in critical but stable condition, according to a statement on from St. Anthony Hospital obtained by CNN, and was receiving antibiotics through IVs, medicine for blood pressure support and care for his bed sores.
The powers of the temporary conservatorship will remain in effect until a hearing on the permanent conservatory takes place on June 20, Martin told The Times.
Haney said that when he complained to the judge about Kerri Kasem's treatment of her father on Monday, the judge invited him to file a petition changing the temporary conservatorship from Kerri Kasem back to Jean Kasem.
Follow me @NardineSaad.
---
Get our daily Entertainment newsletter
Get the day's top stories on Hollywood, film, television, music, arts, culture and more.
You may occasionally receive promotional content from the Los Angeles Times.