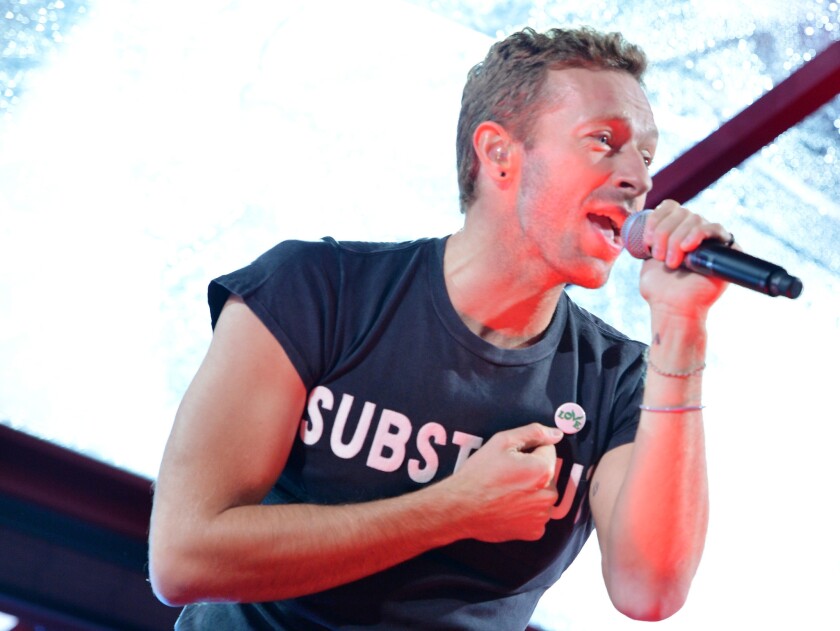 Chris Martin really knows how to weave an epic yarn.
The imaginative Coldplay frontman conjured up a hilariously visual backstory about how he came to write "Miracles" for Angelina Jolie's film "Unbroken" that involves kidnapping, a mysterious stand-off, Brad Pitt doing push-ups, Jolie wearing a crown, the imminent threat of injury and "American Idol"-style tryouts.
Intrigued? Here's how he claims it went down:
"I got a message that said, 'Meet in this undisclosed location. You'll be blindfolded and picked up by seven ex–Navy SEALs,'" the singer deadpanned to Vulture. "So they kidnapped me, hit me over the head, and sprayed me with Mace. When I woke up, I was in an office, and Brad Pitt was doing push-ups as Angelina Jolie was just sitting there with her crown on. There was also a guy holding a knife to my throat, and she said, 'Write me a song, or else.' And Brad Pitt said, 'Yeah. What she said.' "
Of course, the 37-year-old said he wrote the gentle ballad, which plays over the closing credits to the Louis Zamperini biopic.
"We wrote a song and then she said, 'It's through to the final eight,' and then we had live eliminations at her house," the British singer continued. "We came in second, but the main guy chickened out."
Hey, that sounds a lot more thrilling than "her people called my people," no?
"Miracles" is the band's second go at a song for a soundtrack — Coldplay composed "Atlas" for 2013's "The Hunger Games: Catching Fire."
Meanwhile, Jolie had to bow out of promoting her second directorial project because of a bout of chicken pox, but her husband and family stepped in in her absence at the film's Los Angeles premiere this week.
"Unbroken" hits theaters on Christmas Day.
Now I see what JLaw saw in him. Follow me on Twitter @NardineSaad.
---