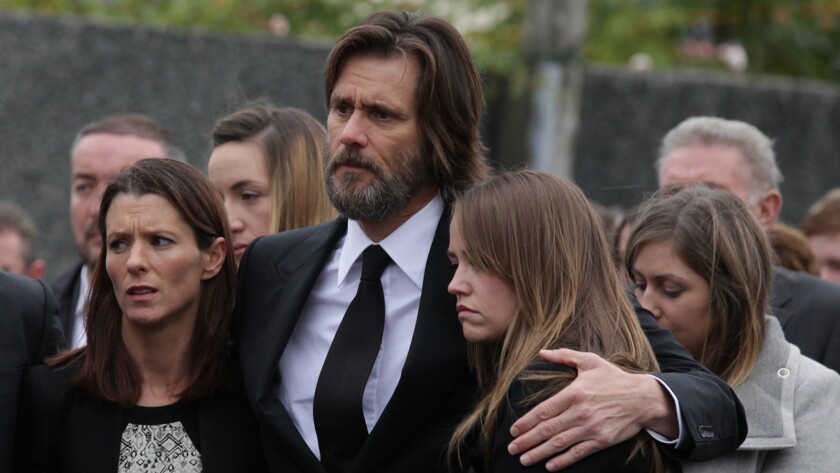 The husband of Jim Carrey's late on-off girlfriend, Cathriona White, is accusing the actor of giving her sexually transmitted diseases that were "a significant cause" behind her suicide a year ago at age 30.
Carrey's attorney, Martin D. Singer, however, called the allegation — made Thursday in an amendment to a wrongful death lawsuit filed by White's husband, Mark Burton — a "bogus, desperate claim" that was part of a "transparent shakedown."
The suit accuses Carrey of giving White gonorrhea and oral and genital herpes. The suit includes text messages between White and Carrey in January 2013, before her alleged diagnosis a month later, as well as an undated handwritten letter from her that appears to have come after some sort of ensuing negotiation that ended with her not getting the apology she wanted.
The suit alleges that Carry and his team pressured White to stay quiet about the situation.
"I am damaged, I am discusting [sic]. … I will always be damaged goods and have a stigma attached," the letter says. "So I have to accept something I was always afraid of. Being alone. Being abandoned and alone." In closing, it says: "I am sorry that we are both left wounded. I love you very much Jim. You will always be in my heart."
White sought out Carrey in November 2014, according to Singer's statement. He said they were working out a cohabitation agreement and had lived together for the most part up to her death.
"If he had engaged in the alleged horrible conduct, why would she reach out and request that they continue to stay together?" the attorney said.
Burton's suit says Carrey didn't tell White about any STDs before their relationship became sexual. The two were involved off and on for two or three years before her death on Sept. 24, 2015.
Singer alleged that White had "engaged in an illegal sham marriage" with Burton so that White, who was from Ireland, could stay in the United States. The attorney said White had asked numerous people to marry her, including Carrey.
Burton, who lives in Portland, Ore., married White in January 2013 at a wedding chapel in Las Vegas, according to a marriage certificate obtained by several media outlets. He was her legal next of kin, the medical examiner's office told Us Weekly just after she died.
According to White's autopsy report, obtained by People, she had propranolol, Ambien, oxycodone and oxymorphone in her system when she died. She also had a text on her phone from Carrey asking about missing drugs, the autopsy report said.
The suit, which says Carrey illegally procured controlled substances by prescription and caused White's death, seeks unspecified damages.
"Cat's troubles were born long before I met her and sadly her tragic end was beyond anyone's control," Carrey, 54, said Monday in a statement declaring that he intended to fight the lawsuit. "I really hope that some day soon people will stop trying to profit from this and let her rest in peace."
Follow Christie D'Zurilla on Twitter @theCDZ.
---