George Clooney ex Stacy Keibler marries tech exec Jared Pobre
Furnish wed the British musician at their Windsor estate in Berkshire, England, on Dec. 21, 2014 -- exactly nine years after they had a civil ceremony. Sons Zachary and Elijah served as ring bearers.
(Charles Sykes / Invision / AP)
The actor and human rights barrister wed in Venice, Italy, during a weekend full of wedding festivities that played out on the Grand Canal. The couple have been linked since October 2013, got engaged in April and made it official on Sept. 29. Former mayor of Rome Walter Veltroni officiated.
(Luigi Costantini / Associated Press)
The Oscar-winning duo privately wed on Aug. 23 at their winemaking estate Chateau Miraval in France after nine years together. Jolie wore a Versace gown boasting their six kids' doodles. "It was important to us that the day was relaxed and full of laughter," they told People.
(Mark Boster / Los Angeles Times)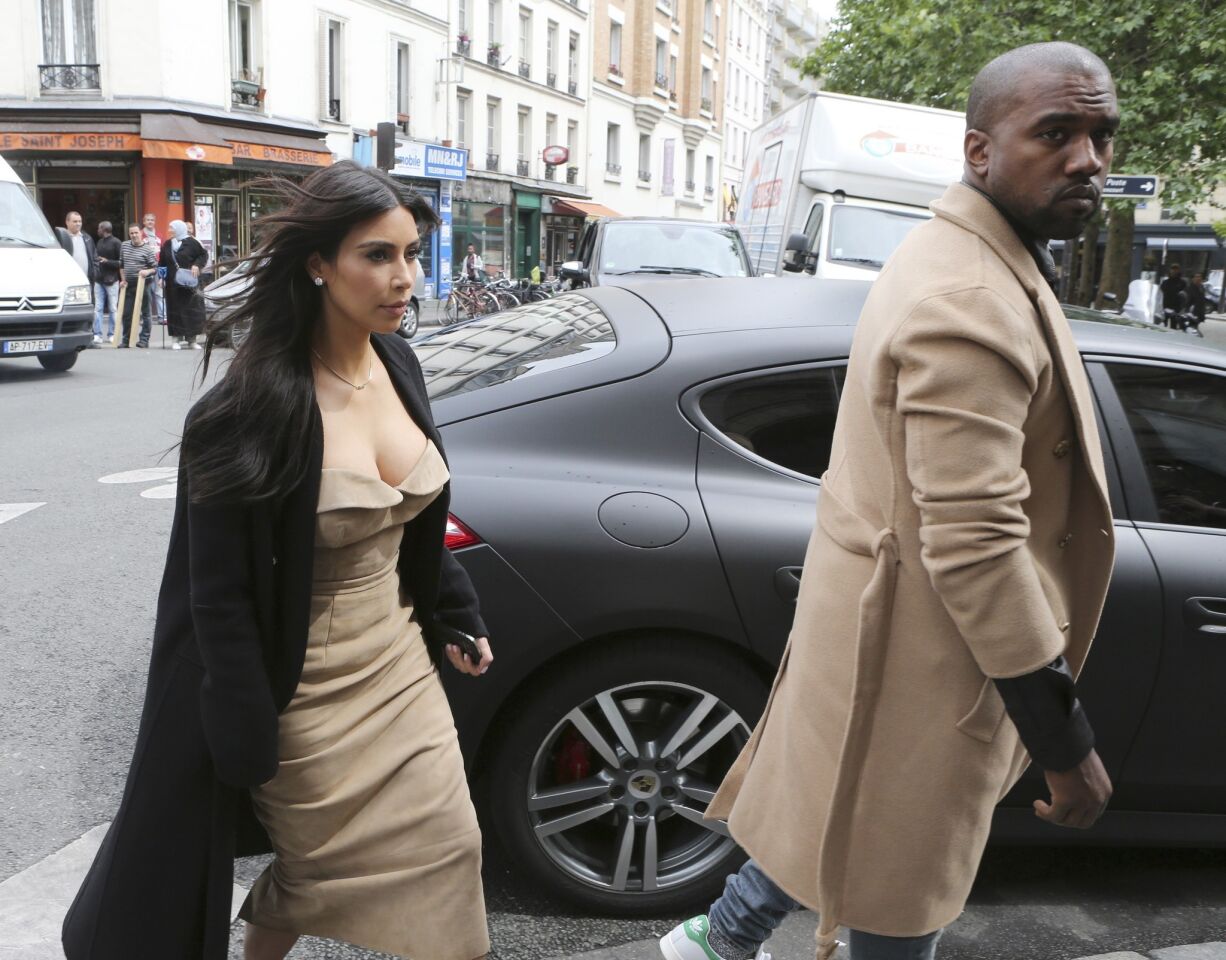 With a week of festivities in France and Italy, the reality star and rapper wed on May 24 at Florence's Forte di Belvedere. Kardashian wore a Givenchy dress while opera star Andrea Bocelli and singer John Legend serenaded about 200 guests flown in by private jet.
(Jacques Brinon / AP)
"How I Met Your Mother" star Neil Patrick Harris married his partner of 10-plus years in Italy in September. Director Pam Fryman officiated the ceremony and Elton John performed at the reception. Harris, 41, and actor-chef Burtka, 39, sported custom Tom Ford tuxedos.
(Charles Sykes / Invision/Associated Press)
The former "View" co-host and New Kids on the Block alum wed over Labor Day weekend at the Hotel Baker just outside of Chicago. They met on McCarthy's old VH1 talk show, started dating soon after a joint appearance on "Watch What Happens Live" and Wahlberg proposed in April 2014.
(Heidi Gutman / Associated Press)
The "Destiny's Child" alum wed her manager in Costa Rica on May 9 in front of 30 guests, including her former bandmates Beyonce Knowles and Michelle Williams. A month later, "The X Factor" judge announced that she and her new husband were expecting their first child.
(John Shearer / Invision / AP)
N'Sync alum Bass married the artist on Dec. 20 in Los Angeles in a ceremony designed to be shared in an upcoming "wedding special" to be broadcast on E! He also reunited his former bandmates except Justin Timberlake, who was touring.
(Robin Marchant / Getty Images)
"The Danish Girl" star Eddie Redmayne welcomes his first child with wife Hannah Bagshawe.
(Facundo Arrizabalaga / EPA)
The "Jersey Shore" star married LaValle, the father of her two children, over Thanksgiving weekend in a glitzy Great Gatsby-themed affair that reunited several of her MTV costars and boasted a 32-person bridal party.
(Evan Agostini / Invision / AP)
After a three-year courtship, the "Glee" star wed Puente in Maui in October. During the festivities, they performed a hula dance and sang a duet of Laura Benanti's "Starry Eyed/Video Games."
(Richard Shotwell / Invision / AP)
The "Jurassic Park" alum, 62, said "I do" in November when he wed his aerialist girlfriend, 31, at the Chateau Marmont in Los Angeles. It's the third marriage for Goldblum.
(Robyn Beck / AFP / Getty Images)
"The Vampire Diaries" actress and the Fray musician tied the knot in New Orleans in October with all the trappings of the French Quarter. They also rounded up many of her CW costars at the elaborate affair.
(Jason Merritt / Getty Images)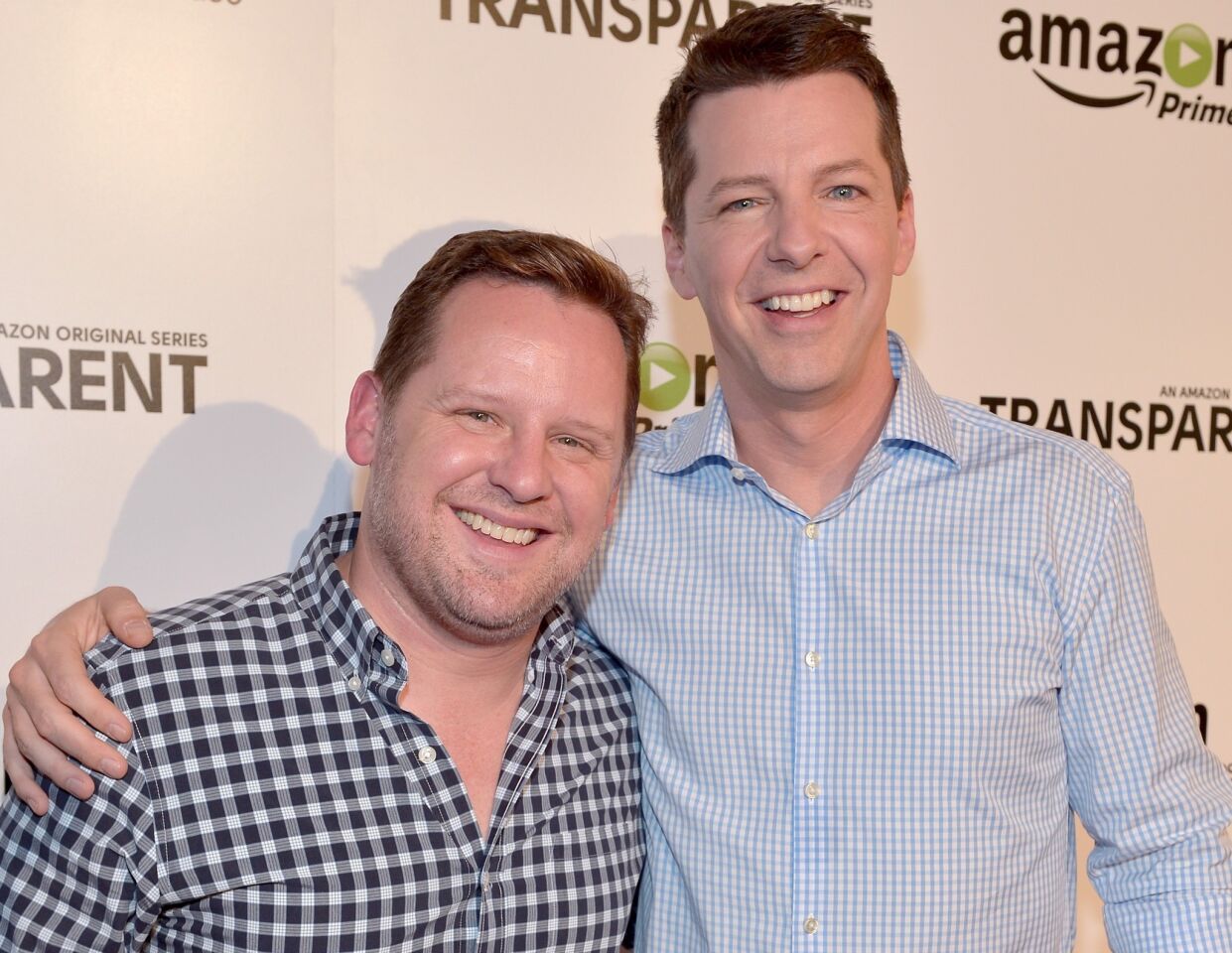 The "Will & Grace" alum had been affianced to the music producer "for quite some time," his rep said upon confirming the engagement in November. Hayes tipped off viewers after appearing on "The Talk" and "Ellen DeGeneres Show" wearing a silver band on his left ring finger.
(Charley Gallay / Getty Images for Amazon Studios)
The extremely private "Mission: Impossible" franchise star flashed a wedding band at a screening of "Kill the Messenger" in Washington, D.C., in late September and confirmed his marriage to Sonni Pacheco, the mother of his daughter, to a D.C.-area magazine. No other details have gone public.
(Paul Morigi / Getty Images for Capitol File Ma)
"The Hills" alum-turned-designer married Tell, whom she met two years ago on a blind date, on Sept. 13 in Santa Ynez, Calif. They'd been engaged since last October. "I am officially Lauren Tell," she tweeted a few days later. Conrad wore a custom Badgley Mischka gown and her bridesmaids wore her designs.
(Jason Merritt / Getty Images for Veuve Clicquot)
"Best day of my life! Introducing Mr and Mrs French Sept 8, 2014," the "High School Musical" alum wrote on Instagram announcing her union to the musician. She followed up her announcement with a snapshot of herself surrounded by her six bridesmaids, one of whom was her "HSM" costar Vanessa Hudgens.
(Imeh Akpanudosen / Getty Images for The Weinstein Co.)
"The Trip to Bountiful" star confirmed her engagement while filming the Sept. 30 episode of "The Queen Latifah Show" and showed off her massive sparkler on the talk show's couch. "I just got engaged a couple of weeks ago. So it's been a lot of blessings," she said.
(Wally Skalij / Los Angeles Times)
The country star proposed to the "Idol" alum, who was implicated in the demise of his marriage, in September. Aldean had been linked to Kerr since the pair were caught kissing at a Los Angeles bar in September 2012, when he was married to Jessica Ussery.
(Wade Payne / Invision / Associated Press)
Mena revealed her engagement to Moss, formerly rapper Bow Wow, on the red carpet at the BET Hip Hop Awards 2014 in Atlanta in September. Moss posted pictures on his Instagram account showing Mena's ring and the two of them sitting together in the audience at the show.
(Brad Barket / Getty Images, left; Brian Ach / Getty Images, right)
The "Friday Night Lights" alum is engaged to stuntman Jackson Spidell, her publicist confirmed in September. The couple met while filming "John Wick," in which Spidell did stunt work for Palicki's costar, Keanu Reeves.
(Joshua Blanchard / Getty Images for Comedy Central)
"Surprise!!!!! We got married!" "The Nanny" alum tweeted Sept. 7, sharing a snapshot of herself with her new husband, inventor-entrepreneur Shiva Ayyadurai. Drescher wed the MIT lecturer at their beachfront home Sunday in front of an "intimate group of family and friends," her assistant said.
(Jemal Countess / Getty Images for Tony Awards Pro)
The "Being Mary Jane" star and Miami Heat point guard wed on Aug. 30 in a fashion forward black-and-white themed affair at Chateau Artisan castle in Miami. Wade and Union began dating in 2008 and he proposed in December with an 8.5-carat engagement ring.
(Christopher Polk / Getty Images for ESPY)
The singer and "Hunger Games: Mockingjay" actor, the son of Supremes singer Diana Ross, got hitched on Aug. 31 at his mom's estate in Greenwich, Conn. Diana Ross officiated the ceremony and performed while Ashlee's sis, Jessica Simpson, served as matron of honor. Simpson was previously married to and has a son with Fall Out Boy's Pete Wentz. She and Ross, reportedly friends for a long time, dated for less than a year before revealing their engagement in January.
(Jordan Strauss / Invision / Associated Press)
Reports surfaced in August that the "Glee" actress and her high school sweetheart were affianced. The 27-year-old and Hubbell are already parents to 11-month-old son Elijah, whom they welcomed in September 2013. She has enthusiastically expressed her desire to marry Hubbell.
(Jason Merritt / Getty Images)
The heiress turned fashion designer and her fiance, who hails from a famous European banking family, were outed in August by her big sis, reality-TV star Paris Hilton. The celebutante and Rothschild began dating in 2011 after meeting at a wedding in Italy, and Italy is where he proposed.
(Andrew Toth / Getty Images for FIJI Water)
The "Mad Men" actor and "Gilmore Girls" star tied the knot in June, more than a year after their March 2013 engagement, and a few of his cast member friends were in attendance. The two met while playing illicit lovers in a story arc on AMC's "Mad Men" -- but they reportedly didn't date until production was over.
(Allen J. Schaben / Los Angeles Times)
The "Scream" actor, who was previously wed to newly engaged Courteney Cox, proposed to the entertainment reporter at a restaurant in Malibu in July, just a little more than two months after welcoming their son Charlie West. The couple have been dating on and off since 2011.
(Michael Kovac / Getty Images for Art of Elysium)
In late June, the "Friends" actress shared a pic of her new fiance, saying "I'm engaged to him. The Snow Patrol rocker, who met her via musician Ed Sheeran, posted a similar snap, saying "I'm engaged to her." The pair has been linked since December 2013.
(Chris Pizzello / Invision / AP)
"The City" alum married the German model she's been dating for six and a half years in Bedford, N.Y., in late June. She announced the union on her blog and shared photos of her three-piece Carolina Herrera look, which included a cashmere sweater, tulle skirt and shorts.
(Jamie McCarthy / Getty Images)
"The Originals" actor and his former "Vampire Diaries" costar confirmed they were engaged in June. "We have found a rare and precious thing; true love. We wish you all the same," they said in statement. The couple first met on Season 3 of the "Vampire Diaries."
(Christopher Polk / Getty Images for The People's Choice Awards)
The Band Perry musician wed the baseball player on June 12 at First Presbyterian Church in Greenville, Tenn. Her brothers Neil and Reid and fellow country stars Miranda Lambert, Blake Shelton and Carrie Underwood witnessed the nuptials.
(Darren Reese / AP)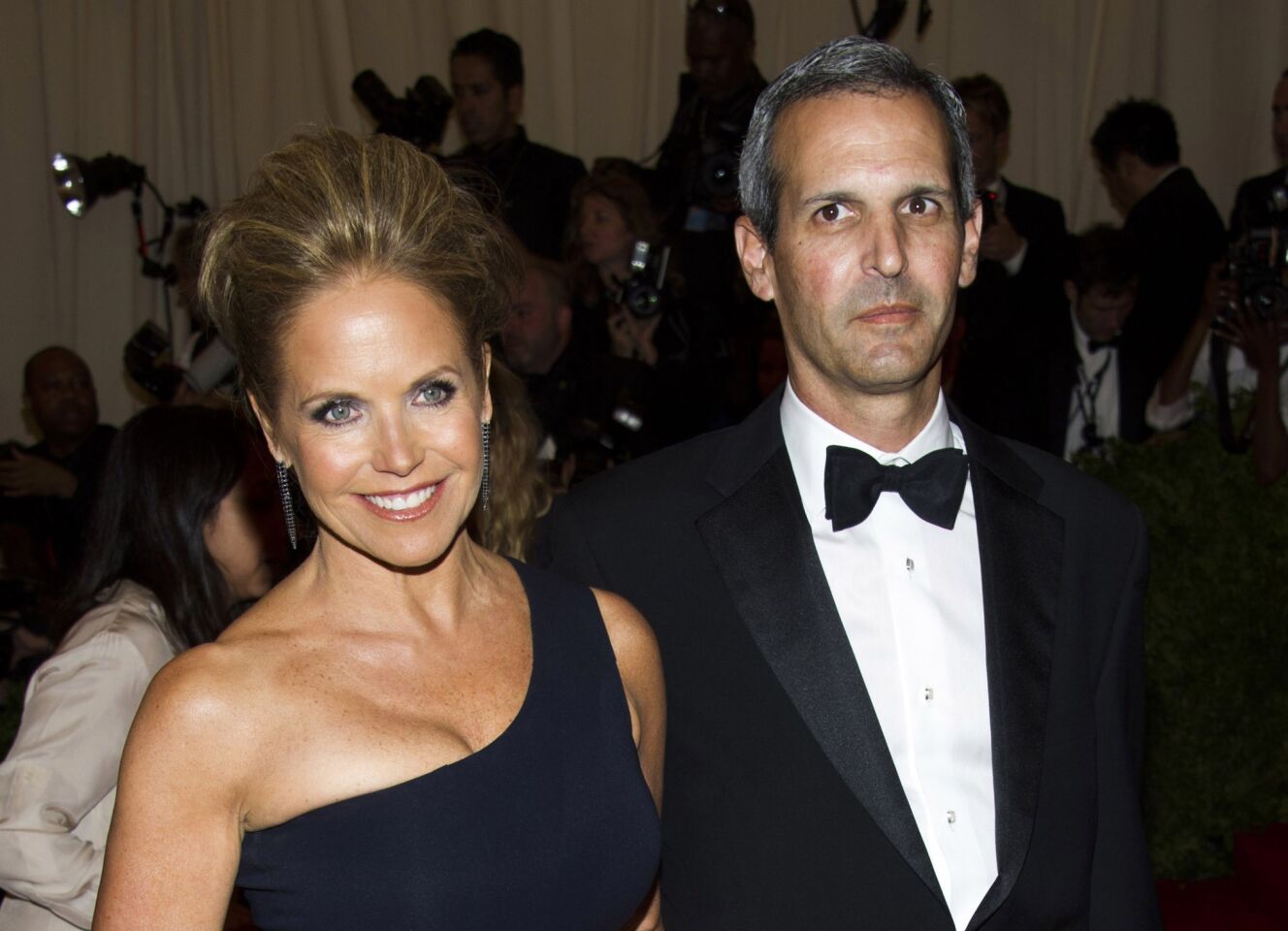 The TV journalist was a bride once again in June when she wed the financier in her East Hamptopn, N.Y., backyard. Couric wore a Carmen Marc Valvo gown in front of about 50 guests. Her two kids and Molner's two kids all did readings at the wedding.
(Charles Sykes / Invision / AP)
The rapper wed the Gumball 3000 co-founder on Saturday in mid-June in Ibiza, Spain. Eve wore a high-neck gown by Alice Temperley and carried a bouquet of pink roses. It's the first marriage for her and the second for Cooper, who has four kids from a previous union.
(Danny E. Martindale / Getty Images)
The "Chuck" star pulled off a secret Maui wedding to the "Rookie Blue" actress in June. The pair announced the union on Twitter, posting a pic of them in "Mr." and "Mrs." hoodies and referring to their top-secret nuptials as an impromptu "coffee date."
(Dimitrios Kamboris / Getty Images; Frederick M. Brown / Getty Images)
The Olympic champion proposed to his longtime girlfriend, also an ice dancer, in Hawaii in June, announcing the engagement on Instagram with a sweet post that read: "Couldn't ask for a more beautiful setting for the best time in our life! Hashtag she said yes!!!"
(David Goldman / AP)
The "Blue Bloods" actress, who was briefly wed to Bradley Cooper, confirmed her engagement on "Katie" in early May. "I'm thrilled, " the Brooklyn native said, showing off her diamond ring. "He's lovely."
(Astrid Stawiarz / Getty Images)
Oscar winner Jodie Foster married photographer Alexandra Hedison in late April after reportedly beginning their romance over the summer.
The low-key nature of the "big event" is par for the course for "The Silence of the Lambs" actress, who famously, finally, sort-of came out publicly in 2013 in a rather rambling speech delivered when she accepted the Cecil B. DeMille lifetime achievement award at the Golden Globes.
Foster never used the words "lesbian" or "gay" in the speech but did smoothly name-check former partner Cydney Bernard, calling her "one of the deepest loves of my life, my heroic co-parent, my ex-partner in love but righteous soul sister in life... Thank you, Cyd, I am so proud of our modern family," which includes sons Charlie and Kit. She hadn't previously hidden their relationship but had been private about it.
At the time, Foster told the audience she was single.
(Jay L. Clendenin / Los Angeles Times)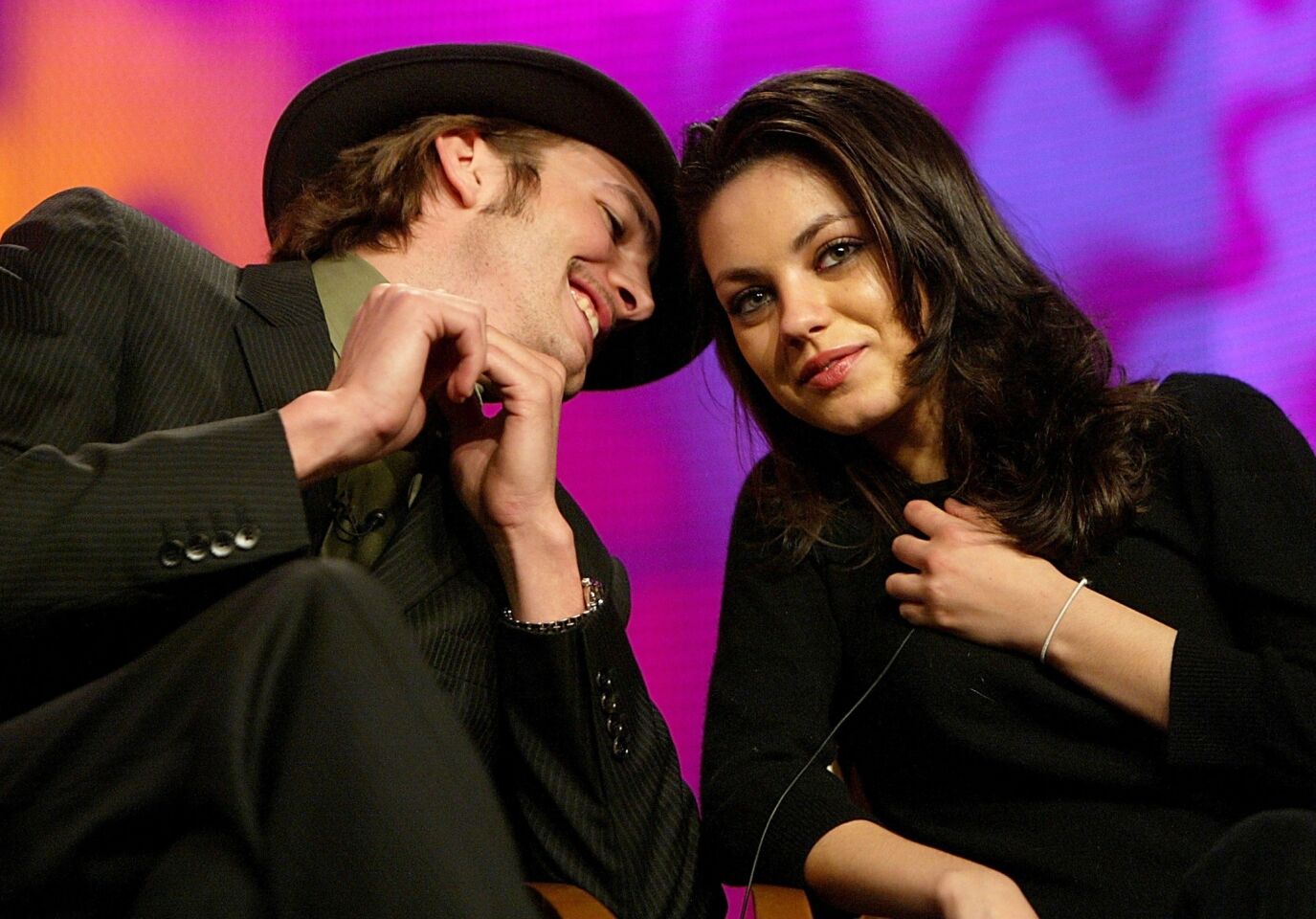 Great news for Team Kelso and Jackie! News that the "That '70s Show" alums were engaged broke in late February, just after the actress set snoops on the trail of the secret when she and her mom stopped by the Grove shopping center in L.A. and Kunis was wearing a big ol' ring on her left-hand ring finger.
E! News was the first to confirm, citing a source who said the two former "That '70s Show" costars, who've been dating since April 2012, were indeed going to tie the knot.
The "Two and a Half Men" star reportedly proposed about a month prior and news of the engagement came just a few months after the actor finalized his long-running divorce from actress Demi Moore in November.
(Kevin Winter / Getty Images)
Pamela Anderson and her ex-husband Rick Salomon have given wedded bliss a second chance.
The news emerged in January on the red carpet for Sean Penn's Help Haiti Gala in L.A., where Anderson was flashing a big ol' sparkler on her left hand. When asked by E! News if that meant the two had wed, the "Baywatch" alum answered, "Yes."
"Our families are very happy, and that's all that matters," Anderson told E!, noting that she and film producer Salomon were pleased as well. The actress did not reveal their wedding date.
(Dave M. Benett / Getty Images)
Never let it be said that Lily Tomlin and Jane Wagner rushed into marriage.
After 42 years together, the couple were married New Year's Eve, with reports and confirmations surfacing Jan. 3 and the following week.
"They're very happy," Tomlin's rep told E! News, which said the plans have reportedly been bubbling at least since August and that the women married in a private ceremony in Los Angeles.
(Luis Sinco / Los Angeles Times)
They were one of our favorite celebrity couples of 2013 — technically, that's when they tied the knot too — and their New Year's Eve wedding dominated celebrity headlines on the first day of 2014 thanks to numerous photos that "The Big Bang Theory" star and her tennis-playing hubby shared on Instagram.
Mr. and Mrs. Sweeting tied the knot with fire-and-ice-themed nuptials at Hummingbird Nest Ranch in Santa Susana. Cuoco and Sweeting went nontraditional, with the bride opting for a pink Vera Wang wedding gown and Sweeting wearing an all-black ensemble and no bowtie.
(Dan Steinberg / Associated Press)
The "American Dream Builders" host wed at the New York Public Library in early May, marking the first same-sex union at the landmark. They got engaged in Peru last April after dating for about nine months and wed in front of Oprah Winfrey, Rachael Ray and Busy Philipps.
(Mike Coppola / Getty Images for Good Shepherd Services)
"The Office" alum managed a reunion of his costars during his late April wedding. The pair wed at his L.A. home on in lat April with his fellow costars in attendance, including Angela Kinsey, Jenna Fischer, Oscar Nunez and John Krasinski and his wife, actress Emily Blunt.
(Allen J. Schaben / Los Angeles Times)
"Once Upon a Time" costars Ginnifer Goodwin, 35, and Josh Dallas, 32, wed in Los Angeles on April 12 and celebrated their nuptials with an intimate sunset ceremony in front of 30 close friends.
The burgeoning bride, who announced her pregnancy in November, wore a custom-designed Monique Lhuillier gown. Goodwin, who plays Snow White to Dallas' Prince Charming on the ABC series, is due in the spring, and the pregnancy has been written into the fantasy drama.
(Alberto E. Rodriguez / Getty Images For Hollywood Life)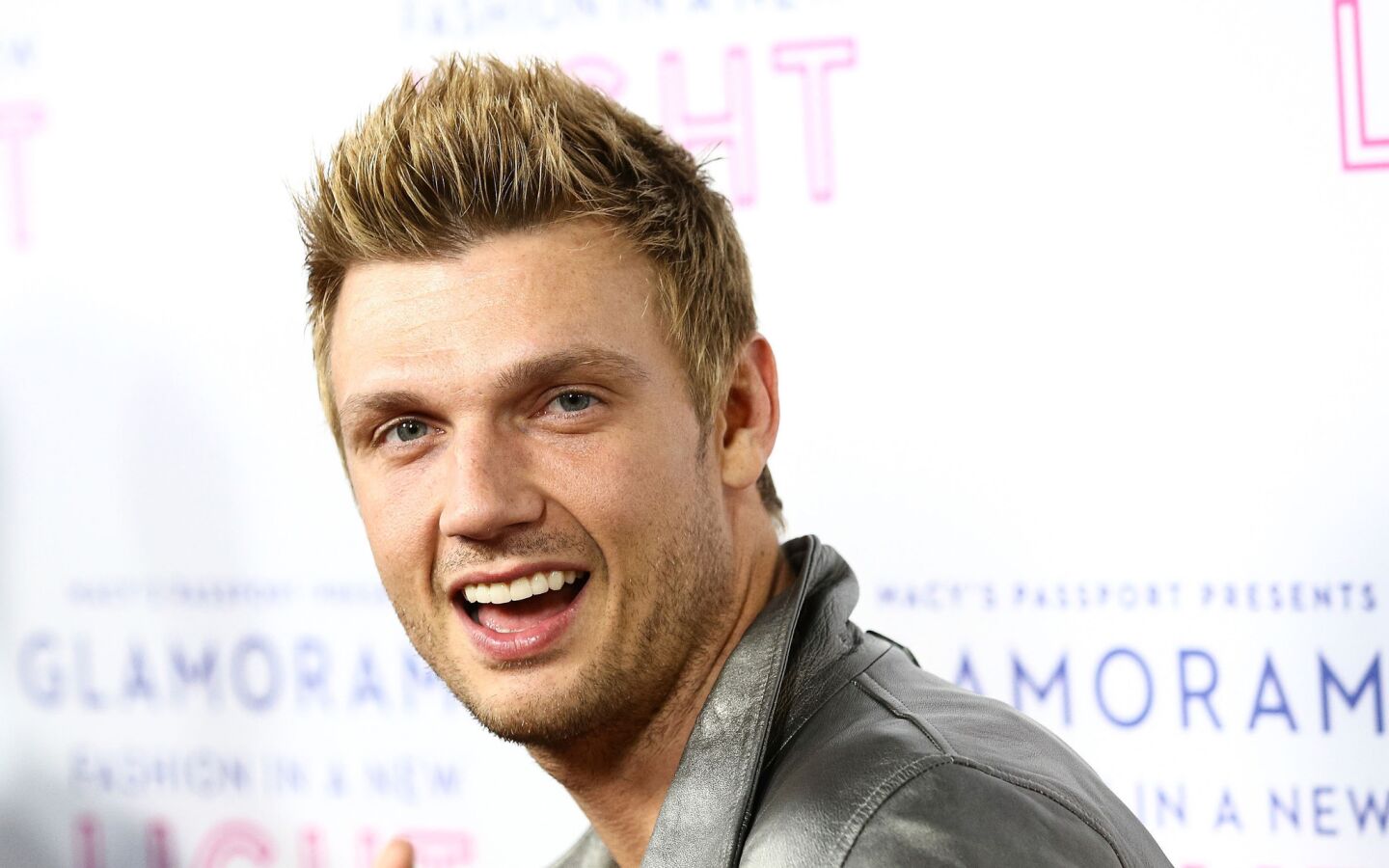 Backstreet Boys heartthrob Nick Carter wed girlfriend Lauren Kitt in mid-April, confirming the news on Twitter: "Happiest day of my life 4-12-2014 I married my best friend and woman of my dreams. Lauren Kitt Carter honeymoon time!" The pair wed in Santa Barbara on a bluff overlooking the ocean. The sunset ceremony took place at the Bacara Resort, and the pair exchanged handwritten vows in front of about 100 guests, People reported, obtaining photos of the event. The reception took place in a ballroom later, and guests enjoyed dinner and late-night dancing.
(Imeh Akpanudosen / Getty Images)
Designer Tom Ford, right, and his longtime partner, Richard Buckley, revealed in early April that they had tied the knot.
"We are now married, which is nice," the 52-year-old told Vogue at an event in London. "I know that was just made legal in the U.K., which is great; we were married in the States."
Buckley, 66, is a journalist who was formerly editor in chief of Vogue Hommes International. The pair have been together for 27 years after first meeting at a 1986 fashion show when Ford was 25. They also have a son together named Alexander John Buckley Ford, born in September 2012.
(Dave M. Benett / Getty Images for Grey Goose)
Actress-turned-cookbook-author Haylie Duff and boyfriend Matt Rosenberg announced their engagement via a blog post.
"This week has seriously just become the best week of my life!" the "7th Heaven" alum wrote. "As if announcing The Real Girl's Kitchen tv show wasn't enough, Matt just took me by total surprise and proposed ... on April Fool's Day of all days! The moment was genuine and sweet (like him!) and I couldn't wait to say yes!"
The 29-year-old, who has reportedly been dating Rosenberg for a year and a half, also shared two snapshots prominently displaying her new round sparkler and signed off the note with, "Love, The Future Mrs. Rosenberg."
(Ilya S. Savenok / Getty Images)
Italian tenor Andrea Bocelli wed his longtime girlfriend Veronica Berti in a Tuscan village near Livorno, Italy, on March 21.
Bocelli, 55, and Berti, 30, have been together for 12 years and are already parents to daughter Virginia, who turned 2 on their wedding day. The newlyweds chose the day because it was her birthday and because it signified the start of spring.
(Franco Silvi / EPA)
"Today" show host Savannah Guthrie not only got married in March, but she and her new husband, Mike Feldman, broke some huge news during their reception: They're having a baby. Guthrie, who was four months along when she made the announcement at their Tucson nuptials, shared additional details about the wedding and the pregnancy just two days later on the "Today" show.
(Larry Busacca / Getty Images for People)
Britney Spears' younger sister Jamie Lynn Spears, right, wed her on-and-off boyfriend of three years, James Watson, not pictured, at the Audubon Tea Room in New Orleans on March 14.
The 22-year-old bride wore a V-neck Liancarlo gown and father Jamie Spears walked her down the aisle. Her 5-year-old daughter Maddie served as a flower girl, and the groom, 31, wore a dark suit and pink tie.
Singer Britney Spears, 32, also attended the nuptials with boyfriend David Lucado and her sons, Jayden and Sean. About 150 to 200 guests were on hand for the celebration, which included a five-tier wedding cake.
(Rick Diamond / Getty Images)
George Clooney's famous ex-girlfriend Stacey Keibler and Orange County tech entrepreneur Jared Pobre tied the knot in a small beach wedding in Mexico on March 8 and it was a surprise to family members who were on the trip with the couple.
"Marriage is the ultimate bond of love and friendship. It means putting all your faith and trust into a person that you can't help but believe is your soul mate," Keibler said. "Jared is all of this for me."
It's the first marriage for each of them.
(Chelsea Lauren / Getty Images)
Motley Crue rocker Tommy Lee announced in late February that he had popped the question to girlfriend Sofia Toufa.
"There comes a time in a mans life when you just know your partner is for LIFE!!" the 51-year-old tweeted. "Say hello to my fiancé and soon to be wife @SOFIofficial."
Toufa, 30, who goes by the stage name SOFI, cutely dubbed herself "something that rhymes with Beyonce!!!!!"
It will be the fourth marriage for the musician, who was previously married to model Elaine Starchuk and actresses Heather Locklear and Pamela Anderson.
(Frazer Harrison / Getty Images)
One half of the famed Olsen twins is reportedly engaged to French banker Olivier Sarkozy.
News of the engagement surfaced in late February, with Us Weekly exclusively reporting that the "Full House" alum, 27, was headed down the aisle with Sarkozy, the half brother of former French President Nicolas Sarkozy, 44.
The pair had been dating since 2012 and live together in a $6.25-million townhouse in New York, according to the mag. It'll be the first marriage for Olsen and the second for Sarkozy.
(Kevin Winter / Getty Images)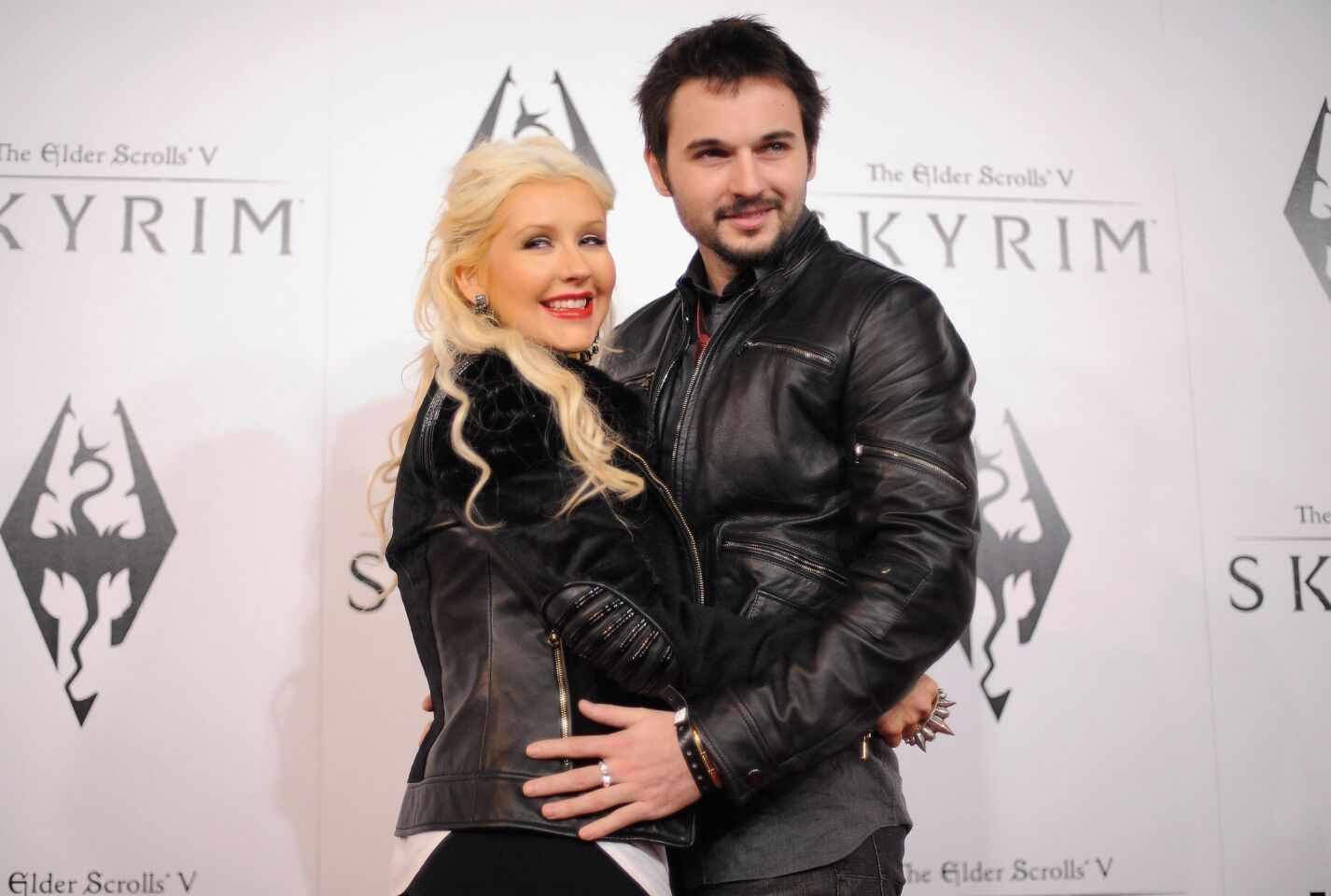 "The Voice" coach/singer announced on Valentine's Day that she and boyfriend Matthew Rutler were engaged. The pair met when Aguilera was making "Burlesque" in 2010 and he was working on the movie as a production assistant.
(Jordan Strauss / Getty Images)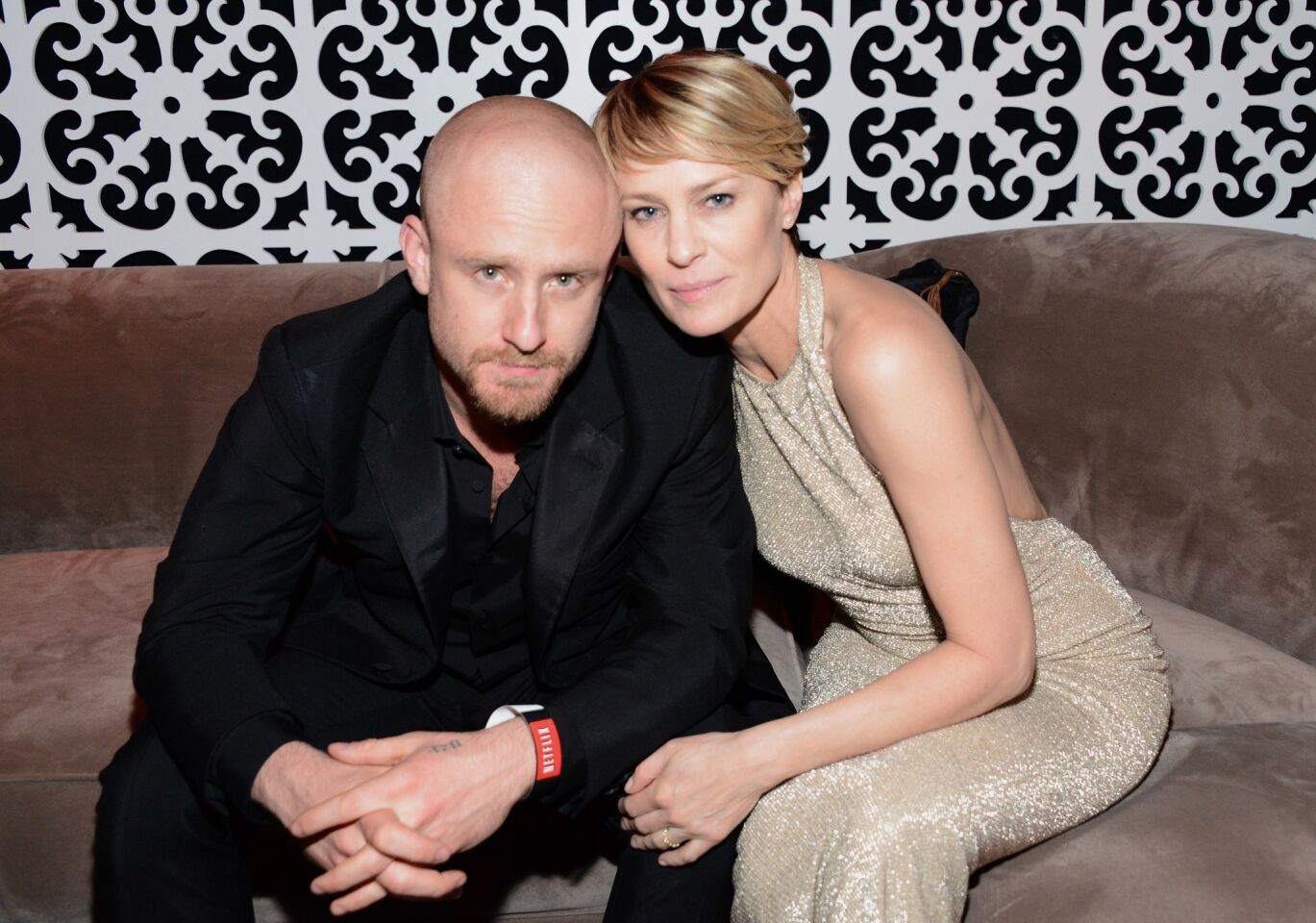 News that "House of Cards" star Robin Wright was engaged to "Lone Survivor" actor Ben Foster broke the same weekend she won the Golden Globe for best actress in a TV drama at the 71st Golden Globe Awards.
Wright, 47, wore a ring on
that
finger to Diane von Furstenberg's "Journey of a Dress" exhibition the night before her her rep confirmed that, yes, she was indeed set to wed again.
She and Foster, 33, who met on the set of the 2011 film "Rampart," were outed as a couple in February 2012.
(Araya Diaz / Getty Images for the Weinstein Co.)
Bobbi Kristina Brown, daughter of the late Whitney Houston, has married Nick Gordon -- or so she said on Twitter in January and tweeted that there would be a ceremony later in the year.
"@nickdgordon #HappilyMarried SO#Inlove if you didn't get it the first time that is.." she tweeted, decking out the message with emojis of a ring, a diamond, several thumbs-up, a heart and more. "Yerp!" reads a sticker in the picture.
The status of Brown and Gordon's relationship has been a matter of some debate for a while now. Nick, of course, was Whitney's never-adopted-officially "son," and grew up with Bobbi Kristina from when he was age 12, which made their budding romantic relationship a bit uncomfortable for some.
(Paul Buck / EPA)
Illusionist David Copperfield and French model-designer Chloe Gosselin have been engaged for a while now, but only revealed they were affianced in a January magazine interview.
"I'm engaged and in a committed relationship with Chloe in my mind and my heart," Copperfield told Hello!, after being nudged about his reputation for dating the world's most beautiful women back in the 1990s.
That era, which included six years with Claudia Schiffer, was "a long time ago," he said.
Gosselin, 28, who met Copperfield, 57, six years ago, is the mother of their 3-year-old daughter, Sky.
(Neilson Barnard / Getty Images)
Emily Maynard, who's been "The Bachelorette" and competed for the hand of "The Bachelor," is engaged to a man who has nothing to do with the hit reality-TV franchise at all.
Management consultant Tyler Johnson proposed with five diamond-studded bands instead of the usual engagement ring, Us Weekly reported. And why not: Maynard has already been proposed to three times, so it couldn't hurt to make it a little different.
(Mike Lawrie / Getty Images)
"The Hangover" star Justin Bartha wed fitness trainer Lia Smith on Jan. 4 on Oahu, Hawaii. Their intimate ceremony included fewer than two dozen guests. Among them were Oscar-winner Reese Witherspoon, her husband and Bartha's agent, Jim Toth, "The Social Network's" Jesse Eisenberg and Bartha's "Hangover" costar Ken Jeong.
(Michael Kovac / Getty Images )
Stacy Keibler has shown the world what happens after dating George Clooney: marriage!
Keibler and Orange County tech entrepreneur Jared Pobre got married in a small beach wedding in Mexico on Saturday, People magazine reported. It was a surprise to family members who were on the trip with the couple.
The 34-year-old former WWE wrestler bubbled over to the magazine, saying in part, "Marriage is the ultimate bond of love and friendship. It means putting all your faith and trust into a person that you can't help but believe is your soul mate. ... Jared is all of this for me."
It's the first marriage for each of them.
She and Pobre had reportedly been friends for more than five years, but didn't start dating until last fall, after she broke up with Clooney in July following a couple of years together.
Though Clooney and Keibler had famously graced many a red carpet together, to onlookers his not-a-marrying-man reputation was almost a third party in their relationship. That is, pretty much nobody expected the 52-year-old actor to put a ring on Keibler's finger.
Pobre's company, Future Ads, is based in Irvine. The USC graduate, who recently turned 39, is co-founder and chief executive of the firm, which launched in 2001.
ALSO:
Aaron Paul's classic ride barely makes 'Need for Speed' premiere
Surprise! Justin Bieber, Selena Gomez hang out together in Texas
Reese Witherspoon, Drew Barrymore, Cameron Diaz cook up girls trip
Follow Christie D'Zurilla on Twitter and Google+. Follow the Ministry of Gossip on Twitter @LATcelebs.
---
Get our L.A. Goes Out newsletter, with the week's best events, to help you explore and experience our city.
You may occasionally receive promotional content from the Los Angeles Times.