Comic-Con 2015: Jennifer Lawrence charms crowd in 'Hunger Games' sendoff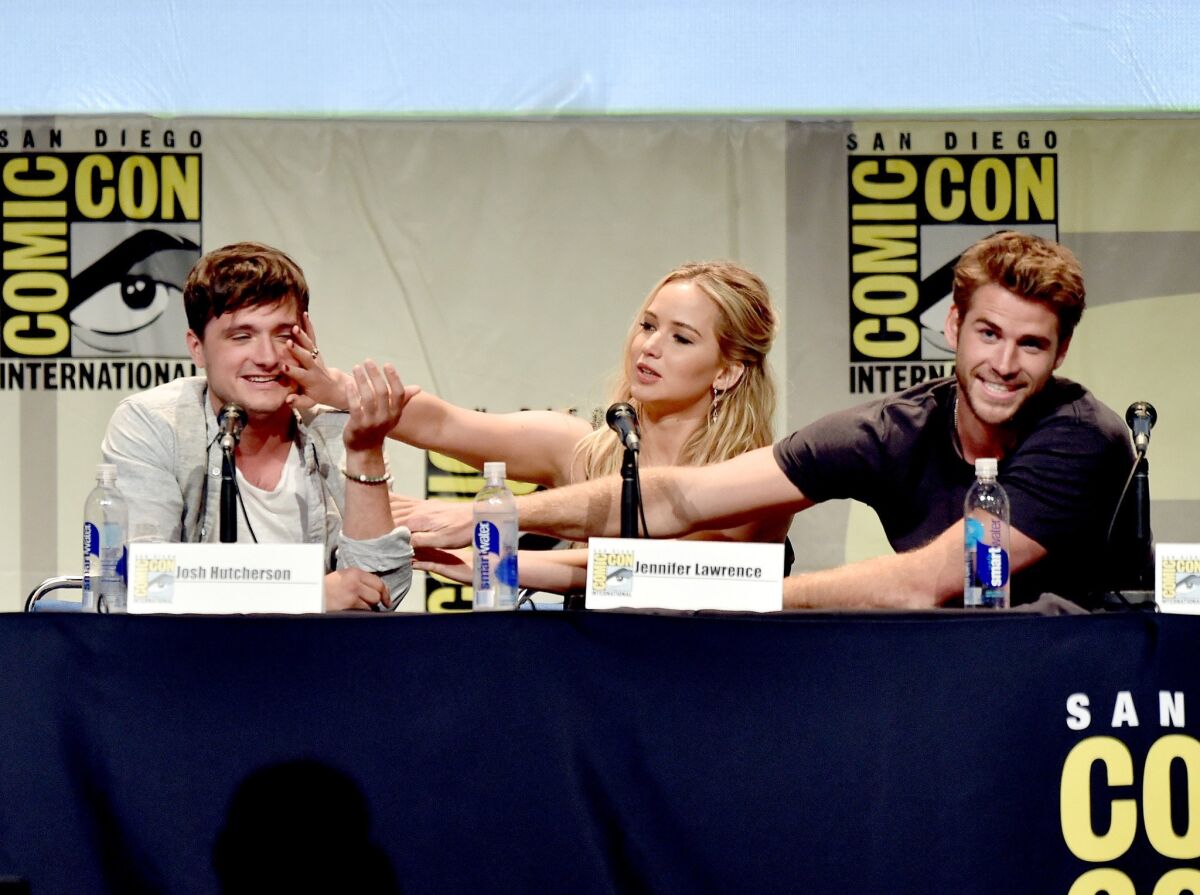 Fittingly for a convention that is all about celebrating fandom, the first blockbuster movie panel of this year's Comic-Con International was essentially a big wet kiss to fans.
In their presentation in Hall H on Thursday afternoon – which kicked off with a thundering drum line introduction from a local San Diego high school band – the team behind "Hunger Games: Mockingjay - Part 2" offered a three-fingered salute to the legions of loyal fans who have helped drive the franchise to $2.3 billion in worldwide grosses.
"Our fans have been so committed to this journey," producer Nina Jacobson said. "Want to come through for them."
MORE: Follow our Special Edition Comic-Con magazine on Flipboard >>
Hosted by Conan O'Brien – who declared himself "Team Josh" at the outset – the panel opened with a new trailer for the final installment that was heavy on battle scenes and emotion. Teeing up the final confrontation between Jennifer Lawrence's Katniss Everdeen and her allies and the Capitol, the trailer climaxed with Everdeen's battle cry, "Turn your weapons to the Capitol! Turn your weapons to Snow!" bringing cheers and applause from the capacity crowd in Hall H.
"I feel like there doesn't even have to be a movie now," O'Brien said, deadpan. "Just show that four times in the theaters."
Though most of the series' major players were on hand – including Lawrence, Josh Hutcherson, Liam Hemsworth, and director Francis Lawrence – the panel was fairly light on revelations. This was really more of a public victory lap than anything else.
Hutcherson told the crowd that the final installment sees his character, Peeta Mellark, rebound from the torture and brainwashing he suffered in the last film. After being turned into "a dark psychotic weapon against Katniss," Hutcherson said, Peeta is now "trying to get himself back."
FULL COVERAGE: Comic-Con 2015
Hemsworth, for his part, said that after "being on the sidelines for a long time," his Gale Hawthorne would play a more active role in the finale. "Gale becomes a big part of the plans and ideas for how they're going to attack the Capitol," Hemsworth said.
Lawrence's every utterance seemed to charm the crowd, no matter how inarticulate she may have been at times. ("I'm bad at this," she groaned self-deprecatingly at one point as she struggled to answer a question.) Throughout the panel she repeatedly acknowledged how important the series has been in her life and her career.
"I don't think I'll ever really say goodbye to Katniss," she said. "She's become a part of me."
That's not to say there's a huge amount of overlap between her and the fierce warrior she plays, she noted. "She's brave," Lawrence said dryly, "and I'm an actress."
"When I first signed on to these movies, I was 20," she told the crowd at one point. "Now I'm 24."
"That's like 40 in Hollywood, though, isn't it?" Hutcherson cracked.
So after three wildly successful films, O'Brien asked, what did it feel like after the final shot on the last film was in the can?
"There's no way of saying this that doesn't start rumors," Lawrence said, "but that night we held each other and slept like puppies."
Twitter: @joshrottenberg
For more news, follow Hero Complex on Twitter @LATherocomplex. And for additional Comic-Con coverage, check out our Los Angeles Times Comic-Con team on this Twitter list.
---
Get our L.A. Goes Out newsletter, with the week's best events, to help you explore and experience our city.
You may occasionally receive promotional content from the Los Angeles Times.