Feedback: Readers react to LACMA's shrinking footprint in Zumthor museum plan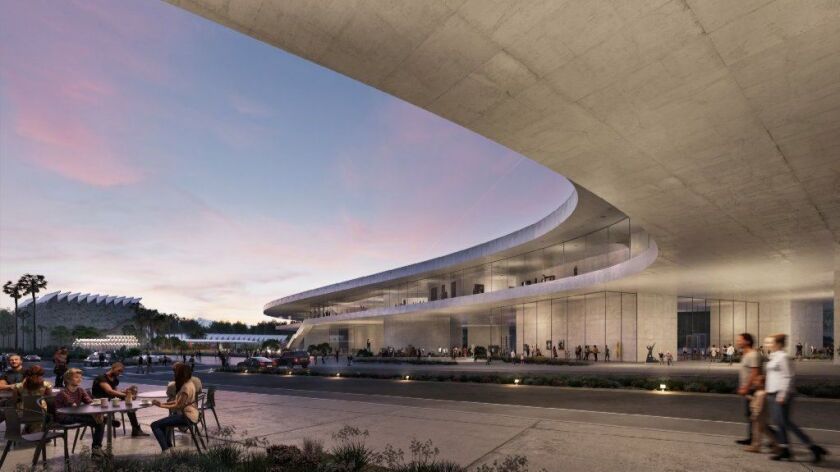 The wrong way to redo LACMA
Regarding art critic Christopher Knight's "Time to Scrap the LACMA Redesign Plan" [April 9]: I visited LACMA when it first opened. It was exciting for L.A. to have a new art museum. I found the new structures simple and elegant, but the art collection was small and lost in the galleries. The collection has grown and matured, and previous directors have added gallery space to accommodate the growth.
But all other additions have just created a mess. So I understand the need and desire to create a new museum. But for this view-blocking, uninspiring, pancake of a building that has less exhibit space than the current buildings, Govan wants to destroy the three original LACMA buildings? I suggest knocking down the other boring buildings to the west, and hire a new architect. Why not Gehry? If the Pereira buildings are truly beyond reconstruction, knock them down and restore the park space that LACMA stole 50 years ago.
Dennis van Bremen
La Crescenta
Editor's note: On Monday, the L.A. County Board of Supervisors approved the new design for LACMA.
::
Re: "The Art of Paying More for Less" [April 2] by Christopher Knight: Size does matter. I guess that reducing the museum to house a fifth of its collection makes sense to some. But LACMA stands for so much more than just a building with an art collection.
Keeping its collection hidden from the public is criminal, and that crime will occur with this new redesign. The art will suffer most and then the public. You might want to ask yourself, "Do I go to a museum for the art or for the building that houses it, or perhaps both?"
I think the answer to that question will determine the future for LACMA.
Sherry Davis
Playa Vista
::
Your article hit the problem spot-on. Curatorial must be in the museum; storage, conservation and publication offices too.
To remove the keepers of the art from the building undermines the very purpose of the scholar-curator role. Curators are, and should be, at the heart of the museum, in daily contact with their objects of study.
LACMA has cramped offices as it is. Vast expanses of empty and impractical marble hallways are a paean to architectural ideas of clean space. They are not practical for an evolving public space that has multiple uses.
Paying star architects to interpret space is always for the greater glory of the director. Collections deserve architects with vision, careful planning and budgeting that reflects the real world. Hollywood millionaires aren't using the museum to learn; schoolchildren and families are.
Lisa Banner
Northridge
Motley Crue deserves better
Regarding Chris Barton's "Underrated/Overrated" [April 7] and rest of the Motley Crue-bashing Calendar: First, there was the Lorraine Ali's March 22 biased and downright bitter review of "The Dirt" on Netflix; now, there's this snippy dig at the the band itself by Chris Barton in his column.
If you don't like "The Dirt," fine. But Motley Crue was more than just a flash-in-the-pan hair band. They were the hair band. And they weren't just a 1990s band. Their first album came out in 1981, well before the "hair band" craze, which they arguably started. Their last album came out in 2008. And all of their songs were consistent — every Motley Crue song is a Motley Crue song, just like a Rolling Stones' song is a Rolling Stones' song and a Led Zeppelin song is a Led Zeppelin song. So because Netflix made a bad movie adaptation of a bad book doesn't mean the band that the book was based on is bad.
David Brant
Lake Arrowhead
Writers who disrespect rock
Apart from Randy Lewis and Randall Roberts, pop music critics at The Times habitually drop casual slights against rock music into their articles. For example: Mikael Wood recently labeled Bob Seger a "fuddy-duddy" for the sin of playing Bob Seger songs in concert ["Bob Seger's Deep Catalog of Hits has Worn Well," Feb. 28].
Now, August Brown's article about soul-rocker Pete Wilde ["Rocker with a Touch of Prince," April 6] asserts that rock influenced by soul music is "a genre so fetishized by the boomer power brokers that Wilde's peers are protesting against."
If your critics think rock is a pox on today's musical landscape and needs to be ignored and forgotten, it would be far more interesting and useful to see them argue the case in full-length commentaries backed by examples and evidence, rather than with snide assertions. Better yet, let Lewis and Roberts face off against Brown and Wood in a public point-counterpoint. That would be fun.
Mike Boehm
Huntington Beach
Editor's note: Mike Boehm is a former Arts writer for Los Angeles Times Calendar.
'Wind' review blew by original
Why was there no reference to the brilliant 1928 silent film "The Wind," in Noel Murray's review of the new film "The Wind?" ["Paranoia on the Vast, Lonely Plains," April 5], despite a very similar, though apparently less well executed, plot. The 1928 classic psychological study starred Lillian Gish and Lars Hanson. It was the last silent movie of Lillian Gish's career and directed by the renowned Victor Sjostrom. Even a capsule review should point readers to the riveting 1928 film. While otherwise informative, Murray's review didn't even note that the current version is clearly a remake.
Emily Culpepper
Pomona
Walked out of 'Rednecks' play
Regarding "A Family's Love Put to the Test" [April 9]: It would have been helpful if Charles McNulty had reviewed the play "Poor Yella Rednecks," rather than just provide a synopsis of the plot line. In 27 seasons as subscribers to South Coast Repertory's Segerstrom Stage, we have never walked out on a production. We left this one at intermission. The performances and production values were of high quality, as always, but the writing was very poor. It felt like an assault of F-bombs (dozens of them in the first act). A production of this type should have appeared on the smaller Argyros Stage.
There are too many good to great plays out there to justify subjecting theatergoers to this sort of tripe. Program a classic if something contemporary isn't available.
Marcia Goodman
Long Beach
A big hand for bridge
I just wanted to mention how much the Calendar Bridge feature means to me. It is a part of my life that I enjoy each morning, except Sundays (and I miss it on Sunday).
I first read and test my skill on the bridge question section. Then I cover two of the hands and bid the contract and compare my bid to the expert's. I then play the hand and and compare my play again to the expert.
I am 74 years old and a retired manager of software engineering. I am still active and relatively sharp, and I think that's in part to your bridge column.
I truly thank you again for providing this valuable part of your great newspaper.
John Cairns
Huntington Beach
Where have the Nielsen ratings gone?
What happened to the list of TV ratings? I noticed it missing a couple weeks ago too. I hope this is not something you are going to drop. I enjoy seeing where the shows I watch land in the ratings.
Wendy Mollett
Studio City
Editors note: The TV Ratings story and chart are published as space allows.
The conversation continues online with comments and letters from readers at latimes.com/calendarfeedback
---
Get our daily Entertainment newsletter
Get the day's top stories on Hollywood, film, television, music, arts, culture and more.
You may occasionally receive promotional content from the Los Angeles Times.