Hammer Gala raises $2.6 million, honors Margaret Atwood and Glenn Ligon for their socially engaged works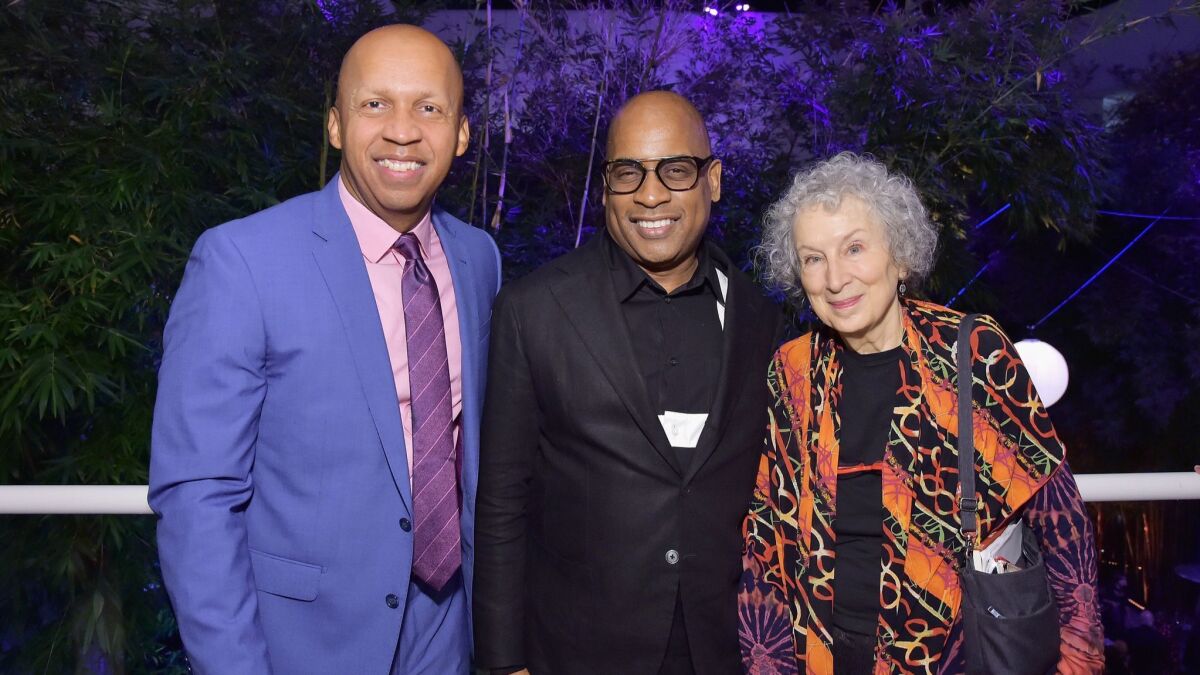 Under the soft glow of golden orbs suspended from trees at the Hammer Museum's Gala in the Garden on Sunday, art world stars — including feminist artist Judy Chicago and Studio Museum of Harlem director Thelma Golden — mixed and mingled with Hollywood celebrities like Will Ferrell and Zoe Saldana.
While the event celebrated creativity and raised money for the museum, the gala also reflected on how art can tackle social issues including racism, misogyny and xenophobia.
Raising $2.6 million, the event honored New York-based artist Glenn Ligon and Canadian author Margaret Atwood. Their work embodied the spirit of the evening — the necessity of art as a tool to achieve social justice.
Ligon's typically text-based work explores race, language and sexuality. The artist has also used pop culture — like his deconstruction of a 1982 Richard Pryor standup film — to examine themes that explore representations of the black male body.
Atwood, a prolific author of more than 40 books, may be best known for her dystopian fiction including the 1985 novel "The Handmaid's Tale," which has been adapted into an Emmy-winning Hulu series.
Change what's on the walls and you'll see a change in your audience.
— Glenn Ligon
There were traces of the social justice spirit throughout the evening, as gala attendees meandered through the museum's latest exhibitions, "Adrian Piper: Concepts and Intuitions, 1965-2016" and "Stones to Stains: The Drawings of Victor Hugo," both artists whose work addressed issues including race and power. The art institution recently wrapped its "Made in L.A. 2018" biennial — curated by Anne Ellegood and Erin Christovale — which showcased 33 artists whose work addressed themes of politics, identity and power. A majority of the artists involved with the exhibition were queer, female-identifying and/or people of color.
"The museum is so thoughtful in that way for years now," said Mary Leigh Cherry, director at the Tanya Bonakdar Gallery. "Especially in these times we're all hyper-aware of what is happening, this museum has been here doing that for a long time and it just is even more celebratory or galvanizing this year."
Receiving recognition on this scale felt strange, Ligon said in between bites of hors d'oeuvre before giving his speech.
"Artists, you just do your work, you don't expect to be honored for it," Ligon said. "But I think it's great company to be honored with Margaret Atwood. She's a hero for many people and a hero of mine."
"She gave us this vision of the future, but I think by writing it and naming it she in a way gave us the language to defeat it," the artist continued.
We are not living in a totalitarian dictatorship now or yet.
— Margaret Atwood
Hammer Museum director Ann Philbin kicked off the gala's program, which featured dinner from James Beard award-winning chef Suzanne Goin, speeches by both honorees and a performance from soul singer Leon Bridges.
While paying tribute to Ligon, attorney and social justice advocate Bryan Stevenson described how Ligon's early 1990s work "Untitled: Four Etchings" — which featured excerpts from black writers James Baldwin, Zora Neale Hurston and others — provoked painful memories of growing up in a segregated community. "[Ligon is] courageous. He doesn't just deal with race or gender or sexuality, he deals with what it means to be human," Stevenson said. "I'm so thrilled to be here to celebrate an artist who appreciates the power, the necessity and the urgency of speaking truth to power."
During Stevenson's speech, he recalled an incident at a segregated pool as a pre-teen that led to him being called the n-word by a white adult. Then at a table of 10 people including art dealers and a gallery owners , an apparently intoxicated attendee loudly mocked Stevenson's speech, even repeating Stevenson's use of the n-word. After being confronted by other guests, the man was escorted out of the gala.
"To have somebody show their true colors, it was disappointing, but at the end of the day I don't think it's symptomatic of the Hammer," said Keith Rivers, a former NFL player and art collector at the table.
But most at the gala were oblivious to the incident, and the rest of the event sailed on without any other disruptions.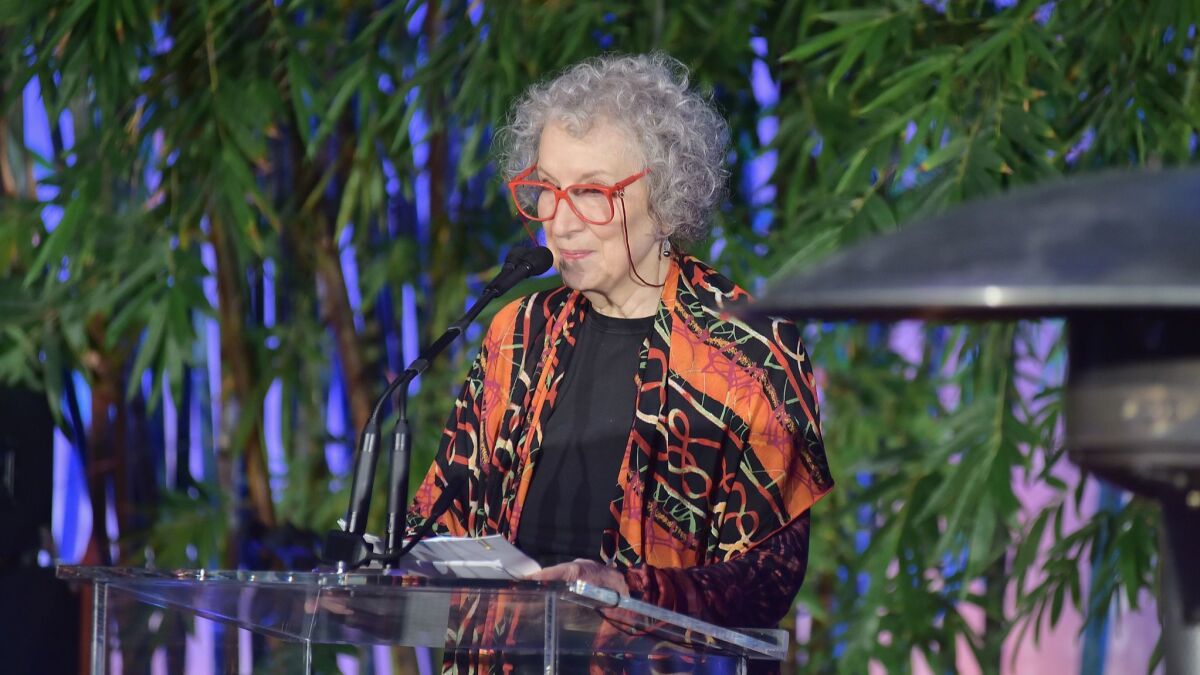 During her speech, Atwood wryly addressed the eerie similarities between her landmark dystopian work and today's political climate. But the author ended on a hopeful note.
"We are not living in a totalitarian dictatorship now or yet. My guess is that this country will not easily roll over," Atwood said to cheers and applause. "The programs at the museum such as this one are a reminder that when we don't bow down to suspicion and hatred, we can instead… try to understand and face our common human problems together."
Taking the stage before Atwood, Ligon again acknowledged his fellow honoree on stage saying, "Her words have given us a chilling vision of the future." The artist also used part of his speech to address lack of diversity in museum culture.
"Sometimes the most radical thing a museum can do is the obvious thing," he said. "But it's not only about who's on the walls of the museums, it's about who's coming through the front doors. Change what's on the walls and you'll see a change in your audience."
---
Get our L.A. Goes Out newsletter, with the week's best events, to help you explore and experience our city.
You may occasionally receive promotional content from the Los Angeles Times.