Spike Lee, Emma Stone, Lin-Manuel Miranda and other celebs fawn over Golden Globe nominations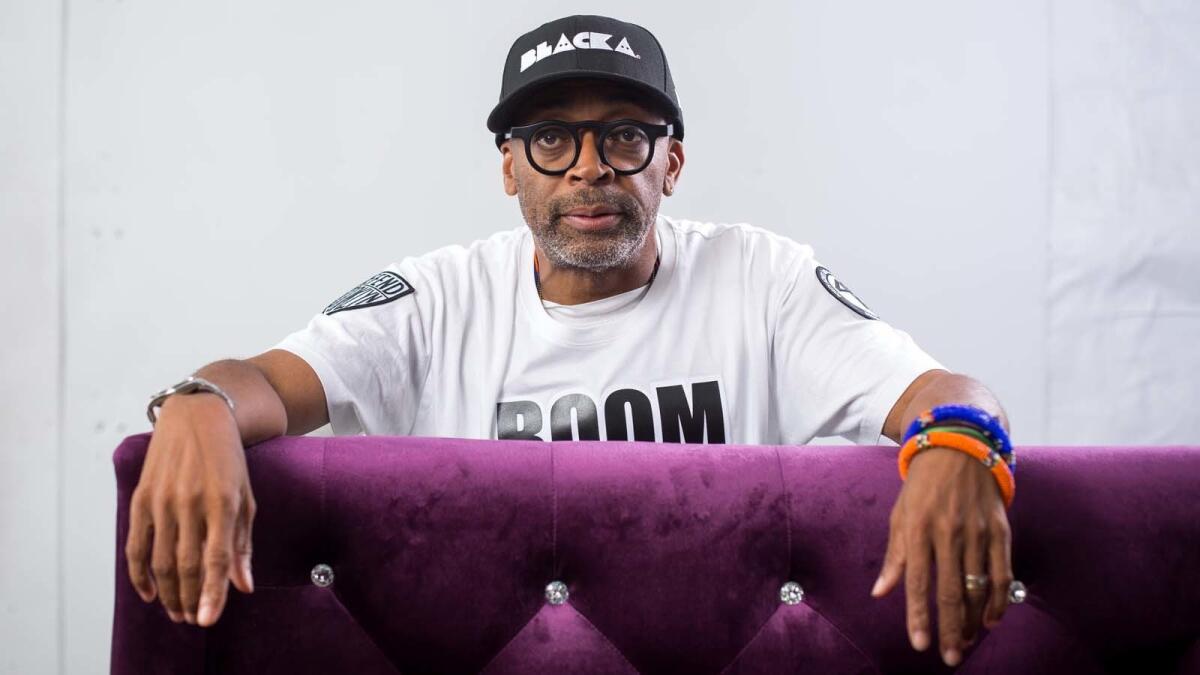 Call it the first morning of Hollywood's 2019 awards season: The Hollywood Foreign Press Assn. announced the 76th Golden Globe Awards nominations early Thursday, and the nominees and their friends and employers were awake to react.
Read on for their expressions of excitement in emailed statements and social-media posts. For additional reactions, see our Golden Globes liveblog coverage.
FULL COVERAGE: 2019 Golden Globe nominations »
Director Spike Lee, "BlacKkKlansman": "I found out about these Golden Globe Nominations for BlackKklansman in between advising my NYU Grad School students because I teach on Thursdays. The first word that came to mind was 'BOOM SHAKALAKA.' Thank you to the HFPA!"
Actress Constance Wu, "Crazy Rich Asians":
Actor Darren Criss, "The Assassination of Gianni Versace":
Actress Patricia Clarkson, "Sharp Objects": "What a thrill and an honor to be nominated alongside phenomenal actresses. Today was a triumph for Sharp Objects. Working on this limited series was a remarkable process and I'm grateful to have been a part of it."
Actor Billy Porter, "Pose": "WOW! Thank you to the HFPA for supporting and embracing our show. And to Ryan Murphy, Steven Canals, Brad Falchuk and the POSE gang for believing in us. I'm so grateful to have lived long enough to see this day when the stories of LGBTQ people of color are front and center! The category is...LOVE!"
Producer-writer-director Janet Mock, "Pose": "POSE has given those rarely reflected access to a mirror to see themselves more clearly. A cast and crew of unknown trans and gay actors have been given a chance to tell their own stories, as their own heroes. I am most overjoyed by this recognition of our show and the talents of our leading man Billy Porter because it has the potential to bring more people to POSE, convincing those who may not believe a family drama like ours is for them. Trust me, it is."
Actor Adam Driver, "BlacKkKlansman": "I'm very thankful to the HFPA and pretty blown away by all of this. To be at the Golden Globes in January representing BlacKkKlansman with Spike and John David means a great deal to me. I'm very proud to be in their company."
Writer-director Barry Jenkins, "If Beale Street Could Talk":
Actress Emma Stone, "The Favourite": "Thank you to the members of the HFPA for this honor! It was an unbelievable joy to get to work alongside my two true loves, Olivia Colman and Rachel Weisz on this film, along with all the other wonderful actors, Tony, Deborah, and our incredible producers. The Favourite wouldn't exist without the visionary that is Yorgos Lanthimos. Thank you especially to Yorgos for your guidance, brilliance, and friendship."
Actress Thandie Newton, "Westworld":
Actress Regina King, "If Beale Street Could Talk": "I cannot even put into words how I feel right now hearing this exciting news from set. Just elated. So proud of these two amazing and beautiful projects. I'm incredibly lucky and humbled that these roles chose me. For Beale Street, honoring the words and legacy of James Baldwin is truly special. Thank you Hollywood Foreign Press!"
Actor Michael Douglas, "The Kominsky Method": "It is such an honor to be nominated as a comedy actor for The Kominsky Method."
Actor Antonio Banderas, "Genius: Picasso": "Thanks to the members of the Hollywood Foreign Press for this recognition that I share with the phenomenal team of great professionals that National Geographic put together to create this complicated, controversial and amazing Genius. I would love also to mention my home town of Málaga, birth place of Picasso too, for its continual effort to become a referential city of culture."
Actress Caitriona Balfe, "Outlander":
Actor Lucas Hedges, "Boy Erased": "Thank you to the Hollywood Foreign Press Association for this nomination, which I proudly share with the LGBTQIA community as well as with Joel Edgerton, Nicole Kidman, Russell Crowe, the rest of the cast and crew, and most of all, with Garrard. I was honored to be a part of this story which will hopefully one day help put an end to conversion therapy in the United States where it is currently still legal in 36 states."
Actor Henry Winkler, "Barry":
Executive producer Sam Esmail, "Homecoming": "I am immensely proud of the work of the entire cast and crew on Homecoming. And I am thrilled to see Julia's and Stephan's incredible performances recognized, they are a remarkable talent. On behalf of all of us, we are truly honored and gratified to be in such great company. Thank you to everyone at the HFPA. I'd also like to add a shout out to my boy, Rami Malek, he deserves all the praise and more."
Songwriters Troye Sivan, Jónsi and Brett McLaughlin, "Revelation" from "Boy Erased": "Writing 'Revelation' for Boy Erased was an incredible honor for all of us. The song echoes the film's message that love is love, and that not only is there no way to change who you love, but there is no reason to change. We're thrilled that the HFPA and Golden Globes heard that in our song and are humbled by this nomination."
Actress Jameela Jamil, "The Good Place":
Actress Kristen Bell, "The Good Place": "I am so forking excited at the news of my nomination and the nomination for this fun as fork show. The cast and crew of The Good Place are the most efficient, smart, happy group of non [jerks] I've ever worked with. They are the forking shirt and I'm so grateful all these talented benches and dinks are getting the recognition they deserve. No bullshirt- this is my dream job. And this nomination is just the motherforking cherry on top. Thank you Hollywood Foreign Press. As a little bench from Michigan, to be honored in this way feels forking awesome."
Netflix chief content officer Ted Sarandos: "We want to congratulate our creative partners and storytellers on their nominations honoring the breadth of our programming in film and television, including Alfonso Cuaron's exquisitely crafted ROMA and Belgian drama Girl, our new television titles The Kominsky Method and Bodyguard, returning series GLOW and Ozark, Regina King-starrer Seven Seconds, as well as 'Girl in the Movies," Dolly Parton and Linda Perry's beloved song from Dumplin'. Thank you to the Hollywood Foreign Press Association for celebrating the dedication and passion of our artists," said Ted Sarandos, Netflix Chief Content Officer.
Director Nadine Labaki, "Capernaum (Lebanon)": "Every time the film has this kind of recognition a little more light is being shed on the situation of the unseen and the invisible that this film is portraying. Every child in this world who is deprived from his fundamental rights. Every child who is not allowed to be a child anymore. Every recognition will make their voices resonate a little louder every time. This is also a beautiful recognition to my beautiful team who put their heart and soul in this film and without whom this adventure would have never been possible. And to my beautiful actors who deserve every recognition and every applaud and who just a few months ago were struggling to even exist in this world. You know Capernaum means chaos and miracles. Well this is another small miracle happening today!"
Actress Patricia Arquette, "Escape at Dannemora":
Actress Charlize Theron, "Tully": "I honestly didn't expect this and am completely thrilled. Thank you to the Hollywood Foreign Press for this incredible nomination. I loved playing Marlo, so this is a real honor."
Actor Jim Carrey, "Kidding": "Thank you Hollywood Foreign Press Association for recognizing the brilliant work of Dave Holstein, Michel Gondry, the writers, producers and the absolutely lovely cast and crew of KIDDING and myself. Can't wait to see everybody at the dance."
Actor Lin-Manuel Miranda, "Mary Poppins Returns":
Actor Édgar Ramírez: "After a long night of shooting in South Africa, I woke up to this beautiful news. I am so happy and touched to share this honor with Darren, Penelope and everyone involved in The Assassination Of Gianni Versace. Playing Gianni has been a transforming experience in my life, for which I will always be grateful, and I thank Ryan Murphy for the opportunity. I am truly thrilled. Thank you to the HFPA."
Director Lukas Dhont, "Girl": "I'm enormously grateful to the Hollywood Foreign Press Association for this nomination and to be included in the company of such remarkable filmmakers. GIRL was a labor of love for me that was made in close collaboration with my dear friend Nora, whose journey towards becoming a dancer is what inspired the film. By honoring this film, you honor Nora and the spirit of anyone who overcomes adversity to achieve their dreams."
Actor Hugh Grant, "A Very English Scandal":
Actress and musician Lady Gaga, "A Star Is Born": "I'm so grateful for all of the nominations for A Star Is Born today! The film has truly been a passion project for everyone involved and we've all become a family. I couldn't be more happy to see Bradley [Cooper] recognized for his incredible vision and performance. And for the recognition for my songwriting collaboration with the amazing Mark [Ronson], Anthony [Rossomando], and Andrew [Wyatt] for "Shallow". And I cant believe I'm nominated as best actress at the Golden Globes for a film! I am so appreciative of the HFPA's support. Thank you so much."
Songwriter Annie Lennox, "Requiem for a Private War" from "A Private War": "I'm thrilled and delighted that 'Requiem for a Private War' has been nominated for a Golden Globe Award! The song was written and recorded in honor of renowned war correspondent Marie Colvin, who I had the privilege to encounter a year before she was tragically killed while courageously reporting on the mass bombing of the civilian population in the city of Homs in Syria. In 2018 – six years after Marie died, the war continues on its deadly course. Millions of innocent people have lost their lives as a result of this conflict, causing millions of refugees to flee their homeland. The film 'A Private War' reveals the full-blown traumatizing barbarity of warfare and is a testimony to Marie and the Syrian people. Marie Colvin is magnificently portrayed by Rosamund Pike, who I wholeheartedly congratulate for her highly deserved Golden Globe nomination. It's been an honor to have played a small part in this project."
Producer Jeremy Dawson, "Isle of Dogs": "Thank you to the HFPA for the nomination for 'Isle of Dogs'! The film was a huge group effort that took years to make, and I know that all of our many brilliant animators and craftspeople were very proud to have been part of bringing Wes [Anderson]'s vision to life in this special film and are especially thankful and flattered today for this recognition of their work. Also truly pleased to have our amazing composer, Alexandre Desplat, join us in this honor."
Composer Alexandre Desplat, "Isle of Dogs":"What fantastic news! So many thanks to the HFPA. I love dogs, I love cats, I love Japan, I love Wes (Anderson)!"
Composer Justin Hurwitz, "First Man": "Thank you to the Hollywood Foreign Press. Thank you to Damien [Chazelle] for making this beautiful film and pushing me to dig deep for the themes and moods of this score. In writing this music and thinking on the subjects of love, loss, loneliness, perseverance and family, I felt a lot and revealed a lot of myself. I'm grateful to the HFPA for recognizing the work."
@theCDZ on Twitter and Instagram
Get our L.A. Goes Out newsletter, with the week's best events, to help you explore and experience our city.
You may occasionally receive promotional content from the Los Angeles Times.