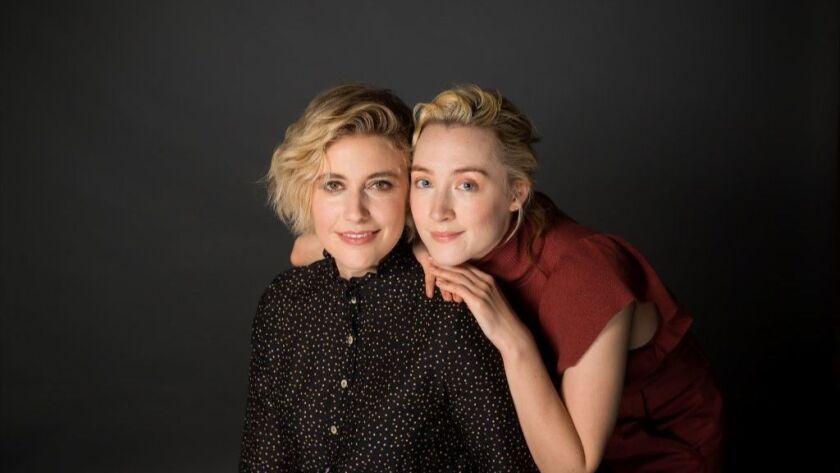 Emma Watson and Saoirse Ronan are the picture of sisterhood in newly released stills from Greta Gerwig's upcoming sophomore film, "Little Women."
In Wednesday's issue of Vanity Fair, Gerwig shared photos of the March sisters from the adaptation, which features Watson as Meg, Ronan as Jo, Florence Pugh as Amy and Eliza Scanlen as Beth. The stills also tease Timothée Chalamet's introduction as boy-next-door Theodore "Laurie" Laurence, plus Laura Dern's and Meryl Streep's turns as family matriarch Marmee and Aunt March, respectively.
The stills show the sisters both together, acting in plays and spying through windows, and apart, offering glimpses of Jo's and Amy's brushes with Laurie. More photos feature Streep receiving direction from Gerwig, and Dern resting in full costume as Marmee.
Exclusive: Meryl Streep will play Aunt March, not Marmee, in Greta Gerwig's 'Little Women' »
"Little Women," based on Louisa May Alcott's classic novel, is Gerwig's latest effort following her critically acclaimed directorial debut, "Lady Bird." The Oscar-nominated 2017 film also featured Ronan and Chalamet in key roles.
Columbia Pictures tapped Gerwig to direct "Little Women" in summer 2018, and her rendition of the coming-of-age drama is far from the first big-screen adaptation of Alcott's work. Gillian Armstrong's version, which starred Winona Ryder, Susan Sarandon and Christian Bale, was nominated for three Oscars in 1995 for actress, costume design and original score.
Gerwig's "Little Women" is set to hit theaters on Dec. 25, distributed by Sony Pictures.
---