Newsletter: Indie Focus: Remembering Jonathan Demme
Hello! I'm Mark Olsen, and welcome to another edition of your regular field guide to a world of Only Good Movies.
The 25th anniversary of the L.A. riots has inspired a lot of writing on the events themselves, their impact on the city and depictions in media. The Times created a package of features, including a survey by TV critic Lorraine Ali looking at depictions of the city before and after, writing, "The fact that there are so many riot documentaries — at least a half dozen — airing on television this month, and that each film features predominantly different material, is a testament to the sheer volume of footage shot during an uprising that took at least 60 lives, destroyed more than 1,000 buildings and amassed more than $1 billion in damages."
Kenneth Turan reviewed two of the numerous docs coming out, John Ridley's "Let It Fall: Los Angeles 1982-1992" and Dan Lindsay and TJ Martin's "LA 92." Kenny noted, "Though their aesthetic approaches are almost diametrically opposed, the skill with which each has been made enables them to in effect speak to each other. Seen back to back, these two documentaries have a powerful, even explosive impact even though they both cover essentially the same events."
Jen Yamato wrote about the riots via the perspective of the Korean American community. Filmmaker Justin Chon won a prize at this year's Sundance Film Festival for his film "Gook" and as Jen writes, "Even rarer is the film that goes beyond stereotypes to tell the stories of the people caught up in the violence from all of Los Angeles' diverse communities. Among the least well-known stories are those of Korean American business owners who found their American dreams in the sights of looters over the course of several lawless days in April."
The LAT Events team is nearly recovered from the recent Festival of Books, but we will get back to work on our screenings and Q&As soon enough. Keep on the lookout for future events at events.latimes.com.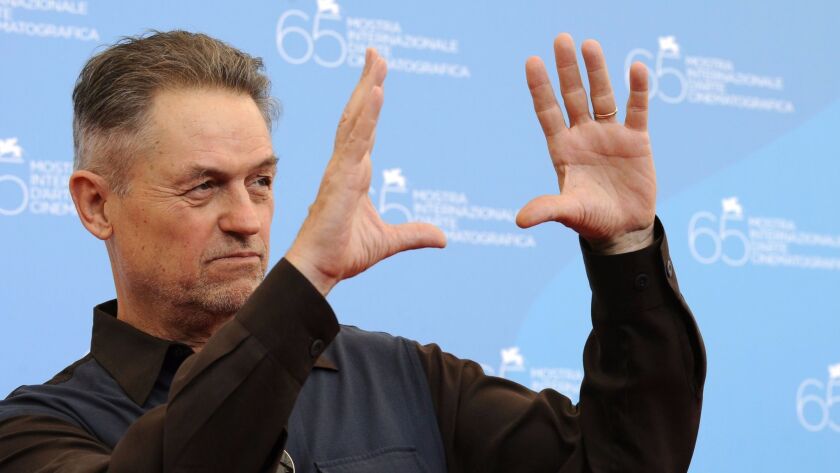 Jonathan Demme remembered
Jonathan Demme has long been one of my favorite filmmakers and so the news of his death this week came as a real shock. It was a humbling honor to be able to write an appreciation of his work, which includes "Melvin and Howard," "Stop Making Sense," "Something Wild," "Silence of the Lambs," "Rachel Getting Married" and many more, and it was meaningful to see the depth of feeling in other tributes.
"Jonathan Demme's entire career felt like a celebration," I wrote. "If he seemed forever young it was perhaps because he never allowed himself to become outdated, pursuing success on his own terms while remaining ever open to new influences and outside ideas."
The Times' Randy Lewis wrote about the musical heart of Demme's filmmaking and his relationship with musicians including Neil Young, Bruce Springsteen and David Byrne.
At the Chicago Tribune, Michael Phillips wrote a heartfelt tribute to Demme, noting, "So many actors gave their best, easiest, funniest, truest performances in a Demme film."
For the Village Voice, Bilge Eberi wrote "With the death of Demme, American cinema loses one of its greatest humanists. But it goes further than that. (Further even than the fact that, by all accounts, Demme was the rare filmmaker who practiced the themes he preached in his films: He was generous, a giving mentor, a kind boss, a caring person.) His work didn't simply glow with a generosity of spirit. You got the sense that he understood people — that he understood us. He was a kind of secret-sharer, a creator of cinematic worlds where anything was possible and anything could be said."
It says just how rich Demme's work was that even his supporting players bear out deeper examination. Among my favorite pieces this was something by MTV News' Meredith Graves on singer and actress Su Tissue. Demme made a video for her group Suburban Lawns and then years later cast her in a small but crucial role in "Something Wild."
The work of Jonathan Demme is going to reveal those kinds of surprises and discoveries for a long time to come.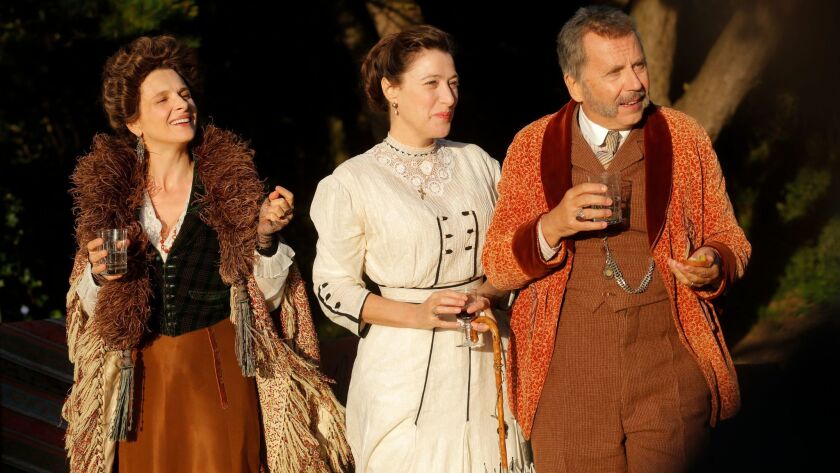 'Slack Bay'
Having premiered in competition at last year's Cannes Film Festival, Bruno Dumont's "Slack Bay" is now reaching theaters. Juliette Binoche stars in a story set against a seaside village and rife with an unusual, whimsical tone from a filmmaker still best known for wildly rigorous films such as his debut "The Life of Jesus." The new film is something of a farcical holiday crime caper.
In her review for The Times, Sheri Linden wrote, "Though the combination of social critique and unhinged laughs doesn't always jell, the movie is quite gloriously a thing unto itself, even as it draws upon obvious inspirations. Falling somewhere on the surrealism scale between Luis Buñuel and Monty Python, it offers the particular pleasure of seeing a trio of superlative actors — Juliette Binoche, Fabrice Luchini and Valeria Bruni Tedeschi — diving headlong into slapstick, at times with cringe-inducing mastery."
At the New York Times, Glenn Kenny added "This is a spirited and often gorgeous film… but it's not an easy one. As it turns out, modes of farce and fantasy enable Mr. Dumont to pull the rug out from under the viewer in a number of new and upsetting ways. Be prepared."
In an interview with Jordan Cronk for Film Comment, Dumont spoke to the perception that his recent work has lightened up. "If, as you say, it was dark then and there is light now, the light only comes from the darkness. The comedy is only the other side of the drama. Comedy comes from drama. I just realized these are different sides of the same thing. So I have no problem being in the same locations, with the same people, telling more or less the same story, but from the other side."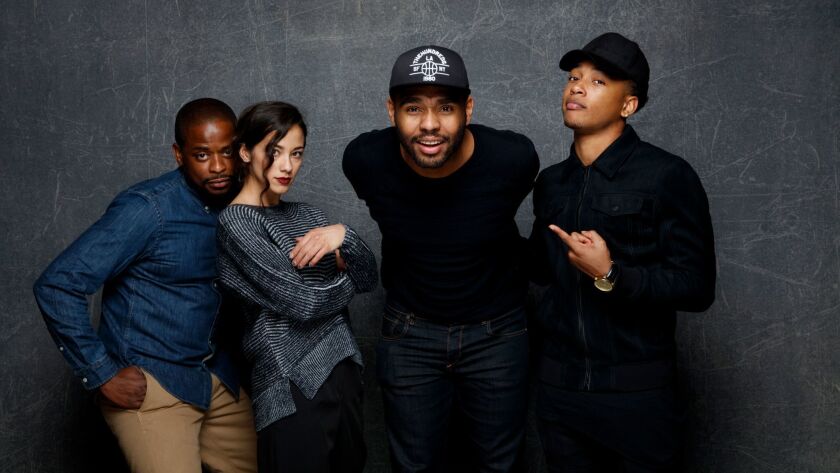 "Sleight"
Directed by J.D Dillard and co-written by Dillard and Alex Theurer, "Sleight" premiered at the 2016 Sundance Film Festival. With a star-making lead performance by Jacob Latimore, the movie tells the story of a street magician that besides hustle and drive may involve actual supernatural powers
In her review for The Times, Katie Walsh wrote, "In their feature film debut, Dillard and Theurer efficiently utilize their resources to demonstrate a deft control of character and tone that leaves you curious about what the filmmakers could do with a bigger project. 'Sleight' fuses superhero story with a tough coming-of-age tale and enlivens and elevates both genres into something new and different, while heralding the arrival of Latimore as a star."
The Times' Josh Rottenberg interviewed Dillard, who was just a few years ago working as a receptionist at J.J. Abrams' Bad Robot production company and is already at work on his second film, as well as being attached to a remake of "The Fly."
"At this stage of my career, a big thing I've had to figure out is what I want my contribution to be to this conversation," Dillard said, adding that "my goal is really just about different faces."
Reviewing the film for Vulture, Emily Yoshida wrote, "Some new directors announce themselves with a splashy opening scene, but J.D. Dillard prefers to wow you with an unforgettable finale. In his feature debut 'Sleight,' with only minutes left on the clock, he delivers a climactic action scene that's elegant and immensely satisfying. … In the moment, it feels miraculously fresh."
Email me if you have questions, comments or suggestions, and follow me on Twitter @IndieFocus.
---
Get the Indie Focus newsletter, Mark Olsen's weekly guide to the world of cinema.
You may occasionally receive promotional content from the Los Angeles Times.