From 'Ready Player One' to heartfelt raunch: The highlights of 2018's SXSW Film Festival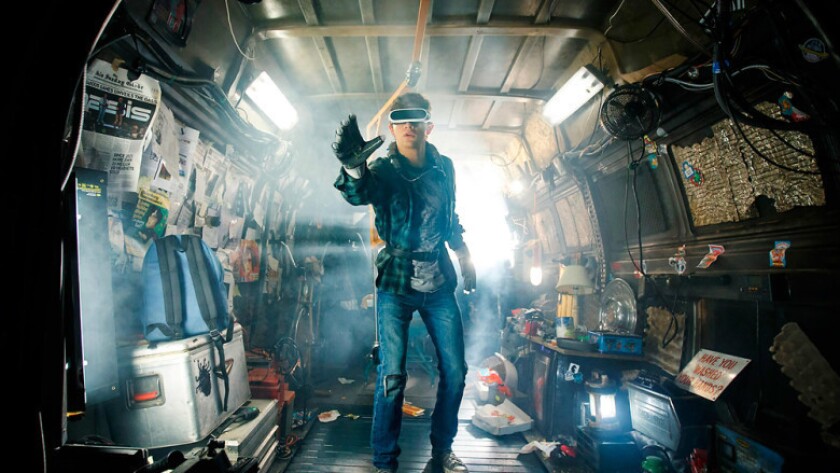 Held each year over the course of 10 zany days in Austin, Texas, the South by Southwest festival has a little bit of everything: film, technology, music, breakfast tacos and plenty of that famous Texas barbecue. At the close of a 2018 edition that ran the gamut from the surprise premiere of Steven Spielberg's pop culture-packed "Ready Player One" to an interactive experience that brought HBO's "Westworld" to life, Times reporters Mark Olsen and Jen Yamato share their highlights.
MARK OLSEN: For me this has been a year of surprises at South by Southwest. Or, perhaps more accurately, a year in which the South by Southwest Film Festival served up a healthy reminder of what it has really been about all along. Which seems pretty right on for the 25th edition, the 10th under current director Janet Pierson.
JEN YAMATO: If the city's motto is "Keep Austin Weird," the festival's driving dictum seems to be "Keep SXSW unpredictable." It has its own specific vibe, a feeling of eccentric discovery driving its programming, particularly compared with the Sundance, Cannes and Toronto film festivals. Where else can you see a breathtaking new American indie, do a little VR, take a break for tacos and beer, see Elon Musk crash a "Westworld" panel, hear Steven Spielberg self-identify as a gamer and sing your way across town in a karaoke RV?
OLSEN: SXSW at its best has always been the flaky Midwestern cousin of the festival circuit, a place for offbeat discoveries and smart studio movies benefiting from a fresh context. Last year's festival featured the premieres of "Baby Driver," "Atomic Blonde" and "The Disaster Artist" and in typical SXSW fashion, the festival didn't particularly try to top that high bar but rather just kind of swerved around it.
Trailer from the Warner Bros. Pictures film "Ready Player One," directed by Steven Spielberg
YAMATO: Coming into this year's festival it was hard to predict what the highlights might be. Universal's "Blockers" was one of the more high-profile studio films in the lineup — at least until Warner Bros.' sci-fi adventure "Ready Player One" was announced as a surprise premiere. Not that building a multi-story "Ready Player One" immersive VR activation across an entire city block in downtown Austin wasn't a huge clue that they might unveil the March 29 release to the geek-friendly SXSW crowds.
They did, and despite a hilariously timed sound snafu, the film — adapted from Ernest Cline's novel about a teenager searching for an Easter egg in a futuristic virtual reality game — played through the roof.
OLSEN: The sense that something unexpected was happening this year began with the opening night film, "A Quiet Place," directed by John Krasinski, who starred along with his wife, Emily Blunt. The Paramount release is a gripping horror-thriller in which odd creatures that hunt humans by sound corner a family on their remote farm. Long stretches play out in near silence, with sparse dialogue and minimal score, building an unusual tension. A potential question mark of a movie was received with an explosive response from the audience.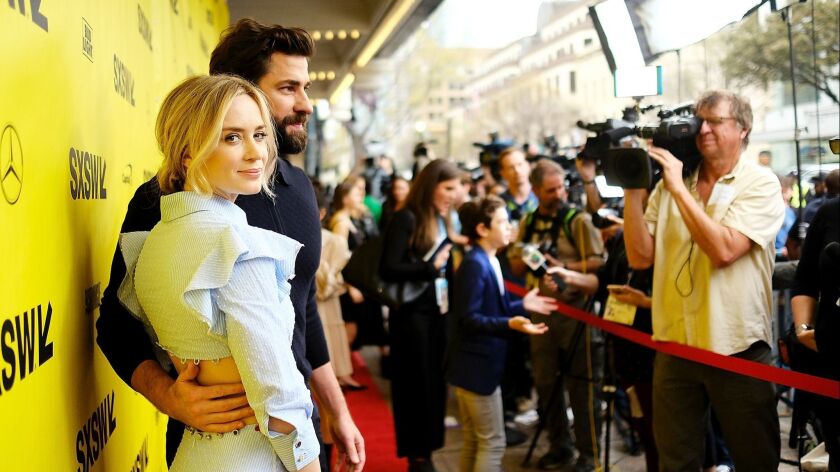 A similar reaction came to Kay Cannon's aforementioned "Blockers," which was the big Saturday night premiere at the festival. On the surface it's just another raunchy teen sex comedy about three teenage girls who make a pact to lose their virginity on prom night, and the parents who are determined to stop them. The movie reveals itself as a sharp multi-generational tale of parental anxiety about children growing up too fast and the pressures on teenagers to know what to want and when to want it. Under Cannon's guidance, the film shows that being outrageously funny while remaining emotionally sensitive and politically aware do not need to be mutually exclusive.
YAMATO: Another thing I love about SXSW is that I always leave having discovered a smaller gem of film, or a first-time filmmaker, or a new talent to watch. The lyrical "Jinn," from writer-director Nijla Mu'min, tells a coming-of-age story we've never seen before centered on a black teenager whose mother converts to Islam, forcing her to look deeply within herself as she probes her own identity. Mu'min joins great company this year among a crop of Oakland-based filmmakers making exciting moves including "Sorry to Bother You" from Boots Riley and "Blindspotting" starring Daveed Diggs and Rafael Casal, both of which also screened at SXSW.
There were other movies that reached into my soul and touched something deep within me, that also happened to be made by and starring women. "The Breaker Upperers" stars New Zealander comedians Madeleine Sami and Jackie van Beek in a scenario that yields so many comical moments: Two cynical BFFs run a service breaking up unhappy couples for a fee. Executive produced by Taika Waititi, it's a great showcase for Kiwi talents to watch out for. And then there's the very special "Fast Color" from filmmaker Julia Hart, which stars Gugu Mbatha-Raw as a woman with superpowers on the run who reconnects with her estranged mother and daughter.
OLSEN: Hart is a great example of how a festival like SXSW allows you to feel as if you're making an early investment in promising talent, because her "Miss Stevens" played here two years ago. (And also included a then-unknown Timothée Chalamet, now an Oscar nominee.) I also found "Fast Color" to be one of the most exciting films of this year's festival, and it deserves to land with a distributor who can make the most of its mix of genre and drama and an exceptional cast.
Another film that played as both a genre film and something more was Melanie Laurent's adaptation of Nic Pizzolatto's novel "Galveston." A crime thriller crossed with a character study, the film is an engaging hybrid of the brooding masculinity that will be familiar to fans of his "True Detective" series with something more emotionally resonant. Stars Ben Foster and Elle Fanning are both terrific, as they so reliably are, but the film also features an astonishing, haunting one-scene appearance by Adepero Oduye. Alongside many others from this year's festival, "Galveston" is also a title that I hope finds a capable distributor soon.
YAMATO: I hope to see many more acquisition deals come out of this year's slate of films. "Thunder Road," which won the narrative jury prize, is an indie that generated very warm buzz and made grown men cry, but may not be on many folks' radar yet. Director Jim Cummings also stars as a cop trying to hold his life together in the feature based on his astoundingly humorous and heartbreaking 2016 Sundance-winning short of the same name.
OLSEN: Discoveries at the festival aren't limited to filmmakers either, because there were also a large number of breakout performers. Zoe Renee brought something vivid and real to the story of a young woman exploring religion and identity in "Jinn." Geraldine Viswanathan captured the rush of excitement and anxiety of teenager-hood in "Blockers." Sophie Thatcher brought an emotional gravity to "Prospect," a low-budget science fiction tale of resilience and survival.
YAMATO: On the nonfiction side, a variety of documentaries made impressions this year. "The Director and the Jedi" peels back the curtain on the making of "Star Wars: The Last Jedi" with surprising emotion and intimacy. "The People's Republic of Desire," about the insanely popular practice of live-streaming for a living in China, won the SXSW prize, while "This One's for the Ladies" — about a New Jersey male strip joint and the women who frequent it — scored a distribution deal with Neon. Also look out for "The Gospel of Eureka," about a tiny Arkansas town big enough for Christian evangelicals and a thriving drag community.
OLSEN: And I need to mention the warm workplace comedy "Support the Girls," written and directed by Andrew Bujalski. He is simply one of my favorite American filmmakers working today, and has been for some years now, in part because his films are so consistently fresh and inventive. That's also what keeps drawing me back to SXSW year after year, reliably knowing I am going to find something I didn't even know I wanted.
SIGN UP for the free Indie Focus movies newsletter »
Follow on Twitter: @IndieFocus
---
The complete guide to home viewing
Get Screen Gab for weekly recommendations, analysis, interviews and irreverent discussion of the TV and streaming movies everyone's talking about.
You may occasionally receive promotional content from the Los Angeles Times.