With Golden Globes nominations, the team behind 'Crazy Rich Asians' hopes it leads to more inclusion in Hollywood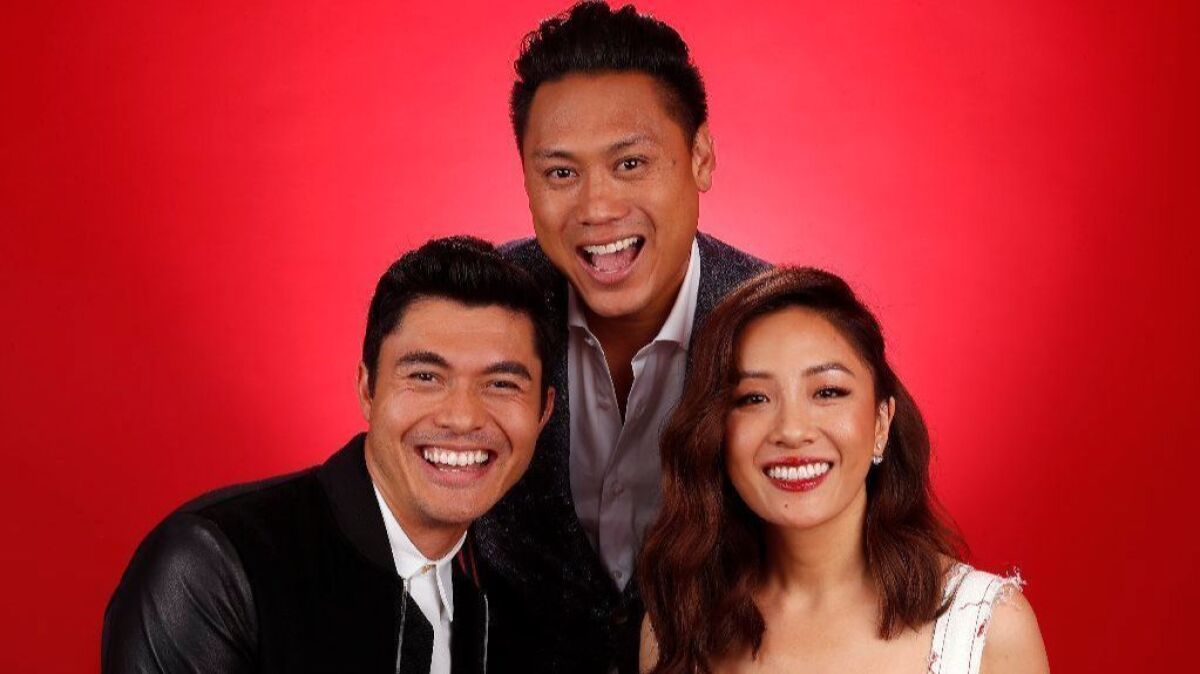 Jon M. Chu was on daddy duty in the wee hours of the morning in chilly Vancouver, Canada, where he's directing his next project, when he decided to tune in and see if his other baby, the groundbreaking romantic comedy "Crazy Rich Asians," would be vying for hardware at the 76th Golden Globes.
When presenter Danai Gurira announced Constance Wu's name for the "Crazy Rich Asians" star's first Globes nomination, for lead actress in a musical or comedy, the dancing began.
Once the film earned its second nod, for best picture in the musical or comedy category, Chu was on the phone to his parents. In the pre-dawn hour, they didn't pick up. "I assume they were asleep!" said an elated Chu a little later Thursday morning, still buzzing on nominations morning.
His next call was to Wu, the "Fresh Off the Boat" TV star who anchors the Warner Bros. hit as an Asian American woman who ventures to Singapore to meet her boyfriend's family.
FULL COVERAGE: 2019 Golden Globe nominations »
"We had a great conversation about the journey and how we got here," he added. "Very few journeys have been like this — all positive along the way. This has been a special one. And it's not over yet."
That journey is one that began with author Kevin Kwan, who based what would become the "Crazy Rich Asians" novel trilogy on his own upbringing among Singapore's elite, and blossomed as Chu assembled an international "family" of crew and cast, including Wu, Michelle Yeoh, Ken Jeong, Awkwafina and Malaysian-born discovery Henry Golding.
"None of this would have happened without [Chu] and his amazing vision," Wu said by phone Thursday morning. "To have all of us in this together has been so exciting, and to have him be so excited for me just means so much… it's really moving."
The international cast and creators of "Crazy Rich Asians" on their crazy diverse journeys to Hollywood and why they hope their groundbreaking rom-com is a watershed moment for underrepresented voices.
With Thursday's nomination, Wu is among only a handful of actresses of Asian descent, including "Jesus Christ Superstar"s Yvonne Elliman and "Edge of Seventeen" star Hailee Steinfeld, to be nominated in her lead acting category at the Globes.
"[To] have a nomination for a type of role that isn't supporting another culture's story, but is actually telling an Asian American culture's story and is leading the story — that is more meaningful than being a diversity check box," she said. "That's actually what representation is."
Made for $30 million and adapted for the screen by Adele Lim and Peter Chiarelli from Kwan's bestselling novel, "Crazy Rich Asians" has delivered both critically and commercially, proving that diverse stories can sell.
With $237 million in global box office receipts, "Crazy Rich Asians" has not only emerged as a win for Warner Bros., which snapped up distribution rights in 2016 to the independently financed project, but also serves as a success story for inclusivity as the first contemporary-set, all-Asian Hollywood studio release in 25 years.
This time last year, producers Nina Jacobson and Brad Simpson of Color Force say, there were no guarantees that the film would find its audience. The Golden Globes nods are "a validation, because we loved this book and we believed that the audience would feel what we felt," said Simpson.
Despite torrential L.A. rain, the duo enjoyed a particularly gratifying Globes nomination morning; three Color Force projects earned eight nominations including best television series — drama ("Pose"), best television limited series or motion picture made for television ("The Assassination of Gianni Versace") and acting nods for "Pose" breakout Billy Porter and "Gianni Versace" stars Darren Criss, Penélope Cruz and Edgar Ramirez.
"It's really thrilling when you feel like there are stories that have not yet been told, and voices that have not yet been heard, and faces that have not been seen in all of their complexity," said Jacobson. "And to see just how much authentic enthusiasm there is, both critically and commercially, for all of the above is really moving."
Moreover, she adds, there seems to be a "Crazy Rich Asians" effect on Hollywood's gatekeepers who are now more receptive to diverse stories and stars.
"I think now the folks behind the scenes who have the power to say yes are responding to what has been a kicked up demand that has been underserved in the past," she said, "and the idea that inclusivity and diversity is good business, period."
Chu echoes the optimism. The difference now in the industry, he says, feels like "a complete 180. TV projects, movie projects, with Asian leads — men, women, young, old — coming to me already set up at studios, or already needing me to direct a pilot … projects that I didn't think existed are now set up and ready to go."
"We have an opportunity to continue to push it open and I have so much confidence that everybody will, because there's just too much talent out there. Now there's a model for it. Unfortunately, they needed a model to follow," he laughed. "But I can absolutely feel the difference."
Producer John Penotti of Ivanhoe Pictures, who teamed up with Color Force to finance and produce "Crazy Rich Asians," also had an emotional nominations morning — and shared his hope that their example might inspire other producers and creators to take the leap.
"That's my greatest hope — that other writers, producers, and talent just realize that there are no limitations," said Penotti. "Audiences are out there and they want to support. People want to see their experiences. They want to see their experiences in every genre."
"Nothing would make me more happy than if right now, writers say, 'You know what, I could write that story — and find people to help me with it.' "
2019 Golden Globes: See the full list of nominees »
And if awards recognition comes along, the filmmakers say, even better to advance the cause.
"There's such a great wealth of talent out there, we shouldn't have been able to have all these great actors and actresses in 'Crazy Rich Asians'; they should have all been unavailable!" said Simpson. "They should all be leads in their own things. And we hope to create situations where that happens in the future."
Yeoh, who plays intimidating matriarch Eleanor Young, has built a three-decade career both overseas and in Hollywood. In celebrating the awards recognition for "Crazy Rich Asians" — which she's seen four times herself and loves — she sees hope for her peers.
"I hope this is the beginning of a new renaissance opening up the field for all Asians to be part of, make more space for us, and include us, because we are a part of your society," said Yeoh from the set of "Star Trek: Discovery." "I would love to see more nominations for Asian actors and in front of and behind the camera, because we are there — recognize us."
As for Chu, the filmmaker (who will next team up with Golden Globe nominee Lin-Manuel Miranda to bring "In the Heights" to the big screen) is grateful to get his own ticket to the Jan. 6 Globes ceremony.
"The last time I was at the Golden Globes, I went as Justin Bieber's plus-one," said Chu, who directed two feature documentaries about the pop star. "We were promoting 'Never Say Never' so I had to wear these purple 3-D glasses, and he really wanted to take a picture with Angelina Jolie, he was like, 'C'mon, help me take a picture!' "
"So I said, 'Hey, can this guy Justin Bieber take a picture with you?' She did not want to take the picture," laughed Chu. "It was so awkward. So it's actually nice to get invited for myself."
Get our L.A. Goes Out newsletter, with the week's best events, to help you explore and experience our city.
You may occasionally receive promotional content from the Los Angeles Times.