Reporting from park city, utah —
Hello! I'm Mark Olsen. Welcome to a special edition of your regular field guide to a world of Only Good Movies.
Your intrepid correspondents are still here in Park City for the Sundance Film Festival. After the intensity of the festival's first weekend — which this year was marked by the Respect rally during a fierce snowstorm — the pace has let up a bit as the festival moves toward the weekend awards ceremony. But we're still here, watching movies, talking to filmmakers and bringing the festival experience to you.
So far, no single film has taken over the festival, which means conversations among attendees are a little more diffuse, probing and searching. And who is to say that's to the negative?
If there is one film that everyone seems to be talking about, it is Jennifer Fox's "The Tale." Starring Laura Dern as Fox, the film explores an abusive relationship she had with an older man when she was a teenager and the ways she rationalized it to herself for many years. The film, also starring Jason Ritter, Ellen Burstyn, Isabelle Nelisse and Common, is a powerful piece on abuse, memory and survival.
Amy Kaufman talked to Fox, 58, who told her, "My goal was not to ask: Did this happen? Because I always remembered it. It was: How and why did it happen, and how and why did I spin it as a positive story? I didn't want the outcome to be that I've now replaced it with a negative story. The truth is that both stories exist simultaneously. As a child, I loved these people — I thought I was trading love for my sexuality. What I understood as an adult in this investigation is that the trade was an unfair one."
I spoke to filmmaker Debra Granik, who is back at Sundance with "Leave No Trace," her first fiction feature since winning the grand jury prize in 2010 with "Winter's Bone," which went on to be nominated for four Academy Awards. In her new film, a father and daughter are living in seclusion in a forest and find themselves pulled in different directions when they are forced to reengage with society. The movie features performances at once delicate and powerful from Ben Foster and newcomer Thomasin Harcourt McKenzie.
Of the ways her filmmaking practice — how she insists on creating her work — puts her at a remove from conventional Hollywood, Granik said, "I am a very, very stubborn person because I have to constantly differentiate what I do from the larger machinery. I have obviously a very complex relationship with the more industrial side of filmmaking .… In order to drill into my work, I have to stay in a tunnel, I almost have to be a little reclusive, to be honest."
Tre'vell Anderson interviewed actor Kelvin Harrison,Jr. ,who is at the festival with three films, "Monster," "Monsters and Men," and "Assassination Nation."
Looking over his work, Harrison said, "My characters, they're recognizing the fact that what they look like and who they are and how people see that impact those people's perspectives of them. I'm just having my awakening of that as well."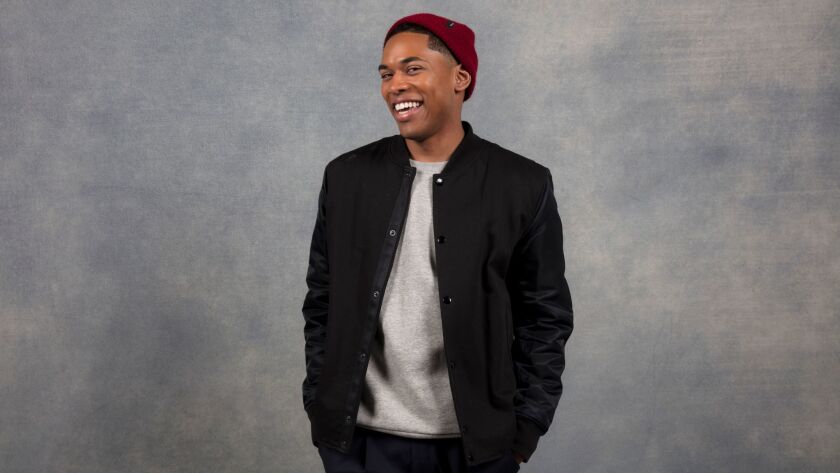 Kenneth Turan spoke to Paul Dano and Zoe Kazan about "Wildlife," starring Carey Mulligan and Jake Gyllenhaal. The movie is Dano's directing debut and he and Kazan adapted the script together from the novel by Richard Ford.
"As a first-time filmmaker, I definitely didn't anticipate how much determination — really committing yourself — it takes just to get to the first day of photography," Dano said. "We fought like hell and we got there
Tre'vell also talked to Franchesca Ramsey about her new digital series, titled "Franchesca." The show has an emphasis of different aspects of beauty.
"I want them to understand that beauty is something that's personal and unique to everyone and that it can be a way to feel good about yourself," Ramsey said of what she hopes people take away from the show. "If people can have their eyes opened and try something different or understand an aspect of beauty in a different way, then I think the show has done a good job."
Colleen Shalby followed Supreme Court Justice Ruth Bader Ginsburg, who has been received as arguably the biggest star of the festival when she appeared with the documentary about her, "RBG."
Following the film's premiere, she said during a Q&A: "Think about where we started. Who were the founders? Who were the people who counted? Who were the people who voted? They were all white men and property owners. Well, I think the genius of our Constitution is that over the course of well over two centuries, 'We the People' now includes people who were left out from the start."
Critic Justin Chang has been filing regular diary dispatches to catch up on all the titles he has been seeing from long days spent hustling from theater to theater. Over the course of his first two entries, he covers "The Tale," "American Animals," "Bisbee '17," "Private Life," "Blindspotting" and "Monsters and Men."
And we had many folks coming through our video studio to talk about their films.
Filmmaker Boots Riley, actors Tessa Thompson, Lakeith Stanfield, Armie Hammer and Steven Yeun talked about the consumer comedy "Sorry to Bother You."
Actress and producer Chloe Seviny, screenwriter Bryce Kass and actor Dennis O'Hare talked about "Lizzie," a dramatic retelling of the story of Lizzie Borden.
Filmmaker Crystal Moselle, actors Jaden Smith, Rachelle Vinberg and members of the skateboarding collective from which the film takes its name stopped by to talk about the "Skate Kitchen."
From the film "Assassination Nation," filmmaker Sam Levinson and stars Odessa Young, Abra, Hari Neff, Suki Waterhouse and Bill Skarsgard talked about the satirical thriller for the social media age.
Filmmaker Desiree Akhavan and actors Chloe Grace Moretz, Sasha Lane and John Gallagher Jr. talked about the gay conversion therapy drama "The Miseducation of Cameron Post."
Director Anthony Madler and actors Jeffrey Wright, Jennifer Ehle and Kelvin Harrison Jr. talked about the drama "Monster," adapted from the popular book.
Filmmaker Sara Collangelo and actress and producer Maggie Gyllenhaal talked about "The Kindergarten Teacher," a remake of an Israeli film.
Idris Elba sat with his cast to talk about his directing debut, "Yardie."
Director Wash Westmoreland and actors Keira Knightley and Dominic West talked about the fizzy feminist drama "Colette," about the French Belle Epoque-age writer.
From "Madeline's Madeline," filmmaker Josephine Decker and actresses Miranda July, Molly Parker and discovery Helena Howard talked about creating art as women and the inside-out nature of the film's production process.
Director Claire McCarthy and cast members Naomi Watts, Tom Felton and George McKay spoke about "Ophelia" and reconsidering "Hamlet" from another character's point-of-view.
Director Amy Adrion and producer David Harris talked about "Half the Picture," their new documentary on gender equality and the lack of women filmmakers in the Hollywood system.
Gloria Allred, directors Roberta Grossman and Sophie Sartain and producer Marta Kaufman talked about "Seeing Allred," the documentary on the attorney and activist.
Los Angeles Times photographer Jay Clendenin has taken many, many portraits of filmmakers and performers coming through our studio in Park City.
Clendenin and Times video journalist Mark Potts also created this fun compilation video of activity from the studio.
Email me if you have questions, comments or suggestions, and follow me on Twitter @IndieFocus
---