Indie Focus: Looking ahead with the winter movie preview and more
Hello! I'm Mark Olsen. Welcome to another edition of your regular field guide to a world of Only Good Movies.
What a week that was. From the Golden Globes to guild awards nominations, its been quite a time for awards watchers. Josh Rottenberg dug into the Globes and what that means (or doesn't) in terms of the Oscar race.
As he wrote, "Providing the latest set of potentially confusing data points in what has already been an unpredictable awards season, the 76th Golden Globes gave major boosts to the racially inflected period road movie 'Green Book' and, more surprising, the Freddie Mercury biopic 'Bohemian Rhapsody' in their pursuit of Oscar glory."
With Oscar nominations voting open this week it was a real free-for-all. As Glenn Whipp noted in his look at the troubled week for the "Green Book" campaign in what should be a triumphant moment after three big wins at the Globes, "How the latest controversies will hurt or potentially even help 'Green Book' through the next few weeks of Hollywood's awards season remains to be seen. Oscar nomination voting continues through Monday. Nominations will be announced Jan. 22."
And then there is the ongoing drama of who, if anyone, will host the Academy Awards ceremony. Rottenberg got into whether it would be Kevin Hart or no one at all, with the academy and producers now apparently leaning toward a host-less ceremony.
We'll have our first Indie Focus Screening Series event of the new year coming up in early February. For info and updates, go to events.latimes.com.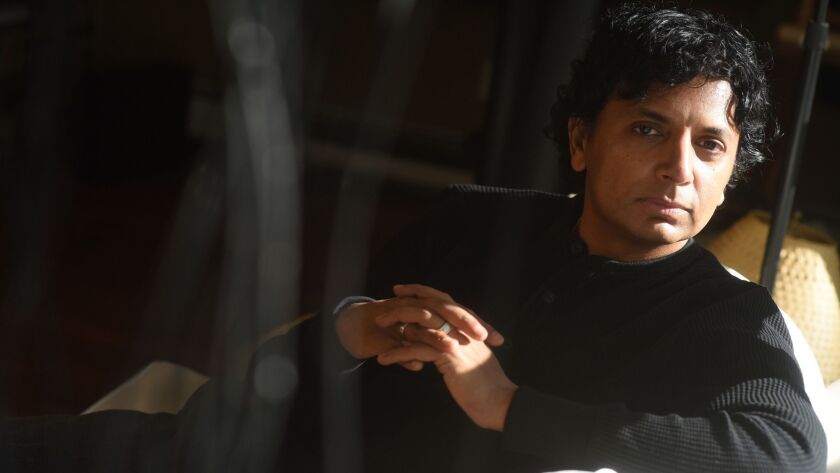 WINTER MOVIE PREVIEW
The Times published our winter movie preview this weekend, with a look at some of what's going to be hitting screens over the coming months.
Jen Yamato talked to M. Night Shyamalan about his upcoming film "Glass," which unites characters from his films "Unbreakable" and "Split."
As he said, "The nature of doing something very unusual — I'm doing a sequel to two separate movies, from two separate generations, from two separate studios! — is the exciting, challenging part for me that makes me go, 'OK. This dish has never been made before.' "
Sonaiya Kelley wrote about "Captain Marvel," the first female-centered story from the Marvel Cinematic Universe and the first Marvel film with a female director. Starring Brie Larson and directed by the team of Anna Boden and Ryan Fleck, the movie comes to theaters in March.
Larson, an Oscar winner for the drama "Room," spoke about the difficulty of training to play a superhero on-screen, saying "There were moments where I cried, there were moments where I thought it was too hard, where I got pushed beyond my comfort zone, but those were ultimately my favorite moments. At the time, you're like, 'Why is this happening to me?' And then afterwards, you feel so proud of yourself."
Amy Kaufman spoke to Erin Cardillo, Dana Fox and Katie Silberman, the credited writers on the rom-com "Isn't It Romantic." As Cardillo said of making a modern romantic comedy, "I think romantic comedies have gotten more grounded… There's a call to not have them all be pretty white girl problems. I love that there's more diversity. Not everyone in the dating world is a supermodel when they take off their glasses."
'RUST CREEK'
Releases at this time of year often provide fresh takes on genre storytelling, and that includes "Rust Creek," a survival thriller directed by Jen McGowan. In the film, Hermione Corfield stars as a college student who first finds herself battling the elements after become stranded in remote Kentucky woods, and then forced to summon her courage to fend off assorted unsavory characters who are coming for her.
Reviewing the film for The Times, Noel Murray called it " a well-acted, well-plotted backwoods noir." He added, "McGowan makes good use of autumnal Appalachia, staging a lot of scenes outdoors in the barren, brown hills… Even better is 'Rust Creek's' feel for how these people are all making the best — or, in some cases, the worst — of bad circumstances, in a place where money's scarce. By the time the film turns back into a rural chase story, it's clear exactly what everyone's running after."
McGowan recently appeared on the reliably insightful podcast "Switchblade Sisters," hosted by April Wolfe. McGowan spoke not only about her own "Rust Creek," but also her deep admiration for Jonathan Glazer's "Under The Skin."
NICOLAS ROEG
Since the death of Nicolas Roeg in November, there have been many tributes to the filmmaker. But now, thanks to the American Cinematheque, local audiences get a chance to revisit his work on the big screen for themselves. At the Egyptian Theatre from the 17th to the 20th seven of Roeg's film will play, including better known titles such as "Don't Look Now" and "The Man Who Fell To Earth," but also movies ripe for rediscovery that still spark with Roeg's specific touch such as "The Witches," "Bad Timing" and "Eureka." Special guests scheduled to speak along with many of the films include Roeg's son Luc Roeg, actress and Roeg's ex-wife Theresa Russell, actress Anjelica Huston and cinematographer Tony Richardson.
Email me if you have questions, comments or suggestions, and follow me on Twitter: @IndieFocus.
---
The complete guide to home viewing
Get Screen Gab for weekly recommendations, analysis, interviews and irreverent discussion of the TV and streaming movies everyone's talking about.
You may occasionally receive promotional content from the Los Angeles Times.