Amy Adams, 'Finding Dory' and Meryl Streep: The big Oscar nomination snubs and surprises
Just a couple of weeks after our new President labeled her "one of the most overrated actresses in Hollywood," Meryl Streep earned her 20th Academy Award nomination Tuesday.
Not that the news seemed particularly momentous to the 67-year-old. The best actress nominee -- who earned her latest nod for playing a tone-deaf singer in "Florence Foster Jenkins" -- conveyed her reaction to the news via a GIF of her jumping around in a 2013 Paul McCartney music video. (Most nominees traditionally do interviews following the nominations or issue a polite, noncontroversial statement of thanks. Then again: Streep isn't most nominees.)
For the record:
2:06 p.m. Aug. 18, 2019Taraji P. Henson's name added to list of snubs.
Live coverage: Analysis, reactions, snubs, surprises and more on the 2017 Oscar nominations »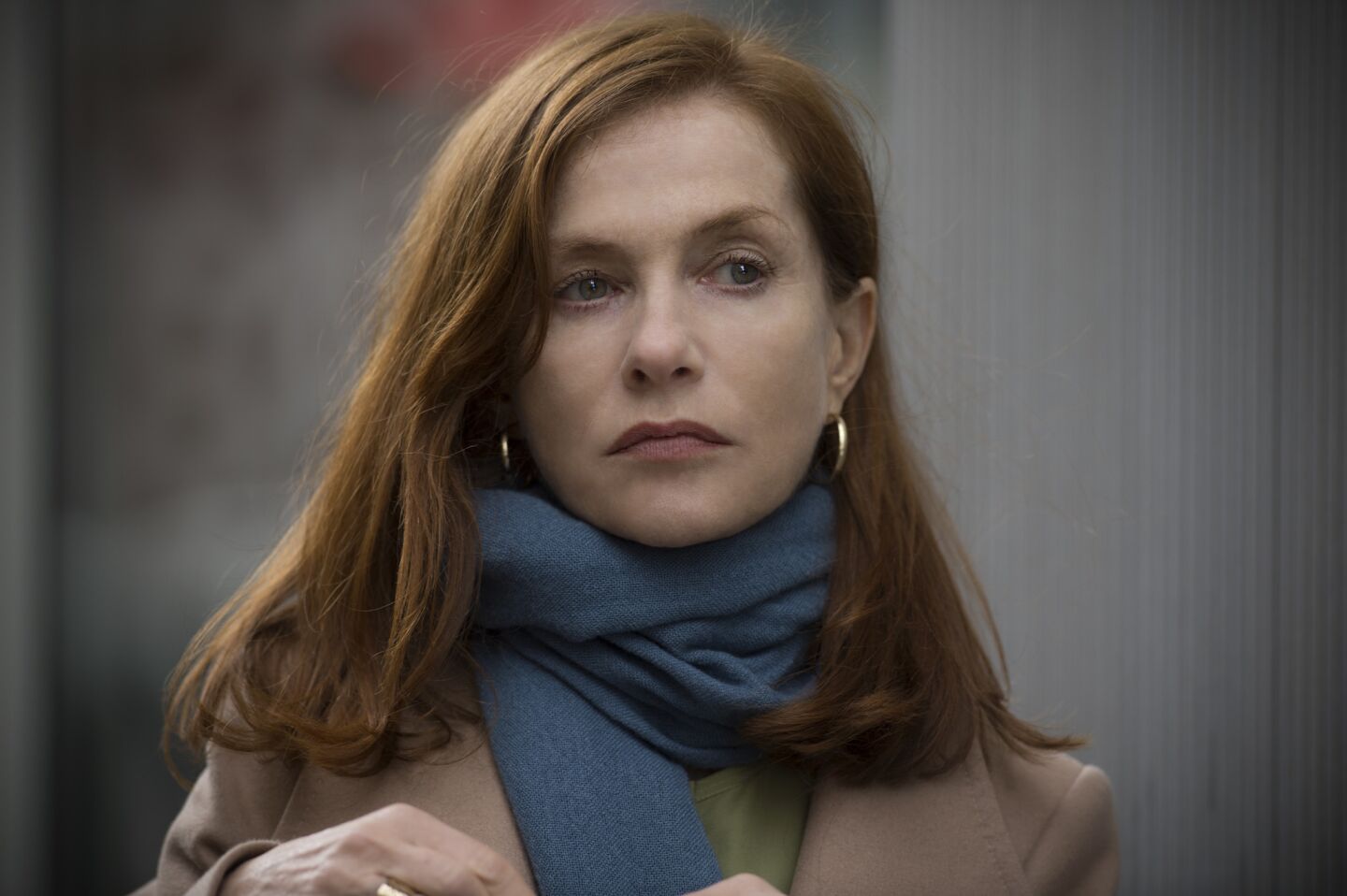 NOMINATED: Actress in a leading role - Isabelle Huppert
(Guy Ferrandis / Sony Pictures Classics via AP)
NOMINATED: Original score - "The Empty Chair"
(Manu Brabo / AP)
Though Streep is an award season staple, many were actually surprised by her Oscar nomination. Her performance in "Florence" was not one of her better-reviewed turns, and pundits predicted her slot would instead go to Amy Adams ("Arrival") or Annette Bening ("20th Century Women") or Taraji P. Henson ("Hidden Figures"). But at the Golden Globes earlier this month -- where she was the recipient of a lifetime achievement award -- Streep delivered a stirring six-minute speech denouncing then President-elect Donald Trump. It was arguably the most rousing moment during the telecast, and may have swayed Oscar voters in her favor. (The Globes took place on Jan. 8; Oscar ballots were due Jan. 13.)
One of the biggest shockers at the Globes, meanwhile, came when Aaron Taylor-Johnson was named best supporting actor for his performance in "Nocturnal Animals." Leading up to that award show, most critics had singled out the actor's co-star -- Michael Shannon -- as the more likely nominee. Shannon got his due from the Academy, however, in a slot that many had guessed would go to Hugh Grant, who also appeared in "Florence Foster Jenkins."
In the animated film category, Pixar's "Finding Dory" — which has grossed over $1 billion at the box office — was shut out. (And you can count on one hand the number of times a Pixar film hasn't gotten a best animated feature nomination and still have fingers left over.) Instead, the far lesser-known French-Swiss stop-motion animated film "My Life as a Zucchini" scored some recognition. The foreign film, about an orphan struggling to find his place in a foster home, has yet to be released in American theaters.
Another big surprise Tuesday morning came when the World War II drama "Hacksaw Ridge" earned six nominations, including nods for best picture, lead actor (Andrew Garfield) and best director (Mel Gibson). Gibson, whose anti-Semitic and misogynist rants have made him a TMZ staple over the last decade, edged out industry favorites Martin Scorsese ("Silence") and Clint Eastwood ("Sully").
"It was really great and emotional to see Mel be embraced and the stuff of the past finally being forgiven by Hollywood," Bill Mechanic, the film's producer, said shortly after the nominations were announced. "It's just such a long, hard journey that it would have been disappointing to see the movie not be recognized."
And "Deadpool," it turned out, did not have enough superpower to break into the Oscar race. The R-rated "Deadpool," which was a commercial hit and earned two nominations at the Globes — including one for picture — was not recognized by Academy voters.
Follow me on Twitter @AmyKinLA
ALSO:
Academy Awards 2017: Complete list of nominations
Jeff Bridges is an actor with wide range, eloquence and a new Oscar nomination
The 2017 Oscar nominations conform to Hollywood's conventional ideas about quality
---
Get the Indie Focus newsletter, Mark Olsen's weekly guide to the world of cinema.
You may occasionally receive promotional content from the Los Angeles Times.