Academy president talks about bringing back Jimmy Kimmel in 2018 and coming to terms with chaotic Oscars snafu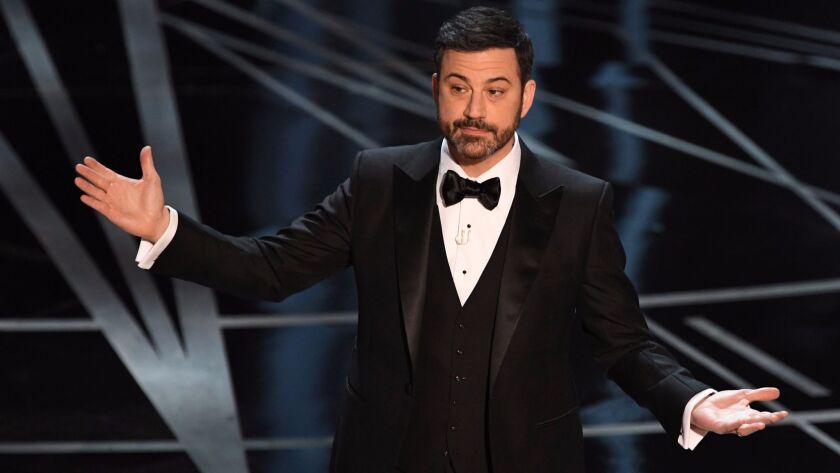 This year's Oscars may have ended with the best-picture snafu heard 'round the world, but in Hollywood the show must always go on — and next year's Academy Awards will go on with the same key players back on board.
On Tuesday, the Academy of Motion Picture Arts and Sciences and ABC announced that comedian and late-night host Jimmy Kimmel will return to host the 90th Oscars ceremony on March 4, 2018. The producers of this year's telecast, Michael De Luca and Jennifer Todd, will also helm the show for the second year in a row.
"Jimmy, Mike and Jennifer are truly an Oscar dream team," academy President Cheryl Boone Isaacs said in a statement.
In a separate interview by phone on Tuesday, Boone Isaacs said the announcement of the host and producers — which came months ahead of the typical schedule — was a testament to how pleased the academy's leadership was with this year's show, envelope-gate or no envelope-gate.
"The team worked extremely well together and produced a marvelous evening," Boone Isaacs said. "Jen, Mike and Jimmy gave us ideas and thoughts on what they'd like to bring to the show and they delivered, so what better folks to bring us through in the coming year. They work a lot and they're in-demand. So we wanted to make sure that we just kept this continuum and that the dance cards didn't get full."
For me, personally, it was like fast and slow all at the same time ...
Academy President Cheryl Boone Isaacs on this year's chaotic Oscars ending
ABC Entertainment Group President Channing Dungey said the decision to bring back Kimmel, who hosts ABC's "Jimmy Kimmel Live!" was "a no-brainer."
"We think he did a fantastic job," Dungey told reporters on a conference call as part of the TV industry's upfronts gathering this week. "We are so proud of the year Jimmy had, first with the Emmys and then with the Oscars. There's always a certain amount of steps that have to be taken in terms of the academy, but I think that they also felt really great about his performance... We feel incredibly thrilled about our creative team and are looking forward to an incredible 90th Oscar ceremony."
"If you think we screwed up the ending this year," Kimmel joked in a statement accompanying the announcement, "wait until you see what we have planned for the 90th anniversary show!"
Boone Isaacs acknowledged that it took a little time for her to be able to find the humor in the show's chaotic climax, in which "La La Land" was wrongly named best picture due to a mix-up with the envelopes before the correct winner, "Moonlight," was announced.
"For me, personally, it was like fast and slow all at the same time if that makes any kind of sense," she said, recalling the moment.
"But when I could reflect and look back later — and not much later, to be honest — yes, there was an incident but the way that everybody on that stage handled it must be remembered," she went on. "It was a group of professionals who acted as such. The relationships were there and tight and supportive, and before the show ended it all came together. At the end of the day, it showed a spirit of Hollywood that I think a lot of people probably have never seen or knew about."
Ratings for this year's show dipped for the third straight year, as the Oscars face the same headwinds as every other live television event in an increasingly fragmented media landscape. But despite the last-minute bungle, Kimmel's hosting and the overall production received largely positive reviews.
Critiquing the Oscars in real time has become an annual social media blood sport, but Todd said she and De Luca, who have busy careers as film producers, nevertheless jumped at the chance to produce the show again.
"We were really happy with the show we produced," said Todd. "We learned a lot last year and I feel like we can even apply it even more next year. It is a lot to take on — it is sort of the Super Bowl of entertainment — so you have a lot thrown at you the first time you do it. But we're more than excited to go back. We like the punishment."
As for the best-picture fumble, Todd said, "Look, of course it's unfortunate and we felt very bad for both the movies that were involved. As filmmakers we want to make sure that people get their moment to win their Oscar and we of all people know how hard everyone has worked to get there. But that being said, we also know that in the state of the world mistakes happen, and we learned a lot."
She laughed. "We'll see what happens next year. It probably won't be an envelope but it'll be something else. It's live TV!"
Despite — or perhaps because of — the country's tense and fractious mood, this year's show was largely upbeat. Boone Isaacs, who is coming to the end of her fourth and final term as president this summer, said audiences should expect a similar "party and celebration" next year, along with an extra helping of nostalgia as the academy rings in its 90th year as the face of the movie business.
"Ninety years — that is a remarkable achievement for an organization that I've been very, very pleased to be a part of," she said. "There will be a lot of excitement as the team, the staff, the leadership of the academy and ABC all come together. It will be a wonderful time."
Times staff writer Yvonne Villarreal contributed to this report.
Twitter: @joshrottenberg
ALSO
Director James Gunn talks mom rock and why Led Zeppelin missed the cut for his 'Guardians 2' mix
Why 'Sleight's' J.D. Dillard could become the next indie filmmaker to vault to Hollywood's big leagues
How Fionn Whitehead went from washing dishes to starring in Christopher Nolan's 'Dunkirk'
---
UPDATES:
4:50 p.m.: This article was updated with additional quotes.
This article was originally published at 3:20 p.m.
---
Inside the business of entertainment
The Wide Shot brings you news, analysis and insights on everything from streaming wars to production — and what it all means for the future.
You may occasionally receive promotional content from the Los Angeles Times.