CinemaCon 2016: Universal unveils 'The Girl on the Train'
There has been some grumbling amongst industry folk who traveled to CinemaCon this year that studios aren't really showing anything new. In an age where fans clamor for teasers and trailers to debut earlier and earlier online, Hollywood has started giving sneak peeks of their films many months -- and sometimes years -- in advance of a movie's release.
That wasn't the case with Universal Pictures, whose chairman Donna Langley told the crowd of movie theater owners gathered here on Wednesday that all material the studio would be sharing was "created specifically for CinemaCon."
A majority of that material involved the studio's animated slate -- more on that here. But Universal also gave conference-goers a first glimpse at some of its most anticipated live-action releases.
So here's the best of what we saw:
"Warcraft"
Duncan Jones, the British filmmaker best known for his sci-fi film "Source Code," has tackled the first big-screen version of the immensely popular online role-playing game World of Warcraft. Over 100 million people have played the game, meaning there's a lot of people who want Jones to get this right -- something he addressed on stage at Caesars Palace.
"A lot of people care about this world and these characters," he said, noting that he's been working on the film for nearly four years. "I'm one of them. I know what a responsibility it is."
Jones then introduced a trailer whose central story was the war between humans and orcs, a fantasy race of humanoid creatures. If you're not a World of Warcraft junkie -- humbly raises hand -- the orcs Jones have created kind of look like Shrek with teeth and pigtail braids. "They're beasts! They should all be destroyed!" is the credo most of the humans in the film seem to take.
While it's no doubt difficult to create photo-realistic creatures that, well, don't exist, some of the beasts in the trailer looked a tad hokey. Let's just say that even the fanboys in the room didn't seem especially impressed.
"The Girl on the Train"
Much like "Gone Girl," the adaptation of Paula Hawkins' massively popular book has been awaited by fans for months. The psychological thriller follows Rachel, an alcoholic whose husband recently left her for another woman when she believes she witnesses a murder while riding the train. As director Tate Taylor put it on Wednesday: "It's got all the things we go to the movies for: sex, infidelity, deception, obsession, more sex, a little bit of murder, tons of suspense and plenty of cocktails."
Emily Blunt plays Rachel, who Taylor described as a "multi-dimensional, deeply-felt and broken" character."
"She went for it," the filmmaker said. "With her guts, she was willing to go the very depths of the emotional spectrum. I don't think any beauty campaigns are going to be coming Emily's way as a result of this movie."
The footage the director unveiled, weirdly enough, had "Gone Girl" overtones -- dark, sexy, mysterious. Scored to Kanye West's "Heartless," a woman is shown going through her daily life -- having sex, running -- until she suddenly vanishes mid-jog. Enter Rachel, who is on a train and seems frantic, running down a car to try to see out its windows. She's teary-eyed and blotchy, and racy images of her ex with his new woman keep flashing through her head. Soon, she's recounting the incident for authorities, but she's confused -- did she really see what she thinks she saw? Was she even on the train?
We'll have to go to the theater in October to find out.
"Jason Bourne"
It's been nearly ten years since Matt Damon played CIA assassin Jason Bourne. In his a
bsence, Jeremy Renner stepped in for "The Bourne Legacy" in 2012, but Damon finally decided to return to the franchise for his fourth spin as the character.
"The reason we haven't had a movie for almost ten years is because we wanted to get the story right," insisted producer Frank Marshall on Wednesday. "About two years ago...we all got together and we said, 'We really want to try and crack this.' And we did. I'm really, really happy to say we found a great new story that's contemporary but brings back all of the things that are familiar from the other movies with a fresh take."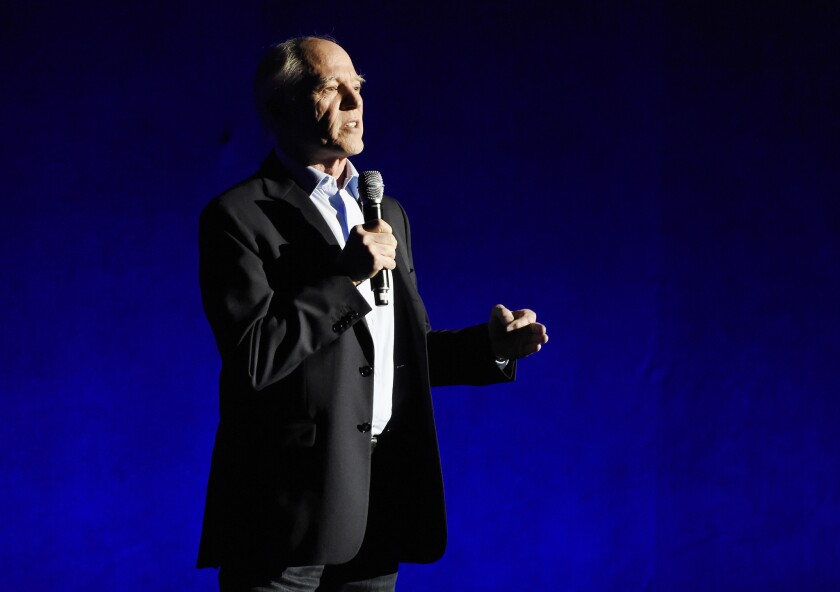 So where is Bourne nowadays? He wakes up on a bed, staring at a fan, and his memory-loss is no more: "I know who I am. I remember. I remember everything."
He quickly reunites with a fellow ex-government agent played by Julia Stiles, who quickly reminds Bourne that "remembering everything doesn't mean you know everything."
It seems, meanwhile, that a group of government agents including Alicia Vikander suspect Bourne may be responsible for a hack that "could be worse that Snowden." So Bourne goes on the run, leading to a slew of action-heavy scenes where he's riding a motorcycle through a riot and Greece and driving a car through traffic on the Las Vegas strip. His SWAT vehicle eventually smashes through the glass doors of the MGM Grand, which is a lot more exciting than anything we've seen actually happen here this week.
ALSO:
First look at Scarlett Johansson as the cyborg from 'Ghost in the Shell'
Benedict Cumberbatch to star in 'The Grinch Who Stole Christmas' reboot
With Spielberg, Penn, Foster and Jarmusch (twice), Americans will help storm the beaches at Cannes
---
The complete guide to home viewing
Get Screen Gab for weekly recommendations, analysis, interviews and irreverent discussion of the TV and streaming movies everyone's talking about.
You may occasionally receive promotional content from the Los Angeles Times.