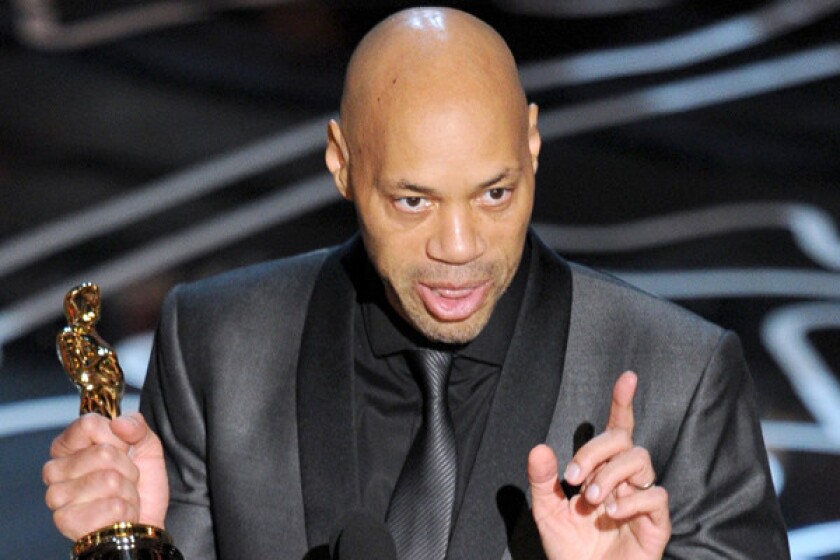 Validating its reputation heading into the Academy Awards as 2013's most socially important film, "12 Years a Slave" saw screenwriter John Ridley on Sunday claim the Oscar for adapted screenplay.
The film is based on the 1853 memoir of Solomon Northup, a book that fell into obscurity for nearly a century after its initial print run. To win his Oscar, Ridley beat the screenwriters of "Before Midnight," "Captain Phillips," "Philomena" and "The Wolf of Wall Street."
With its unflinching period detail and 19th century dialogue, "12 Years a Slave" chronicles the harrowing ordeal of Northup (portrayed by Chiwetel Ejiofor), a free-born African American who is kidnapped and held in bondage in the antebellum South.
OSCARS 2014: Full coverage | Complete list | Top nominees and winners
But the drama -- in the running for nine Oscars including best picture -- might never have made it to the screen if not for Bianca Stigter, life partner of the film's director, Steve McQueen. She came across the book while browsing the Internet and urged the filmmaker to take it on as his next project.
In turn, McQueen convinced Ridley, whose screenwriting filmography includes "Red Tails" (2012) and "Three Kings" (1999) to write the script as a spec project -- in essence, for free -- until development money could be secured, a period that lasted four years.
Beyond Ridley's prolific body of work in television and film, the writer-director has also written seven novels, three graphic novels and a stage play. The Oscar for "12 Years a Slave" is Ridley's first.
ALSO:
GRAPHIC: Spotlight on screenwriting
PHOTOS: 14 completely awkward Oscar moments
ENVELOPE SCREENING SERIES: Oscar contenders talk
Twitter: @__chrislee
---