Mickey Mouse, get your rave on — Disneyland's new show is a laser-blasting dance party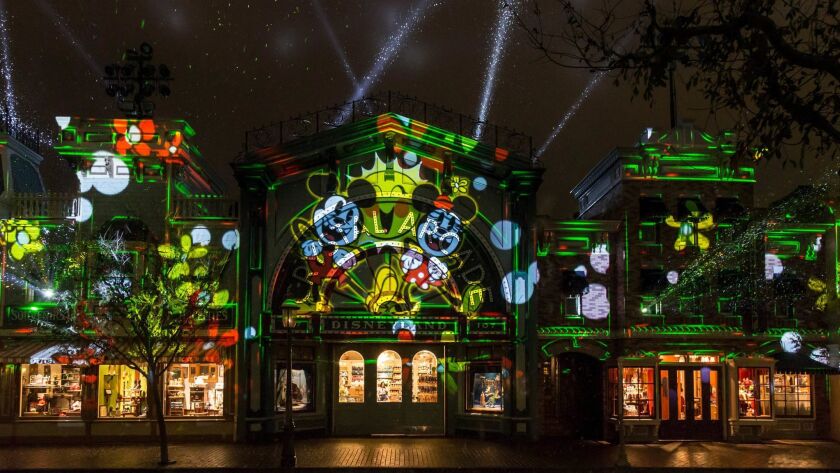 The latest music-driven show to arrive at Disneyland has a number of the expected tuneful hallmarks — "I Wanna Be Like You" from the "The Jungle Book," "Friend Like Me" from "Aladdin" and "Let It Go" from "Frozen."
But on this afternoon the creative director behind the park's recently opened evening experience is just as eager to talk about dubstep and the latest trends in electronic dance music (EDM).
Launched as part of a resort-wide promotion this year honoring the 90th birthdays of Mickey and Minnie Mouse titled "Get Your Ears On," the new nighttime show, branded "Mickey's Mix Magic," could easily have been subtitled "Mickey, Get Your Rave On."
Don't worry, "Mickey's Mix Magic" doesn't represent the Coachella music festival overtaking Disney's quaint Main Street. Yet it also isn't a coincidence that Disney's Steven Davison, a longtime architect of parades, firework displays and what the company dubs "nighttime spectaculars," praises the work of an EDM hitmaker such as Skrillex when discussing "Mickey's Mix Magic," a show that aims to bring a contemporary, dance-focused spin to Walt's original park.
"Normally," Davison says, "we're very classic and 'in the ballpark,' as we say."
"Mickey's Mix Magic," however, has youthful rather than nostalgic ambitions. The show comes complete with chaotic lasers, kaleidoscope-like projections and a reworked "Let It Go" barely recognizable to the original; it replaces an orchestra with frenetic electronics and spliced vocals, ultimately transforming Queen Elsa from a bold balladeer into a dance-pop diva.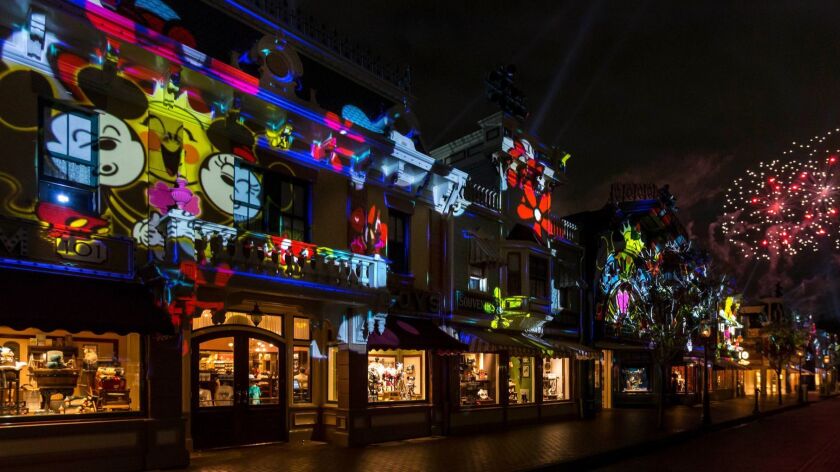 RELATED: 9 experiences to look for this year at Disney parks, including 'Star Wars' land »
A few weeks into the show's run, it's not entirely uncommon to see Disneyland staffers waving their traffic-directing batons as if they're glow sticks during the more fervent portions of the performance. EDM and Disneyland, it turns out, may be a natural fit, and not just because this once-underground scene — one that's also been known to boast silly, cartoon-like imagery (see Marshmello) — has long since gone mainstream.
Yet one could even argue that Disneyland has been relatively progressive in championing electronic music, from the departed, club-like party that was "elecTRONica" to the once-experimental music that scored the "Main Street Electrical Parade." When the latter debuted in 1972 it boasted a reworking of "Baroque Hoedown," a song composed in 1967 by Jean-Jacques Perrey and Gershon Kingsley and one of the first major compositions to utilize the Moog synthesizer.
As that show has traveled and survived retirement, it's not a stretch to say that many people were first exposed to experimental electronic music via a Disney park.
"All those synthesizers are back in vogue," Davison says. "They're reselling every one one of them. But now they're all in your computer and you just program them. It's very funny to see all that coming back. When we started this it was the same type of thing: 'What don't we know what about?'"
Deviating from some of the park's well-known nighttime experiences, "Mickey's Mix Magic" emphasizes projections rather than fireworks, the latter relegated most often to the weekends. With multiple viewing areas in Disneyland, the 10-minute show represents a quick, flash-mob-like takeover of the park, with a cartoon Mickey acting as the DJ.
Musically, the show is designed to guide guests as it builds to a full-EDM finale, emphasizing in its first half the jazzy-stylings of "I Wanna Be Like You" and "Friend Like Me." Visually, the scene-stealer is Marie, a feline at her showoff best during the equally swinging number "Everybody Wants to Be a Cat" from "The Aristocats."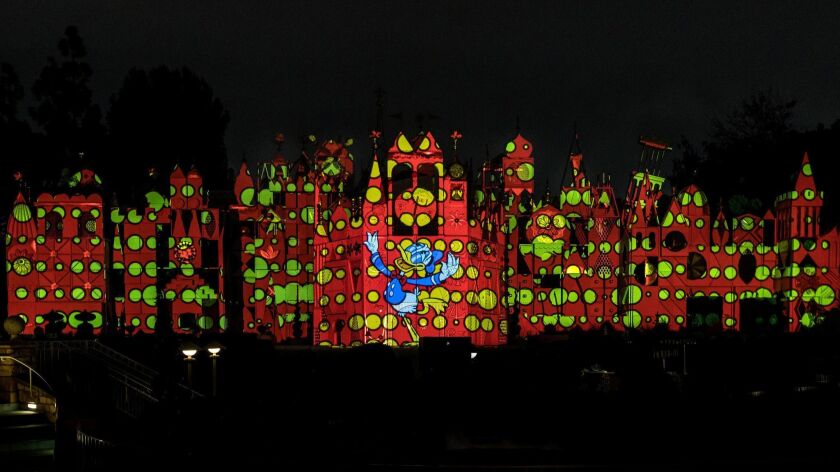 RELATED: Disney studio profits drop without 'Star Wars,' but earnings beat Wall Street expectations »
Although modern Disney films offer some electronic-focused numbers to choose from, "Mickey's Mix Magic" sticks mostly with Disney classics, even if a dance remix of the Haunted Mansion's "Grim Grimming Ghosts" is a bit of a surprise. The Shakira number "Try Everything" from "Zootopia" was originally in the show, and Davison doesn't rule out its return someday. But for now Davison felt it better to emphasize big bands when it came to giant beats.
"What can we do and what can we put out there that's not going to be a big mega-mega dance remix where we have five minutes of just a beat going dun-dun-dun-dun," Davison says. Ultimately, he says, the show still must feel like it belongs in Disneyland, even if it is a little edgy.
Even when the show starts to resemble an EDM festival — with "Let It Go" putting Elsa in a starring role while the park becomes awash in blue lasers — "it's still accessible because we didn't start out with this really hardcore driving beat that might scare people," Davison says.
It all evolved from something that at first felt a little more traditional as Disney parks around the globe are celebrating the 90th birthday of Mickey and Minnie. A projection-heavy show at Hong Kong Disneyland, for instance, traces Mickey through the years, and Davison says an original concept for "Mickey's Mix Magic" centered on the march from the original "Mickey Mouse Club," only it wasn't quite working.
Once Davison heard what would become the opening and closing song of "Mickey's Mix Magic," the Ali Dee Theodore-produced cut "It's a Good Time," the direction for the show seemed obvious. "[It] is "essentially a powerhouse of dance," Davison says.
But there's an art to acting as a DJ for Disneyland, albeit a parental one.
"What are the [songs] that aren't going to terrify you?" he says. "I put on my mother hat. Will I dance with my 5-year-old to this?"
Follow me on Twitter: @toddmartens
---
From the Emmys to the Oscars.
Get our revamped Envelope newsletter, sent twice a week, for exclusive awards season coverage, behind-the-scenes insights and columnist Glenn Whipp's commentary.
You may occasionally receive promotional content from the Los Angeles Times.