Review: Ariana Grande's 'Thank U, Next' swagger upstages Grammys drama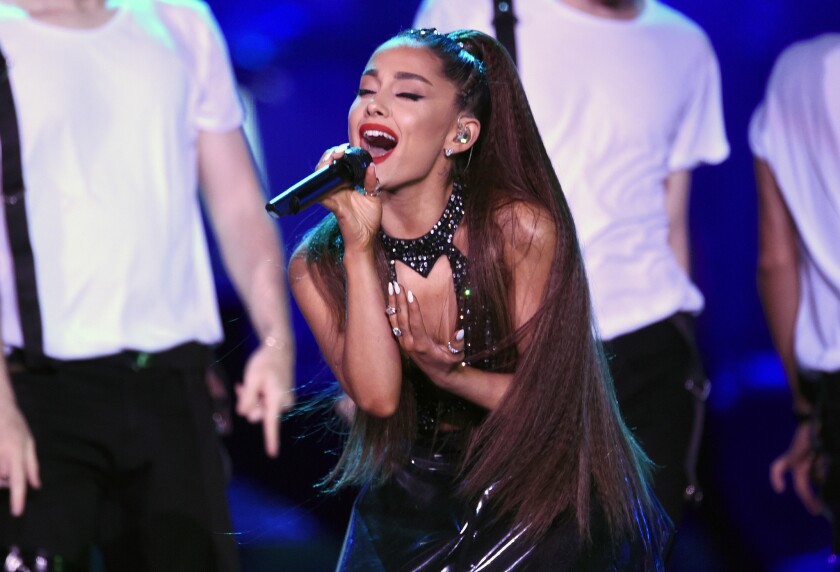 Pop Music Critic
You don't have to listen to Ariana Grande's new album more than once or twice before you start wondering if she ever intended to perform on this weekend's Grammy Awards.
After all, what smarter way to promote a record about exerting one's power than to publicly bail on the music industry's biggest event mere days before the show (and mere hours before the album drops)?
That's the story that took shape Thursday after comments by Grammys producer Ken Ehrlich — who told the Associated Press that Grande couldn't "pull something together" — led the singer to write on Twitter that in fact she'd decided not to perform because Ehrlich had "stifled" her "creativity & self-expression."
"I hope the show is exactly what you want it to be and more," she added, expertly punctuating the thought with a black heart emoji.
Nothing she could have sung Sunday would've matched the swagger in that tweet.
And swagger is definitely what Grande is selling on "Thank U, Next," which arrives less than six months after her last album, "Sweetener."
Like that one, which followed the horrific terrorist bombing of Grande's 2017 concert at England's Manchester Arena, "Thank U, Next" finds the singer reflecting on hard times — in this case the death of her ex-boyfriend Mac Miller and her breakup with Pete Davidson, whom she was engaged to marry. (In the new album's "Ghostin," she suggests the former might've had something to do with the latter: "I know that it breaks your heart when I cry again over him.")
Yet it's no pity party.
Instead, "Thank U, Next" flaunts Grande's emotional healing; it's suffused with the joy of discovering that what didn't kill her really did make her stronger.
"Been through some bad" stuff, she sings, using sharper language, in "7 Rings," before continuing: "I should be a sad bitch / Who would have thought it'd turn me into a savage?"
In songs built on skittering trap beats — and in an undeniable blaccent that's already raised some eyebrows — she brags about spending money at Tiffany and about seducing another woman's boyfriend; "Fake Smile" insists that she's finished going along to get along.
Even the speed with which she made "Thank U, Next" feels like a flex — a happy disruption of established pop-star protocol closer in spirit to the way rappers operate in the current streaming economy.
Indeed, the album's rollout is just one thing that puts Grande in league with hip-hop's elite; so too does her beef with the stick-in-the-mud Grammys, in which she joins Drake, Kendrick Lamar and Childish Gambino, all of whom declined to perform on Sunday's ceremony.
What makes the Grammys the loser in the Grande situation is that, as eager as she sounds on "Thank U, Next" to embrace new ideas and attitudes, the album shows that she can still do the old-fashioned stuff — the big vocals that connect her back to Mariah and Whitney and Celine — when she wants to.
Nobody's better off for not getting to hear her sing the stuffing out of "7 Rings," as she reportedly wanted to do, on TV on Sunday.
Nobody, that is, but Ariana Grande.
Twitter: @mikaelwood
---
Your essential guide to the arts in L.A.
Get Carolina A. Miranda's weekly newsletter for what's happening, plus openings, critics' picks and more.
You may occasionally receive promotional content from the Los Angeles Times.