Review: Carlos Santana, Wayne Shorter and Herbie Hancock rarely take off with Mega Nova at the Hollywood Bowl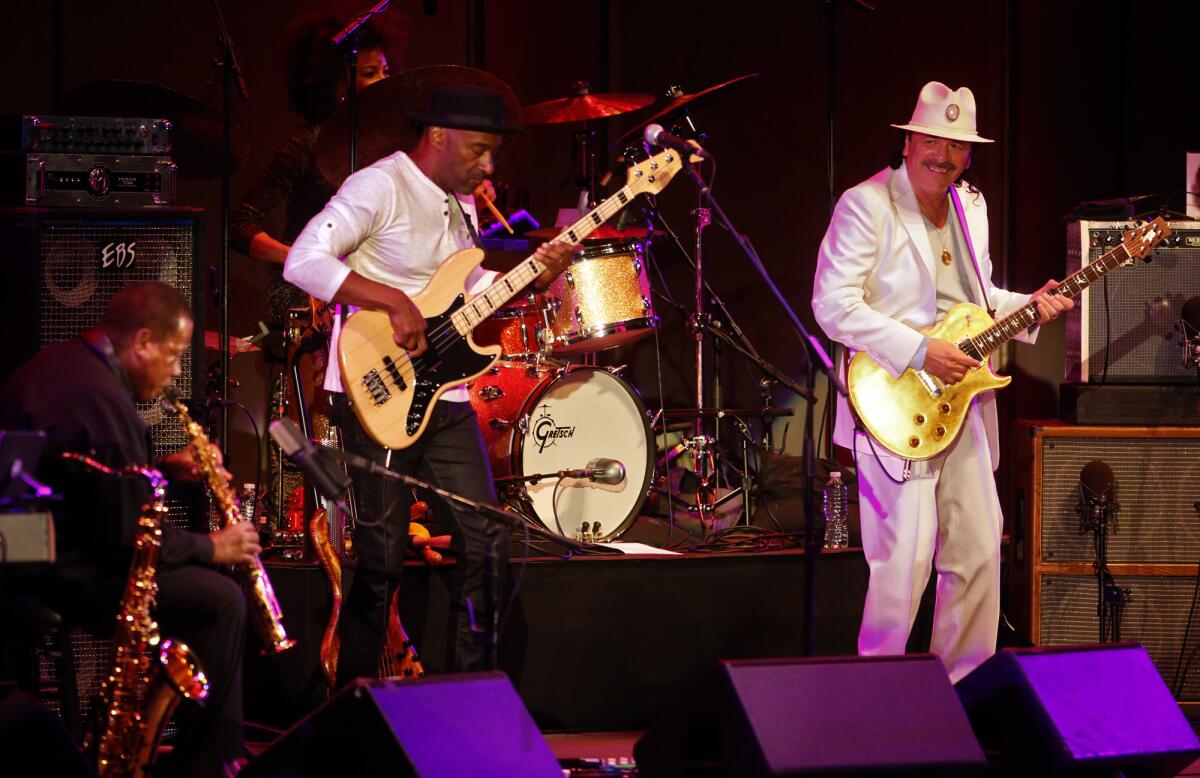 Give your latest project a name that sounds like an explosive cosmic event and, sure, maybe expectations run a little high.
However, every bit as challenging for Mega Nova — the new project led by Carlos Santana that debuted at the Hollywood Bowl Wednesday night — was the idea to round out the band with a couple of jazz immortals in revered bandleaders and onetime Miles Davis sidemen Wayne Shorter and Herbie Hancock, the last of whom also serves as the creative chair for jazz with the L.A. Philharmonic.
Add in a rhythm section that included another former Davis collaborator in bassist Marcus Miller and drummer Cindy Blackman Santana, who performed with the Tony Williams tribute Spectrum Road (another Davis connection), and you have all the makings of that somewhat perilous musical concept, the supergroup.
Supergroups have a long history and often struggle to become more than the sum of their parts (see Velvet Revolver, Audioslave). And while no band on this year's Bowl schedule has a more influential combined artistic output, Mega Nova — named, according to Santana, in tribute to Shorter's 1969 album — also offered only fleeting glimpses of its superstar components coming together into a single whole.
See the most-read stories in Entertainment this hour »
Early on, Mega Nova resembled something akin to a casual, mid-tempo jam session, not unlike a similarly star-studded bill that Hancock assembled at the Bowl in 2012 called Celebrating Peace, which also included Miller and Santana.
As Blackman Santana and a second percussionist laid into a clattering, Latin-funk groove that could snugly fit with anything in her husband's storied back catalog, Shorter's soprano saxophone explored the margins with Hancock's flickering piano as the band toyed with a jazz-rock fusion that recalled John McLaughlin's Mahavishnu Orchestra.
The connection felt natural as Santana recorded with McLaughlin on the fretboard-burning 1973 John Coltrane tribute, "Love, Devotion, Surrender." That album's take on Coltrane's "Acknowledgement" from the landmark "A Love Supreme" was also echoed later on Wednesday as Shorter, seated in the curve of Hancock's grand piano, made the increasingly rare shift to tenor saxophone to offer his own gently swerving nod to the late master. Behind Santana and Miller, the song too quickly shifted into a more hip-swiveling groove before the homage could coalesce.
Carlos Santana leads Mega Nova, his new project, at the Hollywood Bowl on Aug. 24.
(Genaro Molina / Los Angeles Times)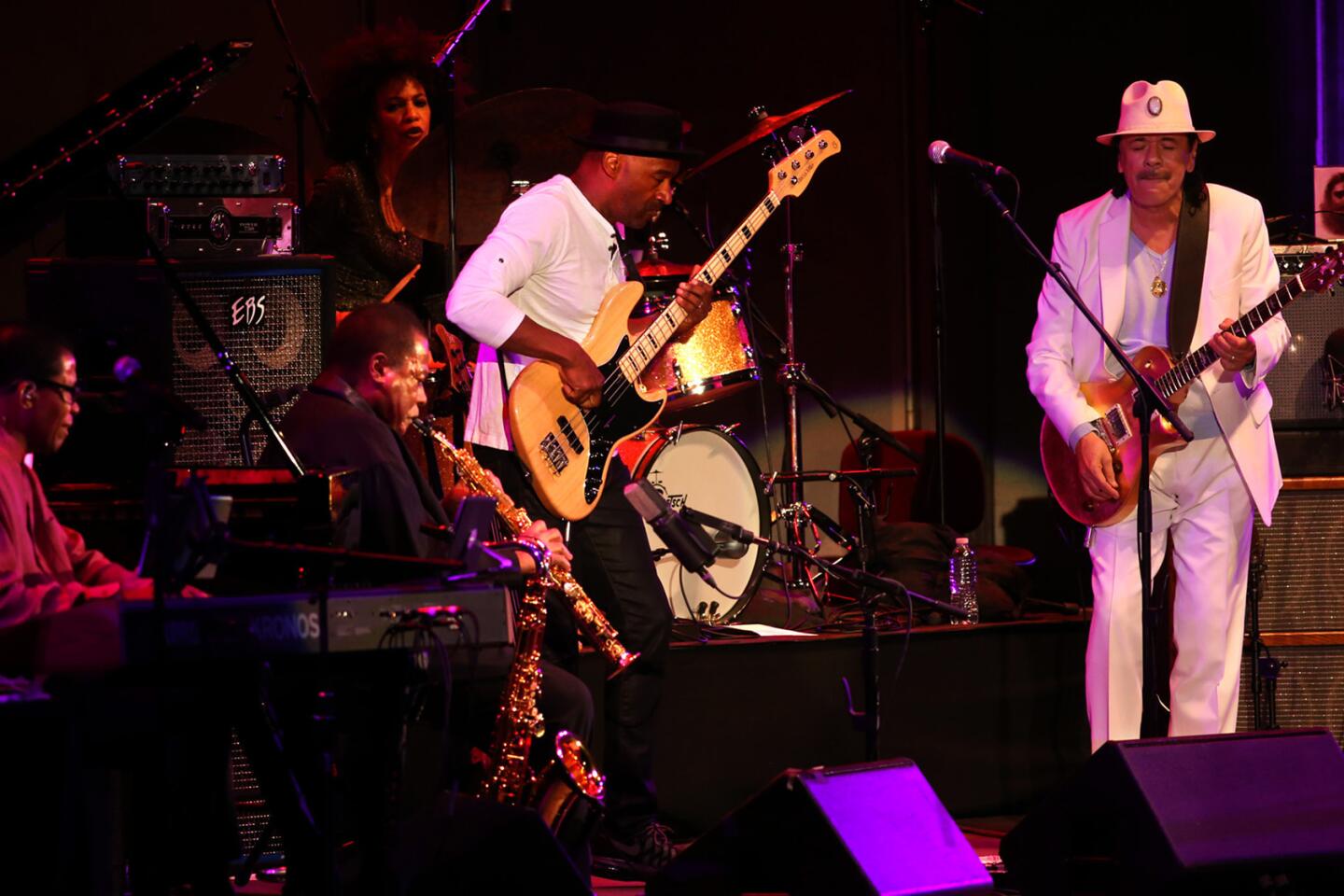 From right, Carlos Santana, Marcus Miller, Cindy Blackman Santana, Wayne Shorter and Herbie Hancock perform.
(Genaro Molina / Los Angeles Times)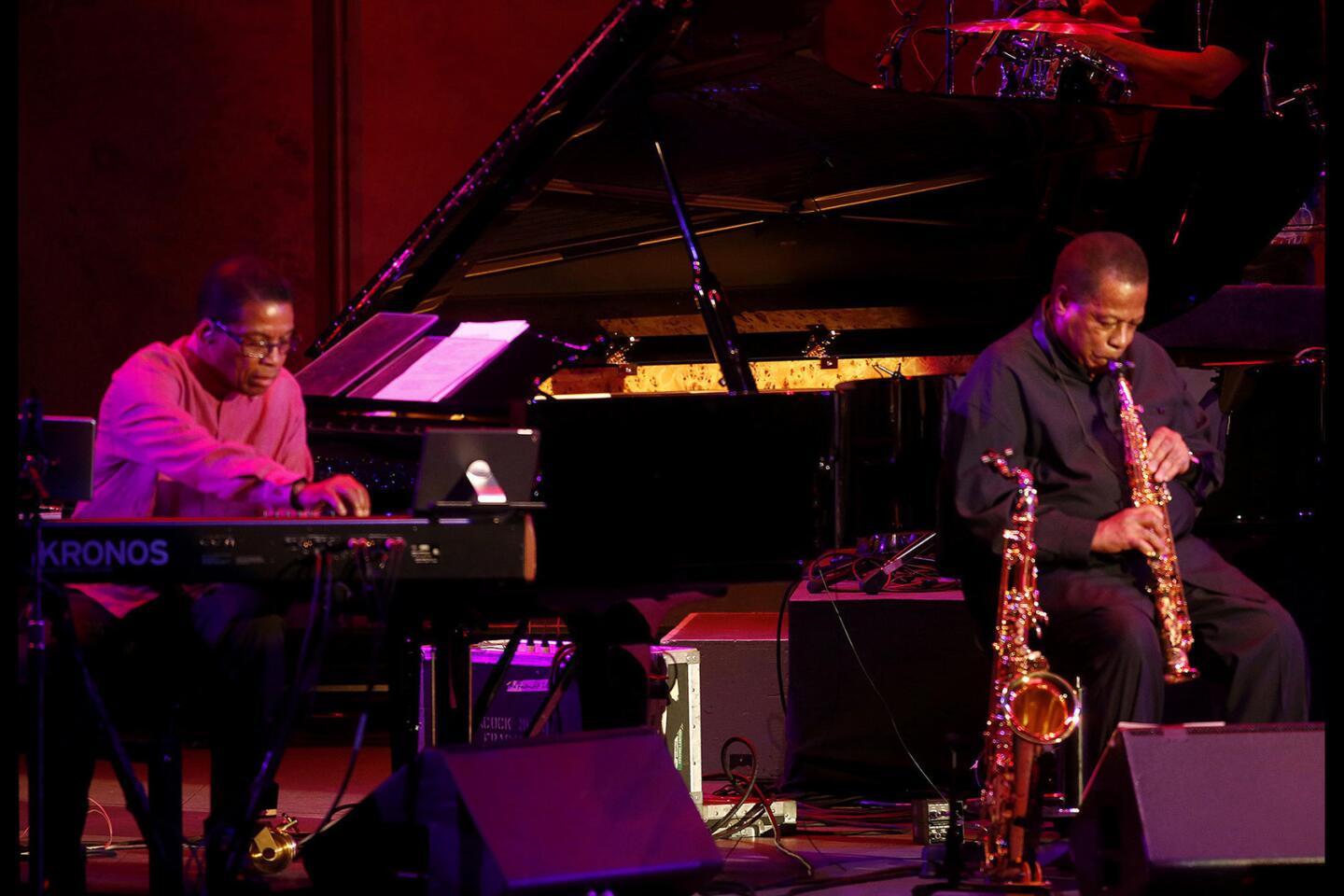 Jazz greats Herbie Hancock, left, and Wayne Shorter join Mega Nova at the Hollywood Bowlon Aug. 24.
(Genaro Molina / Los Angeles Times)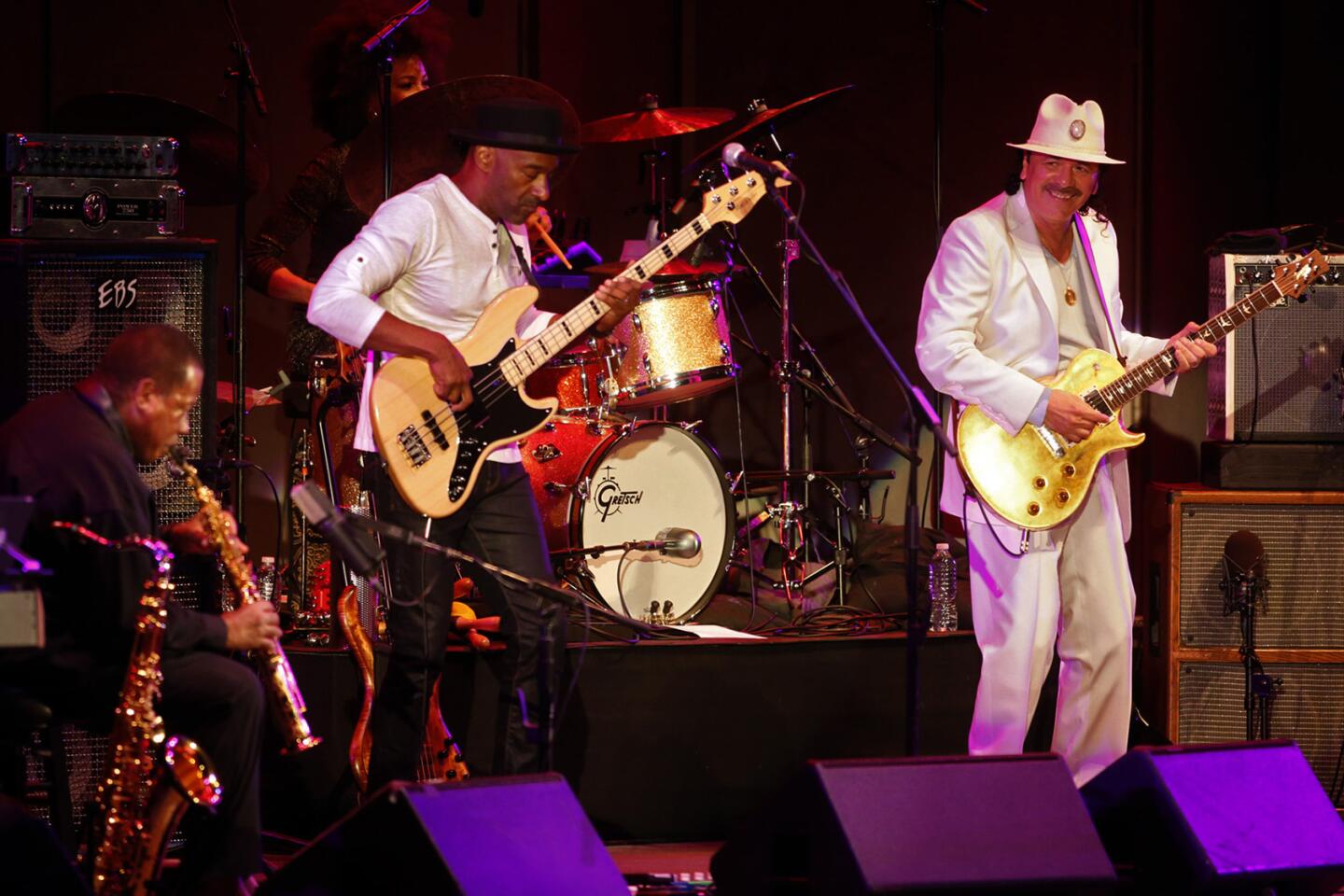 Mega Nova, featuring Carlos Santana, from right, Marcus Miller, Cindy Blackman Santana, Wayne Shorter and Herbie Hancock (off camera), play at the Hollywood Bowl on Aug. 24.
(Genaro Molina / Los Angeles Times)
Booker T performs with Stax Revue at the Hollywood Bowl.
(Genaro Molina / Los Angeles Times)
Booker T, left, performs with Stax Revue.
(Genaro Molina / Los Angeles Times)
Carlos Santana enjoys a laugh with Herbie Hancock, off camera.
(Genaro Molina / Los Angeles Times)
Coltrane's legacy was further explored with a nod toward his arrangement of Mongo Santamaria's "Afro Blue" as Shorter switched to soprano saxophone, and the band also took on Hancock's early breakthrough "Watermelon Man," which featured a slippery lead from Santana that gracefully gave way to Shorter, who frequently gripped the Bowl crowd with his twisting, questioning solos.
Perhaps most successfully, Mega Nova also dipped into Davis' spacious 1969 album "In a Silent Way," a landmark recording with no shortage of open-ended avenues. In a welcome ill-mannered sonic moment, Hancock cut through a simmering rhythm with a spookily sharp keyboard texture, which eventually gave way to Davis' "It's About That Time" propelled by a purring bass clarinet by Miller.
But for all the unannounced ventures into the jazz canon (no one in the band addressed the crowd to introduce themselves or their music over the night), it's perhaps inevitable that Santana's music drew the greatest response. "Soul Sacrifice" churned forward on the guitarist's lead but left little room for further ventures by Shorter or Hancock, and a dip into Santana's durable cover of Tito Puente's "Oye Como Va" earned a roar of recognition.
Confusingly, the night ended on what typically would be considered an evening-opener in "The Star Spangled Banner," which Santana also teamed with his wife to cover before an NBA Finals game earlier this year. Santana's lead offered a familiar fire but little of the fury of Jimi Hendrix's version, which inevitably all guitar covers of the anthem are measured against. It was a muddled close to a night that often struggled to find a cohesive voice.
Still, much of the crowd was quickly pulled to its feet in tribute. When the stars call, what else can you do but answer?
Follow me over here @chrisbarton.
ALSO:
Appreciation: Bobby Hutcherson connected some of the highest points in jazz
Notes of brilliance heard at the Playboy Jazz Festival
Get our L.A. Goes Out newsletter, with the week's best events, to help you explore and experience our city.
You may occasionally receive promotional content from the Los Angeles Times.