Coachella is going without a single rock headliner for the first time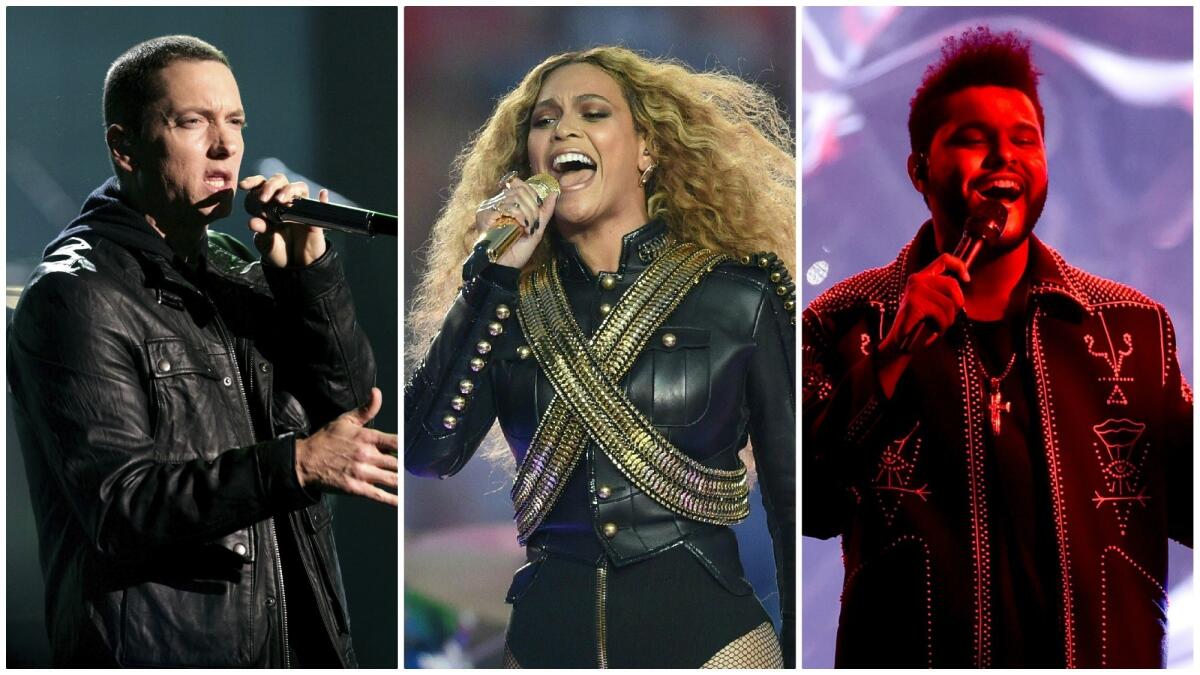 Pop Music Critic
You'll hear "Rockstar," all right — it just may be harder to find an actual rock star.
The Coachella Valley Music and Arts Festival on Tuesday revealed the lineup for its 2018 edition, and for the first time in the annual festival's 19-year history, no rock act is among the headliners.
Beyoncé, the Weeknd and Eminem will be the main attractions at the multi-day concert, set to run April 13-15 and again April 20-22 at Indio's Empire Polo Club, along with Sza; Vince Staples; Odesza; Tyler, the Creator; Migos; Kygo; Cardi B; and Post Malone, whose bleary hip-hop smash "Rockstar" spent eight weeks atop Billboard's Hot 100.
Stacked with rappers, DJs and R&B singers, the bill for this year's Coachella — widely regarded as the country's most prestigious music festival — represents the culmination of a slow creep for the hugely lucrative event, which made its name (and hundreds of millions of dollars) bringing bands like Tool, the Black Keys and the Red Hot Chili Peppers to a picturesque desert expanse about two hours east of Los Angeles.
In recent years the show has looked beyond those alternative-rock roots, pulling in Top 40-friendly acts such as Drake and Calvin Harris. But it always put one or two guitar-clutching types atop the bill: Jack White and AC/DC in 2015, for example, or the reunited Guns N' Roses in 2016; last year, Radiohead headlined Coachella for the third time.
This year the festival isn't bothering — a shift that calls to mind the unprecedented shutout of white men from the nominations for album of the year at this month's Grammy Awards.
Part of what these institutions are doing is striving to square their roles as tastemakers with their obligation to reflect the true shape of pop at a given point in time. In the streaming era, that means hip-hop and R&B, as opposed to rock, and in that sense Coachella deserves credit for a lineup that feels like a credible snapshot of music as it's really happening in 2018.
Of course, with the festival's capacity at an all-time high — last year it was permitted for up to 125,000 people a day — Coachella's promoter, Goldenvoice, has more than altruism in mind; it also needs to book proven draws. (Passes, which start at $429, go on sale Friday at noon, though many have already been sold via advance ticket sales.)
At its best, this year's bill satisfies both those ambitions at the same time. That's certainly the case with Beyoncé, who was scheduled to headline in 2017 but dropped out after she announced she was pregnant with twins.
As one of pop's biggest superstars, Beyoncé will undoubtedly sell tickets; indeed, she's likely to attract folks willing to schlep all the way to Indio just to see her perform. But with its daring textures and its themes of black pride and womanly self-reliance, the singer's music is sure to make a statement too — especially if she uses the high-profile gig as an opportunity to showcase new material.
Sza sits at a similar sweet spot of creative and commercial potential. The L.A.-based R&B singer, who's nominated for best new artist at the Grammys, had one of 2017's most talked-about albums in the funny, profane "Ctrl." Although she did appear at the festival in 2016, when her name was written in relatively small font on the poster, this year's she's second-billed to the Weeknd on its Friday lineups — no doubt the big stage she's been steadily working her way toward.
Ditto St. Vincent, fresh off her rightly acclaimed "Masseduction" record, and Cardi B, the lovable stripper-turned-rapper who ruled social media last year with her swaggering No. 1 hit, "Bodak Yellow."
That all these performers are women is no accident. After years of domination by men (with or without guitars), Coachella is clearly working to diversify its lineup; this year's bill is also strong on Latin artists such as Kali Uchis and Los Ángeles Azules — a happily inevitable development in the wake of "Despacito's" runaway success.
Other acts say less about Goldenvoice's vision than they do about the promoter's desire to fill that enormous polo field. In the beginning the festival was marketed as a carefully hand-curated event. The idea then was that of a mega-concert based on personal taste — and one you couldn't see anywhere else.
But this year the Weeknd, a reliable heavyweight on streaming services, will be back at Coachella just three years after his last appearance. Eminem, who's coming off his weakest album ever in last month's deeply corny "Revival," is also booked to play New York's Governors Ball (and will likely turn up at additional festivals this summer).
And then there's Post Malone, the viral hitmaker who seems like precisely the type of act that Goldenvoice's mastermind, Paul Tollett, would once have scorned.
Not that Coachella's bill lacks signs of his close involvement. You can sense his hand in the welcome presence of veterans like Nile Rodgers, who'll lead his durable disco band Chic, and David Byrne, who's said he's putting together his most elaborate stage show since his days with Talking Heads.
But it's easy to wonder if Byrne's effort will be rewarded come April, when his performance is scheduled opposite Blackbear's, or, say, Tyler, the Creator's.
Can a festival as set on now-ness as the modern-day Coachella has become still provide an audience for an idiosyncratic old-timer?
Twitter: @mikaelwood
ALSO
Why didn't Hey Violet happen in 2017?
Mariah Carey's New Year's redemption was kind of a letdown
Here's what happened at Dave Chappelle and John Mayer's secretive no-phones concert
Get our L.A. Goes Out newsletter, with the week's best events, to help you explore and experience our city.
You may occasionally receive promotional content from the Los Angeles Times.