The Regrettes bring a timely message — and a timeless sound — to Coachella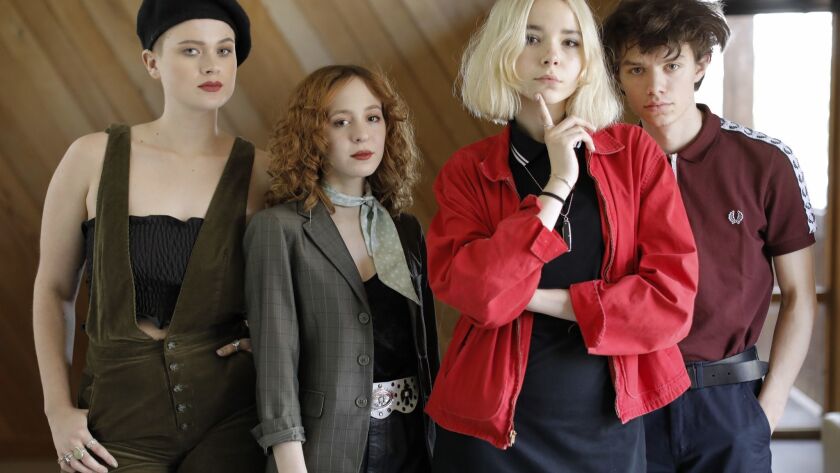 When the spirited, local punk-leaning pop band the Regrettes last played a major Southern California festival, things didn't go as planned. Performing at a multi-day event last fall in San Pedro, the band's teenage lead singer Lydia Night was attacked mid-performance by a woman in a superhero costume who managed to work her way onto the stage.
"Someone invaded my safe space in an aggressive manner and that is absolutely not OK," Night wrote on Instagram after the incident. It's believed by the band that the woman mistook Night for someone else, and that she had been incorrectly led to believe Night had come between her and her boyfriend.
Last month, in the offices of her label Warner Bros. Records, Night reflected on the act of aggression and how it affected her thinking about her vulnerability on stage. She also noted that she was still surprised how it all went down, almost dumbfounded that the whole thing was a case of mistaken identity and not something reflective of today's divisive political climate.
After all, the leader of the Regrettes, after just one album, already has a reputation for speaking her mind — online, in interviews and in song — about social and political issues. For instance, the band's video for "Seashore," a snappily vindictive anthem against everyday, casual sexism, took aim at President Trump, and Night knows such opinions could make her a target.
"That's what's so crazy about it," Night said of the festival goer who shoved her at last October's Growlers Six. "It wasn't some crazy Trump supporter who was like, '... you for being a liberal.' It was this chick dressed as Robin who thought I was this girl who her boyfriend had" slept with.
While a relatively small band by Coachella standards, the Regrettes have been on something of an accelerated track. The act met while taking music classes in Burbank and played its first show in early 2016. Night, the youngest of the quartet, whose members range in age from 17 to 21, has been in and out of bands since she was 7, including a stint in the choir of Ryan Gosling's band Dead Man's Bones, which released one slightly Gothic album in 2009.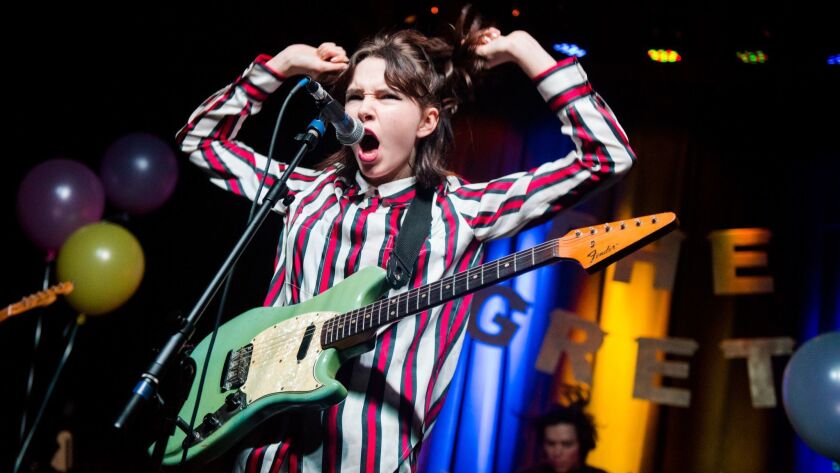 The Regrettes' debut album, "Feel Your Feelings, Fool!," was issued a little over a year ago. An EP, "Attention Seeker," followed earlier this year, and it includes a cover of Dion and the Belmonts' "A Teenager in Love," a song that allows the Regrettes to flash their classic pop side while highlighting the tune's underlying bitterness via Night's ever-so-slight rasp and her band's aggressively sped-up verses.
A favorite of Night's, the artist, now 17, has been performing "Teenager" for the past decade. She's finally grown into it.
"That song is a song that I covered back in my band that I had when I was 7," she said. "It's a song that's always made me really nostalgic. I just love that song. I mean, yeah, I'm a teenager so it makes sense singing that. It is extremely relatable for me."
Thus, the Regrettes will come to the Coachella Valley Music and Arts Festival this week as a band that melds a throwback sound — fuzzy, '60s-inspired garage pop guitars mixed with a punk rock snarl — with a modern sensibility. Night's songs shift from the personal to the global, veering from the annoyances of teenage life to frustrations with societal pressures.
With prime, early-evening slots — the Regrettes were slated to perform on the opening night of the festival, as well as April 20 — the band also brings a bit of topical relevancy into an event that increasingly celebrates music at its most escapist. When asked how writing is progressing on a second album, Night pointed to this year's Women's March, particularly a poem performed by provocative pop artist Halsey in New York that documented years of sexual abuse and assault, as providing current inspiration.
"I was taken by that," Night said. "I thought that was incredible. After watching something like that, I'll write a song. It's not very vague, and it's not about [Halsey], but it's about how I personally feel as a woman. It's a very personal approach to giant issues in the world. That's how I've been writing more recently."
The Regrettes — rounded out by guitarist Genessa Gariano, drummer Maxx Morando and bassist Sage Chavis — are at the forefront of a youth movement of artists who aren't afraid to get frank about real life.
At Coachella, the Regrettes will be joined by such acts as Snail Mail, whose hazy guitars conjure an image of running in place with brazenly intimate lyrics; Priests, whose punk-rock flavor is more angrily blunt; and Cherry Glazerr, fellow locals who offer adventurous guitar work and evocative lyrics that contrast the abstract with grabbing a listener by the throat.
To Night, there's a cultural shift happening. She immediately singles out Emma Gonzalez, the Parkland, Fla., shooting survivor who has become a leading activist for gun control, as a reason for optimism that her generation will bring about progressive change.
"People like Emma Gonzalez — young people who share the same views as I do, it's just such a relief," Night said. "It's like, 'Thank God,' but I don't believe in God. So, thank whatever. It's a thank-whatever kind of moment. This generation has to — we have to be the ones to change."
And even when the Regrettes deliver a bit of bubblegum, as the band does on the more groove-based pop of its latest single "Come Through," where the song's narrator is exhausted by her flaky, noncommittal partner, the Regrettes still deliver a message. The song's video, directed by Claire Marie Vogel, features a largely all-female behind-the-scenes crew.
"Except for some lighting people," Night said, "all the main jobs were women. That was Claire, the director, who made that goal. I want the best people to do it, and she said these were the best people. It wasn't a conscious, 'We want all women.' I mean, that's obviously a plus, but we found the best people for the job."
So it isn't lost on Night that her band is appearing at Coachella at a moment when the demand for gender parity at festivals has become a common rallying cry among fans and industry observers. Though women make up about a quarter of the top-billed acts at Coachella, other major events such as Bonnaroo in Manchester, Tenn., and Lollapalooza in Chicago currently have no female headliners this year.
Coachella, now in its 19th year, has had only three female-centric acts in the headline slot — Bjork, Lady Gaga and this year's anchor, Beyoncé. In turn, "brochella" became an unsightly nickname for the event, and Night confessed she thought about the festival's history with diversity before signing on. She admitted there was some pushback from fans that the feminist band linked with the Coachella brand.
"When we announced that we were doing Coachella, there were a lot of people who were kind of angry about it," Night said. "I understand why. The best thing I can say is, I do not feel like we're in a place in our career to turn down something like that. But I do definitely understand why it would bother people. I do think there needs to be a lot more women playing these festivals, but us turning down a festival wouldn't help increase those numbers.
"But yeah, I think it sucks how little women are represented on these major lineups," she continued. "That's why we're going to keep doing what we're doing and we're going to get bigger and keep moving up in the festival chain."
Follow me on Twitter: @toddmartens
---