Dolly Parton shines like a diamond during a week of Grammy honors
Even Dolly Parton is astonished by the new exhibit of her glitz and glamour on view at the Grammy Museum in Los Angeles.
As Parton got a private walk-through at a sneak preview Monday, she looked at a wall of video images that projected her album covers, which date back to the 1960s. Even though it displayed 40 at a time, every few seconds, a new cover would pop up, a testament to how hard she has worked. And continues to work.

For the record:
2:25 p.m. Feb. 6, 2019An earlier version of this story said Pink would be a part of the Grammys tribute to Dolly Parton; she will not be.
"I thought, 'Lord, have I lived that long? Have I done that much? How'd I get that done?' " Parton said to an audience during a live interview with producer and collaborator Linda Perry later that evening.
"Diamond in a Rhinestone World: The Costumes of Dolly Parton," which opened at the Grammy Museum on Tuesday and will stay on view through March 17, traces not only Parton's fashion through half a century, but also our enduring love affair with the pop icon.
From the mid-'60s, we see the delicate lace, embroidery and thick ruffles she sported alongside Porter Wagoner as the "girl singer" on his syndicated TV show. Those homespun dresses now seem downright matronly as her transformation into a sequined supernova began to bloom in the '70s. The gaudier, the better.
Amid a collection of bejeweled instruments she plays, there are homages to Parton's various movie roles, including a snug sweater-and-skirt combo she donned in "9 to 5" and the spangled red boa she flaunted in "The Best Little Whorehouse in Texas." (That 1982 film, by the way, featured her favorite movie costumes, she said.)
At Monday's press preview, a crowd as vibrant as that coat of many colors Parton immortalized in song assembled for a glimpse of the country star's kaleidoscopic splendor. Drag performers, including a sassy Parton impersonator ("take my business card, honey"), mingled alongside journalists and rock stars (hello there, Shirley Manson from Garbage).
A common refrain echoed throughout the evening: "Oh, my God, look at that tiny waist!" viewer after viewer exclaimed at each ensemble. (That same sentiment holds true for the petite septuagenarian Parton.)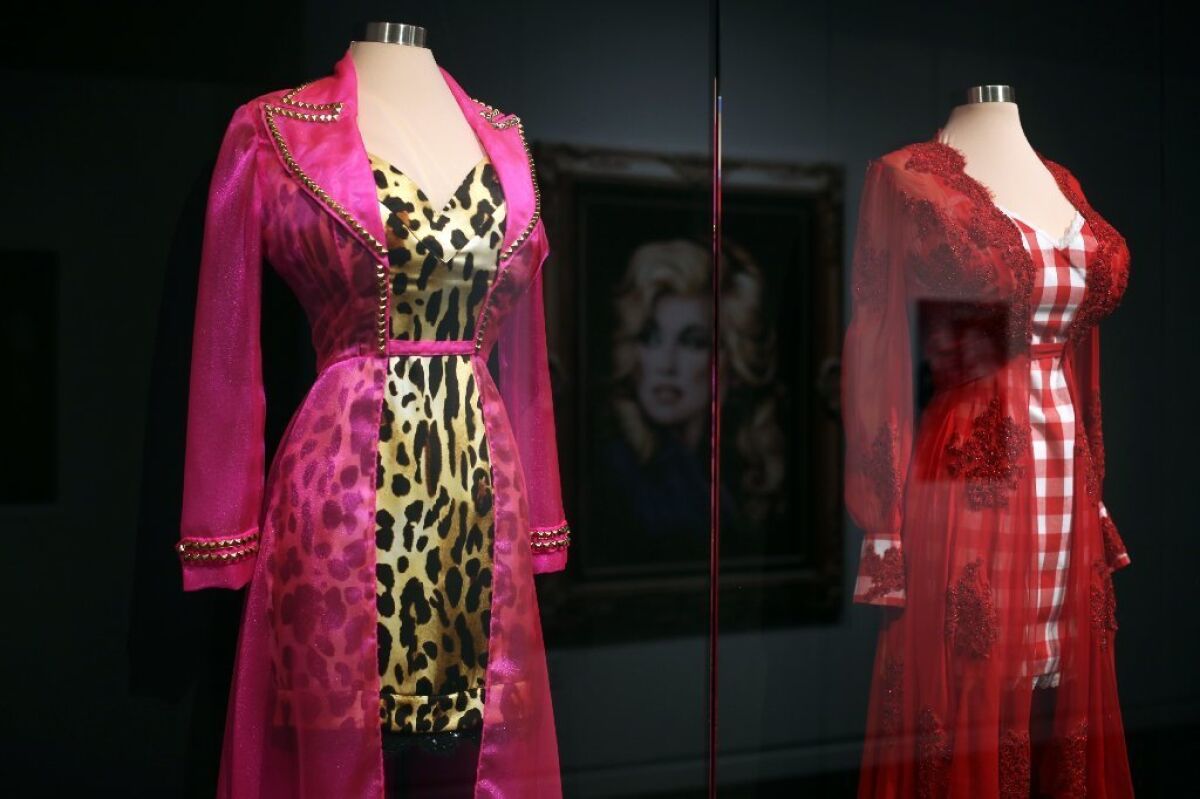 The Grammy Museum's new exhibit kick-started a kinetic week for Parton, who will be the guest of honor at the MusiCares Person of the Year ceremony Friday as part of Grammy week festivities. Garth Brooks, Kacey Musgraves, Willie Nelson, Shawn Mendes, Don Henley and Mavis Staples are a handful of the stars who will pay tribute to Parton. Another batch of artists, including Musgraves, Katy Perry, Maren Morris and Little Big Town, will sing her songs as part of a tribute at the Grammy Awards on Sunday.
The honors cap an even busier past year for Parton, who turned 73 last month. She and Perry, the veteran producer and former 4 Non Blondes frontwoman, teamed up for the soundtrack to "Dumplin'," the recent Netflix film starring Jennifer Aniston. Parton's got another Netflix project in the works, "Dolly Parton's Heartstrings," an anthology series based on her songs. And Dollywood, her long-running theme park, will reopen this summer.
As a little girl with big dreams, she said onstage at the Grammy Museum, she always wondered what her life would be like at this late stage of her career. She feels humbled by the accolades and recognition, and her Appalachian roots keep her pride in check. "I still don't know that I'm a star," she said — and you believed her sincerity.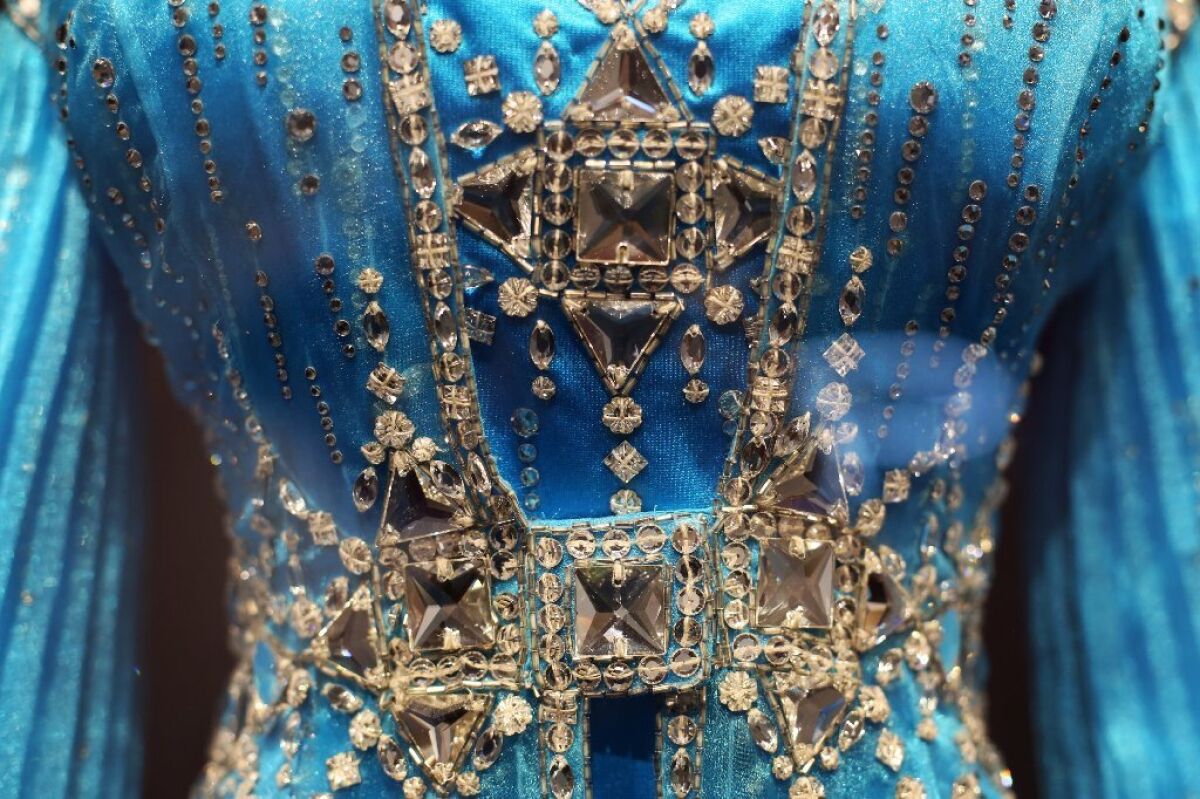 Perry conducted a lively conversation with Parton at Monday's kickoff event. They were an odd couple — Parton, the glamourpuss; Perry, the tattooed bohemian — which didn't escape Parton.
"Between my hair and that hat, I don't think nobody's gonna take us too serious," Parton cracked, poking fun at Perry's towering, steam-punk bowler she's fond of wearing.
Perry noted that beginning with "9 to 5" — the 1980 hit film starring Jane Fonda, Lily Tomlin and Parton in her first movie role — Parton has always been ahead of the curve when it comes to championing female empowerment.
Parton, however, downplayed her noble intentions, explaining that she took the role of secretary Doralee mostly because she wanted to be in a movie with Fonda and Tomlin. They were big stars, and if the film tanked, it'd be on their shoulders and not hers, Parton said, laughing. She could always go back to her music career. (That fabled trio will reunite later this year to begin shooting a sequel to "9 to 5.")
Perry tried to bait Parton into political discourse, but Parton didn't exactly bite.
She acknowledged that there's always been workplace harassment and asserted that she has always supported pay equity for women. But she wouldn't commit to that one little F-word.
"I don't consider myself a feminist," she said, "but I'm feminine. And I believe that women should be treated with respect and be allowed to do whatever."
But let's be clear, Parton reiterated: She grew up in a family with six brothers "and I never met a man that I couldn't kick his ass if I had to, if he didn't treat me with the respect that he needed to," she said to robust laughs and applause.
Still, there are deep pockets of Parton's progressive fanbase who wish she would take a bolder stand on hot-button issues, who feel frustrated that she hasn't come out swinging against President Trump.
When Parton presented with Fonda and Tomlin at the Emmy Awards in 2017, her eyebrows arched as her friends harpooned Trump and equated him with the "sexist, egotistical" bigot character that Dabney Coleman played in "9 to 5." The thought bubble above Parton's head seemed to read, "Um, we didn't rehearse this. And I want no part of it."
That's not Dolly's brand — never has been and likely never will be. Parton has made it clear that we shouldn't exalt her as a lightning rod when, really, she'd rather be a rainbow. She has spent her entire career lifting up audiences no matter how disparate their values and beliefs are. If they can come together in the name of "I Will Always Love You" and "Jolene," that's good enough for her.
And maybe that's the everlasting appeal of Dolly Parton in 2019. She's the rare apolitical superstar with fans on both sides of the aisle. Just don't expect her to say which side she falls on.
Is Parton really the benevolent beacon of hope she'd have us believe she is? Perry put it best in her remarks at the Grammy Museum.
"I just want you to know that all the beautiful things that you think about Dolly Parton, she really, truly is," Perry said. "Just think of the sun. She will shine on every part of your body and lift you up."
Follow me on Twitter @jreedwrites.
---
Get our L.A. Goes Out newsletter, with the week's best events, to help you explore and experience our city.
You may occasionally receive promotional content from the Los Angeles Times.