Live
Today in Entertainment: Beyoncé and Jay Z appear to have named their twins; Comic-Con will stay in San Diego through 2021
Here's what's new and interesting in entertainment and the art
James Cromwell sentenced to seven days in jail for 2015 protest
Actor James Cromwell has been sentenced to a week in a New York jail in lieu of a fine for obstructing traffic during a 2015 sit-in protesting construction of a natural gas-fired power plant in New York state.
The "Babe" and "L.A. Confidential" star, a longtime activist, was arrested in Wawayanda, N.Y., on Dec. 18, 2015, with five others who dubbed themselves the "Wawayanda Six," according to the Times Herald-Record of Middletown, N.Y.
After being found guilty of disorderly conduct earlier this year and each being fined $250 plus a $125 surcharge, half the members of the group paid up before the Thursday deadline while the other three — including Cromwell — refused, the Times Herald-Record reported.
On Thursday, the three who didn't pay got seven days in jail, though their attorney requested time to appeal, and the judge suspended the sentences until July 15, the paper said.
The 77-year-old "Young Pope" actor made up his mind a while ago not to pay, telling the paper on June 7, "I will not pay this fine. I will go to jail, and I will appeal."
The six were part of a larger group protesting the CPV power plant, which they believe will be harmful to the environment; CPV disagrees with those assertions.
"I'm not a scientist, I'm merely a concerned citizen," Cromwell told People about two weeks before his arrest, after being ejected from a celebration of local businesses in upstate New York, which he interrupted when he reportedly stood up and spoke out loudly against the plant.
"I'm concerned about this community and concerned about maintaining the quality of life for everyone here and not just for those people who make a profit out of ripping things out of the ground," he continued.
Construction has proceeded, and the plant is scheduled to go online in February 2018.
'The Carmichael Show' will end its run after three seasons
After three seasons, "The Carmichael Show" is ending its run.
The series, co-created and starring comedian Jerrod Carmichael, will air its series finale in August.
"For three seasons (okay 2.5), I got to make a show that I love with my friends. It's something I've wanted to do since I was 13," Carmichael said in a statement obtained by The Times. "Now, I'm excited to go make other things that I love. Thank you to every person who worked on or watched the Carmichael show."
The NBC sitcom, which also starred Loretta Devine, David Alan Grier, and Amber Stevens West, is currently in its third season, where it's been averaging 3.7 million viewers.
The series has drawn praise from critics for the way in which it tackles topical issues through the unfiltered conversations among family members. This season, the show aired an unedited episode with the N-word.
The show's relatively small viewership had placed its fate into question before. Its third season renewal came at the 11th hour, after NBC had already unveiled its 2016-17 schedule. And considering that the show is not owned by NBC (it's produced by 20th Century Fox Television), low ratings make a harder case for continuation.
A joint statement from 20th Century Fox Television presidents Jonnie Davis and Howard Kurtzman praised the show's socially conscious approach.
"It's a rarity that a comedy series tackles the social and political issues of the day in such a clever and hilariously funny way. This show was special, and we will miss it."
That unabashed approach sometimes fueled Carmichael's tension with NBC. Recently, he spoke out about the network's decision to pull an episode about a mass shooting that was slated to air the day of the congressional baseball practice shooting that left multiple people injured.
In a joint statement, NBC chairman Bob Greenblatt and NBC entertainment president, Jennifer Salke, thanked Carmichael for the show's run.
"We are enormously proud of The Carmichael Show and Jerrod's talent and vision to do a classic family sitcom that also taps into issues and relevant stories from the real world."
Beyoncé and Jay Z either named their twins or went on a random trademark binge
Beyoncé and Jay Z appear to have named their twins — or at least the company that trademarked Blue Ivy Carter's name has applied to trademark "Rumi Carter" and "Sir Carter," so that's a pretty big clue.
The applications were filed Monday on behalf of BGK Trademark Holdings and, according to the U.S. Patent and Trademark Office database, are still being reviewed. They seek to identify Rumi Carter and Sir Carter in connection with a host of items including recordings of musical performances, books, flags, sports gear, clothing, hair accessories, beauty products such as cosmetics and fragrances, entertainment services and, of course, baby products.
Plus key chains and mugs. Never forget the key chains and mugs.
Maybe-Rumi and Maybe-Sir were born in mid-June, maybe on the 17th.
Beyoncé and Jay Z — the latter of whom dropped a revealing new album at midnight Friday — applied to trademark their first child's name in early 2012, shortly after Blue Ivy was born. However, later that year they wound up splitting rights with a Boston wedding planner who had been using the name for her business since 2009.
TMZ first reported the news about the potential baby names.
Comic-Con will stay in San Diego through 2021
Despite much speculation and worry about the future location of Comic-Con International — the comic book, television, movie and pop culture extravaganza — the convention will remain in San Diego for at least four more years, it was announced Friday.
As the popularity of the cosplayers' paradise expands, so do the crowds. Last year the event, which kicked off in 1970 San Diego with 145 guests, attracted more than 135,000 attendees.
The spectacular growth rate has elicited interest from other cities looking to cash in on the lucrative possibility of hosting the five-day affair. (Both Los Angeles and Anaheim were courting the relocation at one time.)
And with the 2018 end date of Comic-Con's agreement to stay in San Diego looming, fans were eager to find out where the nerve center of all things nerd media would be moving to.
But for now, the (near) future of geek culture has been settled. San Diego Mayor Kevin Faulconer announced that Comic-Con will remain in the city it originated in through 2021.
"San Diegans can be excited to know that Comic-Con will continue to pump millions of dollars into our economy to support local jobs, street repair and neighborhood services," Faulconer said in a press release Friday. "It is more important than ever that we continue to push to expand the convention center so we can ensure Comic-Con and other large conventions continue to stay in San Diego for years to come."
Comic-Con spokesman David Glanzer mentioned the lengthy discussions that led to the agreement.
"While it did take more than a year in negotiations, we are pleased with this outcome," said Glanzer in the same release. "We are grateful for the leadership of Mayor Faulconer and the hard work of those at the San Diego Tourism Authority who were instrumental in securing this agreement."
The Times will have full coverage of the 2017 convention leading up to its July 19 kickoff.
KCON adds more artists to 2017 bill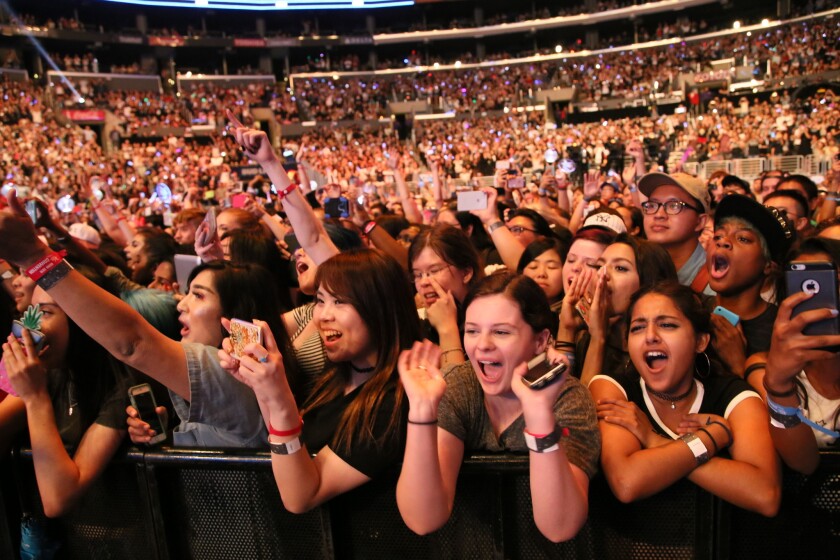 A new slate of artists has been added to KCON, the K-Pop (otherwise known as Korean pop) and South Korean culture expo in Los Angeles.
Cosmic Girls, Heize and Seventeen will join an already-packed lineup from across the K-Pop world. They join mainstays Vixx, Astro, Girls' Day, NCT 127 and SF9.
Cosmic Girls is a Korean-Chinese mixed group that released its debut full-length album this month. Heize is a South Korean rapper with a pair of promising mini-albums to her name. Seventeen is a boy band whose EP "Carat" made major waves stateside, followed by well-received EPs and a full-length album, "Love & Letter."
The concert takes place Aug. 18-20 at Staples Center and draws close to 120,000 fans.
Daniel Dae Kim, Grace Park to leave 'Hawaii Five-0'
"Hawaii Five-0" is losing two of its main players.
Daniel Dae Kim and Grace Park will not be returning for the eighth season of the CBS procedural.
The network did not reveal what led to their exits but said fans will get an update on the characters in the Sept. 29 season premiere.
"Daniel has been an instrumental part of the success of 'Hawaii Five-0' over the past 7 seasons and it has personally been a privilege to know him," executive producer Peter Lenkov said in a statement. "Grace's presence gave 'Hawaii Five-0' a beauty and serenity to each episode. She was the consummate collaborator, helping build her character from day 1. They will always be ohana to us, we will miss them and we wish them both all the best."
Kim and Park have been with the reboot since its inception, playing cousins Chin Ho Kelly and Kono Kalakaua, respectively.
While actor departures are nothing new to television, the exits of Kim and Park has an added layer of significance given the criticism of CBS in recent years for its poor showing of diversity in starring roles across its prime-time lineup.