Grammys 2015: Diversity wins onstage but not in awards arena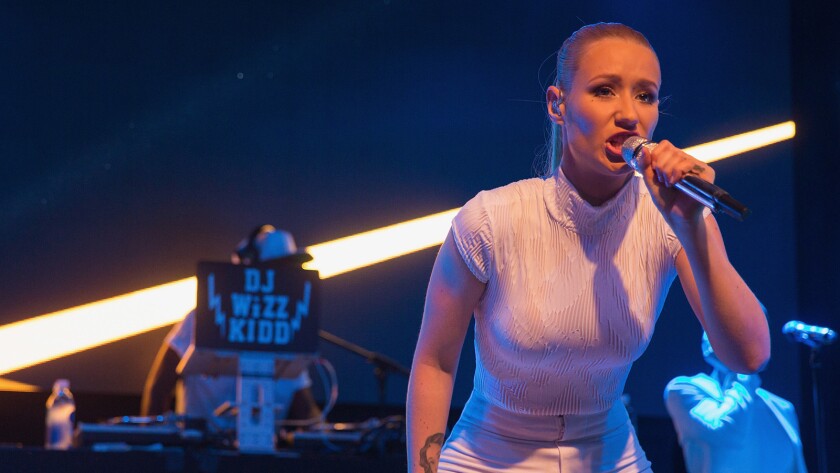 Onstage, the Grammy Awards show on Sunday will once again be a picture of diversity. In one of the most anticipated performances of the evening, Paul McCartney will share the stage with Rihanna and Kanye West.
When it comes to handing out the major awards, however, it may be a different story. In the Grammy's top four categories, just two of the 20 nominated artists, Pharrell Williams and Beyonce, are minorities.
This year's nominations are somewhat of an anomaly. Still, over the last decade only two releases by minority artists have won the Grammy for record of the year: Pharrell, which was shared with Daft Punk, and Ray Charles with Norah Jones. Just two have been awarded the best new artist prize: Esperanza Spalding and John Legend.
FULL COVERAGE: Grammy Awards 2015
Neil Portnow, president of the Recording Academy, says the awards are all about honoring the best work and that race isn't something Grammy voters should consider.
"To me, music has little to do with race," Portnow said. "It has more to do with soul and heart and passion and talent. We don't look at [the nominees] in terms of their ethnic background but in terms of how amazing they are."
It's worth noting that some of the most honored artists in Grammy history, from Quincy Jones to West, are African American. Even so, this year's ceremony has already triggered concerns amid expectations that Iggy Azalea's "The New Classic" will win the best rap album Grammy based on its mass appeal and smash radio single, "Fancy."If that happens, it would be the second straight year in which a white, pop-friendly act won the prize for a genre that originated in the African American hip-hop community.
The chart-topping performer Azalea was already a divisive figure in the rap world, accused by some of appropriating Southern black culture.
GRAMMYS 2015: Complete list | Ballot | Top nominees | Guide | Timeline
Snoop Dogg ridiculed her appearance by posing in a blond wig in photos he posted on Instagram. Hip-hop luminary Q-Tip offered her a history lesson on black and rap culture in a long series of tweets. And on a recent radio show, actor and singer Jill Scott suggested Azalea should drop the "blaccent," while female emcee Eve advised her to draw from her own Australian heritage.
Azaleadeclined to comment for this article, but she's responded to some of her detractors on Twitter. Of Scott's and Eve's comments, Azalea tweeted that she is in fact being stereotyped: "… they're really saying 'act more like how I stereotype you to be, so I can feel comfortable.'"
Her nomination is all the more polarizing given that last year's rap album winner was Macklemore & Ryan Lewis, a white duo whom many rap aficionados consider a novelty act. Macklemore himself apologized to competitor Kendrick Lamar in a text after the awards. "You got robbed," he wrote.
This year, Common, Schoolboy Q, Whiz Khalifa and Childish Gambino are competing with Azalea. Eminem is also up for best rap album, a category the white rapper has already won five times.
J. Cole, who was locked out of the nomination for rap album in 2013, dedicated a verse to this year's race on his recent song, "Fire Squad."
"History repeats itself and that's just how it goes … Same thing that Elvis did with rock 'n' roll / Justin Timberlake, Eminem, and then Macklemore. Look around … white people have snatched the sound / This year I'll probably go to the awards dappered down / Watch Iggy win a Grammy as I try to crack a smile."
Critics say part of the frustration is that, though white artists may win in traditionally black categories, it doesn't often happen the other way around.
GRAMMYS 2015: Complete list | Ballot | Top nominees | Guide | Timeline
"Black stars are not seen as crossover stars and are often relegated to traditionally black categories," said Brittney Cooper, assistant professor of gender and Africana studies at Rutgers University.
"Whiteness is seen as malleable and can occupy multiple categories, but many black artists have a far harder time doing that," she said. "Look at Nicki Minaj. She has pop songs that get that recognition in airplay and singles sold. But she doesn't necessarily get the recognition in awards season."
Controversial rapper West addressed the anger over being locked out of major races during the 2009 MTV Video Music Awards when Taylor Swift won for female video over Beyonce. He rushed the stage and grabbed the mike. "I'm sorry, but Beyonce had one of the best videos of all time," he said, referring to her video of "Single Ladies."
He came under a firestorm of criticism for ruining Swift's moment in the spotlight andlater apologized.
Chuck D, a member of the pioneering '80s rap group Public Enemy (whose given name is Carlton Douglas Ridenhour), says the top award snubs are part of a larger problem: a major label monopoly that caters to one demographic.
"We're impressive as a racial category, but we don't have the numbers in the U.S. to be Elvis or Eminem," he said, pointing out that whites who co-opt African American styles of music are safer bets for an industry that's driven by demographics.
The academy would not release a breakdown of its approximately 13,000 voter-eligible members by age, race or gender. But many members are believed to have served for decades.
"Somebody who knows all there is to know about Crosby, Stills & Nash isn't going to know about rap," said Chuck D, who now runs the online radio service RAPstation.
Race also emerged as an issue when Oscar nominations were announced last month, with no African Americans nominated in the acting and directing categories.
Yet popular music is often considered a more diverse field than film or even television. Major players who top the Billboard charts, produce records and run labels are a far more mixed crowd when compared with that of other entertainment media.
If Azalea wins, she'll be the first woman to dominate that particular rap category. It will be cause for celebration by some and consternation by others.
"I've learned over 13 years of doing this, our goal can't really be to make everybody happy," said Portnow. "There's definitely going to be a difference of opinion, and we welcome that. At the end of the day, we do stand behind the process. It's as good as it gets when trying to be objective about something terribly subjective."
Read more:
Quiz: How much music history do you know?
Transcript of Bob Dylan's MusiCares Person of Year speech
Photos: Famous artists who haven't won Grammys
Times staff writers Gerrick D. Kennedy and Randy Lewis contributed to this report.
---
Your essential guide to the arts in L.A.
Get Carolina A. Miranda's weekly newsletter for what's happening, plus openings, critics' picks and more.
You may occasionally receive promotional content from the Los Angeles Times.