Grammy Award nominations are coming — and then, most likely, dissent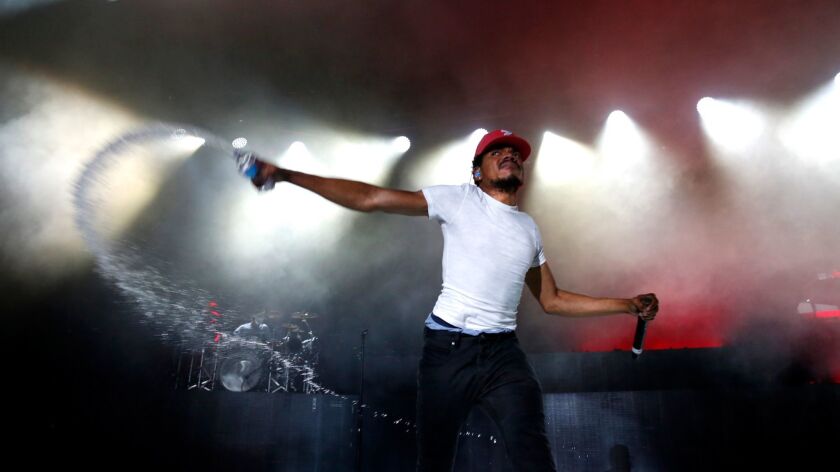 The 59th Grammy Awards will kick off the major entertainment awards season when they unveil their nominations Tuesday morning.
And with them will likely come dissent.
The Grammy Awards enjoy a sometimes complicated relationship with the constituency they represent — so much so that raising objections is not only expected, it's something of a yearly pastime, as bankable as slurred acceptance speeches or a bounty of accolades awarded to a vocal talent such as Adele.
This year alone, popular music's top contenders — Kanye West, Frank Ocean and Chance the Rapper — all publicly challenged the Recording Academy in ways that, say, Meryl Streep or Regina King would never dare their various award academies.
Campaigns for Oscars, Golden Globes or Emmys are carefully choreographed affairs, and though the Academy of Motion Picture Arts and Sciences has been rankled recently by a lack of diversity in its major nominations, the music community has long been outspoken about its views toward the Grammys — personal and political.
Ocean, for instance, refused to submit his critically lauded new work, "Blonde," for award consideration. West, whose "The Life of Pablo" is in Grammy contention, then threatened to boycott the ceremony on Feb. 12 if Ocean isn't nominated.
Chance the Rapper, meanwhile, took the opposite route. He boldly lobbied for Grammy love in song and a full page Billboard ad titled "Hey, Why Not Me?"
Yet such jockeying for position and personal boycotts are all part of the Grammys' appeal.
"There's value in that rebellion," says Todd Mesek, vice president of marketing and communications at the Rock and Roll Hall of Fame. "Since [popular] music tends to be a young person's art form, they're looking for that way to challenge the status quo, their parents, the system. Sticking a middle finger up [at] the system is not always a problem. Often, it's a strength."
Paul Simon, Herbie Hancock, Santana, Sinead O'Connor, Jay-Z, Bon Iver, Eddie Vedder, Will Smith, Trent Reznor and Public Enemy are just a sampling of those who've publicly voiced their issues with the institution and its policies before, during or after the ceremony.
Justin Vernon of Bon Iver spoke out from the podium when he acquired his new-artist trophy in 2012. "It's really hard to accept this award," Vernon said. "There's so much talent out there and on this stage. There's so much talent that's not here."
The sport of Grammy lampooning knows no season — or venue.
Institutionalizing the rebellious likes of rock 'n' roll, funk, punk, rap, grunge, electronic dance music or whatever happens to be running counter to the thing that came before it is a thankless task.
For one, tastes change faster in pop music than any other entertainment medium, and the Recording Academy, like most established voting bodies, is not that agile. And now that the industry is splintered like no other in terms of genres, how people access music and how the artists release works, keeping up with changing trends is all the more difficult.
"Recorded music is very different from film and television in two big ways," says Danny Goldberg, an industry veteran who represented Led Zeppelin, managed Nirvana and is now president of GoldVE Entertainment. "Music's much cheaper to produce, so there are vastly more recordings than there are films or TV shows.
"And partly because of the much wider range of choices, the music audience is much more fragmented — blues, jazz, classical, country, hip-hop, rock, alternative, metal, pop rock, EDM, R&B, folk. The Grammy's have way more categories, so the number of artistic egos in the mix are greater."
And those egos are much more willing to voice their grievances.
The perennial complaints about the Recording Academy, the Grammy voting body of music industry professionals, are that its sole frame of reference is 1970s classic rock and that it recognizes artists not in their prime, but decades after they first made a cultural impact.
Though the academy does not release information on the age, race or gender of its voters, historically bad choices — like giving Steely Dan album of the year in 2001, or awarding the novelty rapper Macklemore (who's white) the rap album win over weightier breakthrough talent Kendrick Lamar (who's black) in 2014 — are all the proof some need.
"I think the infrastructure of the awarding system and the nomination system and screening system is dated," Ocean told the New York Times last month as to why he refused to submit his new body of work, "Endless" or "Blonde," for Grammy consideration. "I'd rather this be my Colin Kaepernick moment for the Grammys than sit there in the audience."
In contrast, film studios and television networks campaign year-round for Oscar or Emmy consideration, employing teams to navigate the complicated politics of their industry's respective awards shows. In these fields, talent's aspirations and frustrations remain cloaked.
Popular music has no such formal structure. Each year, the artists themselves serve as the public critics and lobbying arms of their work.
"Music is much more of an individual art form," says Mesek. "Movies or TV are a writer, producer, series of actors, a cast. Music is basically one artist's vision, and one artist's voice. It's personal."
The Grammys' influence as a true indicator of excellence has ebbed and flowed since their inception in 1959, largely depending on the ethos of a particular era in music.
For grunge artists, winning a Grammy was an embarrassing admission that your band had been embraced by mediocrity. "I don't know what this means," said Pearl Jam's Eddie Vedder in his 1996 acceptance speech for rock album honors. "I don't think it means anything. But my dad would have liked it."
For those who've worked overtime to become pop's top earners, it's confirmation that your music is being taken seriously as an art form outside the realm of tween fodder.
Taylor Swift described her win for album of the year in 2015 as "the greatest feeling in the world." She'd triumphed over an industry that often belittles the work of young women and shot down naysayers, including West, who rapped that he made her famous by crashing the stage during her acceptance speech years earlier at the MTV Video Music Awards
"My own experience has been that regardless of how an artist feels about the Grammys in general, they like to be nominated and they like to win," says Goldberg. "And most of all they like to be on the TV show because for all of its inherent flaws, the TV show attracts a very big audience--an audience the size of which is rarely available to musical artists."
Some artists like West are just contrarian, says Goldberg, and as fascinating as they are, "they don't represent a genre or art form, just their own vision. And that doesn't end before the show airs."
lorraine.ali@latimes.com
ALSO
A year after quitting One Direction, Zayn Malik gets serious on the moody, textured 'Mind of Mine'
Frank Ocean's minimalism sets 'Blonde' apart from recent releases by Beyoncé, Rihanna and Kanye West
Oakland's Ghost Ship fire is nightmare scenario for promoters, governments and music lovers
---
The complete guide to home viewing
Get Screen Gab for weekly recommendations, analysis, interviews and irreverent discussion of the TV and streaming movies everyone's talking about.
You may occasionally receive promotional content from the Los Angeles Times.