The Strokes turn darkness into light at an L.A. benefit concert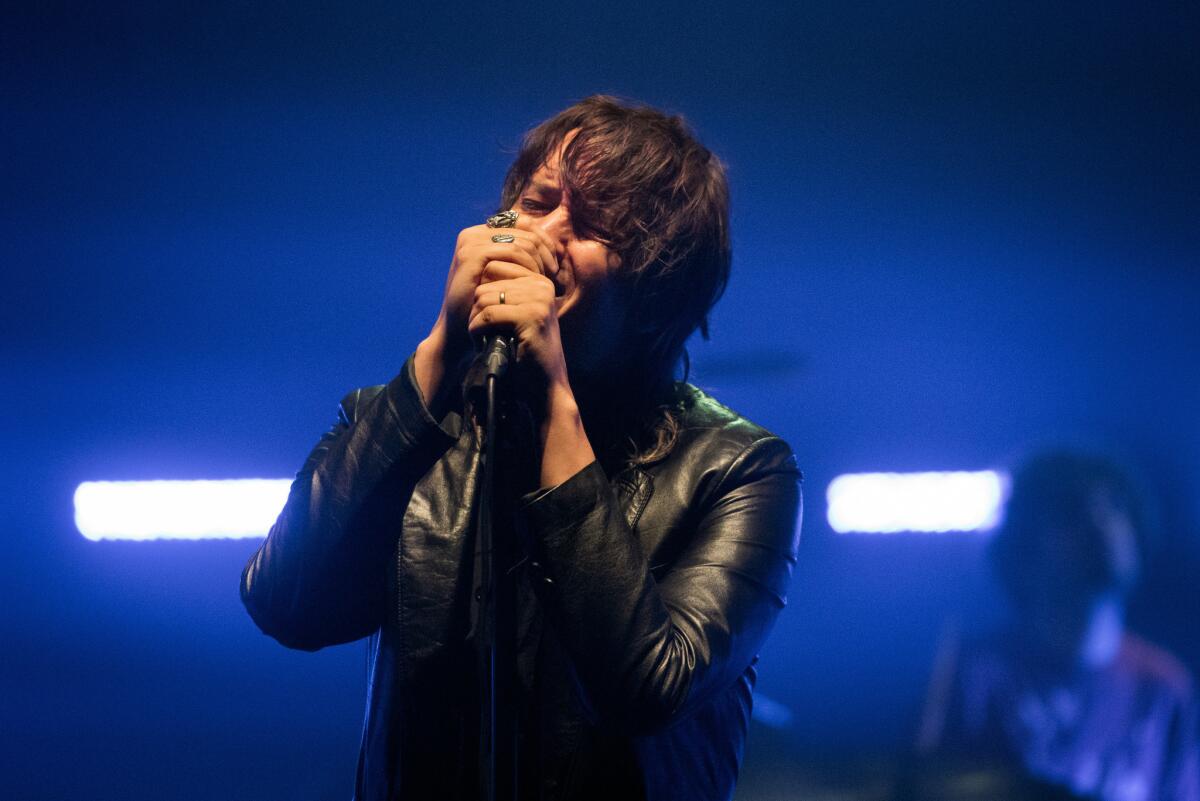 For their whole life as a band, the members of the Strokes have evoked images of a seedy Lower East Side New York full of beautiful rocker kids indulging vices and balming melancholy in dark bars.
On Monday night, however, the band played its only local date of 2016 to push for a safer, more compassionate L.A.
The quintet's Wiltern show was the band's first non-festival-headlining date in L.A. in nearly a decade (the band has played Coachella and FYF Fest more recently). With just a brief new EP, "Future Present Past," in tow, the band played it low-key as far as debuting new music.
But the show – the inaugural City of Angels Benefit Concert for a range of local homeless charities, including the Downtown Women's Center, Waste Not Want Not Now and the Center in Hollywood – underscored just how much heart goes into all these songs of lonely disaffection.
For fans who have only seen the Strokes on big outdoor stages, the treat of the night was catching a hint of how the band must have sounded in 2001. At the Wiltern, the act played with all the electricity of the era when its members constituted America's coolest new band, sweatboxing small clubs while the world clamored for a piece of the action.
Are the Strokes classic rock for gray-templed older millennials today? Sure. But there are few finer pleasures in rock than watching "Hard to Explain" and "Barely Legal" in a room of just a couple thousand. Nearly every other band of the Strokes' status today has some kind of overt past or future influence – whether they use pre-programmed electronics or self-conscious rootsiness. But the Strokes have just always been modern — clean lines, powerful simplicity and effortlessly stylish.
Perhaps in a nod to the seriousness of the charitable occasion, singer Julian Casablancas kept his stage banter to a minimum (though fans chuckled when he started to read a note passed from the crowd, only to abandon it when he realized it was pages long).
The Strokes have earned outsize adoration for a band zeroing in on its 20th year of playing together. That's because – as should be completely clear by now – the act's songwriting has more than stood up to the choppy seas of 15 years of music trends.
Newer tunes "Drag Queen" and "Threat of Joy" snapped right into place with the older stuff. When the band bopped to the Cars-y groove of"12:51" or leaned hard into "What Ever Happened?" every note and every move felt meaningful.
Perhaps no moment felt more so than the set wind-down of "New York City Cops," the fan favorite that the band removed from U.S. editions of debut album "Is This It" following the terrorist attacks on U.S. soil on Sept. 11, 2001. The song – an endearingly snotty riposte to Rudolph Giuliani-era authority — definitely lands differently now, in an era when police brutality is front and center in the American conversation.
The band played it with verve and conviction, a reminder to the audience that even being inside an ornate theater watching a great band play at $125 a head doesn't insulate you from of-the-moment issues.
Perhaps one might not have expected the Strokes to emerge as champions for combating L.A. homelessness. But there's an awful lot of feeling in these stalwart, still-fresh songs, and hopefully everyone went home from Monday's fundraiser a little grateful to hear them on such a nice stage.
ALSO
The Democratic convention united Demi Lovato, Paul Simon and Boyz II Men for every generation of music lovers
Willie Nelson's album salute to friend and mentor Ray Price is due Sept. 16
Get our L.A. Goes Out newsletter, with the week's best events, to help you explore and experience our city.
You may occasionally receive promotional content from the Los Angeles Times.