Tyler, the Creator gets dumped, grows up and makes the album of his life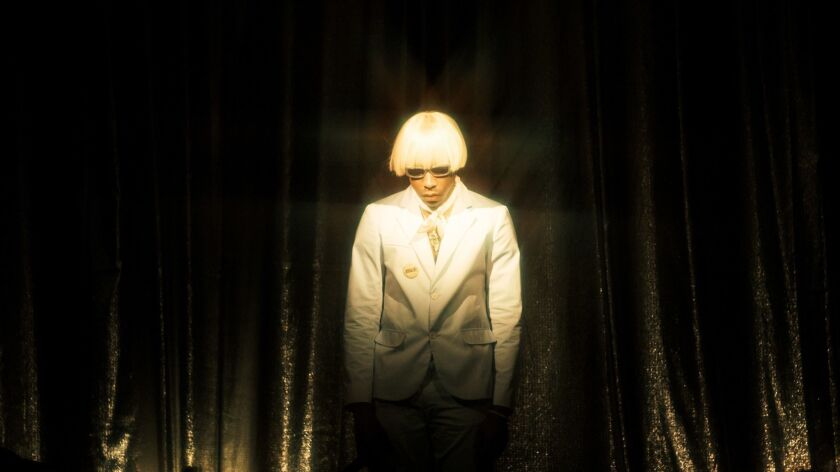 Pop Music Critic
Tyler, the Creator was so sweaty by the end of his concert Wednesday night that his blond wig had begun to look more like a pile of Top Ramen plopped on his head.
At least that was the judgment of one of the rapper's fans, who offered his style assessment just inches from where Tyler was performing on a small stage set up inside a studio on an industrial strip in Van Nuys.
Having heard the guy, though, Tyler cheerfully agreed. "Please someone meme me," he said between laughs.
Part of the release-week rollout of his surprisingly moving new album, "Igor," Wednesday's hourlong show had Tyler — the hip-hop provocateur known (and often feared) since he emerged about a decade ago as the leader of Los Angeles' anarchic Odd Future crew — performing the record from beginning to end for the first time before a few hundred folks who'd received free tickets from Apple Music, which livestreamed the gig.
To mark the occasion, the rapper wore the outfit he's been wearing in much of "Igor's" promotional material: a too-tight powder-blue suit, boxy sunglasses and that goofy bowl cut, which he said had followed a progression similar to the album's.
"It starts happy, then it's just dark and sad and gross at the end." Yet his discomfort was worth it, he added. "The idea is executed."
Execution is clearly important right now to Tyler, whose earlier work got over on the raw intensity of his punk-like attack. "Igor," in contrast, feels carefully constructed, with more melody and with complex instrumental textures drawn from old-school soul music and psychedelic rock.
The album, expected to top sales charts next week, features input from plenty of high-profile collaborators, including Solange, Kanye West, Charlie Wilson and Lil Uzi Vert. But the cover art proudly proclaims that all 12 tracks — which chart a painful breakup — were "written, produced and arranged by Tyler Okonma," who recently turned 28.
And here, he moved his body to the music with a precision that reflected his familiarity with every guitar lick and drum beat. "Take it to the bridge," he told himself — no band accompanied him, just a hard drive — during "I Think," before he perfectly mimed a keyboard solo.
You got a sense of his auteur's sensibility too from the stories he told about how "Igor's" songs came to be. The throbbing "I Think" grew out of his fascination with Nigerian funk — "My dad's Nigerian, supposedly," he said — and out of a trip he took with Solange and Frank Ocean to Lake Como in Italy.
"Running Out of Time," with a dreamy vocal over twinkling electric piano, happened during a break from a writing session with the rapper ASAP Ferg, he said; they'd been making "hard" stuff when this dewy number materialized out of nowhere.
Of "Earfquake," the album's catchiest tune, Tyler said he'd written it in the hopes that Justin Bieber would record it — a long shot, perhaps, but not out of the question given Tyler's widespread influence among the young pop stars (including Billie Eilish) eager to play his annual Camp Flog Gnaw festival. (The lyrics contain some strong language.) More than any of his peers, he represents a kind of bridge figure between the SoundCloud underground and the Top 40 mainstream.
In any event, Bieber passed on the song, Tyler said, a touch of disappointment still evident in his low, raspy voice. Yet it's easy to view that as a good thing: The reason "Earfquake" is so affecting on "Igor" is because of how unguarded Tyler sounds as he sings about someone's love threatening to shake his foundation. It's not a superstar's performance but that of a once-blustering rebel now softening with age.
And that was no less true in Van Nuys, where Tyler said his pumping adrenaline — and the constricting fit of his suit — were making it even harder to sing than usual.
What this exacting artist understood was that sometimes a mess is just the arrangement you need.
Twitter: @mikaelwood
---
Your essential guide to the arts in L.A.
Get Carolina A. Miranda's weekly newsletter for what's happening, plus openings, critics' picks and more.
You may occasionally receive promotional content from the Los Angeles Times.