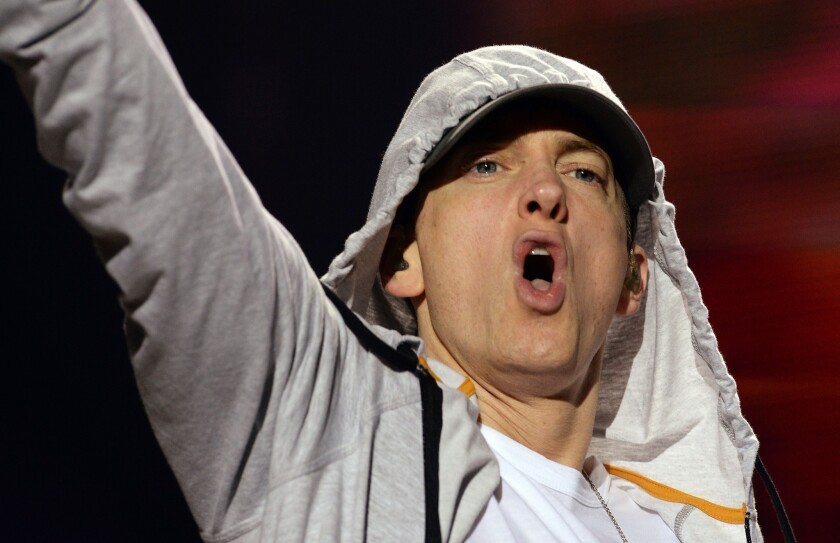 The new video for Eminem's "Survival," the track that recently premiered as part of the "Call of Duty: Ghosts" video game, has arrived, and it finds the Detroit rapper tagging and bragging once again.
Eminem shows up spray-painting a ghostlike face onto the side of a building as he raps about what sounds like his journey through the music world, which he characterizes as a fight between fame and artistic expression.
RELATED: Best albums of 2013 so far | Randall Roberts
Wasn't ready to being a millionaire, I was ill-prepared
I was prepared to be ill though, the skill was there
Walking, crouching and bouncing through a darkly lighted cityscape, Eminem spews more of his often dazzling internal and external rhyme schemes.
I can see the finish line with each line that I finish
I'm so close to my goals I can almost pole vault over the goal post
And if I don't got enough in the tank, maybe I can just siphon enough
To fill up this last can, man will I survive in this climate or what
Along the way he also returns fire on anyone who's suggested he's past his prime or that the biggest-selling recording artist in any genre during the first decade of the new millennium can't compete with a younger generation of hip-hop stars — all the while incorporating visual images from the "Call of Duty: Ghosts" game and the theme of a warrior who is taking no prisoners.
PHOTOS: Unexpected musical collaborations
From the beginning, it wasn't 'bout the ends
It was 'bout busting raps and standing for something …
I'm … back again
With another anthem, why stop when it doesn't have to end?
It ain't over 'til I say it's over — enough when I say enough
Throw me to them wolves and close the gate up
I'm afraid of what'll happen to them wolves
Here's a link to the official video, which contains explicit language.
ALSO:
Watch Eminem's new music video for 'Berzerk'
First impression: Eminem's new 'Survival' from 'Call of Duty'
Lady Gaga unveils her Jeff Koons-designed 'Artpop' album cover
Follow Randy Lewis on Twitter: @RandyLewis2
---