Behind the scenes with Justin Bieber, Alabama Shakes, Skrillex at 58th Grammy Award rehearsals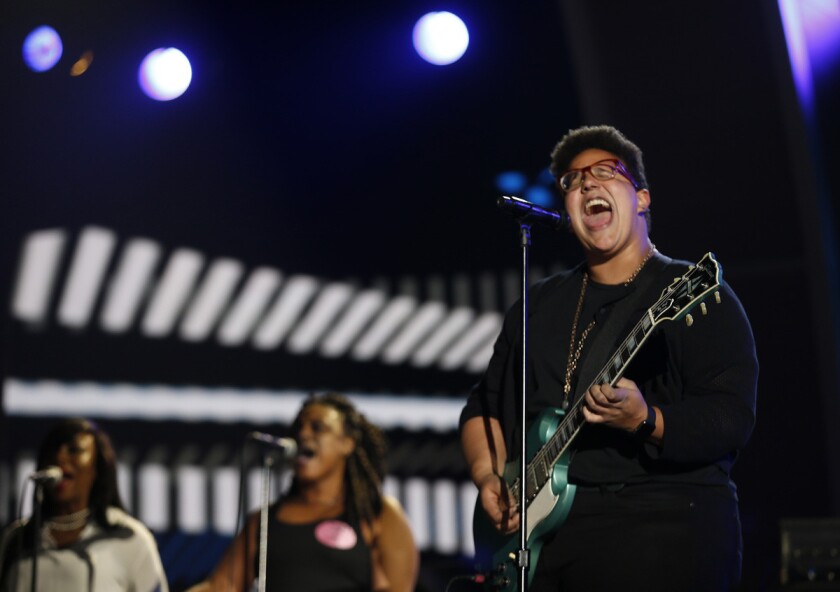 A blast of feedback exploded from the PA system inside Staples Center on Friday afternoon during the first day of rehearsals for Monday's 58th Grammy Awards ceremony, jolting the dozen or so onlookers in the otherwise deserted arena. The noise was coming from a stage positioned mid-arena, or more specifically, from the scruffy performer standing on the circular riser strumming an acoustic guitar.
"Was it in your ears?" head floor manager Gary Hood asked a startled Justin Bieber after seeing him recoil at the sound.
Bieber signaled, "No," but Hood insisted, "Take them out anyway," referring to Bieber's in-ear sound monitors, nicknamed "ears," that performers wear to hear themselves better during such large-scale performances. Had the blast been channeled through those earphones, they might have blown out Bieber's eardrums.
See more of our top stories on Facebook >>
Brittany Howard, singer and guitarist with Alabama Shakes, who are nominated for Album of the Year, rehearses for the 2016 Grammy Awards at Staples Center in Los Angeles.
(Allen J. Schaben / Los Angeles Times)
A placement card marks Adele's seating position during rehearsals for the 2016 Grammy Awards.
(Allen J. Schaben / Los Angeles Times)
56th Grammy Awards executive producer Ken Ehrlich works during rehearsals.
(Allen J. Schaben / Los Angeles Times)
Ron Dearman, assistant carpenter, works on the satellite stage during rehearsal for the 2016 Grammy Awards at Staples Center.
(Allen J. Schaben / Los Angeles Times)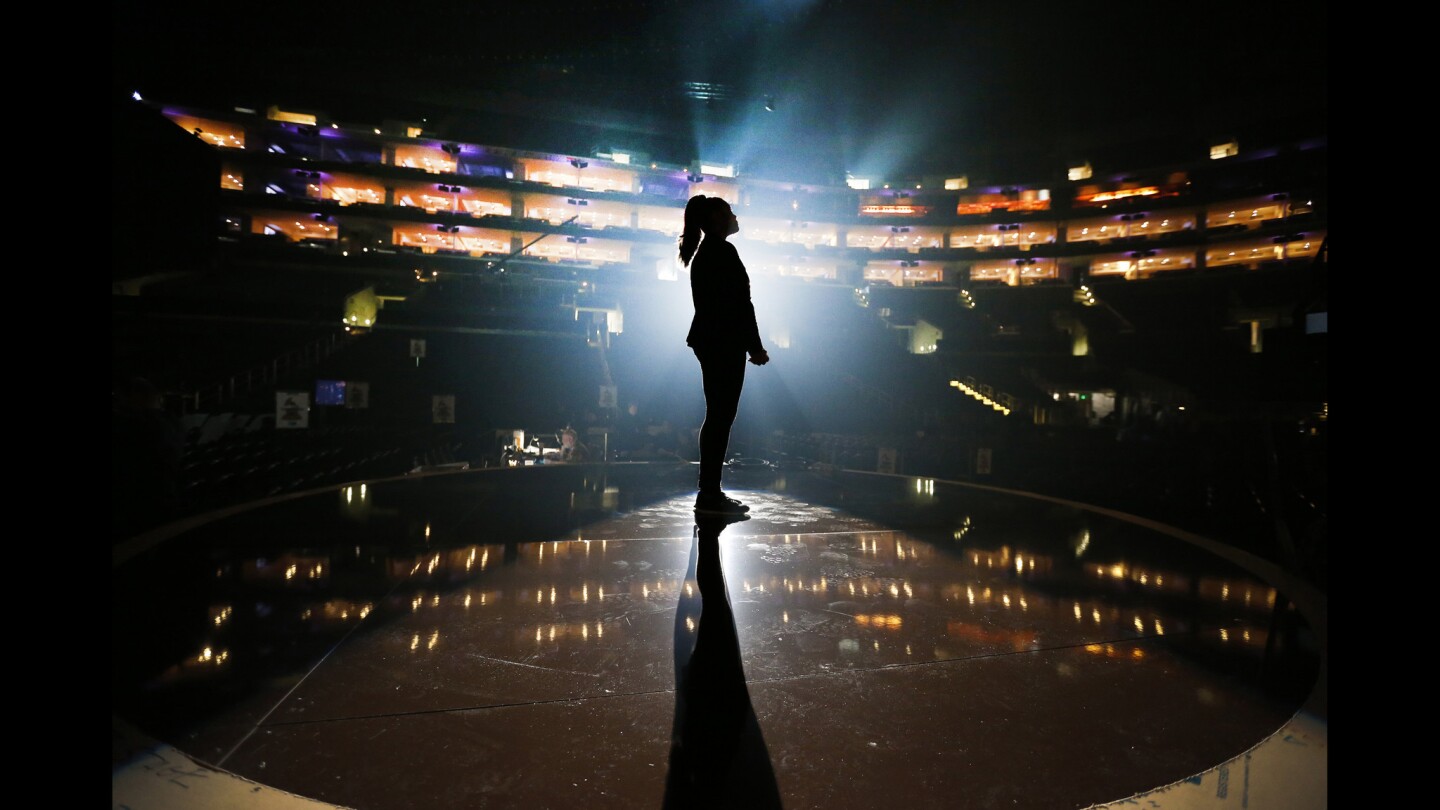 Actress Renee Gentry stands in for Andra Day, who is up for two Grammy nominations for best R&B performance, during rehearsal for the 2016 Grammy Awards.
(Allen J. Schaben / Los Angeles Times)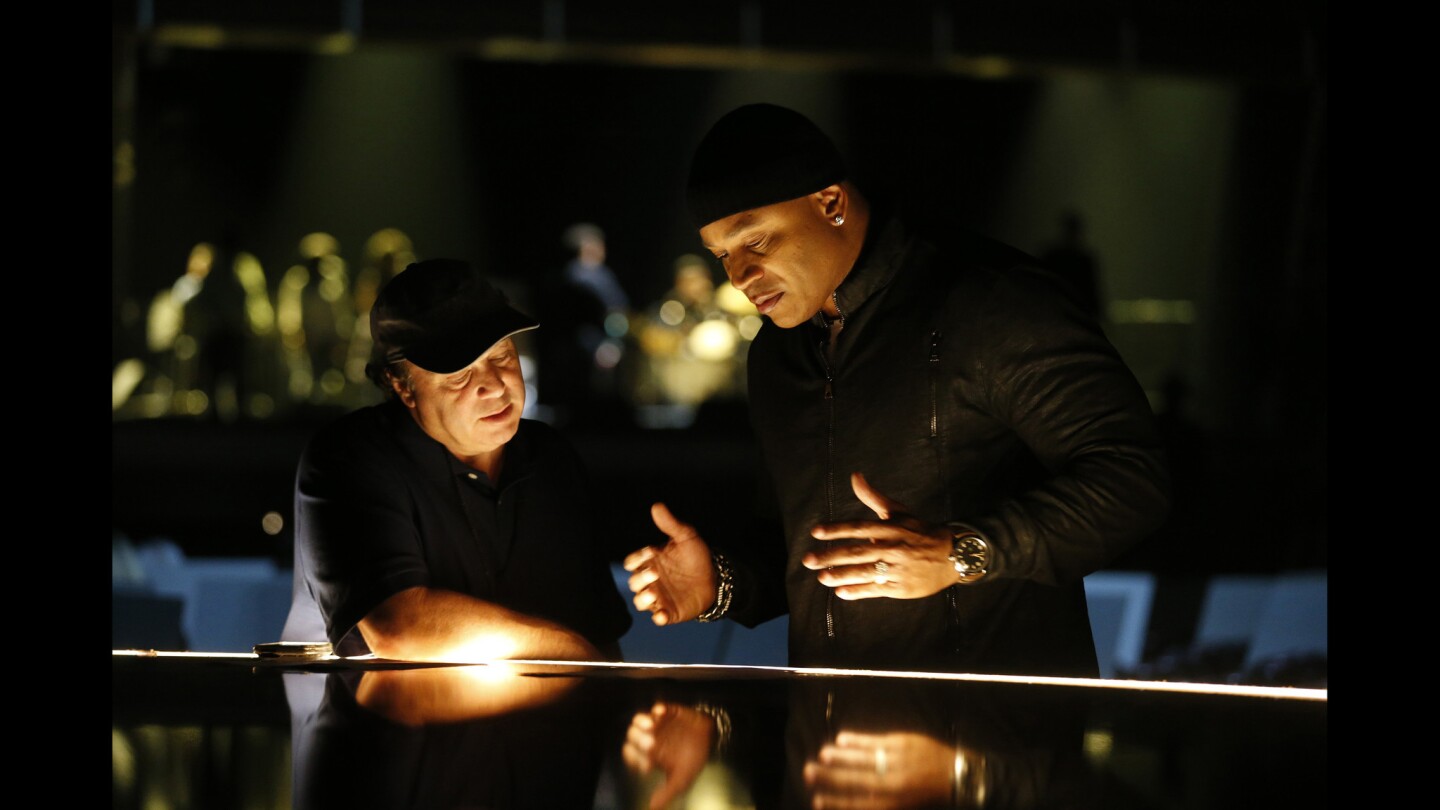 David Wild, left, show writer, works with two-time Grammy winner LL Cool J, who is returning as host, as they work on his lines during rehearsal..
(Allen J. Schaben / Los Angeles Times)
Murray Siegel, stage manager, runs through the show during rehearsals.
(Allen J. Schaben / Los Angeles Times)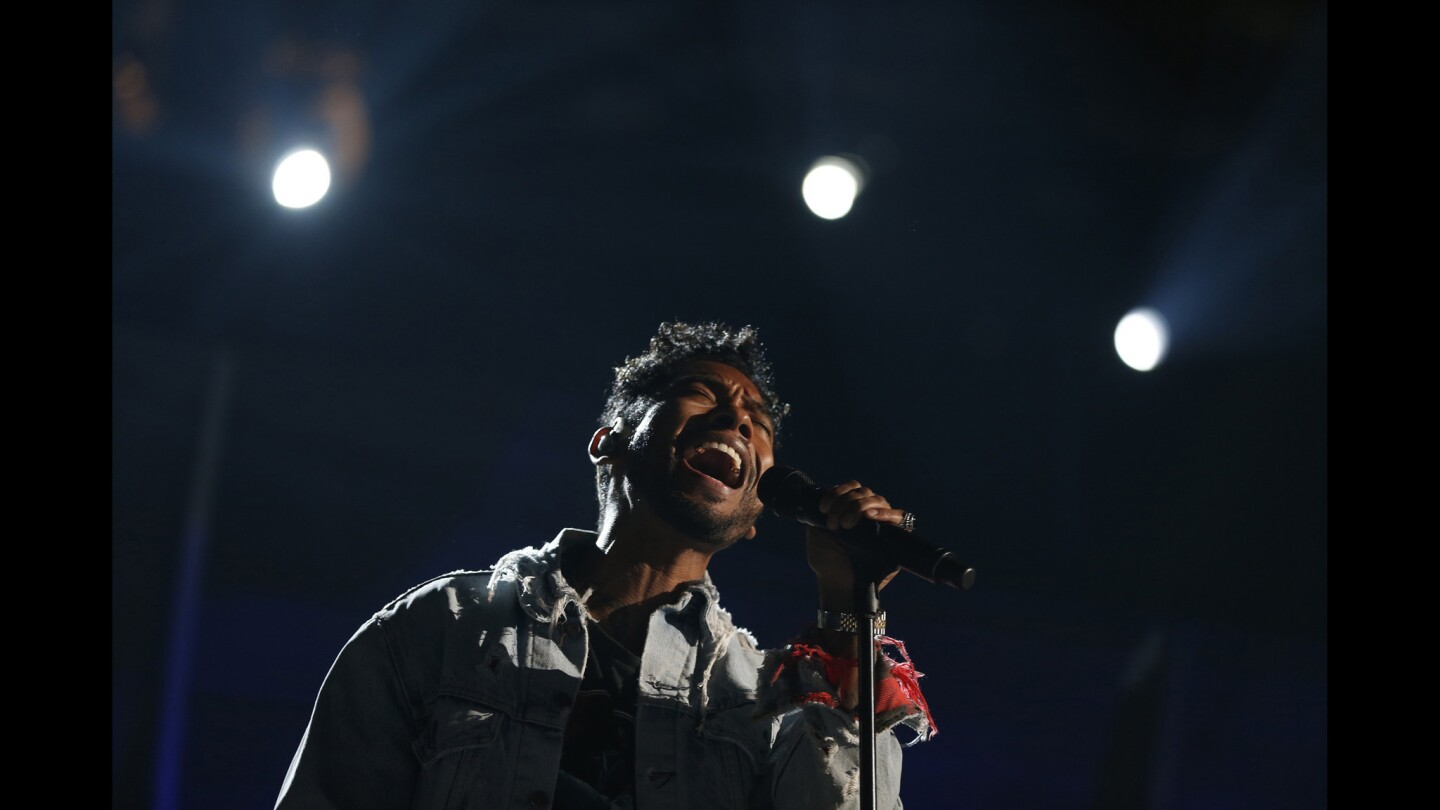 Grammy nominee Miguel performs during rehearsals.
(Allen J. Schaben / Los Angeles Times)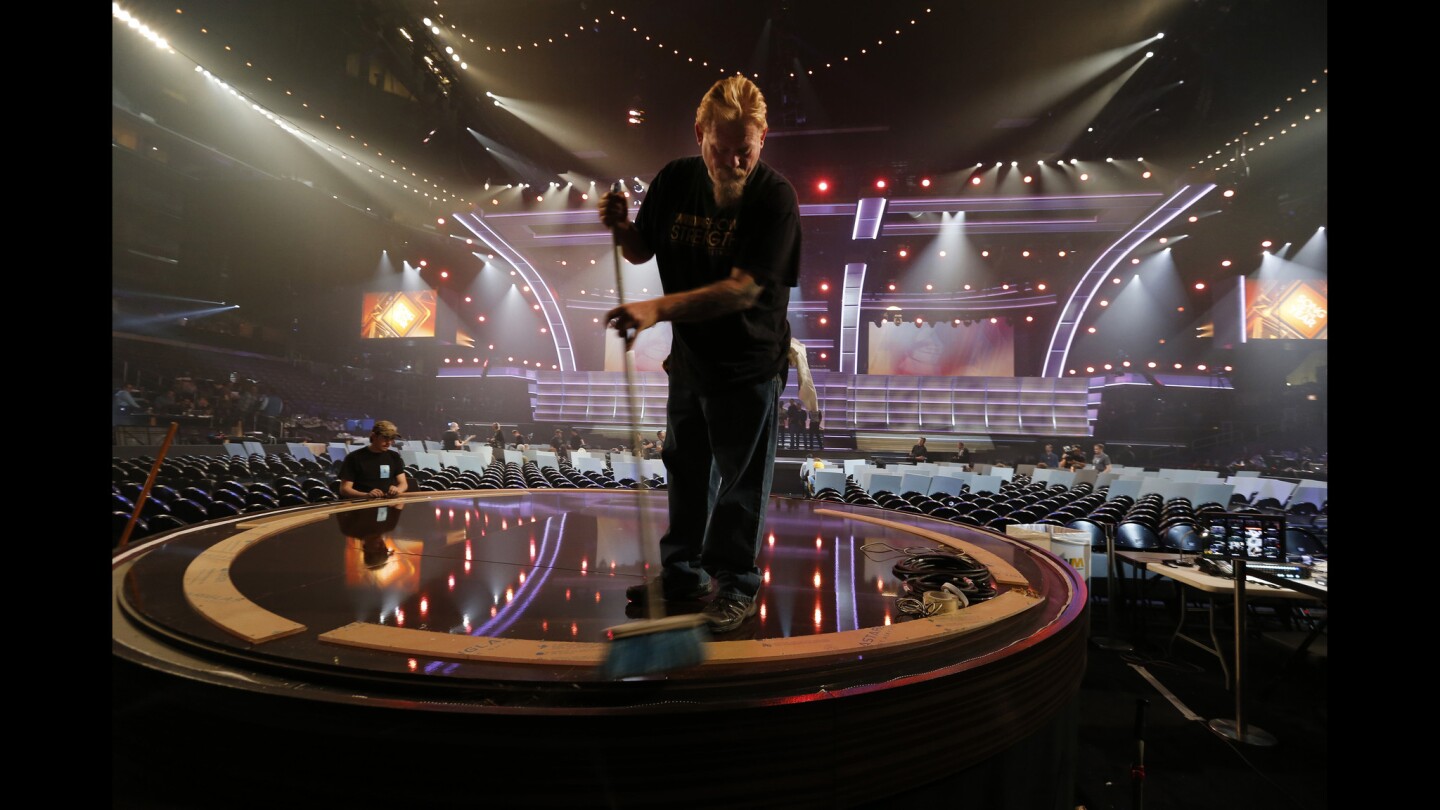 Sergio Baez sweeps the satellight stage.
(Allen J. Schaben / Los Angeles Times)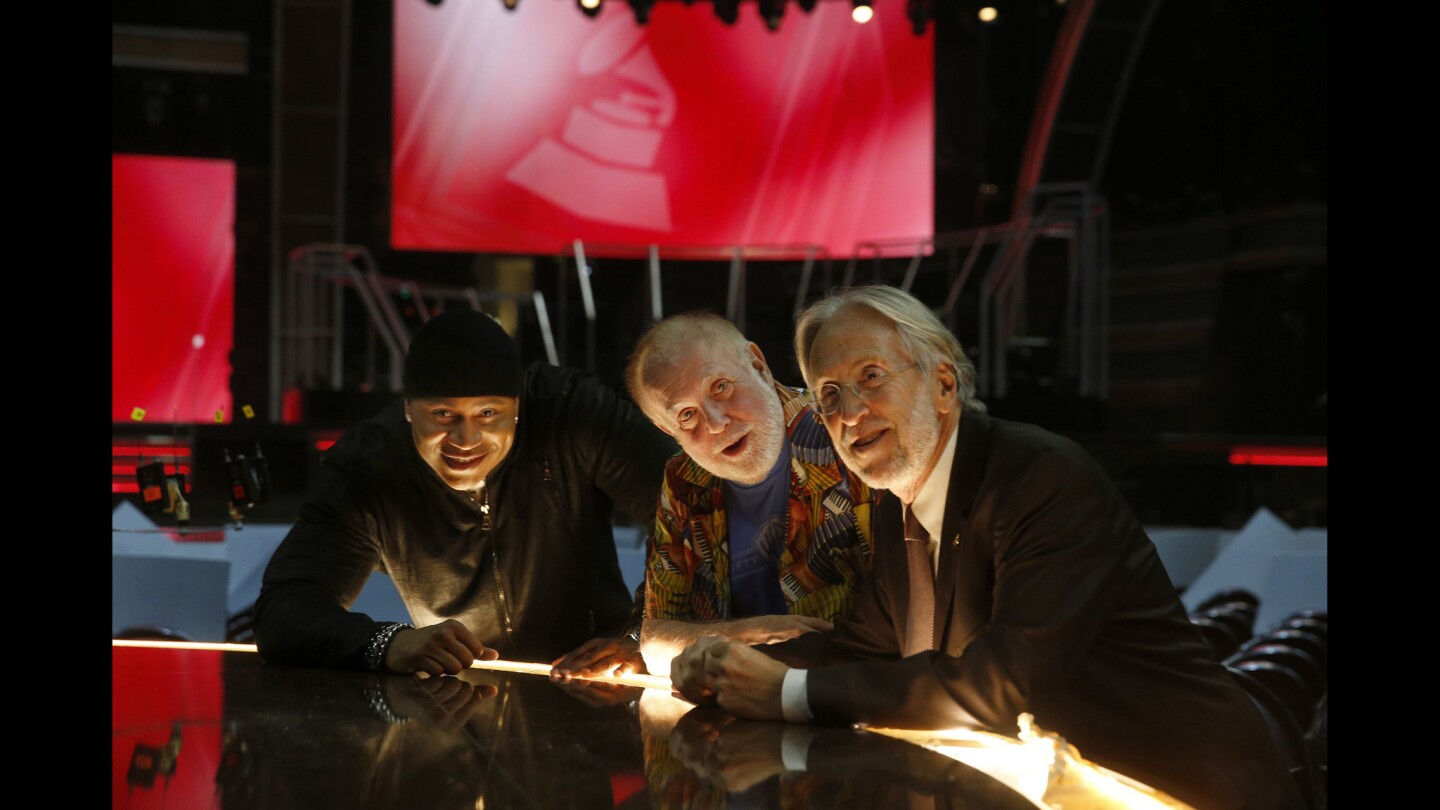 Two-time Grammy winner LL Cool J, who is returning as host, left, executive producer Ken Ehrlich, and President & CEO of The Recording Academy Neil Portnow during rehearsals.
(Allen J. Schaben / Los Angeles Times)
The feedback randomly erupted several more times before the sound crew tracked down the problem and eliminated it, just one of the myriad variables involved in the 3½-hour telecast featuring many of the pop music world's biggest names. It's a night when the music industry bestows its highest honors on the chosen few.
Following the taming of the amplification glitch, Bieber strummed his guitar in a chunky three-chord minor-key riff that took on a lightly Latin syncopation, part of the 1-2 punch he'll deliver during Monday's show.
The first part is a solo acoustic rendition of a snippet of his song "Love Yourself," after which Bieber ditched the guitar, ripped the microphone out of its stand and raced halfway across the arena floor to join heavyweight DJs Skrillex and Diplo in their side project Jack U to sing the track he recently recorded with them (the propulsive dance tune "Where Are U Now?").
The 21-year-old former teen pop idol is taking advantage of this high-profile performance in an attempt to move his image forward, now that several years have elapsed since hordes of Beliebers unleashed their wrath on the Recording Academy for awarding the 2010 new artist Grammy to jazz bassist Esperanza Spalding rather than Bieber, who also went public expressing his disappointment at the loss.
The Canadian baby-faced heartthrob is now sporting a scruffy mustache and goatee, which in combination with his Metallica Fear of God T-shirt, green knit stocking cap and hole-stricken blue jeans on Friday gave him the appearance of an indie rock dude.
"He's just honored to be a musician playing among his peers," Bieber's manager, Scooter Braun, said shortly after his rehearsal segment wrapped. "He's not interested in the accolades, or getting caught up in the praise. That's where he got into trouble before. He just wants to be playing with other musicians, not the star of the show, not the phenomenon."
The annual Grammy award ceremony and global telecast is the night when musicians get their best shot at showing the world what they're made of. This week, anyway.
Where Bieber took the opportunity to showcase a bit of his kiss-off to a former romantic interest in "Love Yourself," roots band Alabama Shakes and lead singer Brittany Howard powered through their nominated song "Don't Wanna Fight" and its can't-we-all-just-get-along message of tolerance.
The two performances on the first of four marathon days of run-up to the ceremony itself -- the culmination of a planning process that begins the day nominations are announced early in December -- crystallized the yin-yang spirit that typically marks the event.
Some performers look to dazzle audiences with sheer spectacle; others aim to make an impression with a message or a moral.
This year's show will also include performances by pop, rock, R&B, hip-hop, country and jazz artists including Taylor Swift, Adele, Luke Bryan, Rihanna, Andra Day, Little Big Town, Lionel Richie, Meghan Trainor, Carrie Underwood, the Weeknd and 13-year-old Indonesian jazz pianist Joey Alexander. In a Grammy Awards first, the opening number from the hit Broadway hip-hop musical "Hamilton" will be presented live from the theater in New York where the show is running.
Along with the show's usual spate of live renditions of nominated songs and one-of-a-kind collaborations, several tributes have been lined up for musicians who died during the past year.
David Bowie will be saluted by Lady Gaga, Eagles founding member Glenn Frey will be recognized by Jackson Browne and former band mates Don Henley, Joe Walsh, Timothy B. Schmit and Bernie Leadon and other nods will spotlight Motörhead front man Lemmy Kilmister, blues artist B.B. King, singer Natalie Cole and New Orleans songwriter, producer and pianist Allen Toussaint.
The feeling among many of those who are pulling the show together is that this year is especially fraught with themes relevant to the music community, from racial strife and fears about terrorism to the devaluation of recorded music and Beyonce's hotly debated performance at the Super Bowl.
"We believe in artists' freedom of expression," said Neil Portnow, president of the Recording Academy, which bestows the Grammys each year. "How they use the forum available to them is an individual choice."
It was the most recent example of musicians who bring their artistry to bear before a vast television audience, something the Grammy show contends with each year.
"Music addresses what's in the air -- that's what it does, from Bob Dylan on down," said the show's returning host, rapper and actor LL Cool J, aka Todd Smith, shortly after arriving at Staples, wearing his signature black stocking cap, black leather jacket over a light T-shirt and black jeans and a dazzling jeweled earring in his left earlobe.
Jennifer Lee, left, and Kyna Treacy, trophy presenters for the Grammy Awards, at Staples Center on Friday.
(Mel Melcon / Los Angeles Times)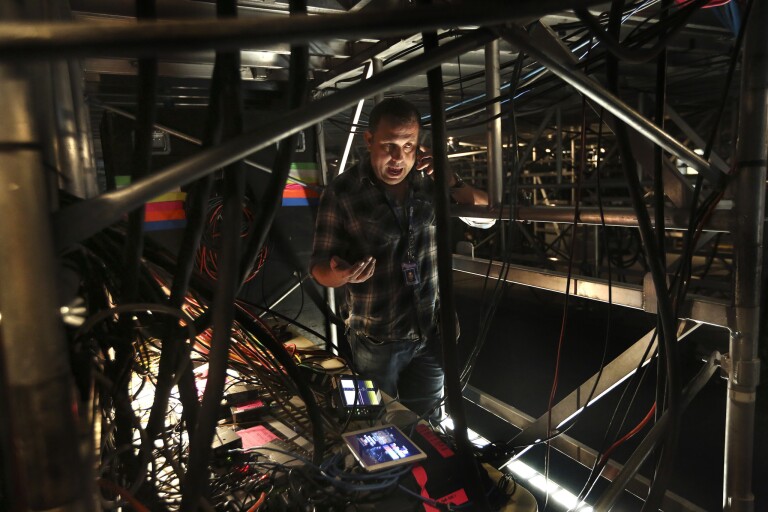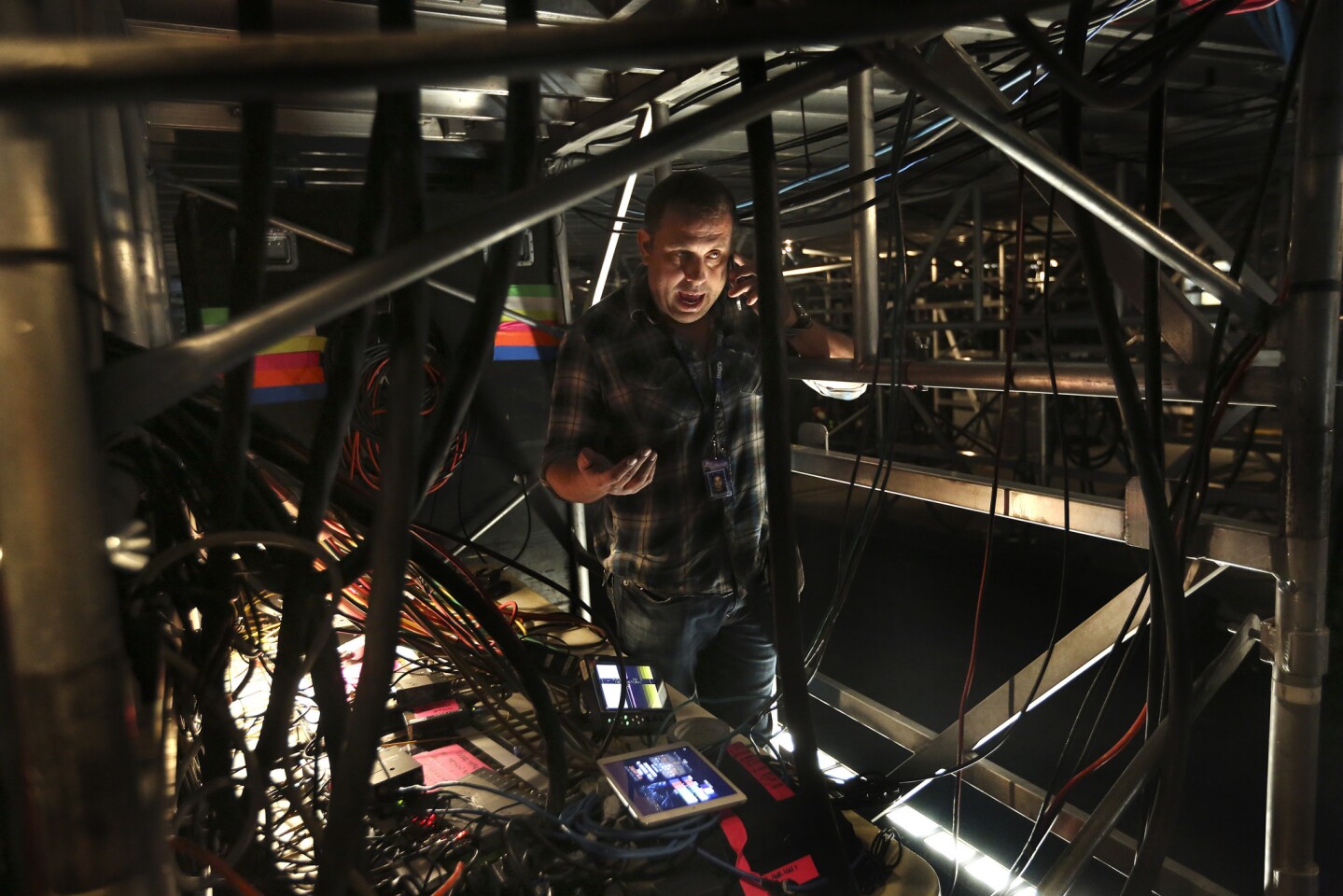 Jon Zucino works on installing fiber-optic lines for this year's Grammy Awards show at Staples Center.
(Mel Melcon / Los Angeles Times)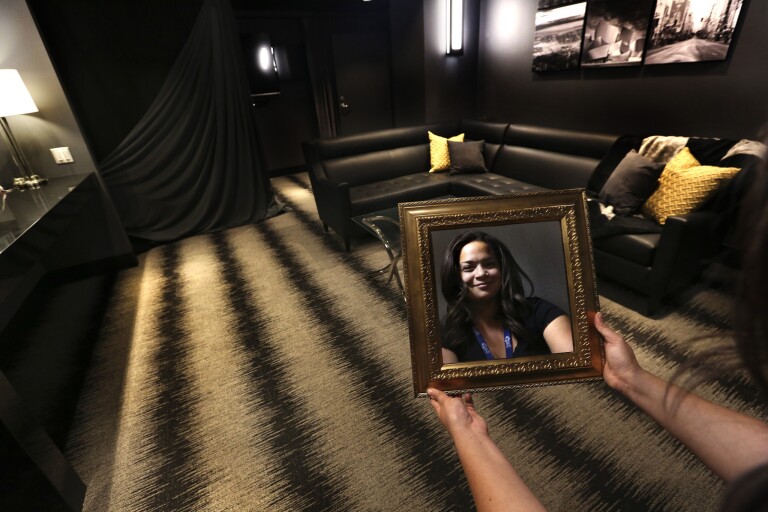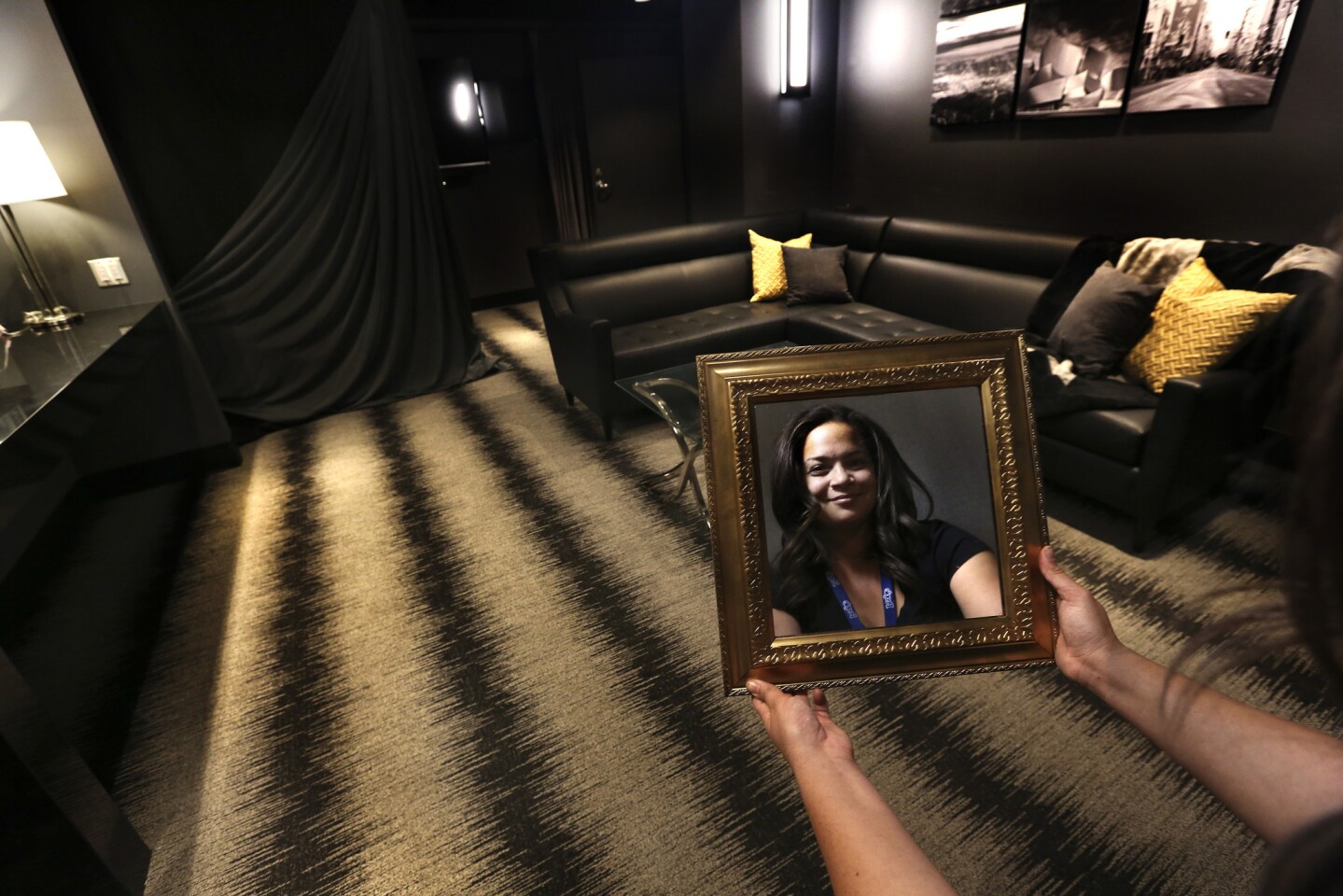 Jasmine McAtee, dressing room coordinator for the Grammy Awards, is shown inside one of 80 dressing rooms to be used by performers, dancers, band members and the show's host.
(Mel Melcon / Los Angeles Times)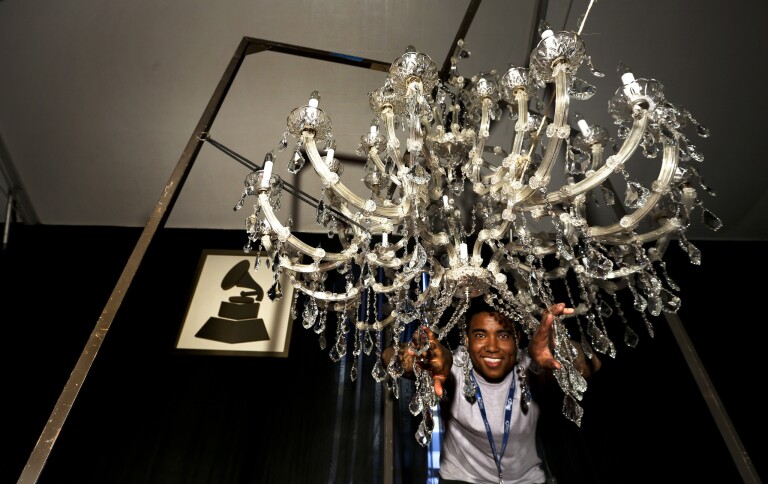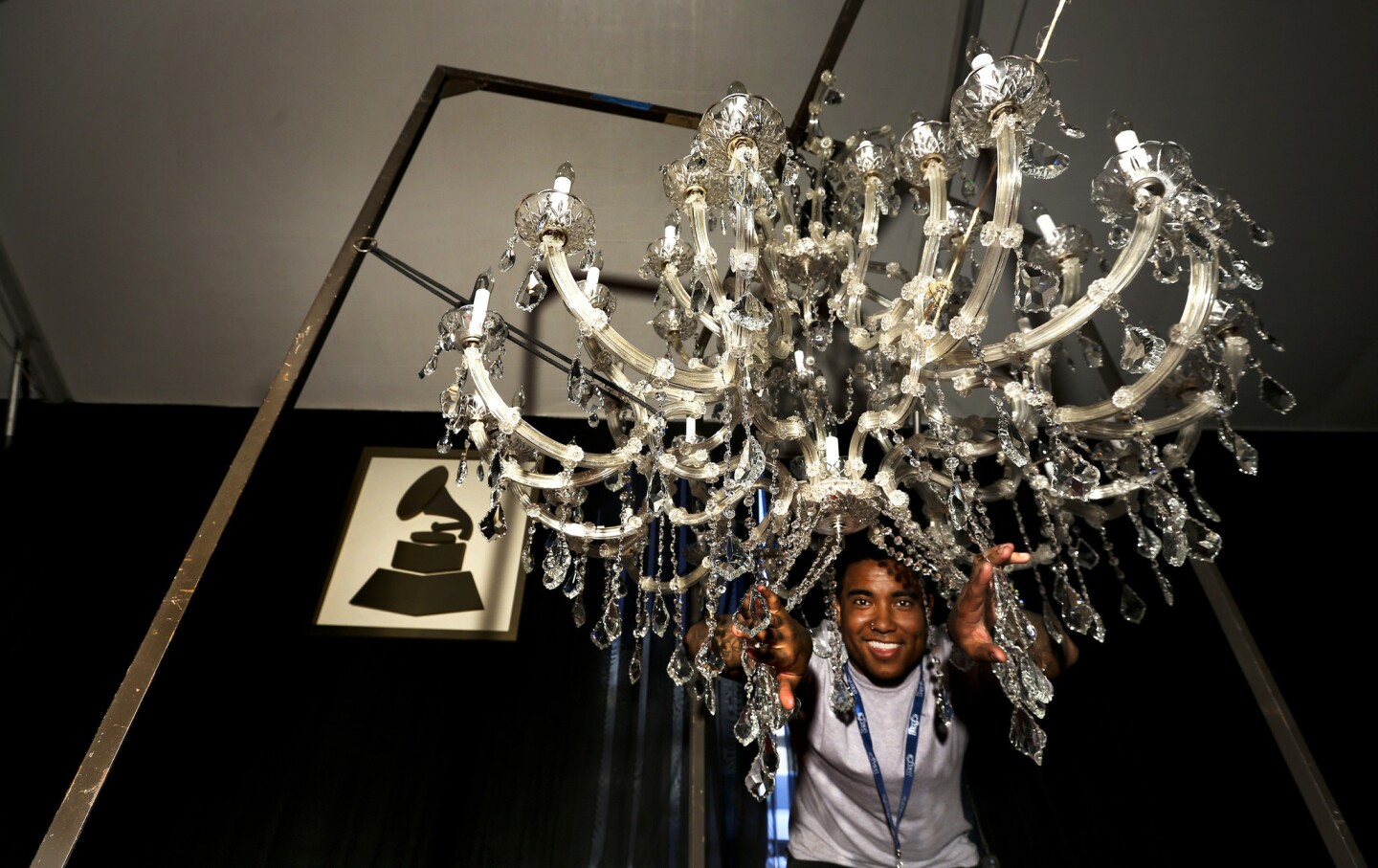 Spencer Knox, 28, production assistant for the red carpet area at the Grammy Awards, with one of 17 chandeliers that will go up above the 520-foot-long red carpet.
(Mel Melcon / Los Angeles Times)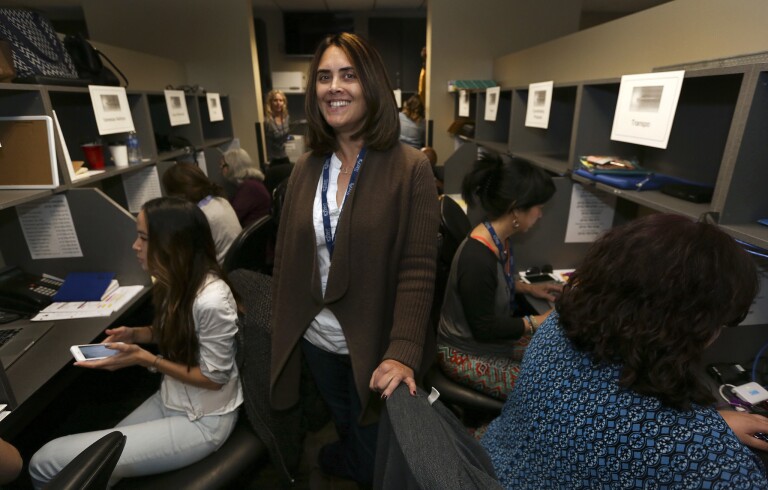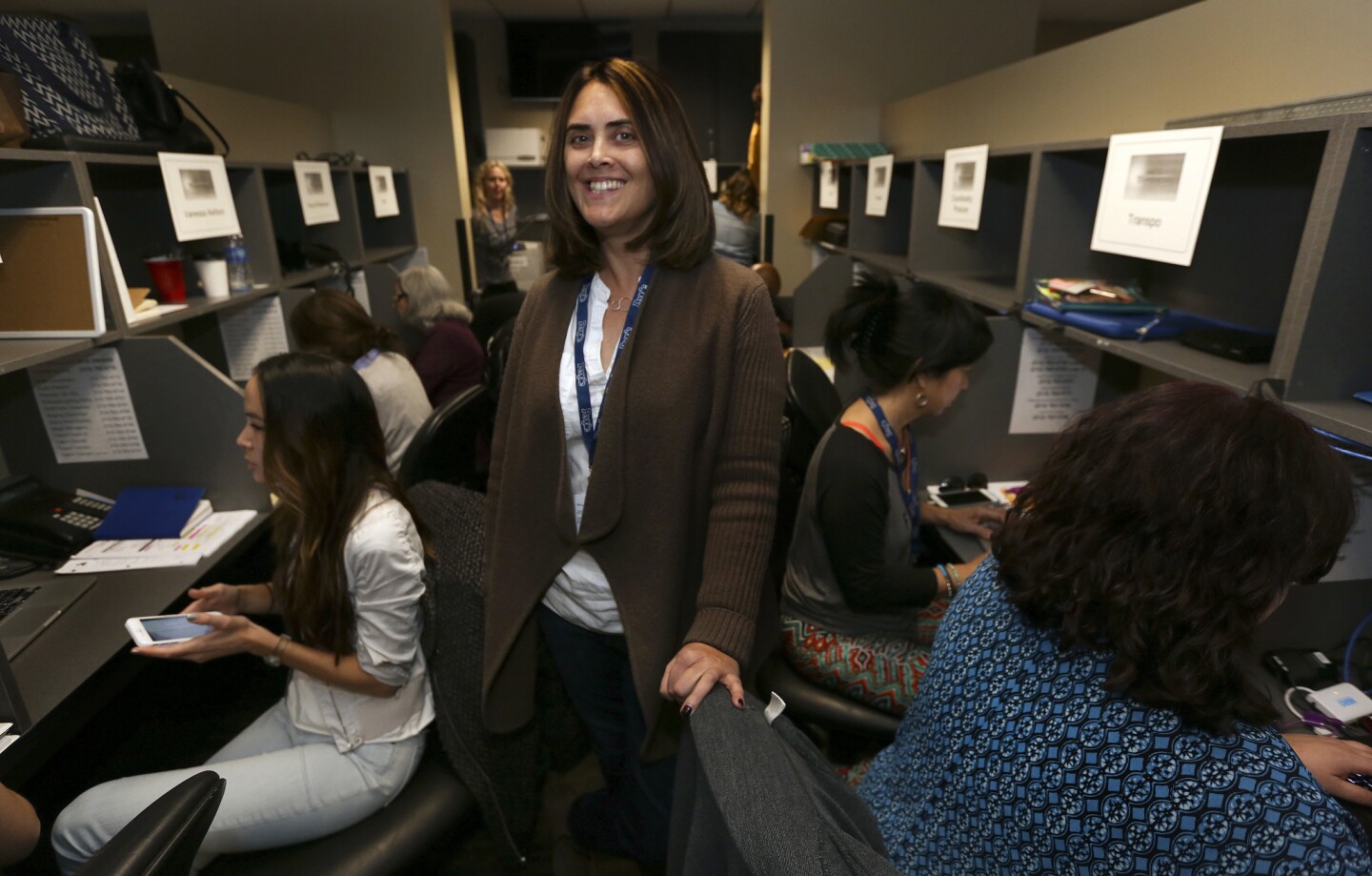 Chantel Sausedo, talent producer for the Grammy Awards, with members of her team inside Staples Center. She secures the acts for the show and takes care of their needs from beginning to end once they arrive.
(Mel Melcon / Los Angeles Times)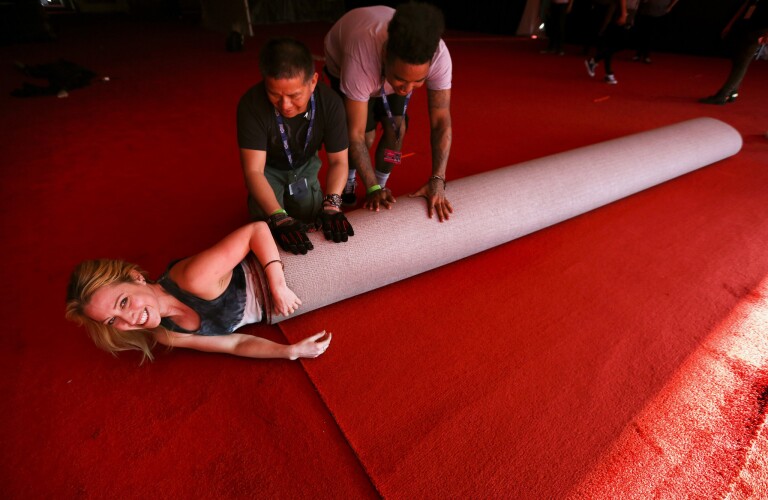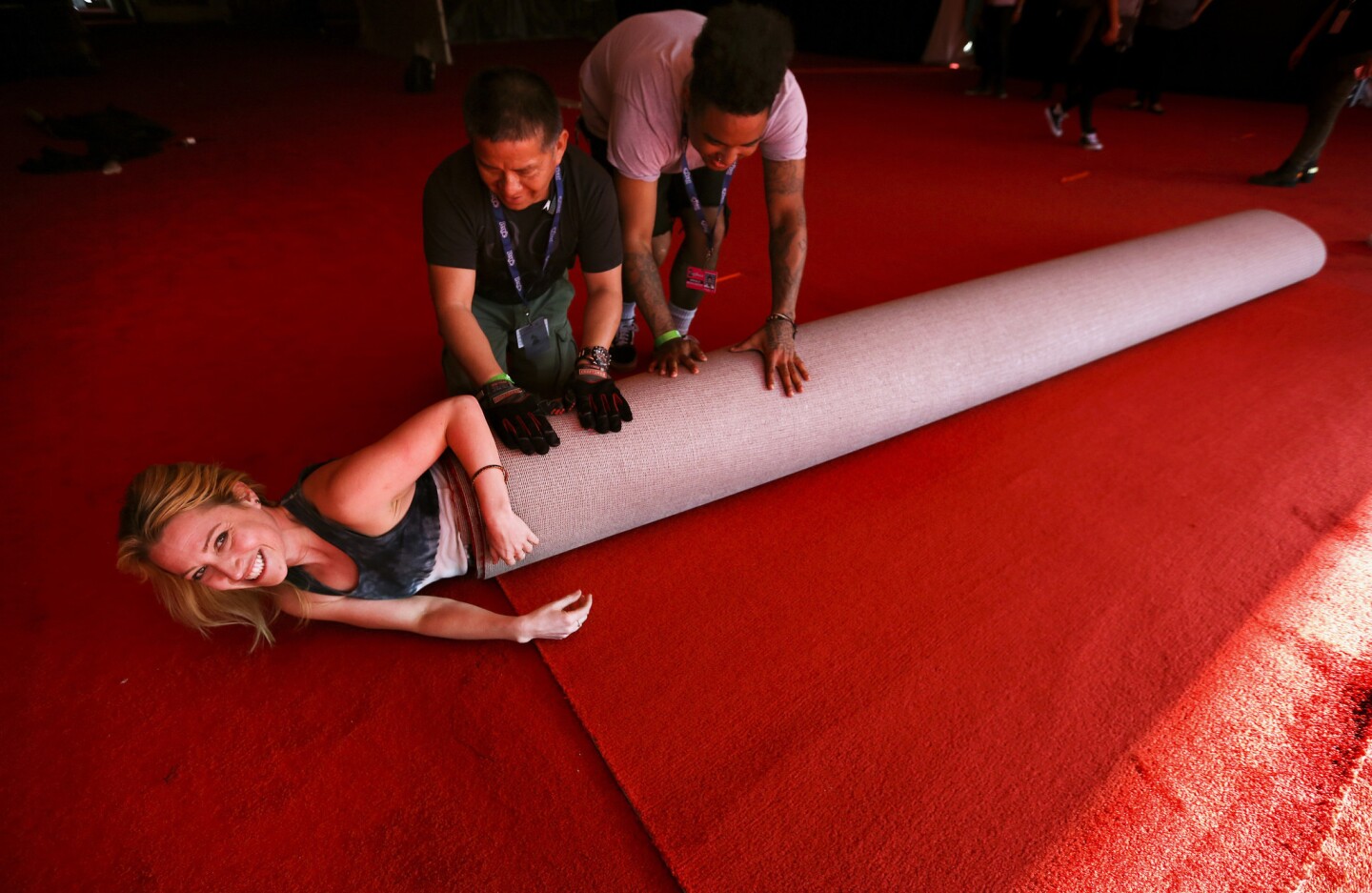 Sara Labb, red carpet coordinator for the Grammys, is photographed on — or rather, in —the red carpet in front of Staples Center.
(Mel Melcon / Los Angeles Times)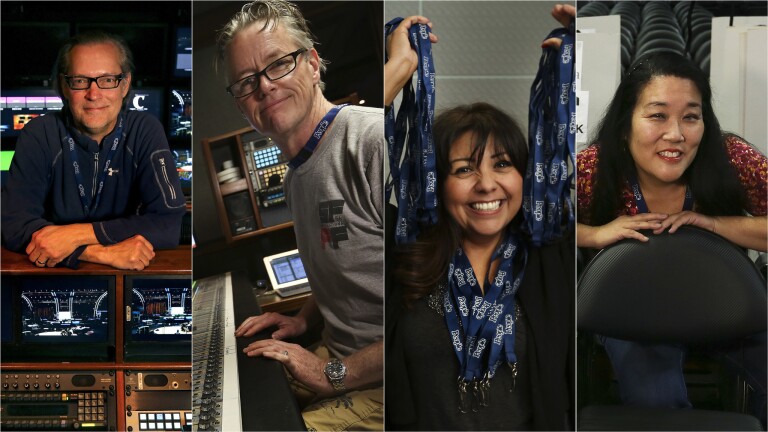 Grammy Awards technical director Eric Becker, from left, production audio mixer Tom Holmes, senior manager of travel and credentialing Nora Luna and audience seating manager JoAnn Tominaga all play important roles in making the show run smoothly.
(Mel Melcon / Los Angeles Times)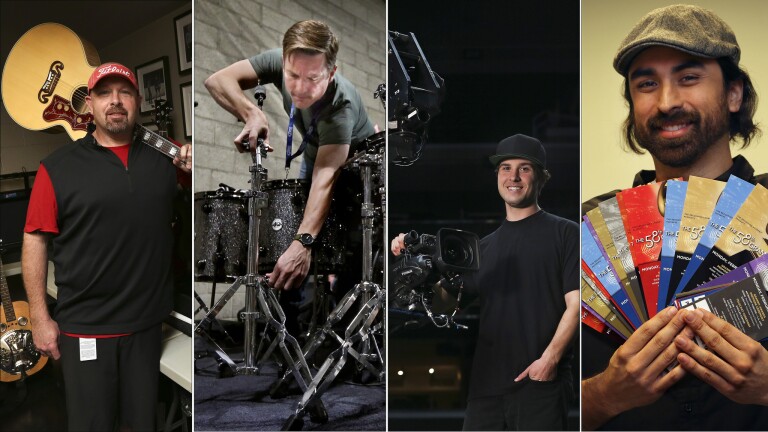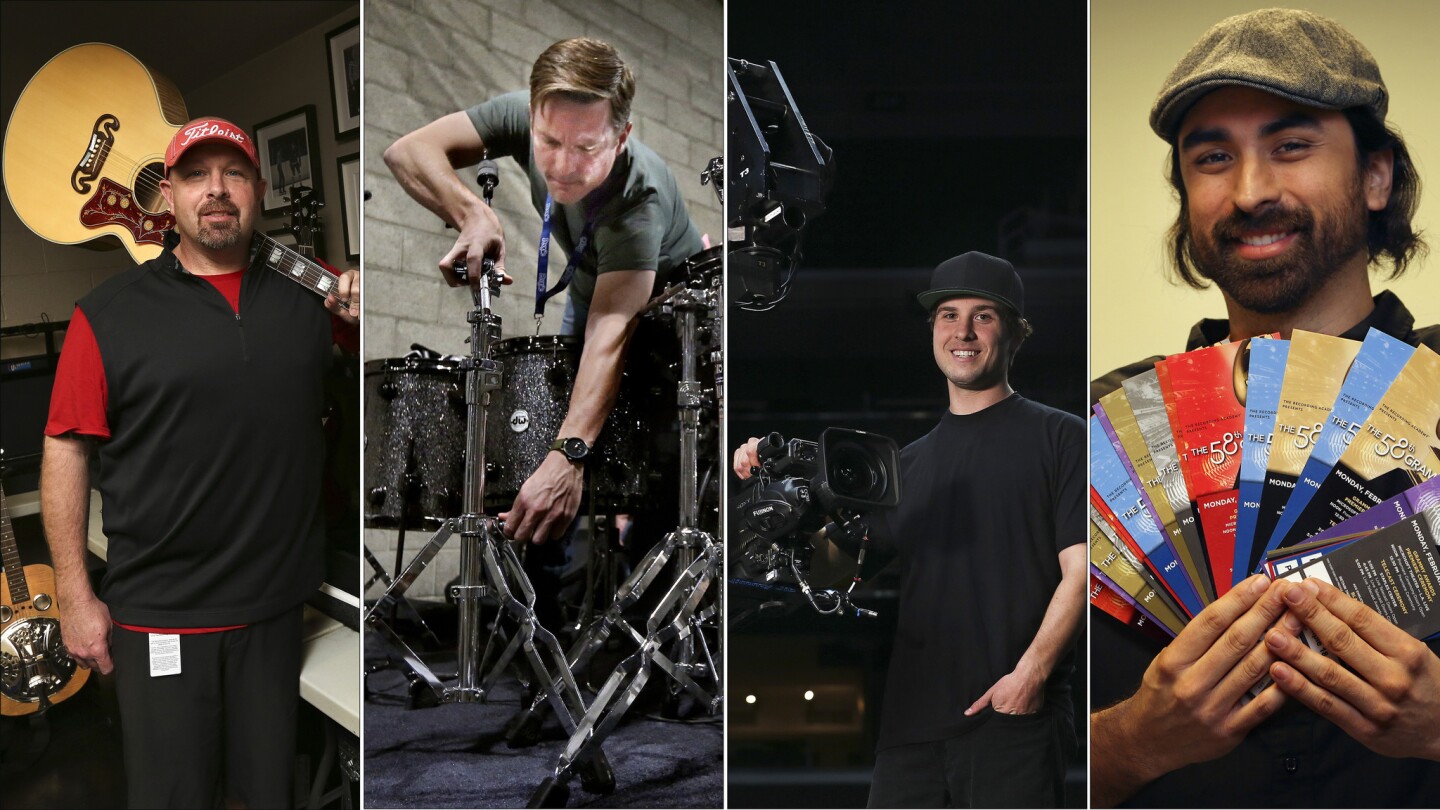 Musical staging supervisor Johnny Lord, from left, audio assistant Damon Andres, techno jib assistant Cory Hunter and director of ticketing Adrian Diaz all pitch in to make the Grammy Awards work.
(Mel Melcon / Los Angeles Times)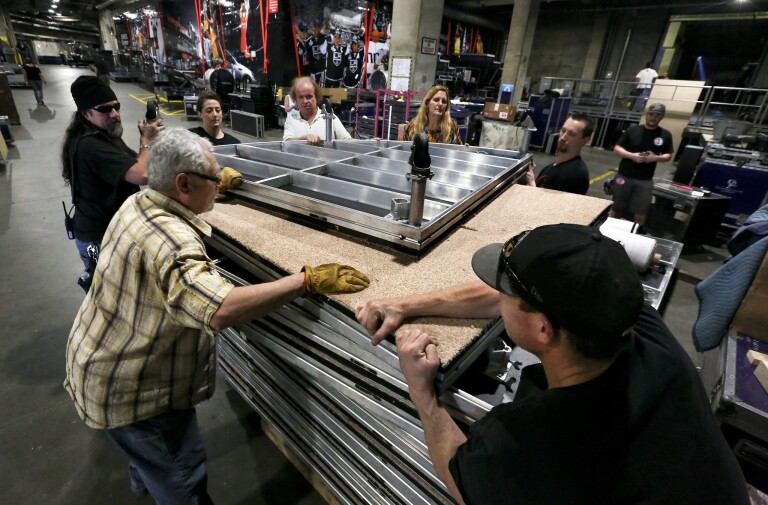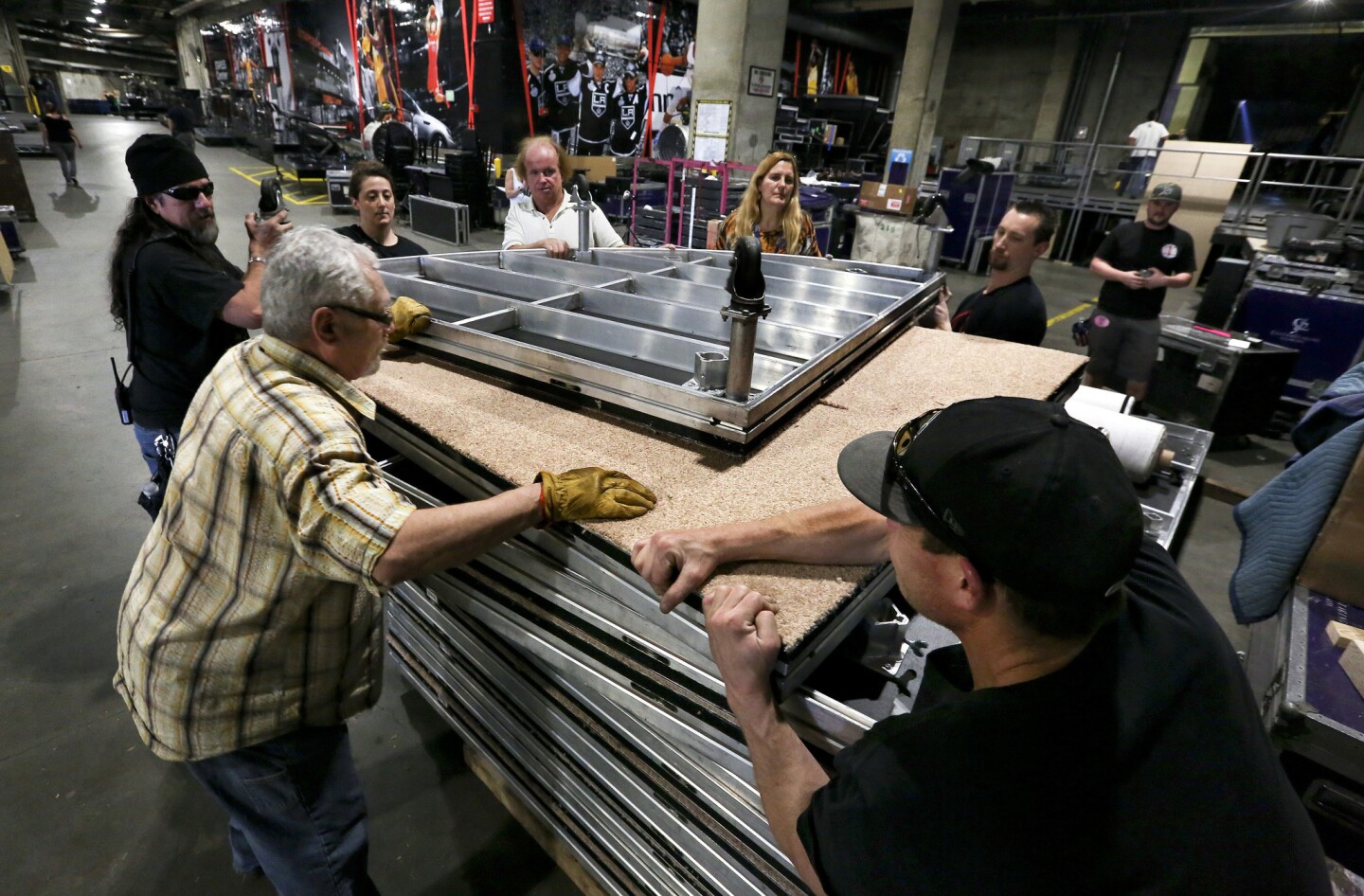 Members of the prop department prepare to move a stage floor that will be used during a performance at the Grammy Awards.
(Mel Melcon / Los Angeles Times)
"From the '50s, '60s, '70s, '80s, and '90s to now, musicians have spoken to the moment," said Jack Sussman, CBS executive vice president of specials, music and live events from his seat next to the show's longtime executive producer, Ken Ehrlich. They are part of the triumvirate, along with Recording Academy President Neil Portnow, who collaborate stitching together each year's awards ceremony.
"Most other music awards shows are strictly about the pop culture moment," Sussman said. "That's the difference between all of them and the Grammys, and CBS, and the difference between most other producers and this guy," gesturing toward Ehrlich.
"There's also a responsibility that comes with that," he said, "to use that platform in a responsible and creative way to maintain the integrity of the brand of the Grammys and the network.
"But if a message gets out in the middle of that," he added, "more power to them."
For pop singer-songwriter-producer Miguel, who has been tapped to present the rock performance Grammy, Monday's show brings an opportunity to pay homage to the pop innovator whose music he said "was always playing in my house," Michael Jackson.
Ehrlich hustled backstage before Miguel was slated to come into the arena for his run-through, locating him in a dressing room working on a snippet of a song from the album that earned Jackson his first Grammy Award, "Off the Wall," which is being spotlighted this year because of director Spike Lee's new documentary about Jackson's 1979 breakthrough solo album.
"It's an honor," the 30-year-old musician from San Pedro said. "I just want to do the song justice," he said after a short backstage session with keyboardist Greg Phillinganes, who played on Jackson's original recording. Miguel channeled Jackson's signature vocal quaver as he spun out his take on the song "She's Out of My Life."
"Miguel has such a great spirit," said Phillinganes, who also is performing Monday in two other segments. "He's going to make a mark with his performance."
Exiting the dressing room and striding quickly back into the arena, Ehrlich said, "I love these little moments. I got a little tear there. You know what this one is going to do for him? It's going to be huge. That's what one of these little moments can do."
Rehearsals generally hold to schedule more than most Amtrak trains, and each performer or combination of acts get three or maybe four passes at their number and then it's on to the next run-through for the telecast that goes out live Monday starting at 5 p.m. PST.
"OK, that's a wrap," a disembodied voice says over the PA after Bieber and Jack U finished fine-tuning their number. "Let's move on to No. 62."
Follow @RandyLewis2 on Twitter. For more on Classic Rock, join us on Facebook.
ALSO
Grammys history and winners through the years
Grammys quiz: How much music history do you know?
How the Weeknd got his revenge and became one of the biggest pop stars
---
The complete guide to home viewing
Get Screen Gab for weekly recommendations, analysis, interviews and irreverent discussion of the TV and streaming movies everyone's talking about.
You may occasionally receive promotional content from the Los Angeles Times.