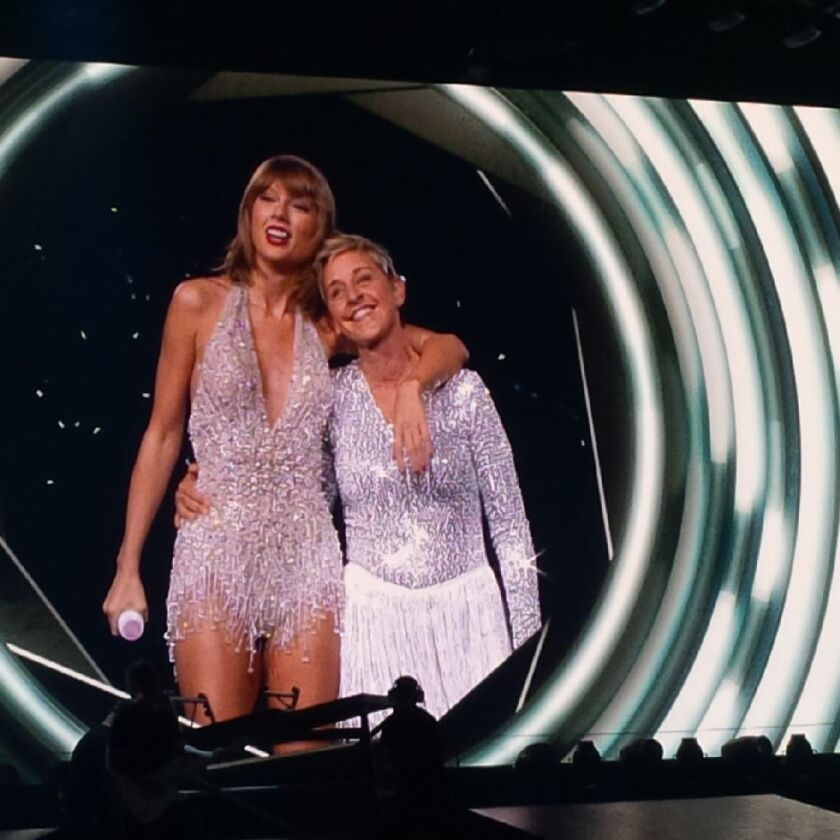 Taylor Swift upped the celebrity ante at her third of five sold-out shows Monday at Staples Center as part of her "1989" tour.
The guests, consciously or coincidentally, nodded to three key facets of her music: her beginnings in country with the appearance of Dixie Chicks singer and songwriter Natalie Maines, the confessional singer-songwriter tradition as she was joined by Alanis Morissette, and her sense of humor with the walk-on by comedian and talk-show host Ellen DeGeneres.
Swift teased the crowd early on saying she would have "not one, not two, but many surprises" over the course of the show.
See the most-read stories this hour >>
"If it were not for this artist," Swift said before Maines came on stage, "I would not be a musician." They sang the Dixie Chicks' hit revenge fantasy "Goodbye Earl," which Swift said "was my go-to song …. and I've probably sung it 7,000 times."
------------
FOR THE RECORD
An earlier edition of this post identified the song Taylor Swift sang with Dixie Chicks singer Natalie Maines as "Uncle Earl." The song's title is "Goodbye Earl."
------------
DeGeneres didn't attempt to sing, but surfaced wearing a glittery silver suit she paraded as Swift sang her hit "Style." Morissette and Swift teamed up for Morisette's signature hit "You Oughta Know," which Swift introduced to the audience calling it "the greatest breakup song ever written."
SIGN UP for the free Essential Arts & Culture newsletter >>
At her opening-night show Friday, she brought out One Republic singer and songwriter Ryan Tedder, with whom she also collaborated on her blockbuster "1989" album, and Lakers star Kobe Bryant, who unveiled a championship banner now affixed to a wall high above the arena floor, next to several Lakers NBA championship banners, noting Swift's lifetime record of 16 sold-out shows at Staples.
Saturday's contingent included Mary J. Blige, comedian Chris Rock, actor Matt LeBlanc and actor-singer Uzo Aduba, known as "Crazy Eyes" on the Netflix series "Orange Is the New Black."
Swift has two performances remaining at Staples on Tuesday night and Wednesday.
Follow @RandyLewis2 on Twitter. For more on Classic Rock, join us on Facebook.

ALSO:

FYF Fest: Kanye West thrills, but we've seen it plenty
Shania Twain goes off-script in an arena spectacle at Staples Center
Carly Rae Jepsen at the Troubadour: 5 thoughts on her 'Emotion' release show
---