From the Archives: The Times' original review of 'Full House' called it 'contrived muck' and 'a great argument for birth control'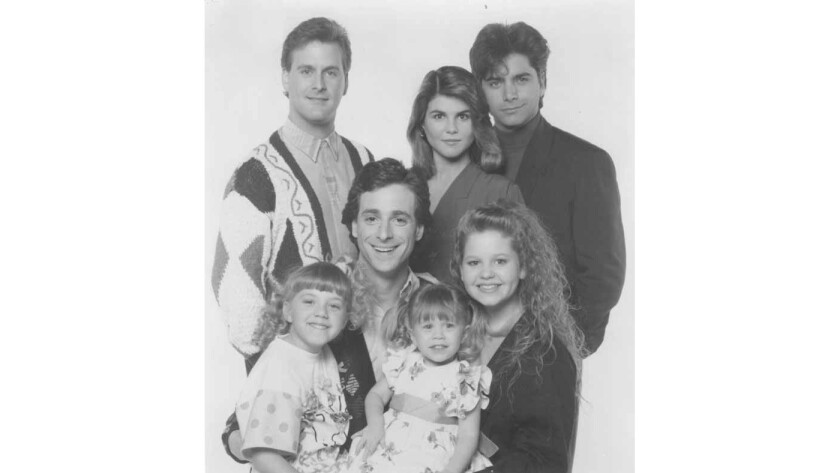 T
he new Netflix series "Fuller House" has fans looking back fondly at the original sitcom "Full House."
But the ABC series, which ran from 1987 to 1995, wasn't exactly universally loved. Here's what we thought of the show when it premiered:
"Full House" isn't playing with a full deck. It oozes and blubbers for a half hour, yielding no laughs or life. You need a Geiger counter to detect its pulse.
ABC has bequeathed this nerdy new comedy a special premiere time at 8:30 tonight (on Channels 7, 3 and 42) behind "Who's the Boss?," hoping that hit show's audience will rub off on the spindly newcomer. Thereafter, "Full House" airs at 8 p.m. Fridays, preceding another new comedy, "I Married Dora," whose unpreviewed first episode arrives at 9:30 tonight behind "Growing Pains," which is airing out of its regular time slot behind "Who's the Boss?" Don't worry about it.
See more of Entertainment's top stories on Facebook >>
If you think that's confusing, imagine ABC's confusion in liking and ordering "Full House" in the first place.
Danny the widowed sportscaster (Bob Saget) has a great idea. He will invite Jesse, his wild-and-crazy brother-in law (John Stamos), and Joey, his wild-and-crazy comedian friend (David Coulier), to share his house and help raise his three daughters.
All right, it's not such a great idea. In fact, as the first episode shows, it's an awful idea, with those big lugs Danny and Jesse and Joey having just a heckuva time meshing their clashing personalities. But one thing for sure. Differ as they may, these guys just love those darn girls and they'll do everything in their zany power to raise 'em right, because Mommy is no longer around and now it's time to get out those hankies so that we can all have a good cry.
Oh, puleeeeeeze ! ABC has entered the new season with some promising new series as it strives to beat out CBS for second place in the ratings. But this contrived muck isn't one of them. In fact, its entire premise of shared witless fatherhood (a la "My Two Dads" on NBC) is a great argument for birth control.

---
Inside the business of entertainment
The Wide Shot brings you news, analysis and insights on everything from streaming wars to production — and what it all means for the future.
You may occasionally receive promotional content from the Los Angeles Times.