Henry Winkler on his Emmy nod: 'I literally don't have the words, and I surely will not use the word "awesome." '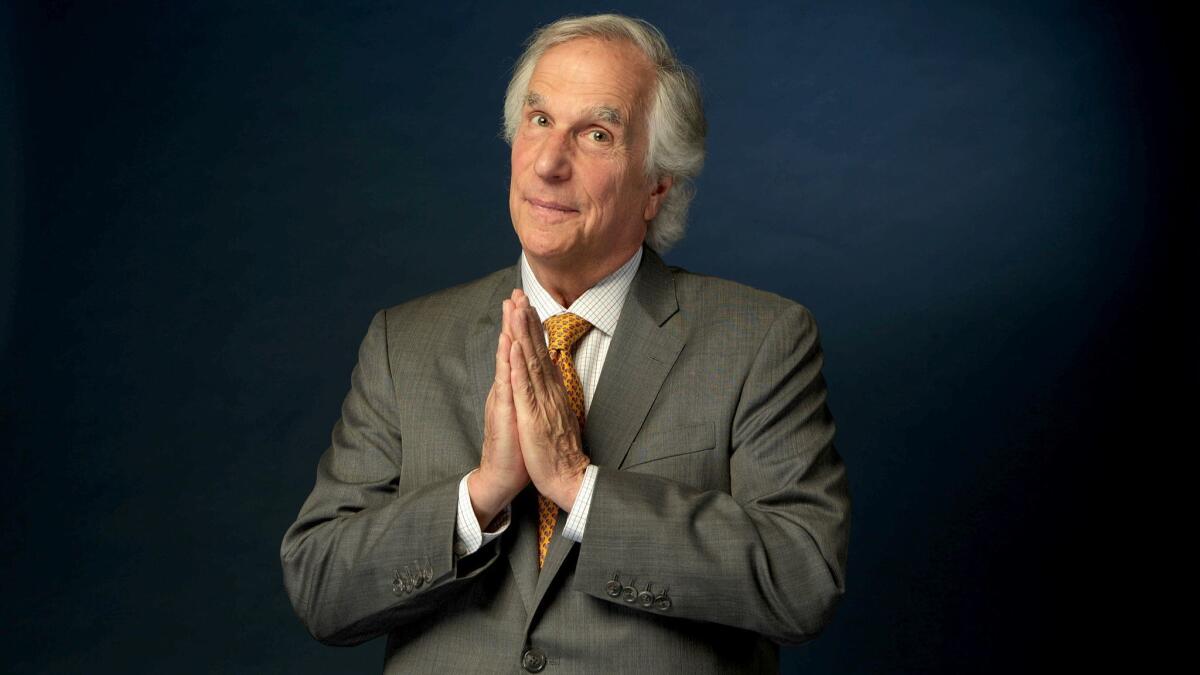 Despite a long and storied career, Henry Winkler admitted he was overcome with joy when he found out about his nomination for supporting actor in a comedy for the HBO show "Barry" (in which is he plays hilarious acting teacher Gene Cousineau). Winkler is currently in Iola, Wisc., signing copies of his children's book "Everybody Is Somebody #12 (Here's Hank)," but he was still in bed having breakfast when his eldest son called him with the good news.
How are you feeling right now?
I'm unbelievably good. I am thrilled, because not only did I get a nomination, but the show got one, and [creators] Bill [Hader] and Alec [Berg] got nominated. I'm just over the moon. I literally am speechless.
2018 Emmy nominations: The complete coverage »
Did you expect the honor?
When you start a project, you have no idea what is gonna happen, and then all of a sudden, this is like icing on the most delicious cake you've ever had. I've been here before. The first time I was nominated was 40 years ago — so you learn not to invest so much. But I am filled with happy.
What attracted you to "Barry"?
If you read the pilot from beginning to end, you would be knocked out. It is just an amazement — and then the ensemble… each one of them is a home run hitter.
With "Barry" getting its first Emmy nominations, will you feel extra pressure going forward?
No, because you know what? You cannot feel pressure, because then you will bastardize your imagination — your everything. So they are writing now — they are writing all eight episodes, and I imagine they are so incredible as creators and producers and directors — Alec and Bill — that they will come up with eight incredible scripts. We start filming in September.
Is it fun spoofing the acting scene in L.A.?
It is fun because the teacher that I play is not a lot different from teachers I had in my own life when I was in drama school. He's a combination of the men and women who have taught me, and who I have heard about and who I have researched, as well as what came out of my imagination. There are teachers — things they have said to me in 1968 — that are working [in me] at this moment. The good teacher will say something that is meaningful, and sometimes you don't know that at the time — and then, all of a sudden five years later, you go, "Oh, my gosh, that's what they meant."
Any thoughts on the new developments at HBO, with it possibly going bigger and broader?
No, because I don't think any of those words or that concept will affect "Barry." If something isn't broke, you don't fix it. I put my trust in Alec and Bill.
How will you celebrate tonight?
I absolutely will not have a celebration — the celebration at this moment is coursing through my body. I literally don't have the words, and I surely will not use the word "awesome."
follow me on twitter @sonaiyak
Get our L.A. Goes Out newsletter, with the week's best events, to help you explore and experience our city.
You may occasionally receive promotional content from the Los Angeles Times.