Review: Lil Rel Howery is a charmer in good-natured Fox sitcom 'Rel'
Television Critic
Lil Rel Howery, who played Jerrod Carmichael's brother Bobby on NBC's "The Carmichael Show" and was recently the big-screen star of "Uncle Drew" (and a scene stealer in Get Out"), has a series of his own now on Fox simply called "Rel," getting a preview Sunday (after football) before it begins its regular run Sept. 30.
The title ties "Alf" for brevity, but the show itself is exactly as long as every other multi-camera, live-audience comedy.
Carmichael is an executive producer here, along with fellow "Carmichael" vet (and longtime "The Simpsons" hand) Mike Scully; Kevin Barnett and Josh Rabinowitz, who co-created the series with Howery, also wrote for "Carmichael."
Where the earlier series was purposefully issue-oriented, like an African American "All in the Family" with the kids at the center, "Rel" takes a less pointed approach. Howery, whose character here is, like himself, a divorced father of two, is a familiar sitcom type, a late-maturing adult who — though he is a responsible person who works as a nurse and identifies himself at one point as "a taxpaying citizen" — still has some growing up to do.
If "Rel" is short on surprises it does not lack charm, and is funny in waves. It's good-natured, a little whimsical and not at all cynical.
The premise is laid out in an expository monologue, set in a nearly empty apartment and spoken into a telephone by Rel – like every comic with a sitcom, Howery's character keeps his own name. (The person on the other end is a punchline.) His wife, he says, has taken their children and left town after an affair with Rel's barber: "Not my mailman, not my garbageman, but my hair confidant."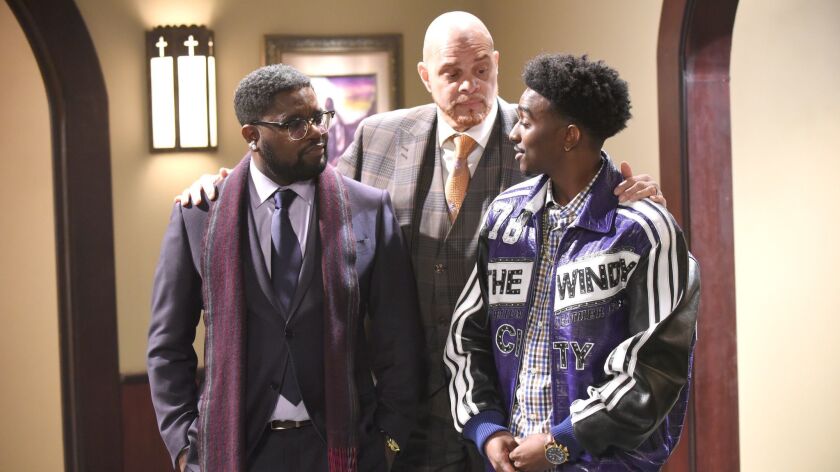 Some of it has the flavor of adapted stand-up. On FaceTime with his kids: "You know what's crazy? Nowadays there's no reason to be a deadbat dad. If you don't want to see your kids, man, you just don't want to see your damn kids." But he does.
Into this space enters, stage right, brassy best friend Brittany (Jessica "Jess Hilarious" Moore), who tells him about his place, "This looks like a place where they bag heroin" and also, "People who love you got to tell you the truth and the truth is it smells here." She is followed by Rel's younger brother Nat (Jordan L. Jones), a big-city bumpkin lately out of jail for selling ecstasy. (People keep saying it was crack, but this is not a crack-dealing sort of comedy.)
The brothers go to church, where their recently widowed father (Sinbad, old-pro smooth) literally distances himself from his kids, and where the clown-haired preacher (also played by Howery, delightfully) reveals Rel's private affairs to the congregation. That's because, while the show is set in Chicago, it is indistinguishable from a small town, where all business is known and shared and a random comical hooligan on a city bus will recognize Rel as the guy whose wife slept with his barber.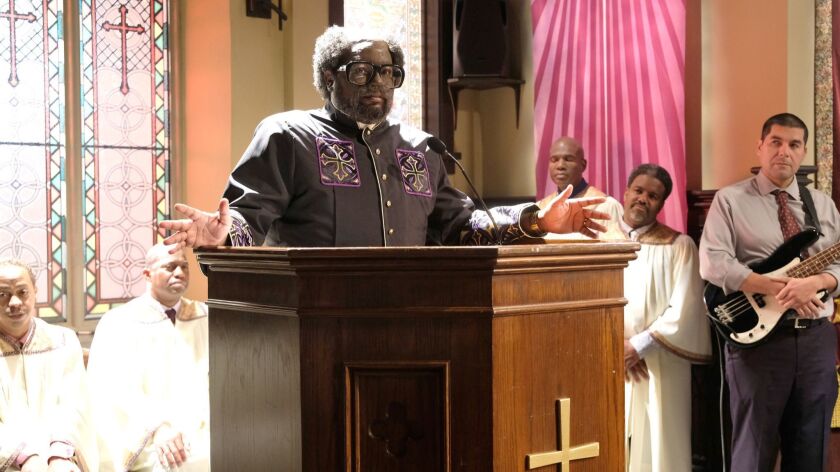 The middle act is taken up by a textbook harebrained scheme involving Britanny's friend, whom Rel and Nat call "Loose Boots Monica" because her boots are too big for her feet — it's a "Seinfeld" joke — and a plan to get back at Frank the barber. It does not make much sense and is possibly not supposed to; in any case, it will turn out as harebrained schemes must, with Monica telling Rel, "I am a strong, independent, successful black woman and I'm not going to let any man, I don't care who you are, disrespect me" — audience whoops — "and if you ever disrespect me again I'm going to call my cousin and have him shoot up your daddy's house."
And Rel will learn too that he is not without blame in his wife's leaving him: "One time you missed her birthday dinner," Frank the barber reminds him, "because you got arrested for a fight with an Uber driver cause he wouldn't let you play your music." ("OK, why didn't he have an auxiliary cord, you know what I mean?") But by the end of the episode — this is only a spoiler in a world where television hasn't been invented — he will get that apartment furnished, because his kids are coming and he is not a hopeless case.
ALSO:
'Uncle Drew' is the surprise comedy of the summer
'The Carmichael Show' balances pointed topicality with humor
'Get Out' breakout Lil Rel Howery takes the lead in 'Uncle Drew'
Lil Rel Howery supports black press on MTV Movie and TV Awards red carpet
------------
'Rel'
Where: Fox
When: 8 and 9 p.m. Sunday
Rated: TV-14-DL (may be unsuitable for children under the age of 14 with advisories for suggestive dialogue and coarse language)
Follow Robert Lloyd on Twitter @LATimesTVLloyd
---
From the Emmys to the Oscars.
Get our revamped Envelope newsletter, sent twice a week, for exclusive awards season coverage, behind-the-scenes insights and columnist Glenn Whipp's commentary.
You may occasionally receive promotional content from the Los Angeles Times.