Review: 'Stranger Things' returns with new tales of terror from the Upside Down
Television Critic
The element of surprise and Reagan-era nostalgia rendered the Netflix series "Stranger Things" a breakout when it arrived last year complete with monsters, mad scientists and mullets. For those viewers who happened upon the quirky little show while combing through their congested Netflix queue, it felt as if they'd finally made a diamond-in-the-rough discovery.
The show, an homage to '80s sci-fi and horror films, followed the disappearance of a boy from a small town in Indiana, and the subsequent arrival of a mystery girl with psychokinetic powers. Three nerdy seventh-graders set out to solve both puzzles, only to discover an alternate realm ruled by a predatory monster.
The boys were fresh faces, the series was created, written and directed by relative newcomers the Duffer Brothers, and its nostalgic charm — "E.T."-like scenes of kids on bikes, push-button wall phones, retro-dork references to Dungeons and Dragons — was enough to overcome jerky pacing and other amateurish tics in the show's plot and production.
When Season 2 arrives Friday, there's a new mystery to solve: How will this Emmy-winning and now beloved streaming obsession follow up on that success?
Unlike the show's other paranormal riddles, the answer here is clear and immediate: Season 2's first three episodes top the suspense, weirdness and fun of last year thanks to sharper writing, more dynamic storytelling, a honed sense of humor (some of it self-referential) and a young cast that has developed its acting skills alongside their adult teeth.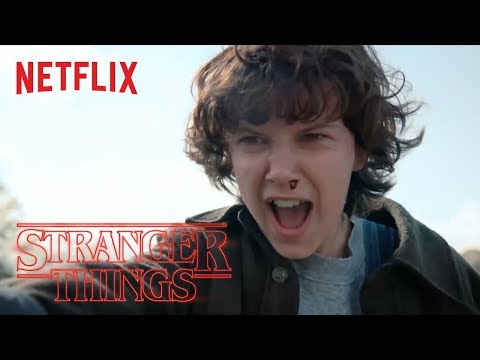 Season 2 is set nearly a year after the events of last season. It's 1984, the fictional town of Hawkins is ramping up for Halloween and eighth-graders Mike (Finn Wolfhard), Dustin (Gaten Matarazzo) and Lucas (Caleb McLaughlin) are tighter than ever since fellow friend Will's (Noah Schnapp) traumatizing interlude in the Upside Down. The Demogorgon may have been defeated and Will returned to the right side up world, but all are still tormented by the terrifying ordeal.
Mike is sure he keeps seeing their mysterious friend Eleven (Millie Bobby Brown) after she was seemingly destroyed last year in a series-ending battle. His sister Nancy (Natalia Dyer) is plagued with guilt over the disappearance of her friend Barb (Shannon Purser).
Will is experiencing debilitating visions that he's back in the Upside Down. His older brother Jonathan (Charlie Heaton) is determined to protect him. And Will's chain-smoking mother Joyce (Winona Ryder) is still a nervous wreck, now from the fear that she'll lose him again.
And she's right to be nervous. Trouble is brewing, this time in the form of a bigger monster arising from that scorched, linty other world. It's obliterating pumpkin patches and leaving puddles of supernatural goo in its path. Sheriff Jim Hopper (David Harbour) believes it's the result of another warped experiment gone wrong, emanating from the secret lab in the woods where Eleven once lived. But the lab's new evil scientist, the suspiciously congenial Dr. Owens (Paul Reiser), denies anything is wrong.
Season 2 is also driven by a newfound emotional depth as its key characters deal with the PTSD caused by last year's events — and the intensified bullying they all now face at school. Thanks to the bizarre circumstances around Will's disappearance and return, they're now freaks as well as geeks.
Joyce's new boyfriend relates to the boys' plight. Kenny Rogers-loving Radio Shack manager Bob (Sean Astin, who portrayed Mikey in "The Goonies") was persecuted back in high school, and his empathy for Will is touching.
The breakout character this season is Dustin, whose teeth and character have grown, and he has some of the best one-liners of the first three episodes. He's infatuated with a new girl at school who moved to the town from California, Max (Sadie Sink). Half the crew are infatuated by the skateboarding tomboy, the other annoyed by her presence when she joins them on Halloween night. It's unclear what her purpose is yet, but no doubt she has one.
Season 2 echoes the suspense of "WarGames" and the goofy horror of "The Goonies" thanks to the teens' surprising discovery.
The soundtrack here is an '80s extravaganza – The Scorpions, Devo, Duran Duran – and the backdrop upon which the story unfolds is meticulously period-appropriate. A video arcade filled with boys in Lee jeans playing Pac-Man, the new, frustrating technology of a camcorder, Susan Lucci-era soap opera scenes, kids who still knew how to use a library. And it's Halloween, which equals big shout-outs to "Ghostbusters" characters and Siouxsie and the Banshees.
The series, like its characters, pierced the veil between worlds when it went from anonymous Netflix title to a celebrated series in a year chock-full of celebrated shows. With Season 2, it too conquers a monster the deadly beast of high expectations.
'Stranger Things'
Where: Netflix
When: Anytime, starting Friday
Rating: TV-14 (may be unsuitable for children under the age of 14)
ALSO:
Finn Wolfhard shares his texts from the 'It' and 'Stranger Things' gang
Netflix sinking deeper into debt to fuel subscriber growth
Early Emmy predictions: A 'Veep' repeat and a far-out forecast for 'Stranger Things'
Get our L.A. Goes Out newsletter, with the week's best events, to help you explore and experience our city.
You may occasionally receive promotional content from the Los Angeles Times.