Review: 'Wu-Tang Clan: Of Mics and Men' captures the group's wonderfully bizarre essence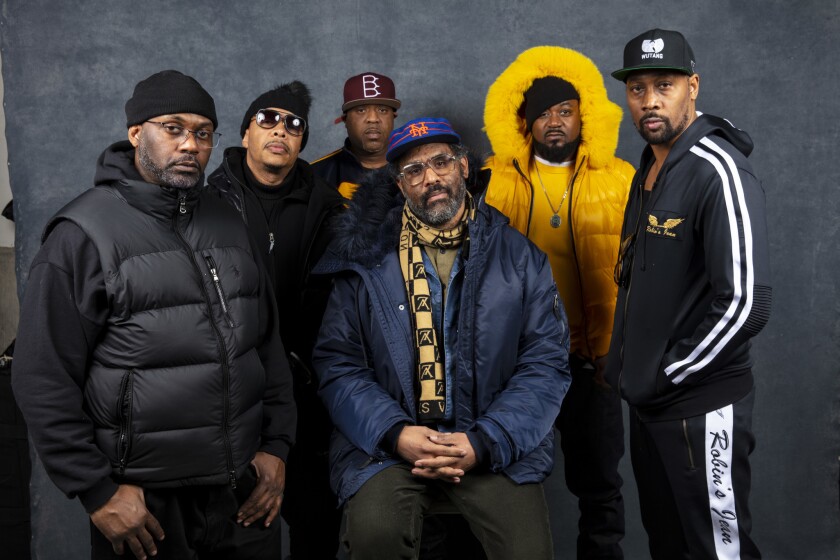 Television Critic
Idealism and love are the surprising drivers behind "Wu-Tang Clan: Of Mics and Men," Showtime's four-part docuseries about the rise of eccentric New York rap group the Wu-Tan Clan from Staten Island's projects to the annals of hip-hop history.
The power of brotherhood — how a gaggle of kids rose together and fell apart — connects each hourlong episode, and together they tell the story of an unlikely collection of outsiders who helped popularize 1990s East Coast hip-hop, bend the conventional parameters of rap and tweak an unfair industry business model in favor of the artist.
"Of Mics and Men," which premieres Friday, celebrates the 25th anniversary of their breakthrough album, "Enter the Wu-Tang (36 Chambers)." The series is produced by the group's surviving members and at times feels like a cleaned-up version of a presumably rawer and dirtier truth. Here they're all family men who value their friendships above everything else, and there's barely a mention of Ol' Dirty Bastard's drug problems before his death of an overdose in 2004.
The romantic revision, however, does not take away from their story. In fact, it illustrates a large part of what made Wu-Tang such a unique phenomenon. They were idealists who never saw how impossible it would be to break through the noise with a whopping nine members, one of whose warbles sounded like a warped Marvin Gaye 45, plus a moniker pulled from martial arts films and rhymes that ranged from emotionally devastating to clownishly bizarre.
ALSO: Wu-Tang Clan get emotional — and RZA gets political — at Sundance »
Director Sacha Jenkins ("Burn, Mother—, Burn") captures all that and more here via interviews with group members RZA, Method Man, GZA, Raekwon, Ghostface Killah, U-God, Cappadonna, Inspectah Deck and Masta Killa while Ol Dirty Bastard (Russell Tyrone Jones) is represented in never-before-seen videos and firsthand accounts from his bandmates, mother, family and friends.
Others who pepper the docuseries are former managers, record label heads, hip-hop historians, rap luminaries like Nas and Havoc of Mobb Deep and, inexplicably, fans as far-flung as Jim Jarmusch and Seth Rogen.
But it's the old footage and artful vision of Jenkins that sets this retrospective apart from the countless other docs about rappers who changed the game. The unexpected benefit of having nine members means there were ample home movies, camcorder tapes and whatever technology came next to draw from, which is exactly what Jenkins does here.
The series runs in chronological order, and since RZA, GZA and ODB were cousins, and other members have known each other since childhood, audiences see New York in the 1970s and '80s, from the buildings and blocks of Staten Island where they came of age to the streets of Brooklyn where GZA and ODB grew up.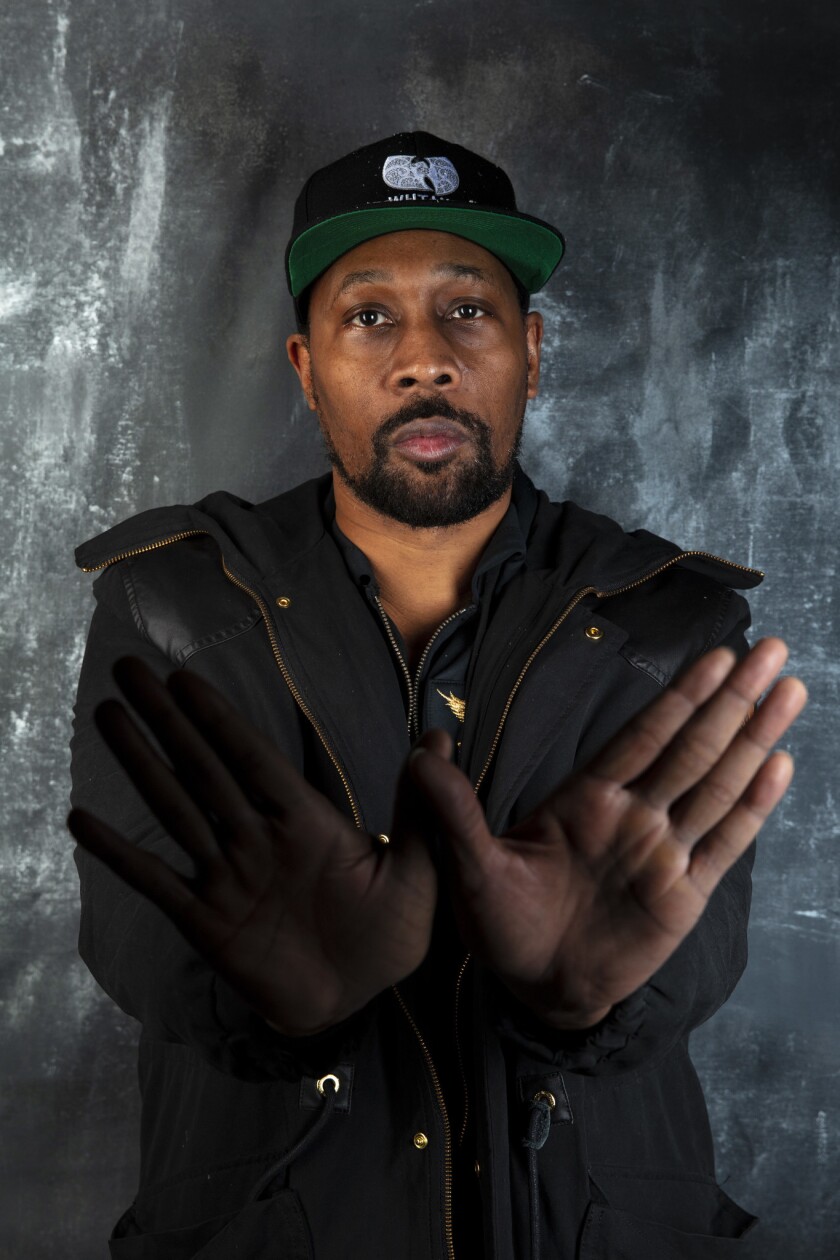 ALSO: The Wu-Tang Clan reflect on their past and where they are with the documentary "Wu-Tang Clan: Of Mics and Men" »
Poverty and institutionalized racism permeate all the neighborhoods — i.e. places that no one, not even the Wu-Tang, ever expected to leave. Then they forged a sound together, and viewers are there for the ride, from their cramped living rooms to tiny clubs to recording studios to creating their own label to "The Arsenio Hall Show," where the group promotes their 1993 breakthrough album. In between, there was jail time, kids, shootings and more jail time.
Still, it was a dizzying ascent: platinum albums, arena tours and huge paychecks during what's often described as a golden era in hip-hop. They branched out with successful solo projects yet still managed to remain a tight unit, until egos began clashing and arguments about money and contracts sowed division.
"Of Mics and Men" avoids the pitfalls and clichés of most music biopics by letting the men who lived through it all tell the story. They sit together in an old theater, watch historical Wu-Tang footage and discuss, together, what went right and what went wrong. The camaraderie that existed in the group's beginnings, and was so bitterly challenged along the way, is clearly still there.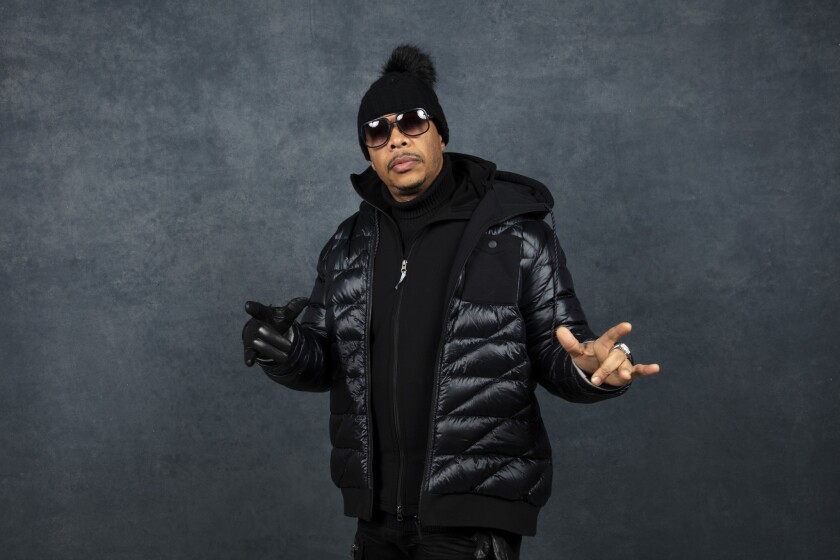 In one scene, they try to remember who came up with the band's name. They debate it in a flurry of crosstalk and conflicting memories, a cacophony of perspectives that by the end of the scene end up in the same place. It doesn't matter who named the group; it's them as a whole that made Wu-Tang a formidable force.
RZA, the group's co-founder and de facto leader, is quoted often, and he communicates in a mix of vivid memories, poetic observations and quotations from the Bible, the Quran, old martial arts movies and his mom.
He recalls the feeling of loss when ODB decided to sign with another label, and then died soon after, and it's a moment that captures the essence of what made these men a unique force as brothers and artists.
"It was me and him," he says of the group's beginnings. "That's the foundation. We're the first two. We're the dream itself. We're the late-night layin' in bed, lookin' at the stars. That's us, before anybody."
'Wu-Tang Clan: Of Mics and Men'
Where: Showtime
When: 9 p.m. Friday
Rated: TV-MA (may be unsuitable for children under 17)
Director Sacha Jenkins, Wu-Tang Clan members RZA, U-God, Ghostface Killah, Masta Killa and Cappadonna discuss their documentary "Wu-Tang Clan: Of Mics and Men" and how the band has changed over the years, at the L.A. Times Studio at Chase Sapphire o
---
From the Emmys to the Oscars.
Get our revamped Envelope newsletter, sent twice a week, for exclusive awards season coverage, behind-the-scenes insights and columnist Glenn Whipp's commentary.
You may occasionally receive promotional content from the Los Angeles Times.