Wednesday's TV Highlights: 'Guts With Michael Mosley' on PBS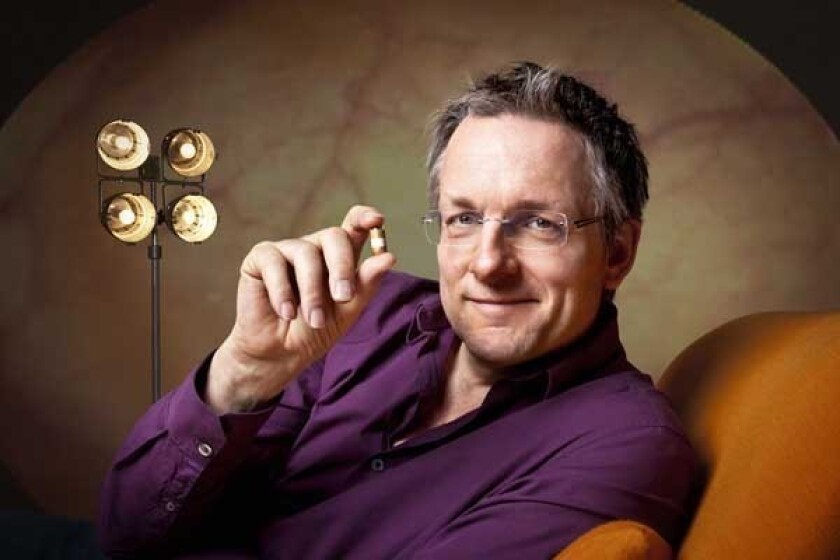 Customized TV Listings are available here: www.latimes.com/tvtimes
Click here to download TV listings for the week of April 14 -20, 2013 in PDF format
---
SERIES
Suburgatory The season wraps up with two new episodes. First, Dallas (Cheryl Hines) offers to help George (Jeremy Sisto) tell Tessa (Jane Levy) that they're combining households, but it doesn't go well. In the second episode, Tessa moves out. 8 p.m. ABC
Nature In the new episode "The Mystery of Eels," artist, writer and naturalist James Prosek sheds light on the shadowy creature. 8 p.m. KOCE
NOVA A new installment of "Australia's First 4 Billion Years" looks for clues in ancient Australian. 9 p.m. KOCE
Ghost Hunters Amy Bruni is back to kick off six new episodes. 9 p.m. Syfy
Boston's Finest Jenn Penton's twin sister, an addict, reaches out to her for help in the season finale. 9 p.m. TNT
How to Live With Your Parents (For the Rest of Your Life) It's Oscar night — the family's favorite holiday — and Polly (Sarah Chalke) invites an old classmate to the party. 9:30 p.m. ABC
Southland As John (Michael Cudlitz) continues to deal with the aftermath of his abduction, Lydia (Regina King) goes after the kidnappers in the season finale. 10 p.m. TNT
Psych In this new episode, Shawn (James Roday) imagines how his most recent case, which involved a mysterious Swedish woman, would have played out if he'd done one thing differently at the beginning. Dulé Hill and Corbin Bernsen also star. 10 p.m. USA
SPECIALS
Guts With Michael Mosley A special camera takes viewers on a close-up tour of the inside of the human digestive tract. 10 p.m. KOCE
TALK SHOWS
CBS This Morning Drummer John Densmore; Dr. Abe Morgentaler. (N) 7 a.m. KCBS
Today Martha Stewart; Barbara Corcoran; Jonas Brothers perform; Tim Love; Abigail Spencer. (N) 7 a.m. KNBC
KTLA Morning News (N) 7 a.m. KTLA
Good Morning America Sofia Vergara; Susan Sarandon; chef Mario Batali; Olly Murs performs. (N) 7 a.m. KABC
Good Day L.A. (N) 7 a.m. KTTV
Live With Kelly and Michael Brad Garrett; Nick Lachey performs; co-host Mark Feuerstein. (N) 9 a.m. KABC
The View La La Vasquez Anthony; Margaret Smith; Tom Sizemore; Dr. Wendy Walsh; Olly Murs performs. (N) 10 a.m. KABC
The Wendy Williams Show Kat Von D. (N) 11 a.m. KTTV
The Talk George Eads; Benjamin Bratt; Drew Carey; Chris Kimball. 1 p.m. KCBS
The Doctors Removing a mole; bladder infections; rosacea. 2 p.m. KCBS
The Dr. Oz Show Cholesterol and heart disease; medication dangers. 2 p.m. KABC
The Wendy Williams Show Lynn Whitfield. 2 p.m. KTTV
Dr. Phil Florida's Stand Your Ground Law exonerates a woman who stabbed her boyfriend. (N) 3 p.m. KCBS
Katie Debra Messing; a woman meets the boy her late daughter's heart is keeping alive. (N) 3 p.m. KABC
The Ricki Lake Show Ed Begley Jr. and wife Rachelle; "green" home on wheels. (N) 3 p.m. KTTV
The Ellen DeGeneres Show Adam Sandler, Chris Rock, Salma Hayek, Maya Rudolph, David Spade and Kevin James; Cee Lo Green. (N) 4 p.m. KNBC
To the Contrary With Bonnie Erbé Veteran entrepreneurs; discussion of Margaret Thatcher. (N) 6:30 p.m. KVCR
Tavis Smiley Artistic director Robert Battle and dancer Alicia Graf Mack. (N) 11 p.m. KOCE
The Daily Show With Jon Stewart Ricky Gervais. (N) 11 p.m. Comedy Central
Chelsea Lately Gabby Reece; Josh Wolf; Annie Lederman; Kurt Braunohler. (N) 11 p.m. E!
Conan (N) 11 p.m. TBS
Charlie Rose (N) 11:30 p.m. KOCE
The Colbert Report Alan Cumming. (N) 11:31 p.m. Comedy Central
The Tonight Show With Jay Leno Keith Urban; Paula Deen; Django Django performs. 11:34 p.m. KNBC
Late Show With David Letterman Selena Gomez; Bob Sarlatte; Killer Mike performs. 11:35 p.m. KCBS
Jimmy Kimmel Live Harrison Ford; Anthony Mackie; M83 performs. (N) 11:35 p.m. KABC
Late Night With Jimmy Fallon Steve Carell; Abigail Breslin; Justin Timberlake performs. 12:36 a.m. KNBC
The Late Late Show Kelly Osbourne. (N) 12:37 a.m. KCBS
Nightline (N) 12:37 a.m. KABC
---
The complete guide to home viewing
Get Screen Gab for weekly recommendations, analysis, interviews and irreverent discussion of the TV and streaming movies everyone's talking about.
You may occasionally receive promotional content from the Los Angeles Times.