Commentary: Ariana Grande and Julie Chen get trapped by the blame game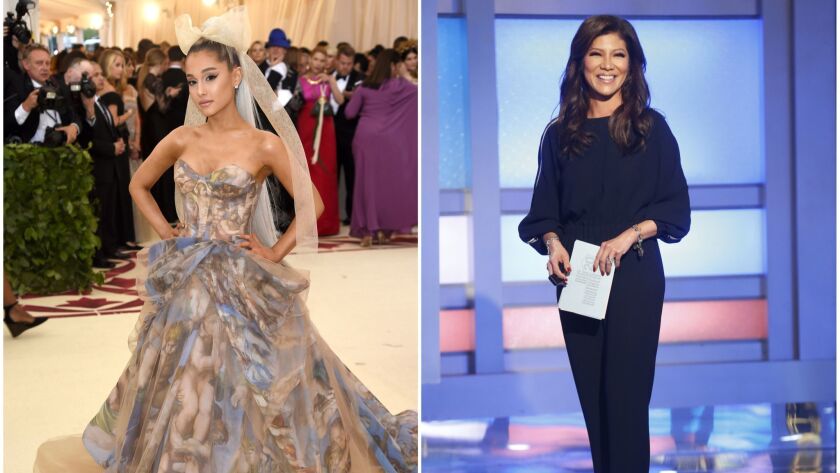 This week began as last week ended — with Ariana Grande being blamed for the death of ex-boyfriend Mac Miller due to a suspected overdose.
Thanks in part to TMZ's early reporting that linked Miller's substance abuse issues to his breakup with Grande — ignoring years of the rapper's admitted struggles with addiction — the "No Tears Left to Cry" singer faced brutal online criticisms attacking her for Miller's death.
Grande was forced to disable comments on her Instagram account and has largely been absent from all her public social media accounts, save for a caption-less, black-and-white photo of Miller she posted last Saturday, her last update on Instagram until Friday when she posted a short video clip of Miller.
Another story unfolded this week in similar fashion. On Sunday, longtime CBS executive Les Moonves resigned from the network after a dozen women leveled accusations of sexual misconduct and harassment at the CEO.
Moonves' #MeToo moment unfurled slower than most, with Ronan Farrow originally reporting on allegations in July, spurring CBS' investigation into Moonves. Over the weekend, Farrow published another story featuring new accusations that precipitated the executive's departure.
Throughout everything, Moonves' wife, popular CBS personality Julie Chen, has stood by him. In July, Chen issued a statement calling her husband "a good man and a loving father, devoted husband and inspiring corporate leader."
And on Thursday night, after taking time off from her other job as co-host of "The Talk," Chen showed up for work hosting "Big Brother" and made no mention of her spouse's recent unemployment.
Still, Chen found away to show her support, signing off from the episode with a name she had never used before: Julie Chen Moonves.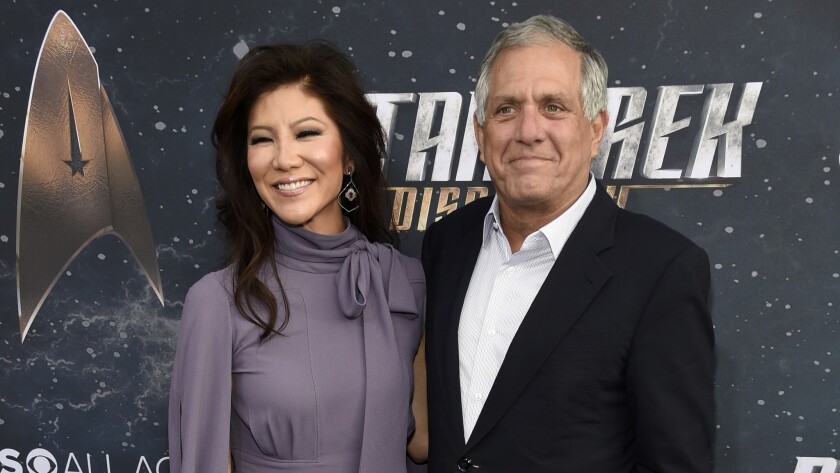 The internet was furious. How dare Chen defend her husband and support a man accused of such despicable things? How could she betray other women like that?
This week, both Ariana Grande and Julie Chen became victims of a society that forces women to be responsible for the men around them.
This phenomenon isn't new. In fact, it's come up time and again throughout the revelations of #MeToo. Did Meryl Streep know about Harvey Weinstein? Did Hillary Clinton? (And, long before that, why did she put up with Bill's alleged misconduct?). Did Georgina Chapman know she was married to a seeming monster? What had Robin Wright heard about Kevin Spacey? How could Cate Blanchett keep working with Woody Allen?
We have created a climate that holds women responsible for the sins of men. It's baked into the power structure of the patriarchy, this idea that women are jail-keepers and if a man in their life acts out, it reflects poorly on her for not sufficiently minding her ward.
I'll admit it: I'm upset about Chen's support for Moonves. And of Camille Cosby's defense of her husband. And of any person who takes up for someone accused of dastardly things without taking a long, hard look at the facts.
But that anger is ultimately misplaced, because what Chen says or does shouldn't be what's being scrutinized in this situation. The alleged actions of Moonves should be our sole focus of rage, not what his wife believes.
Chen isn't responsible for Moonves' actions any more than Grande is to blame for Miller's death. We talk about wanting people to be held accountable for their actions, by which we often mean: Women are responsible.
We spend so much more time teaching girls not to get raped than we do teaching boys about consent. We tell men and women that men cannot be held responsible for their actions, so their failures get outsourced to the women in their life, furthering an already extreme imbalance in power.
It's not Chen's fault, just like it's not Grande's fault, and it wasn't Hillary Clinton's fault, nor was it Khloe Kardashian's fault.
Men alone are responsible for their own actions. Let's act like it.
---
Inside the business of entertainment
The Wide Shot brings you news, analysis and insights on everything from streaming wars to production — and what it all means for the future.
You may occasionally receive promotional content from the Los Angeles Times.